Meet FitXR, an Inclusive Fitness Studio in the Metaverse
The Metaverse Has a Fitness Studio That Prioritizes Inclusion
As POPSUGAR editors, we independently select and write about stuff we love and think you'll like too. If you buy a product we have recommended, we may receive affiliate commission, which in turn supports our work.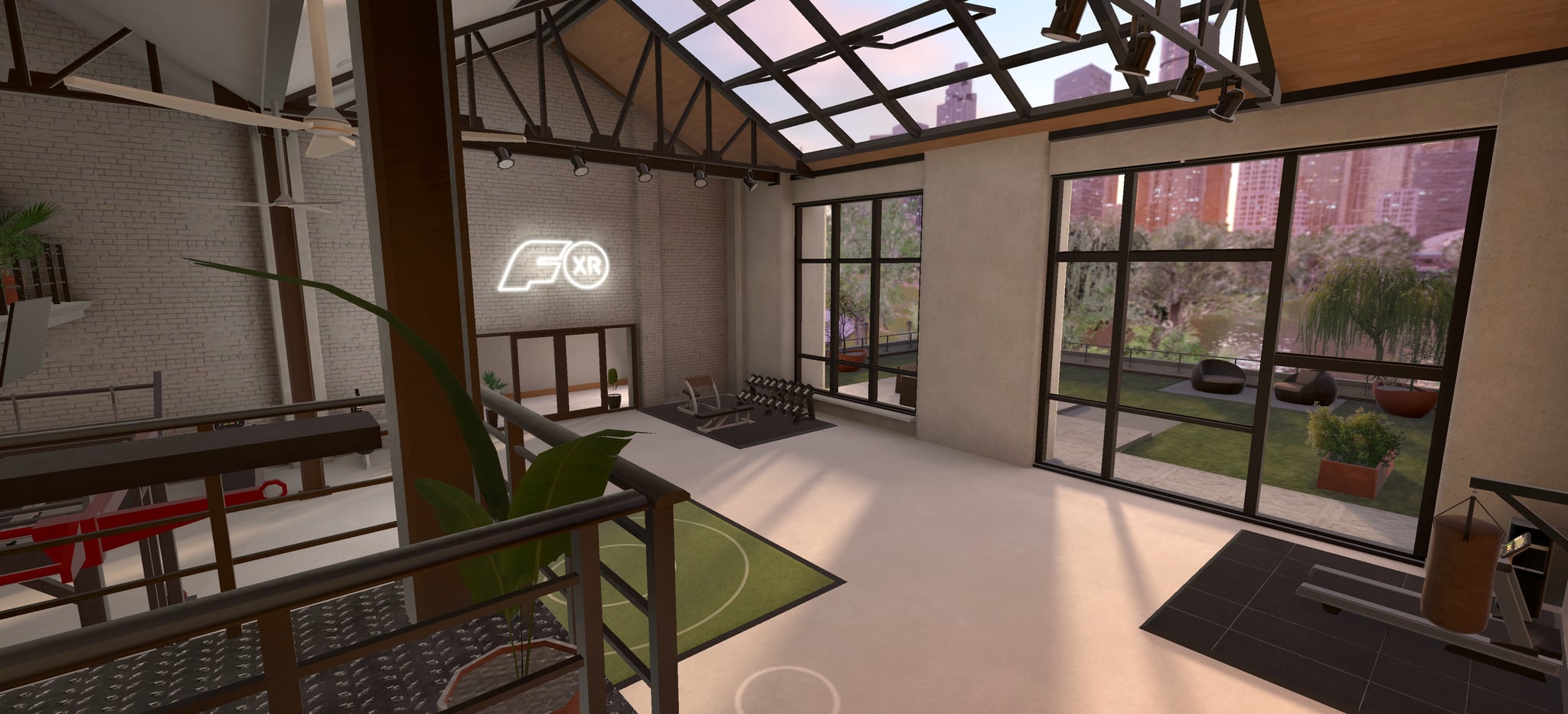 Virtual reality (VR) has created a number of new, creative possibilities for the ways in which we can interact with the world around us. Meetings can be held in VR, you can try out beauty products with VR, and now, you can exercise in VR. FitXR, for example, is a VR fitness studio that debuted in 2019 under the name BoxVR. (The platform initially released boxing classes exclusively.) Located in the metaverse (VR world), FitXR blends a cueing pattern similar to popular arcade game Dance Dance Revolution with a trainer-led full-body workout. The app has since expanded to host five- to 45-minute dance, HIIT, and boxing classes.
Available on Oculus's Quest 2 VR headset ($299) for a $10 monthly fee, FitXR brings elements of group fitness to a user's home in an engaging way. An energetic instructor, a playlist with a bass-filled beat, a scoreboard, and the ability to work out beside friends and family are all available within the VR app. Even more, FitXR's ability to provide interactive fitness classes via the metaverse could help create necessary space for those whom the fitness industry has long excluded.
Within FitXR, classes are taught by trainers through voice instruction or via realistic avatars. In the voice-only classes, trainers guide users verbally on how to hit or dodge the animated targets, while the avatar-led classes offer a visual demonstration on how to do each exercise. In the VR studio, users can box in an ice rink, dance on a neon floor surrounded by sky-high speakers, and take HIIT classes at a resort — without worrying about sand getting in any odd places.
While FitXR offers a uniquely immersive way to work out, the platform also aims to be a welcoming VR studio for a variety of people. To learn more about how FitXR plans to expand on its efforts to make VR fitness an inclusive space, POPSUGAR spoke with Kelly Cosentino, the brand's director of fitness, and Laura Springer, vice president of communications.
FitXR Aims For Inclusion in VR Fitness
FitXR wants to invite people who might not think working out is for them into the fitness realm by blending efficient muscle-burning workouts with interactive entertainment, Cosentino mentions during a recent video call. "[The FitXR team] is very clued in to how we can make this fun, entertaining, but also effective. And that's my biggest thing: how do we make these workouts actually quality?" she says.
"Everyone is deserving of fitness . . . and we want to deliver that."
While FitXR's use of engaging visual effects and motivational words from instructors adds to its welcoming environment, Cosentino says that there's even more the app can do to make its VR studio feel accessible. "I'd say fitness in general is very much skewed toward [things] like ableism," Cosentino, who was once a personal trainer, says. "As a fitness pro, making fitness accessible was always very important for me . . . [making] sure that my clients felt like fitness is not this scary thing, it's very achievable, everyone can do this, and it can be integrated into your everyday life."
To encourage exercise among people who might otherwise feel discouraged to work out, Cosentino and Springer note that FitXR is incorporating more seated classes in its lineup. Additionally, the VR studio plans to increase the diversity among its trainers (and avatars) to ensure current and future app users feel more represented on its platform in a visible way. "We're definitely going to be expanding our trainer roster. . . . People relate to trainers, and it kind of can keep you coming back more," Cosentino says.
With these efforts to increase representation and accessibility in fitness, FitXR aims to not only be a source of entertainment for users, but also a space where they feel encouraged to work out. "Everyone is deserving of fitness . . . and we want to deliver that," Cosentino says. Springer adds, "[FitXR] was founded with the mission of making fitness more fun and inclusive for all. We know that not everybody is all about going to the gym every day. So FitXR is a tool that enables more people to get active in the comfort of their own home."
Image Source: Courtesy of FitXR