Chanel's Lipscanner Is the Latest Beauty Virtual Reality App
Chanel's New Lipscanner Technology Is Proof That Virtual Reality Beauty Testing Is Here to Stay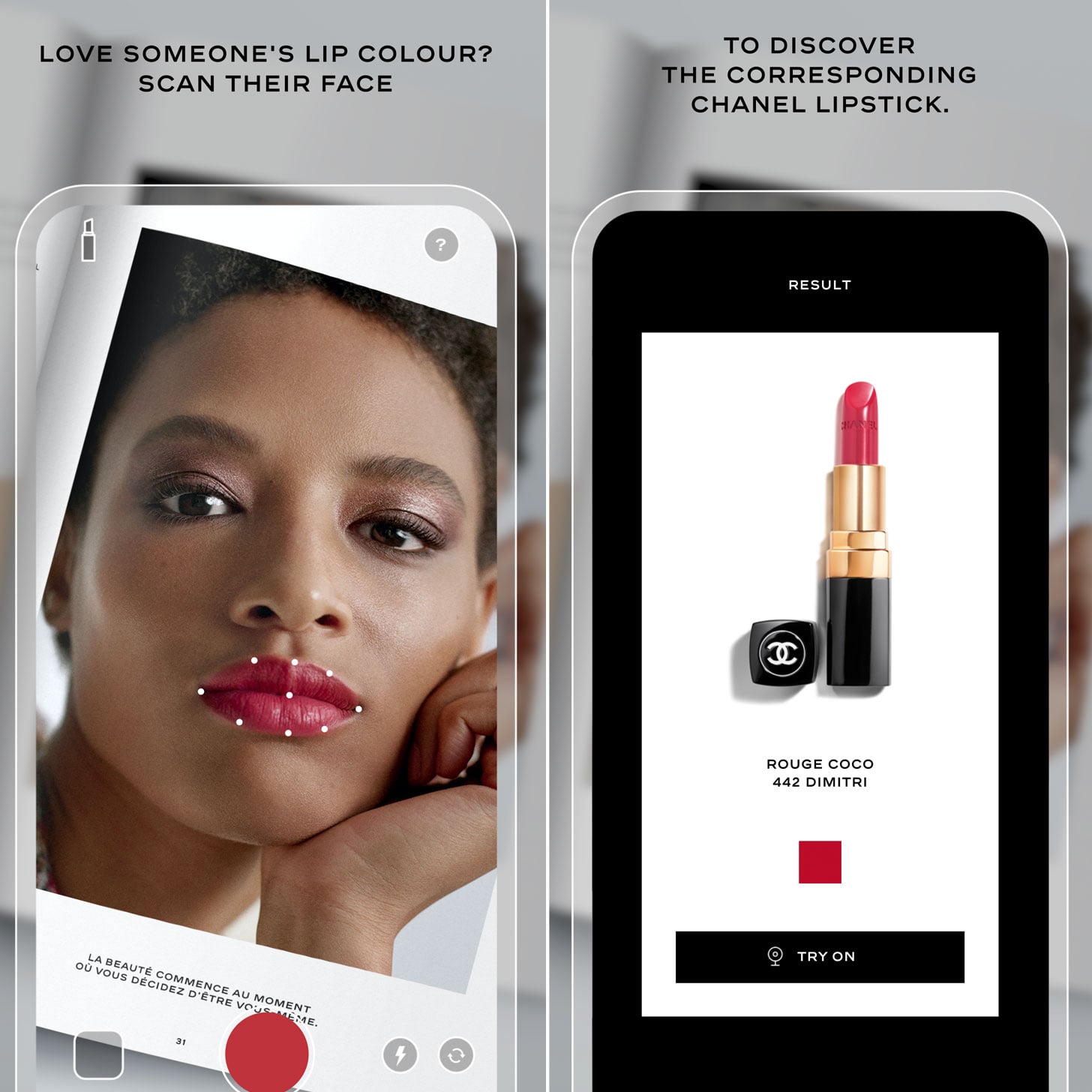 AI, AR, VR, or any form of virtual reality, isn't a new concept within the beauty industry, but it certainly is a remarkable one. Virtual reality has always stirred a web of speculation and curiosity amongst tech-savvy enthusiasts, and whether the enriching digital-based experience was put to the test by mass brands like Nike and IKEA, or luxury fashion houses such as Gucci and Louis Vuitton, augmented reality is the once-niche concept that is turning traditional ways of shopping and experiencing products into a revolutionary trend.
It isn't surprising that the pandemic has helped accelerate the digital innovation in the beauty space. With retail shops temporarily closing their doors around the world, consumers have been driven online to fuel their beauty needs. To help make the online shopping experience easier, retailers are using AI technology — and it's working.
"In the US, Ulta Beauty reported that consumer engagement for its GlamLab virtual reality tool increased fivefold since the coronavirus outbreak," Erin Schmidt from Coresight Research told POPSUGAR. "Management reported very early in the pandemic (in June 2020) that its GlamLab tool had seen more than 19 million shade try-ons."
And it's not just beauty retailers seeing growth thanks to AI try-on technology, either. Since launching its iMatch Virtual Shade Expert tool in December 2019, Estée Lauder has rolled out the technology across its different divisions, and the brand's latest report highlights the push toward the digital frontier. "Virtual try-ons drove over twice the engagement, as well as higher conversion and retention rates, doubling the number of sessions from the previous quarter in its second quarter earnings report of 2021, dated [Feb. 5], 2021," Schmidt highlighted.
From the comfort of your own home, you can now lean on technology to decide on your next hair color, flip through the 15 eyeshadow shades in 15 seconds, or tailor a bespoke lipstick collection to your preferred tone. Chanel, however, has taken the virtual try-on experience one step further with the launch of its Lipscanner technology, the first AI scanner that is able to take any image — a photograph, social media post, magazine, even a person standing right in front of you — and match it to a lip color from the brand's vast collection of over 400 lip products.
Chanel unveiled its latest technology for IOS devices (available free via Apple's App store) on Feb. 22, which "combines our makeup savoir-faire with AI to bring Chanel's entire range of lip products to our customers' fingertips in real-time," Cédric Begon, director of the Connected Experience Lab at Chanel Fragrances and Beauty, shared via press release.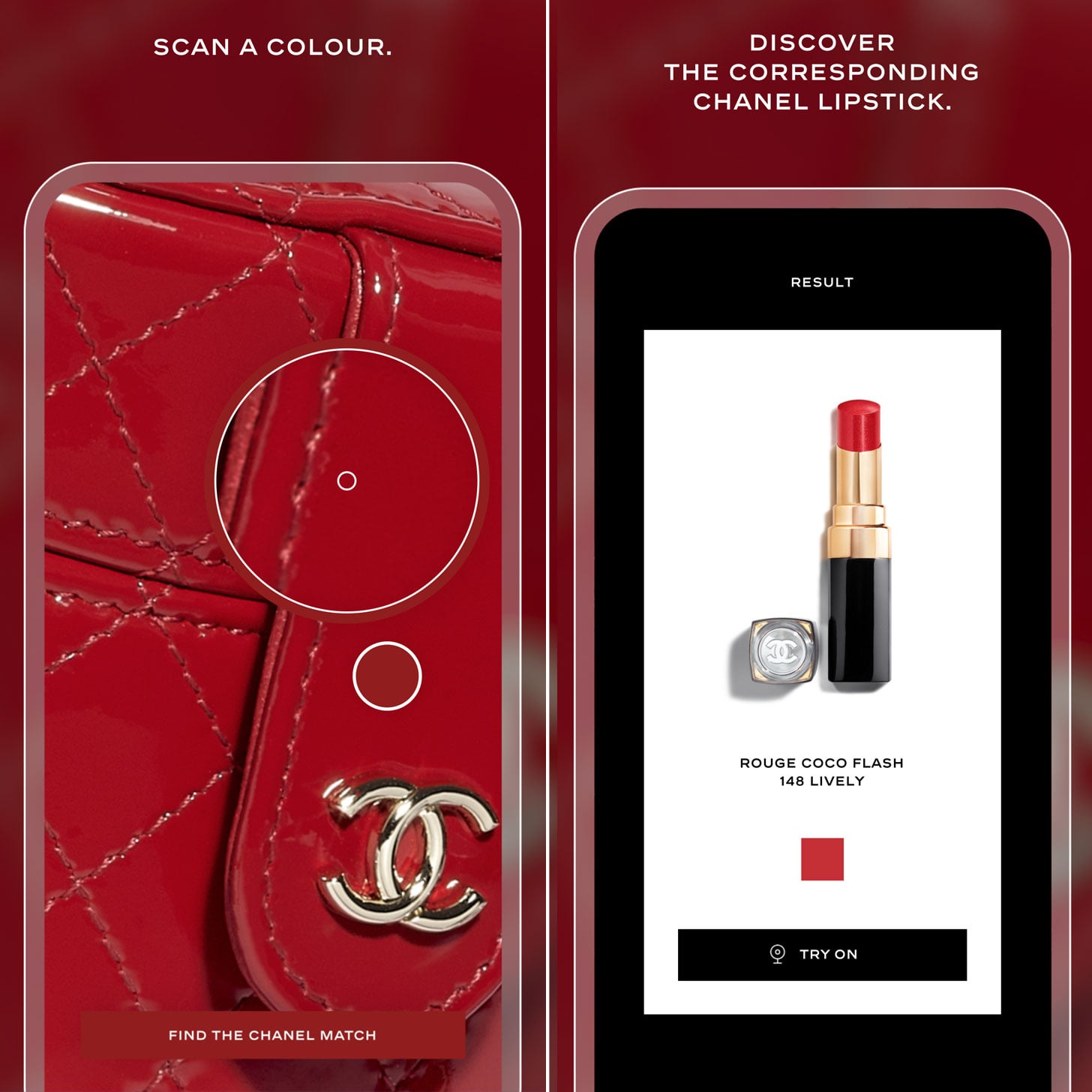 Taking into consideration your skin tone, age, and lip shape, the Lipscanner technology can identify and extract the exact shade and texture of any physical or digital image you come across. In the app, you can immediately scan the color that catches your interest (like the vibrant red of the quilted Chanel handbag above), discover the corresponding Chanel lipstick, and try it on to see if it's an instant match.
"You can enjoy the emotion of trying the product on yourself and the connection with your initial desire for a color or a look. Whether you want to feel more powerful, confident, or beautiful, it's the closest thing to applying lipstick in person," said Begon.
The patented Lipscanner technology is the result of "intensive algorithm-training", which required a collaboration between both Chanel's Makeup Creation Studio and CX Lab team. "Drawing from tens of thousands of images, beauty experts worked alongside engineers to train an algorithm that can seamlessly identify and 'extract' the exact lip shade and texture of any physical or digital image to find the closest color and texture match," the brand said via press release. "The app's augmented reality technology renders the corresponding products on any face to allow customers to try-on the closest match to the color and finish they have seen."
Chanel isn't the only brand mastering the art of AI and AR to help consumers navigate this shift in focus to e-commerce. Partnering with YouCam, M.A.C Cosmetics launched its in-store virtual try-on mirrors four years ago, but introduced a similar AR try-on tool on its website in August 2019 to pivot with the digital demand.
"The try-on offering uses YouCam's augmented reality technology to create photorealistic simulations of more than 800 shades of our eye, lip, and foundation products," Drew Elliott, SVP & global creative director at M.A.C Cosmetics, told POPSUGAR. "We are very diligent about ensuring the accuracy of our products. We have a comprehensive matching process to get it right, which includes a close evaluation of the Pantone of each shade, a matching software, live artist adjustments, and a panel of internal testing experts".
This focus on digital shopping tools, whether that's via AI/AR tools or online consultations with a brand's beauty experts, is something beauty trend forecasters believe is here to stay — even after the pandemic slows down.
"The door is now open for innovation in virtual try-ons and digital consultations, as well as sustainable sampling. Quick adaptation and a willingness to embrace the new frontier in consumer engagement will prove key in reaching, and retaining, new consumers," Jenni Middleton, director of WGSN Beauty, a beauty trend forecasting company, told POPSUGAR. "Many brands were making strategic partnerships with virtual try-on tool providers, or developing their own tech, before the pandemic, but now these 'nice to have' products have become urgent 'must haves.'"
The list of brands with virtual try-on technology or apps is only growing. Redken has its Virtual Shade Selector, which allows you to "try on" one of the brand's 70 different hair-dye shades by either taking a photo or uploading one. L'Oréal Paris's hair and makeup virtual bundle offers you a vast amount of products to experiment with including blush, eyeliner, eyeshadow, lipstick, and permanent hair color, while Charlotte Tilbury's virtual 'Magic Mirror' allows consumers to use their phone cameras to play with different shades and makeup styles before purchasing. With brands such as Lancôme, Nars, and OPI in the mix, it is no wonder that on a global scale, the idea of testing product IRL may one day become a thing of the past.
While we can clearly note that virtual try-on is breaking new ground, it is pivotal to line the technology up against accuracy and precision.
"The availability of AR try-ons is certainly helping to boost sales — recent data revealed interactions with AR content had a 94 percent higher conversion rate than those without — but getting the technology right is key," said Middleton. "ModiFace found there was a 22 percent drop in conversion rates when virtual products didn't line up or appear correctly on the face."
This is where Chanel take its Lipscanner that step further with exacting standards and precision that ensure the validity and accuracy of the technology to mould to the customer's lip structure, as opposed to just placing the color in the designated area. Its speed and analysis is what sets this reputable technology apart, catapulting the strength of the VR that was originally years ahead in terms of adaption only moments away.
The future is looking colorful for virtual technology.
Image Source: Chanel