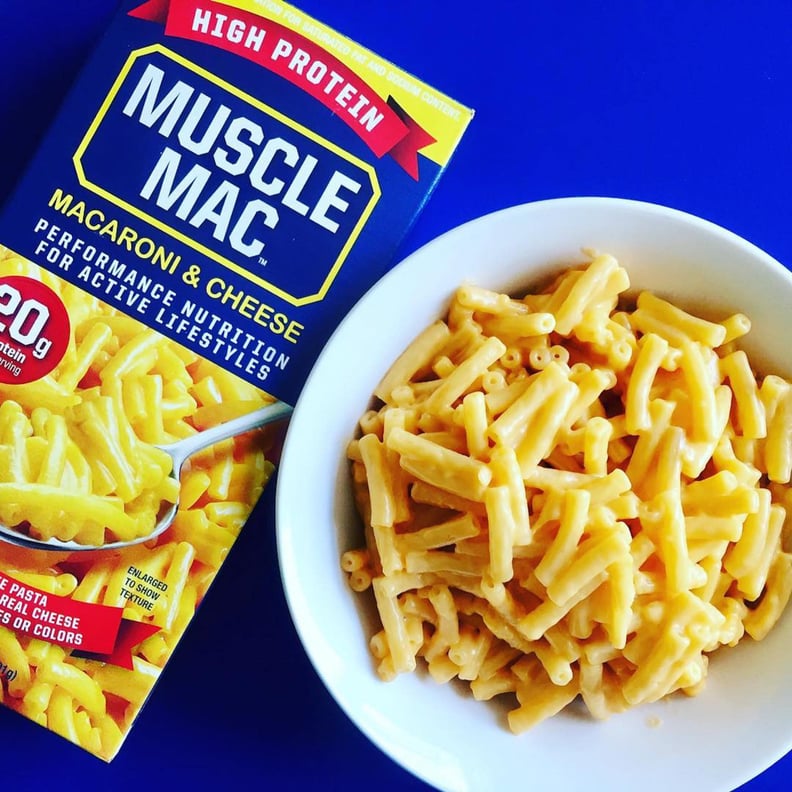 Brace yourself, fit foodies, because your post-workout recovery sessions are about to get a whole lot cheesier. We just discovered that protein-packed mac and cheese exists (wow, just typing those five words in succession has my stomach grumbling!), and we're officially never going back to protein shakes (or Kraft) ever again.
The aptly named brand Muscle Mac is the source of these nutritious, GMO-free noodles, which come packaged in either a box to be prepared on the stovetop or a microwavable cup for on-the-go eating. Each serving of Muscle Mac, regardless of which container, offers a whopping 20 grams of protein, which is about twice the amount of protein per serving in a regular ol' box of Kraft. Even better? If you eat an entire regular-size box of Muscle Mac — which is certainly a possibility if you're anything like me — you'd be consuming a total of 40 freakin' grams of protein. That's a pretty significant chunk of your recommended protein intake for the day!
Not sold on Muscle Mac yet? The raving reviews will certainly convince you to hop on the bandwagon in five seconds flat. One happy customer described it as "the best creation ever" while sharing a picture of theirs on Instagram, adding that "it tastes just like regular mac and cheese. No funny tastes." Another Instagram user captioned their picture of the protein-packed mac and cheese: "If you have not tried this Muscle Mac you are missing out!"
If you don't want to miss out any longer, you're in luck, because Muscle Mac is sold through a ton of retailers, including Amazon! Read on to see the endless, drool-inducing possibilities (or shall we say pasta-bilities) for cooking with this healthy mac.
Behold: the Healthy Mac and Cheese of Your Dreams
Is It Weird That I'd Like to Frame This Photo?
Here Are the Nifty Microwavable Cups
The White Cheddar Flavor Looks Particularly Tasty
I MEAN, Do You Not Agree?!
With Some Broccoli and Tomatoes Mixed in, You've Got Quite the Stellar Pasta Salad
Oh, and Did We Mention There's a Jumbo Box, Too?
Mac and Cheese With a Side Salad? Yes, Please!
This Dinnertime Setup Looks Incredible
There's Really Not Much That Muscle Mac Wouldn't Pair Well With
WOW, I'm Just Gonna Leave This One Right Here . . .
A Quick Peek Inside My Dreams Tonight:
And a Quick Peek at Me During Lunchtime From Now On: