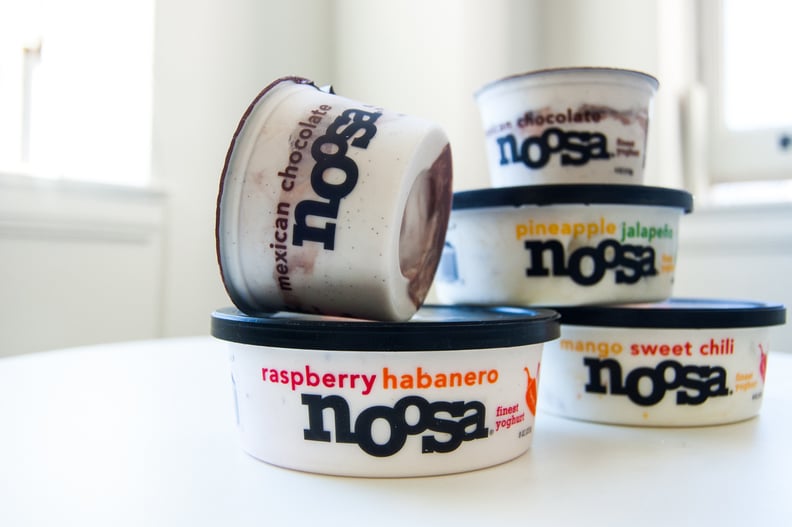 POPSUGAR Photography | Dominique Astorino
POPSUGAR Photography | Dominique Astorino
We're pretty big yogurt fans here at the POPSUGAR office, and Noosa is definitely one of the favorite brands across the board. When the new "sweet heat" collection showed up at our office, we couldn't wait to dig in — what would the fruity, spicy pairings taste like? Would these be our new refrigerator mainstays?
For one, yogurt tastes like an indulgent treat but is still packed with natural protein and gut-friendly probiotics that help with digestion, skin, the immune system, and overall health. Secondly, we know that spicy food boosts metabolism, so that was an exciting factor for these new flavors.
So of course, we invited our co-workers to come help us with a taste test to decide if these new blends made the cut. Flavors included Mexican Chocolate (with a kick of cayenne!), Raspberry Habanero, Pineapple Jalapeño, and Mango Sweet Chili.
Mexican Chocolate
If you like chocolate yogurt and love spicy with sweet, you'll likely love the Mexican Chocolate flavor. Highlights included "tastes like Abuelita Mexican cocoa" and "tastes like liquid cheesecake!" Lowlights included "too spicy" and "long story short — gross." The jury is still out [editor's note: I enjoyed it], but overall it got a solid "pretty good."
★★★☆
Mango Sweet Chili
Another "not bad" option is the Mango Sweet Chili yogurt that blends creamy Noosa yogurt with mango puree and a bit of heat. For many a reviewer, the spice was "too intense" or "overwhelming," but some fans still found it to be "AMAZING!" Those who love eating mango with tajin will probably really enjoy this yogurt.
★★★☆
Raspberry Habanero
The raspberry in this flavor was really present and well done — fresh, natural, and perfectly sweet. Some testers found the savory component (almost salty) of the habanero unappealing, while for others, this was a plus. "The subtle heat enhanced the berry," one fan said.
★★★☆
Pineapple Jalapeño
The favorite of the group was Pineapple Jalapeño. "Perfect balance of fruit and spice," one reviewer said. The only negative reviews cited once again that the "peppers are too salty" and "tastes more savory than sweet."
★★★☆