The Peloton Instructors Share Their Beyoncé Series Outfits — Get Ready to Fall Crazy in Love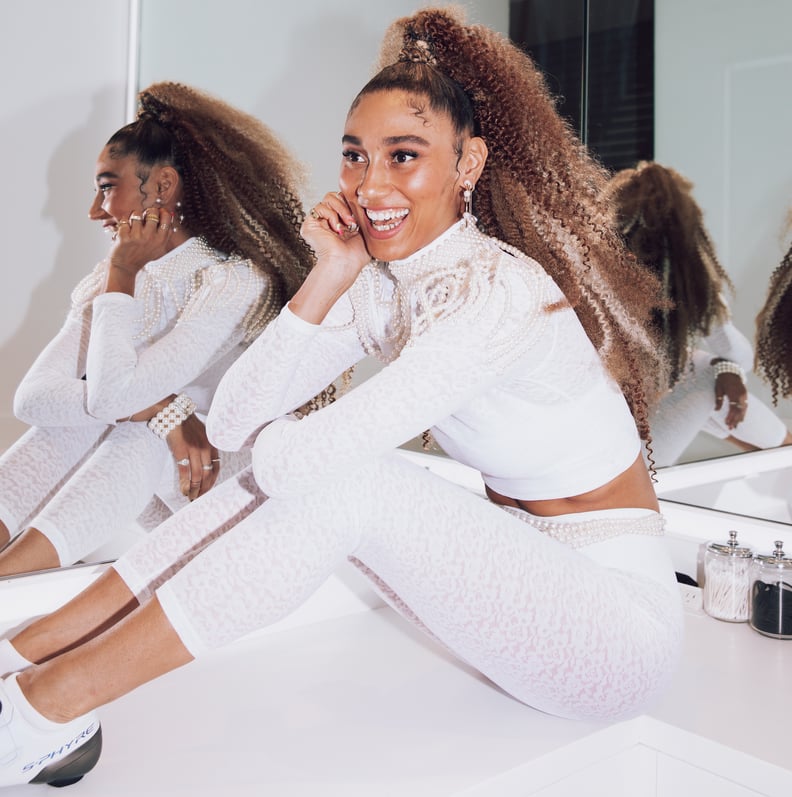 Peloton | Sara Haile
Peloton | Sara Haile
When I first started taking Peloton classes, I was quite honestly amazed by the workout outfits the instructors put together, prompting me to quiz them on how they get dressed for the spotlight. But this far into social distancing at home, I feel like a Peloton digital app veteran, and I expect these guys to come ready to sweat in full glam — especially when they're teaching one of the themed classes.
The latest in Peloton's Artist Series (where you'll find the likes of Alicia Keys, Prince, and Britney Spears music to choose from) is Beyoncé. I would say these classes need no introduction, since I'm sure you know her explosive songs are set up for insane power sprints on the tread and pushes on the bike, but Beyoncé's partnership with Peloton is more than that. Beyoncé and Peloton donated free two-year membership access to students across 10 Historically Black Colleges and Universities (HBCUs), encouraging them on their fitness journeys and laying the foundation for runs, boot camps, rides, body strength, yoga, and meditation, all inspired by her live album Homecoming.
Naturally, Tunde Oyeneyin, Chelsea Jackson Roberts, Robin Arzón, Ally Love, and Jess Sims came ready to slay in full wardrobe, including dramatic jewelry and extremely impressive hairstyles, which were not in any way styled or directed by Beyoncé but certainly paid respect to her own iconic costumes throughout history, along with the playlists chosen by the instructors. Most importantly, all five women used their Peloton stage as a platform to remind users how Beyoncé has helped the Black community through activism. If that's not enough of a reason to show up in fishnet tights, body chains, and heaps of pearls that weigh at least a full extra pound, what is?
Ahead, get all the details on how these incredible Peloton workout outfits came to life, straight from Oyeneyin, Jackson Roberts, Arzón, Love, and Sims. As they say repeatedly throughout their classes: this Beyoncé series has made history, and the costumes are certainly part of the equation.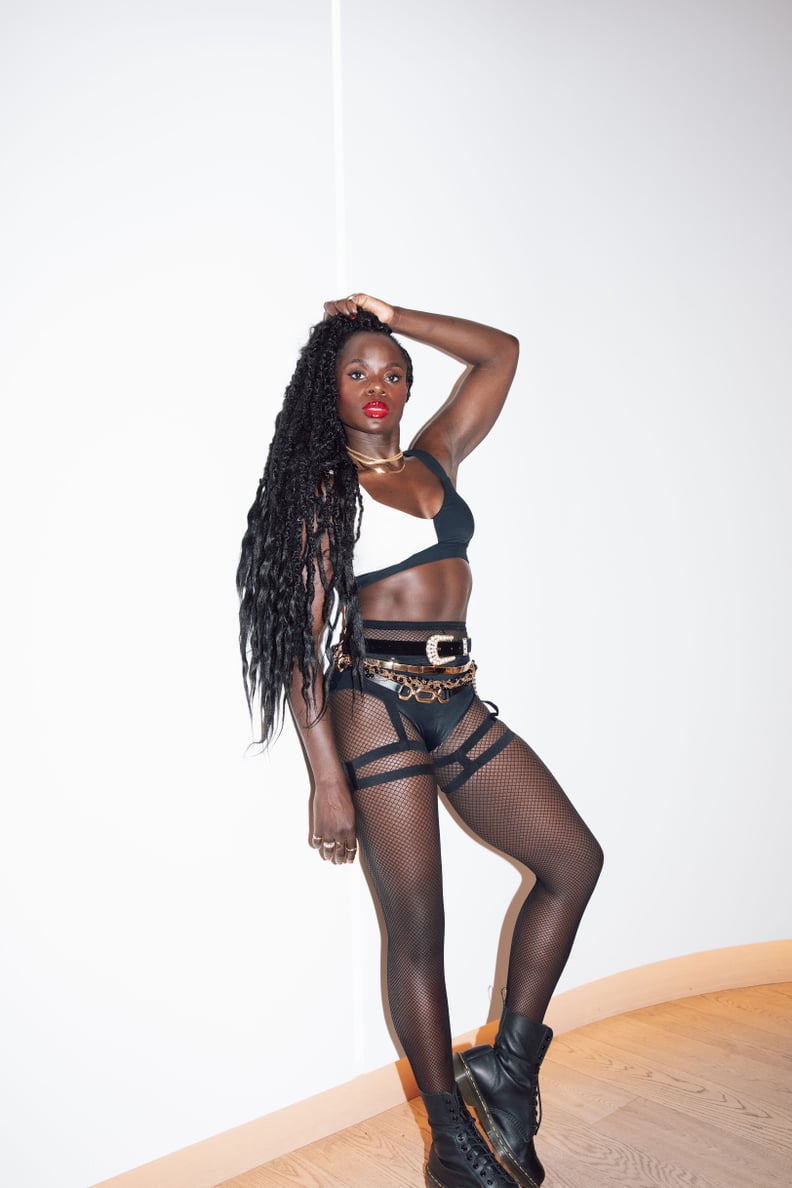 Tunde Oyeneyin's Beyoncé Series Workout Outfit
Peloton cycling instructor Tunde Oyeneyin taught the incredible Two For One Ride with Alex Toussaint. (It was my favorite class from the Beyoncé series, so I highly suggest you take it.) She wore a Vaara colorblock sports bra, an assortment of belts from Zara and gold chains from her jewelry box, and Basic high-waisted black swimsuit bottoms.
Oyeneyin said: "This is definitely the most revealing outfit I've ever worn on the bike. But if there's one thing about the queen, it's that she radiates confidence and commands the room. So when I walked onto the podium that day, I called on my inner Beyoncé, which is something that I think lives in all of us. My goal was to merge two of Beyoncé's most iconic looks together.
"My inspiration was her iconic night at the 2013 Grammys. Beyoncé wore an Osman black-and-white jumpsuit. It's one of my favorite images of her. I love the simplicity and sophistication of the look. She walked the red carpet in the jumpsuit shortly after her jaw-dropping number from the 2013 Super Bowl. If you were alive during the XLVII Super Bowl, then you know there's no forgetting her outfit! She rocked leather, fishnets, and gold chains for the night's unforgettable performance. I wrapped my waist in gold chains to add texture and bring an element of glam and pure rock 'n' roll. For a touch of bling, I finished the look by dusting my body in gold glitter."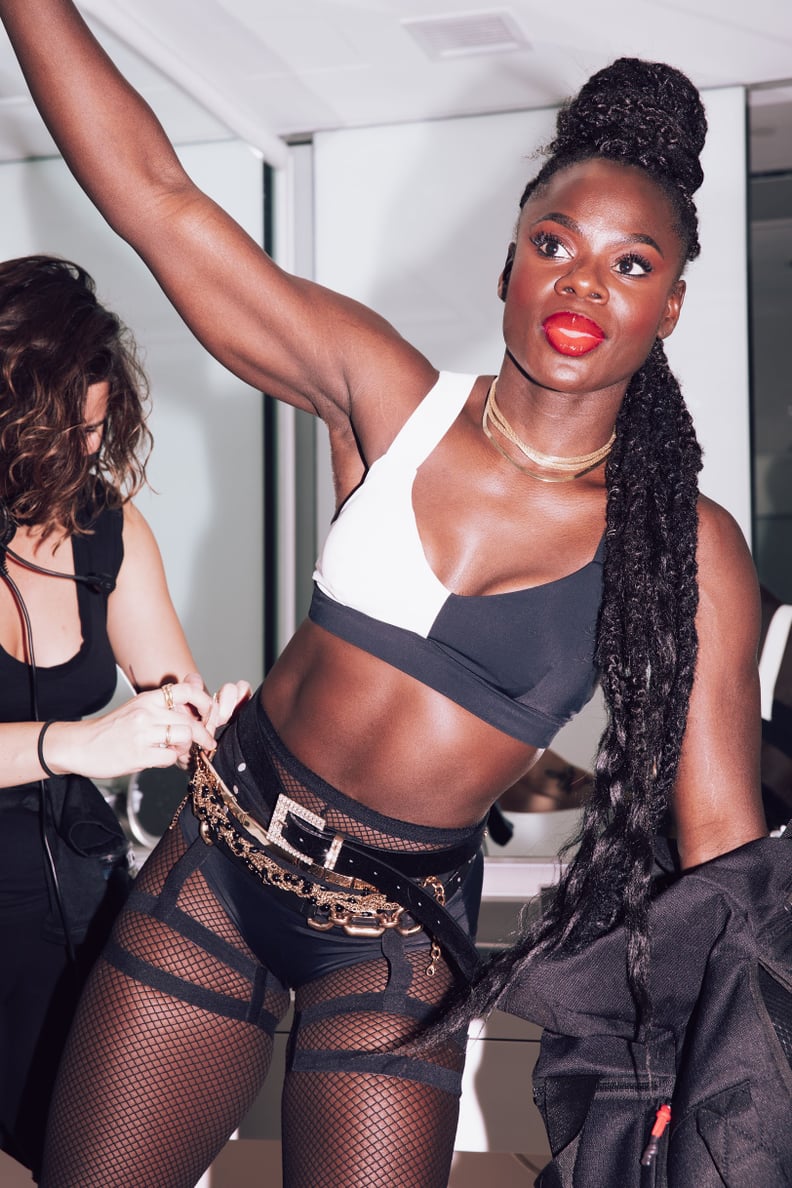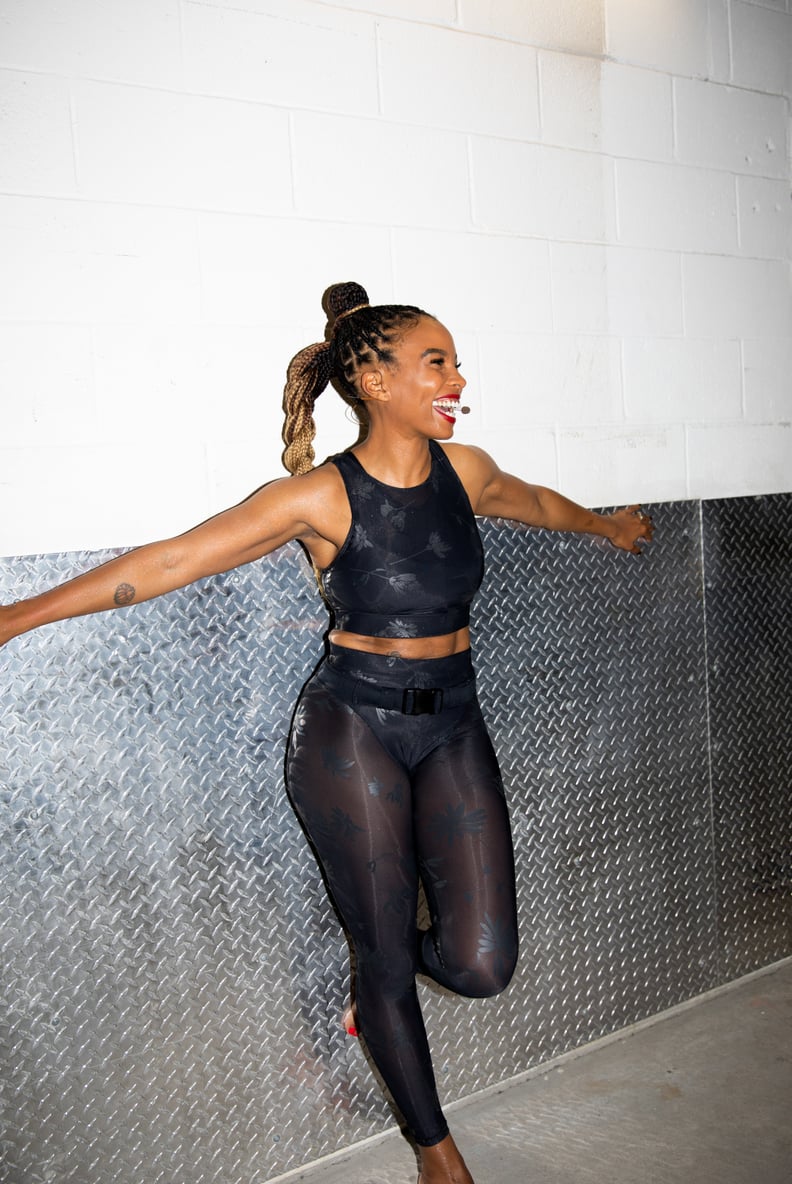 Chelsea Jackson Roberts's Beyoncé Series Workout Outfit
Peloton yoga and meditation instructor Chelsea Jackson Roberts wore an Adam Selman sports set with styling by Morgan Cruz. Her hair was braided by Mimi Madison. Jackson Roberts taught both a 10-minute Beyoncé meditation and 30-minute Beyoncé yoga flow for the series.
Jackson Roberts said: "I felt like an absolute QUEEN in my outfit styled by Morgan Cruz. When Morgan approached me with the look, I knew that she was fluent in Beyoncé, because the 'fit brought the drama, the celebration of curves, and functionality, so that I could lead Peloton through a fierce goddess flow!
"I said yes to this look because yoga makes me feel empowered and I am reminded of my royalty each time I step onto the mat. My Beyoncé Yoga Flow look and playlist matched this energy as I focused on some of the most influential songs that Beyoncé has performed, especially the celebration of HBCU Homecoming season. Go Spelman College! My look was deliberate and a celebration of culture, from my nails to my crown. I knew the finishing touch had to be an ode to the queen, so I went for the ombré braids that offered so much versatility between my meditation and yoga flow."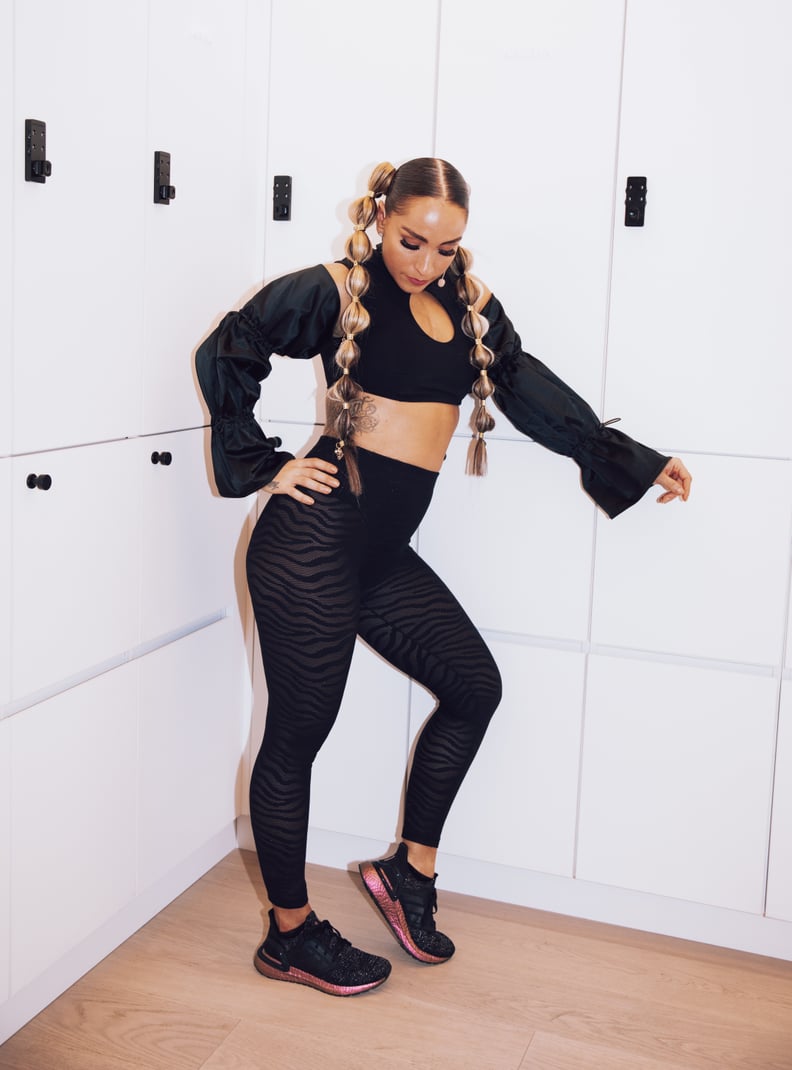 Robin Arzón's Beyoncé Series Workout Outfit
VP, Fitness Programming Robin Arzón taught a 20-minute Beyoncé full-body strength class and a 20-minute Beyoncé outdoor run. She wore this black, satin-sleeved crop top from No Ka' Oi and Adam Selman Sport tiger-print leggings for the body strength class. Her beauty credit — both hair and makeup — go to Tiffanie Garret.
Arzón said: "I really wanted the vibe of my outfit to reflect Beyoncé's power and all that she stands for as a woman, mother, and overall queen. I'm currently pregnant, so the decision to wear a crop top like this was intentional. It was empowering to show off my bump and what my body is capable of at this point in my pregnancy. Women are badasses."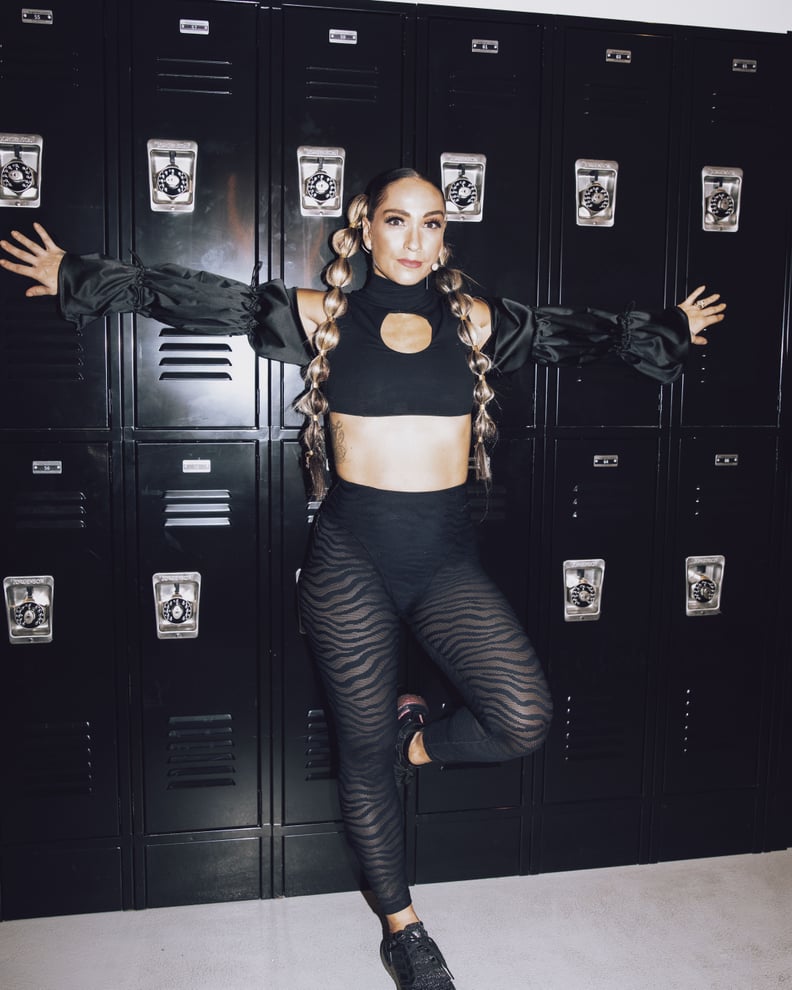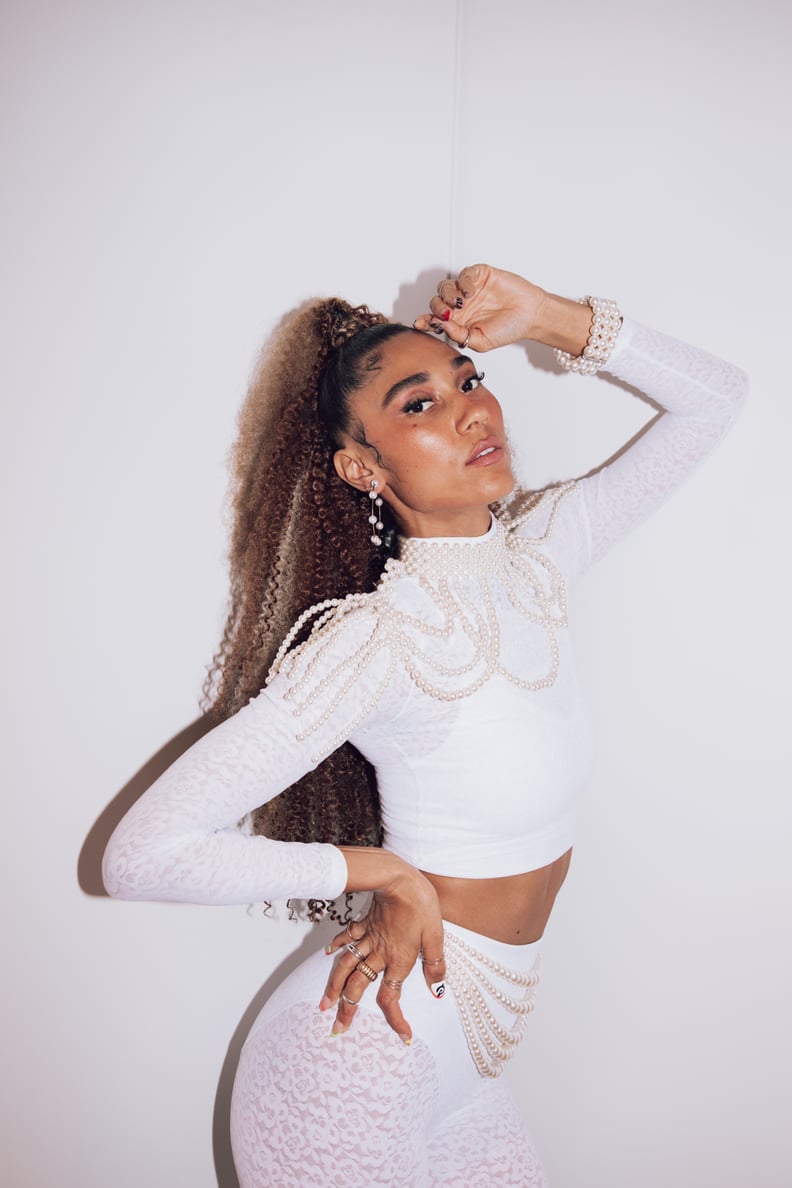 Ally Love's Beyoncé Series Workout Outfit
Peloton cycling instructor Ally Love taught the 30-minute Beyoncé ride wearing an Adam Selman Sport top with Adam Selman Sport bottoms, both in sheer white stretch lace with pearls from Amazon. David Dalrymple assisted Ally in styling her look, and Sherma Best was responsible for her hair and makeup. Love's manicure was done by Mei Kawajiri. Her final accessory? Gold grillz.
Love said: "The white was unique as no one else was wearing white for their Beyoncé Artist Series classes. I played off of Beyoncé's iconic high-cut lace leotard that serves all the feels. As I was inspired to re-create the Bey look, I paid close attention to details, from the noticeable half-up/half-down Beyoncé hair to the gold grillz that was featured in a close-up camera pan when she sings, 'Yonce all on his mouth like liquor,' to my nail art having a crown, a bee, and the words BEY & ALLY on them. Not to mention, the middle finger was dropping red 'hot sauce in my bag swag.'
"Beyoncé sees, hears, and feels everything when it comes to her performance, and so I did the same for my Beyoncé ride. For my class plan, I added dance moves for each song from that song's music video and I closed each song with a respective pose that Beyoncé struck while performing it. They usually say the devil is in the details, but the truth is that Beyoncé is in the details — that's what makes it flawless."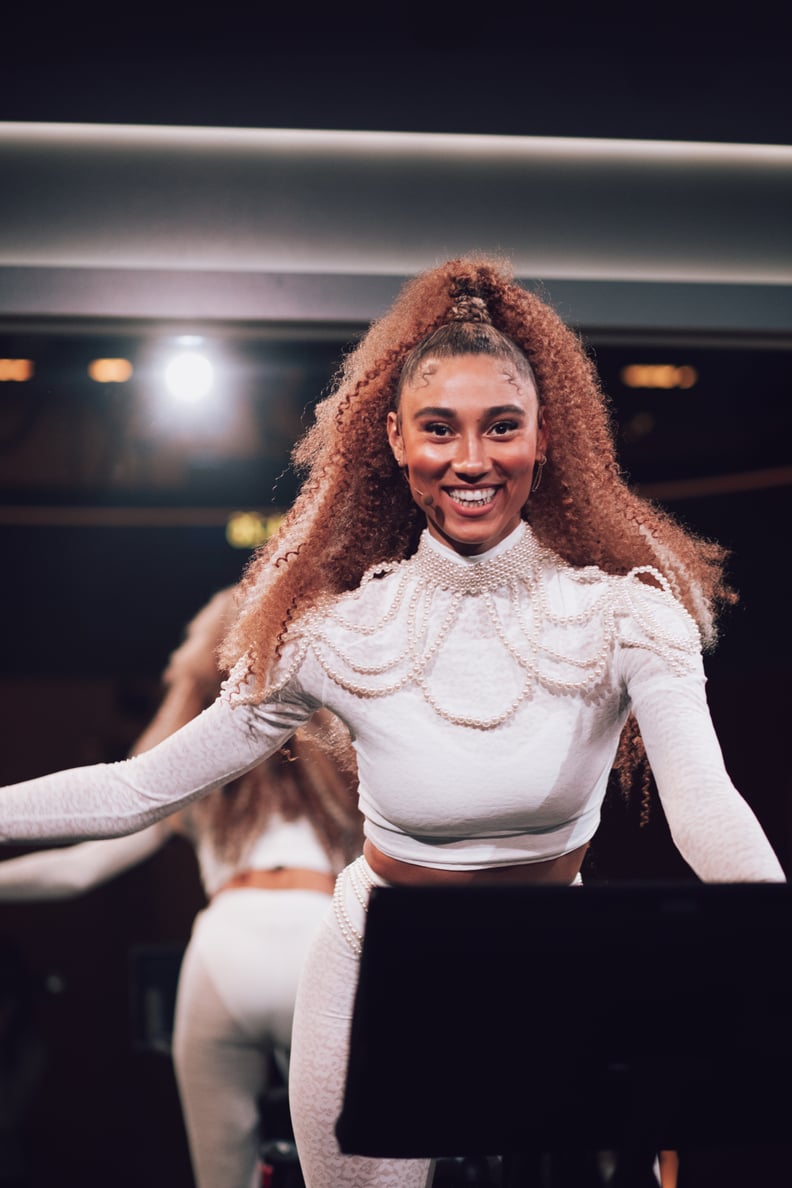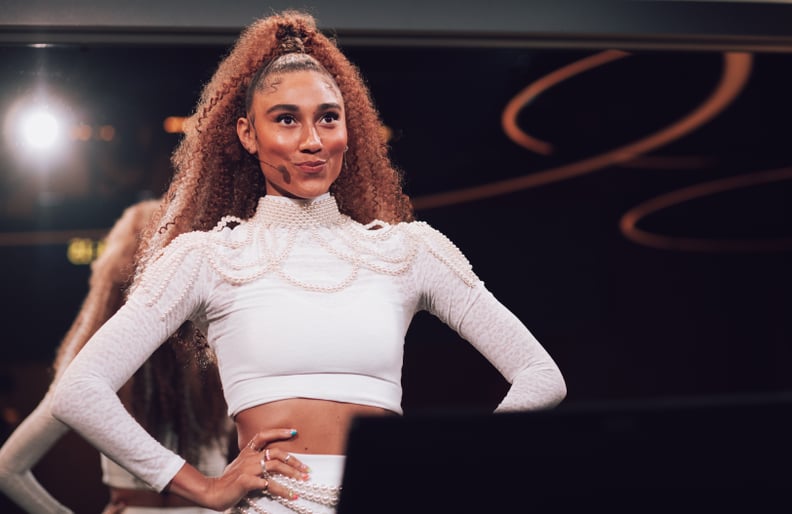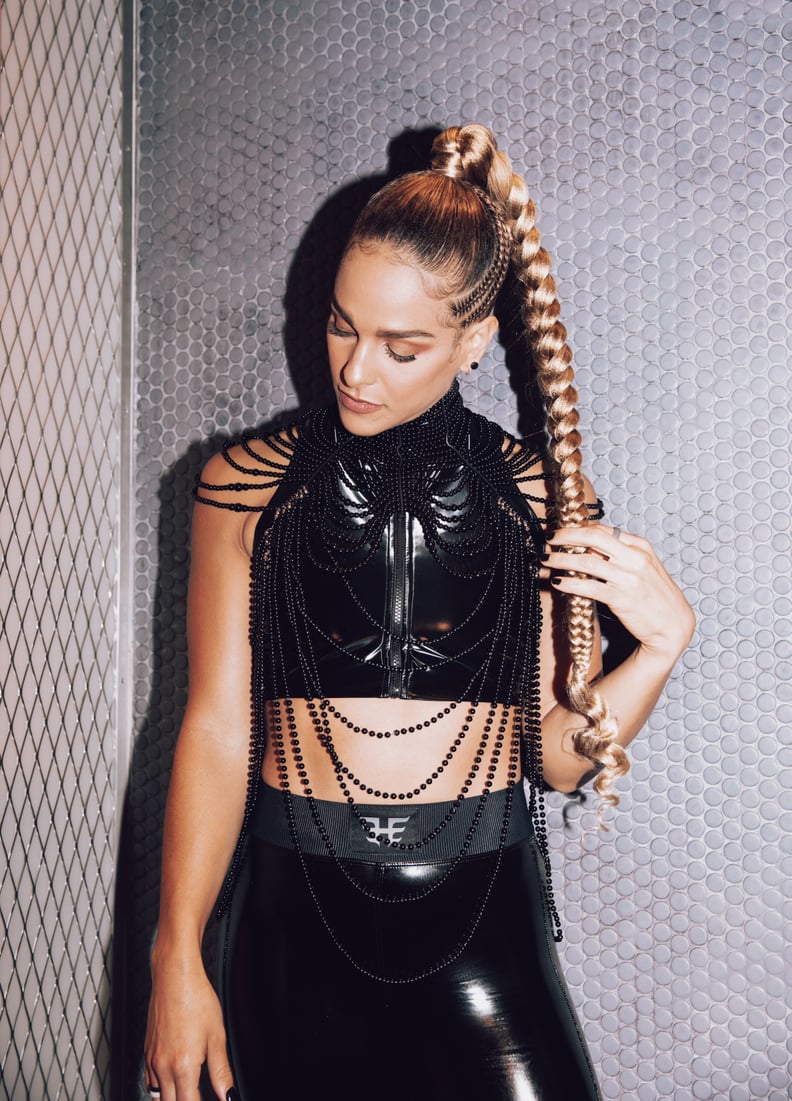 Jess Sims's Beyoncé Series Workout Outfit
Peloton Tread instructor Jess Sims taught one of her most inspiring Tread Bootcamp classes to date in a Heroine Sport patent crop top and biker short set with a beaded body overlay from Amazon. Jess was styled by Morgan Cruz, and her hair was done by Amourjah for Braid Envy. Krystle from Beauty in BLCK was responsible for her glowing makeup.
Sims said: "I got my inspiration from this Beyoncé look! I just thought she looked so fierce, so strong, so empowering, and I wanted to create the fitness version of it! I split my 60-minute boot camp with studio tracks on the Tread and Homecoming tracks on the floor, so I wanted it to work with both of those vibes!"