The Seattle Storm Just Endorsed Joe Biden and Kamala Harris
"There Is No Doubt Who We Support": In a Rare Move, the Seattle Storm Endorse Biden-Harris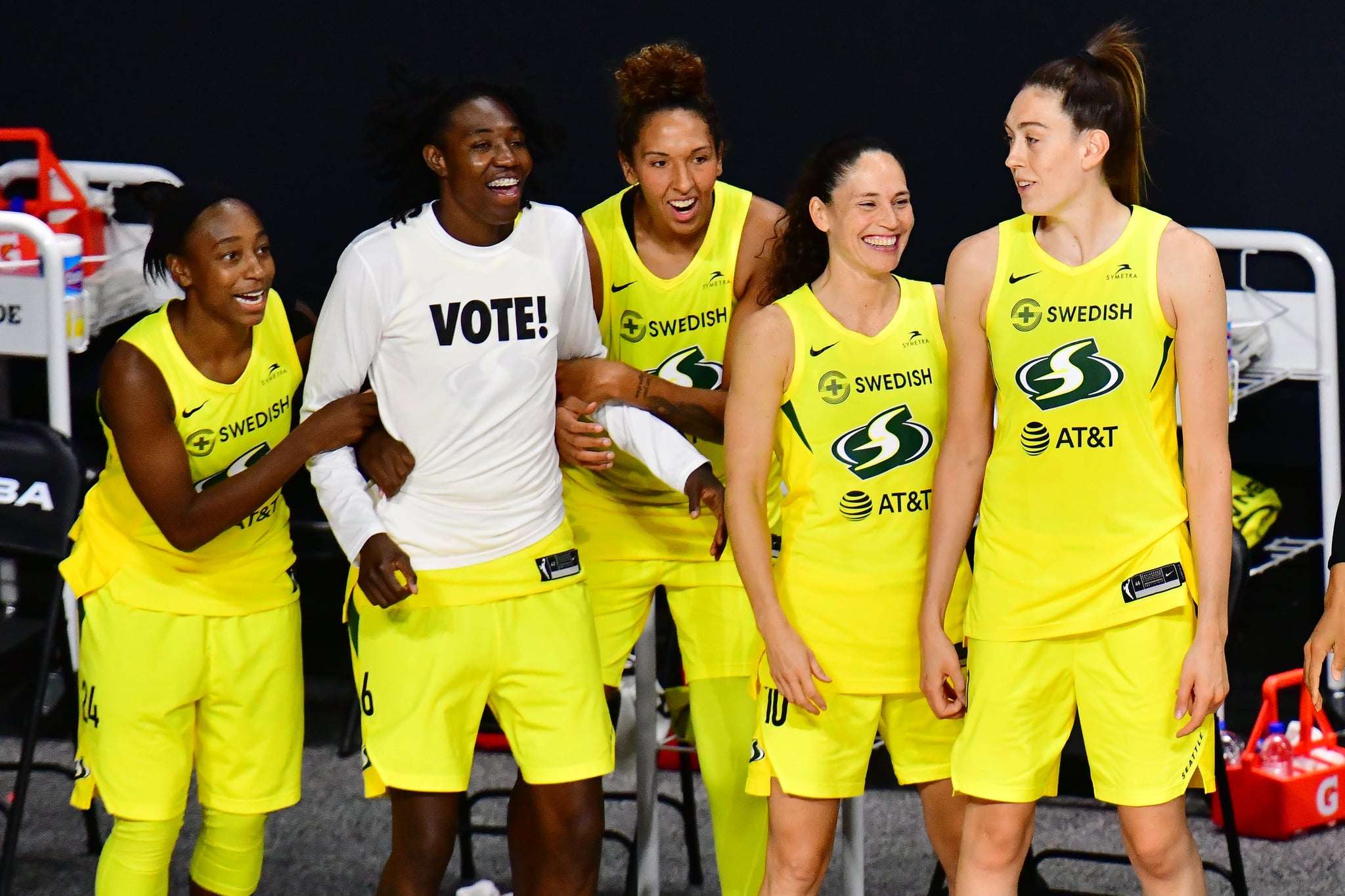 Image Source: Getty / Julio Aguilar / Stringer
We're used to seeing players and owners of pro sports teams throw their names behind presidential candidates, but it's exceedingly rare for a full team and organization to endorse a ticket. The Seattle Storm took that step today by officially endorsing Joe Biden and Kamala Harris for president and vice president.
"Join us in support of @JoeBiden and @KamalaHarris," the team wrote in a tweet. Co-owners Dawn Trudeau and Ginny Gilder also released short statements on Twitter, with Gilder writing, "We don't typically endorse candidates, but these are NOT typical times." Trudeau added, "There is no doubt who we support in this election."
The WNBA is known for being a leader in social justice, so it only makes sense that its newly crowned 2020 champions would lead the charge with this extraordinary endorsement. Having formally dedicated the 2020 season to social justice, the WNBA showed outspoken support for the #SayHerName campaign and protested the shooting of Jacob Blake. Players also joined together to support Rev. Raphael Warnock, a Senate candidate running against incumbent and Atlanta Dream co-owner Kelly Loeffler, who opposed the WNBA's vocal stance for social justice. That movement was led by Seattle Storm star Sue Bird, who has emerged as a WNBA leader on social justice alongside WNBA Players' Association President Nneka Ogwumike, WNBA Social Justice Council member Layshia Clarendon, and many others. Other players even opted out of this season to continue the fight.
"Any women's professional sports league lives at the corner of business, sport, and social change by virtue of the huge amount of sexism that exists in this country with respect to women and sport," Storm co-owner Gilder told the Seattle Times. "The WNBA, powered by its players, is becoming more vocal because the leaders in the league and the owners believe our players' voices should be amplified." As WNBA players cement their status as social-justice leaders, it's clear that there's no "just stick to sports" message in this league.
To make your own voice heard, be sure to vote on or before Nov. 3. Here's how to vote in person or by mail.
Join us in support of @JoeBiden and @KamalaHarris.

𝙍𝙚𝙜𝙞𝙨𝙩𝙚𝙧 𝙩𝙤 𝙫𝙤𝙩𝙚 ⬇️️🇺🇸https://t.co/YBC3Hr8i1W

🗳️𝐕𝐎𝐓𝐄 𝐄𝐀𝐑𝐋𝐘🗳️#Force4Change pic.twitter.com/Pe4qCSztHS

— Seattle Storm (@seattlestorm) October 21, 2020