The events of Aug. 26 were a long time coming. After the police shooting of Jacob Blake three days prior, which left him paralyzed from the waist down, the Milwaukee Bucks of the NBA made the decision to sit out their playoff game against the Orlando Magic. That choice started a ripple effect throughout the sports world: all six playoff games scheduled for Aug. 26 and 27 were postponed as NBA players met to determine the fate of the season; the Milwaukee Brewers, taking their cue from the Bucks, chose to strike their own game against the Cincinnati Reds, followed soon after by the Seattle Mariners (playing the San Diego Padres) and the Los Angeles Dodgers (playing the San Francisco Giants). NFL practices were cancelled. Five MLS games were postponed.
Much of the attention has been given to the NBA, and understandably so; the league started the strike and has emerged as a powerful voice for racial justice. But as this momentum builds, let's not forget where the lion's share of the work has been done over the past few years: the WNBA.
The WNBA made one of the strongest and fiercest statements yesterday. Even before deciding to postpone their three scheduled games, players arrived wearing shirts that spelled out Jacob Blake's name. Each was painted with seven bullet holes in the back to represent the number of times Blake was shot. When the decision was made to strike, Atlanta Dream center Elizabeth Williams came to the center of the court to read out a powerful statement from the players. "What we have seen over the last few months, and most recently with the brutal police shooting of Jacob Blake, is overwhelming. And while we hurt for Jacob and his community, we also have an opportunity to keep the focus on the issues and demand change." They proceeded to kneel, lock arms, and raise their fists as the national anthem played.
The NBA's voice is urgently needed in this fight, but with all due respect, it's the WNBA that has been at this for a long time. As early as 2017, as President Trump was castigating NFL players for kneeling during the anthem, entire WNBA teams were taking a knee or even walking off the court while "The Star-Spangled Banner" played. The year before, three teams were fined for wearing Black Lives Matter shirts, then fought those fines until they were dropped, raising public awareness in the process.

WNBA teams have hosted town halls on race and spoke with civil rights leaders like the late Rep. John Lewis. And all of that was before this season, which the league dedicated to racial justice and the #SayHerName movement following the deaths of George Floyd and Breonna Taylor at the hands of police. Some players even opted to sit out the season altogether to further this work. And let's not forget that, according to WNBA Players' Association (WNBAPA) President Nneka Ogwumike, WNBA players stand to lose more financially, relative their NBA counterparts, by skipping these games.
The WNBA was one of, if not the first, league to show this kind of collective, meaningful action for racial justice, and these players have paved the way for the movement we're seeing today in men's pro sports. All of these voices are needed in this fight, but credit where credit is due: WNBA players have been leaders for years. As WNBA All-Star and WNBAPA Vice President Chiney Ogwumike has said, "it's in our DNA."
Ahead, meet just a few of the many WNBA players who continue to lead the movement for racial justice, and who are taking the next steps as we speak.
01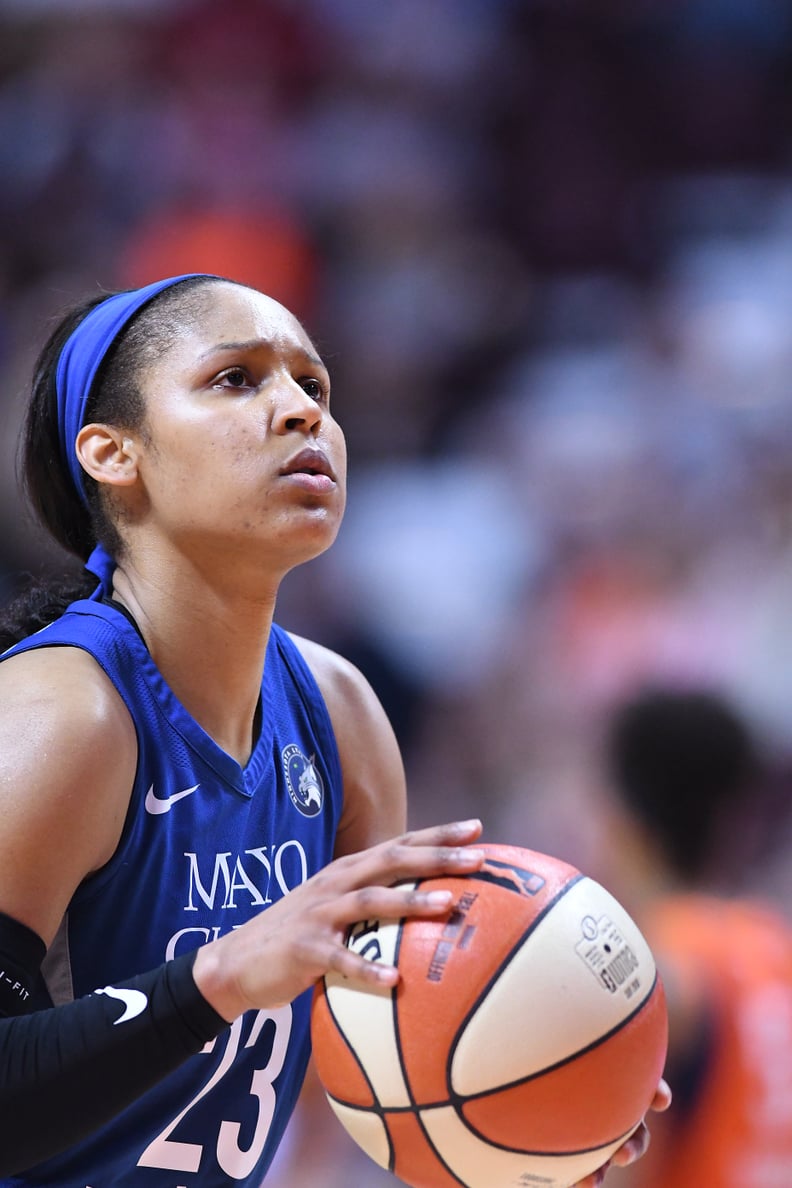 Maya Moore
At what many consider to be the height of her athletic prowess, Maya Moore has taken two seasons off from the Minnesota Lynx in order to help overturn the conviction of Jonathan Irons, a man imprisoned for 23 years for burglary and assault. Irons's case was officially overturned in March by a Missouri state judge. More broadly, Moore has been an advocate for criminal justice reform since 2016, particularly for people from marginalized communities. She has recently spoken out on Instagram about the importance of defunding the police and what that really means.
02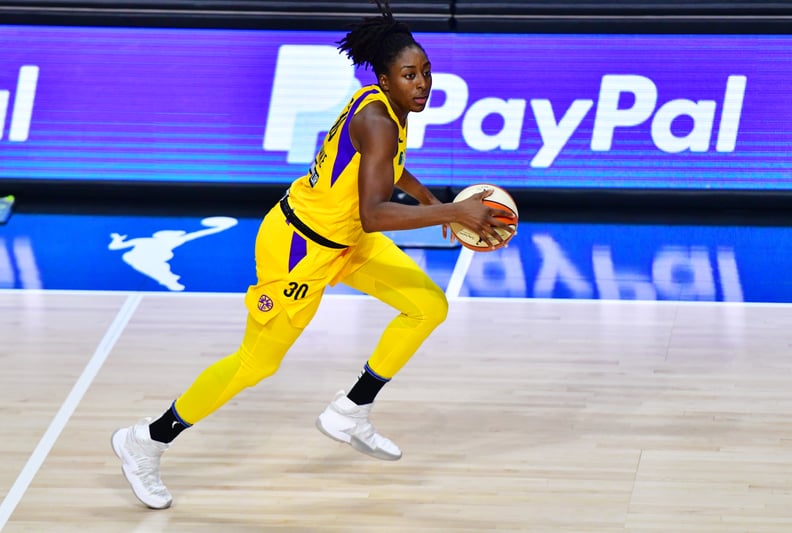 Nneka Ogwumike
As president of the WNBAPA, Los Angeles Sparks forward Nneka Ogwumike has become a powerful voice for racial and gender equality, coauthoring a powerful op-ed earlier in the season to explain how activism is baked into the identity of the WNBA. "We're not just trying to make a statement today. We're trying to also figure out what actionable items can come out of this," Ogwumike told ESPN after Wednesday's games were postponed. "It speaks to the identity that we have always had as WNBA players: coming out, standing in unity, and really amplifying our voices to foster change."
03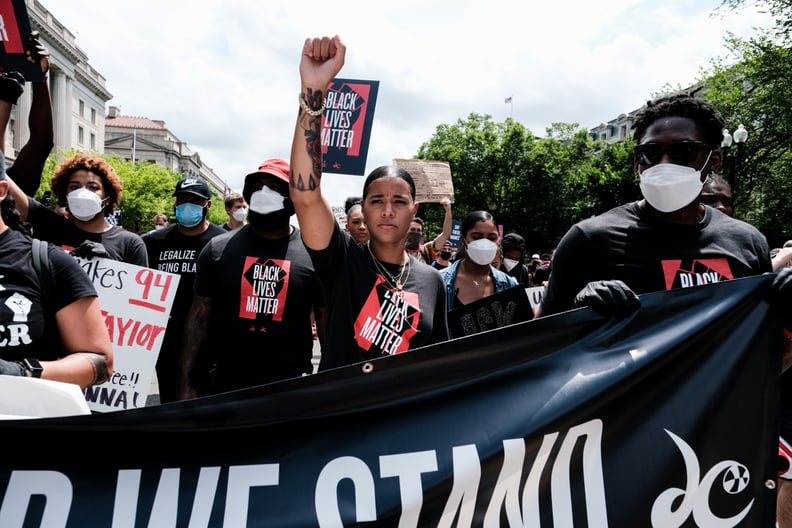 Natasha Cloud
Cloud won the WNBA Championship last year with the Washington Mystics and opted out of the season to fight for racial justice. "I am more than an athlete," she wrote in a statement on June 23. "I have a responsibility to myself, to my community and to my future children to fight for something that is much bigger than myself and the game of basketball. I will instead continue the fight for social reform, because until Black lives matter, all lives can't matter." Since then, Cloud has used her platform to encourage people to vote while speaking out against continued racism and injustice. "When we take those jerseys off WE ARE BLACK and because of that we are not valued and our lives are constantly threatened," she wrote on Instagram after the games were postponed. "ENOUGH IS ENOUGH."
04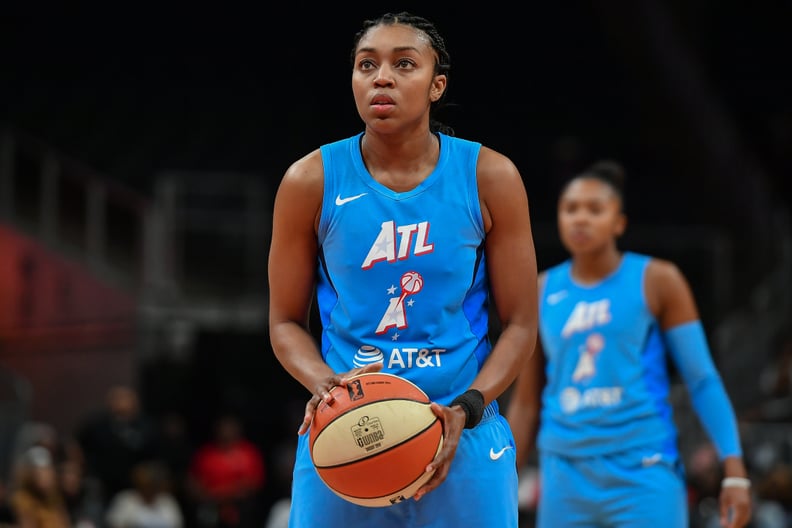 Renee Montgomery
"There's work to be done off the court," Renee Montgomery wrote on Twitter on June 18 in announcing her decision to skip her season with the Atlanta Dream. "Social justice reform isn't going to happen overnight but I do feel that now is the time and Moments equal Momentum. Let's keep it going!"
Since then, Montgomery has been pouring her energy into the Renee Montgomery Foundation. Through that platform, she's pursuing goals that range from educating voters in the issues at stake in November to providing grants to students from historically black colleges and universities.
05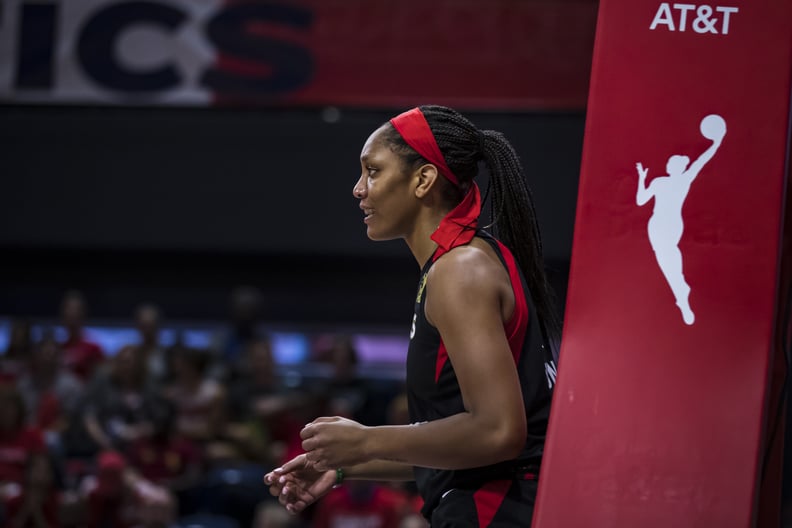 A'ja Wilson
In her third year in the WNBA, Las Vegas Aces forward A'ja Wilson isn't shying away from discussing racial and social justice. "I feel like it's a part of me. It's a part of me to demand change amongst everyone else," she told POPSUGAR in July. "The biggest thing with me is just being a voice for the voiceless. . . . I feel like I'm put on this earth to do that — to speak up for the next generation, to speak up for that young Black girl." Wilson has authored an essay on her experiences with racism and finding her power and used her platform to demand justice for Breonna Taylor.
06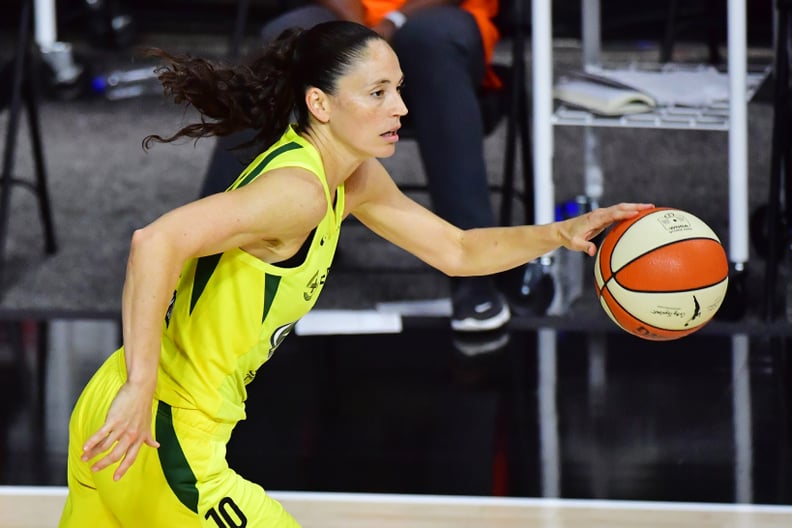 Sue Bird
Seattle Storm veteran Sue Bird knows she has often stayed silent on racial justice issues, a fact she admitted to in her ESPYs monologue. That's not the case anymore. Beyond writing with Ogwumike about the role of the WNBA in the fight for social justice, Bird was the player who suggested wearing "Vote Warnock" T-shirts as a way to leverage the WNBA's political influence. (Rev. Raphael Warnock is an Atlanta pastor running against Sen. Kelly Loeffler, an Atlanta Dream coowner who opposed the WNBA's support of Black Lives Matter movement.) "This is our moment to prove that we know a better world is one where Black Lives are valued," Bird said in her ESPYs opening.
07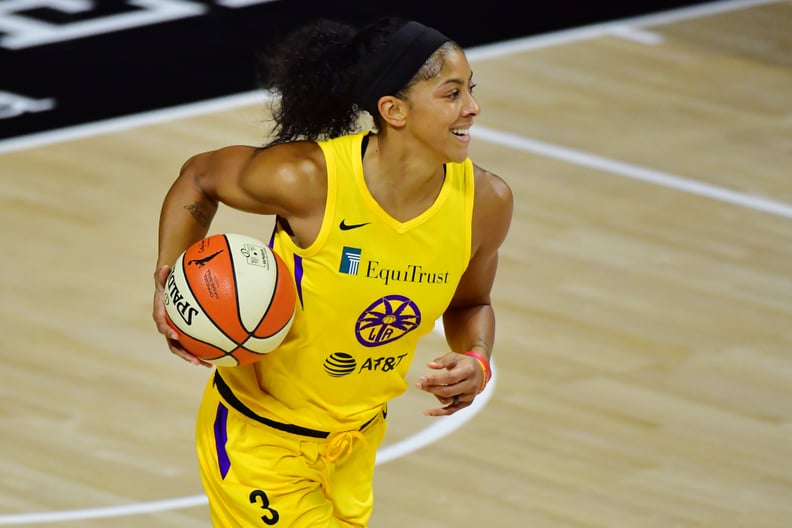 Candace Parker
"We are the majority of the minority," Los Angeles Sparks forward Candace Parker told Reuters in July. "We're a league that's 80 percent African-American women, women of color . . . different ethnicities, (we) tackle sexual orientation – like, we literally check every box." A well-known star, Parker has used her voice to fight for gender equality as well as racial justice. "Black Lives Matter on our jerseys . . . it's a moral stance," Parker told USA Today in August. "It's a values stance."
08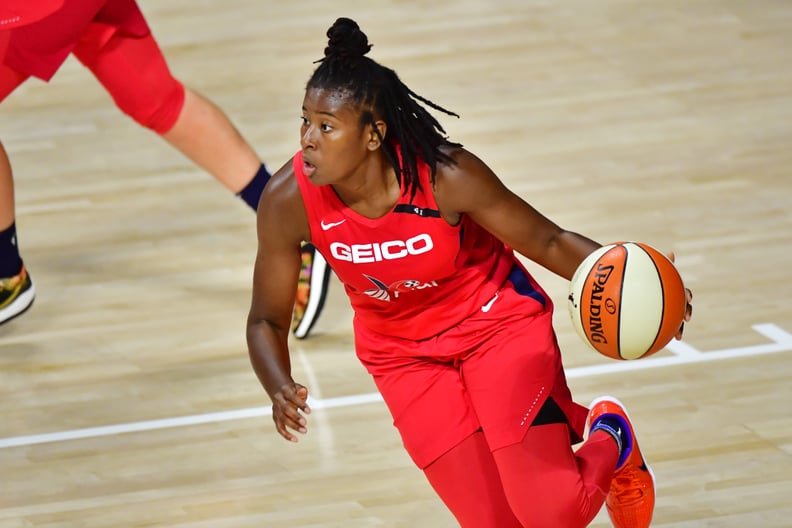 Ariel Atkins
Since June, Washington Mystics guard Ariel Atkins has dedicated her Instagram feed to remembering and fighting for Black victims of police brutality. "This isn't just about basketball," she told ESPN after the games were postponed. "We aren't just basketball players, and just because we are basketball players doesn't mean that's our only platform. We need to understand that, when most of us go home, we still are Black. Our families matter."
09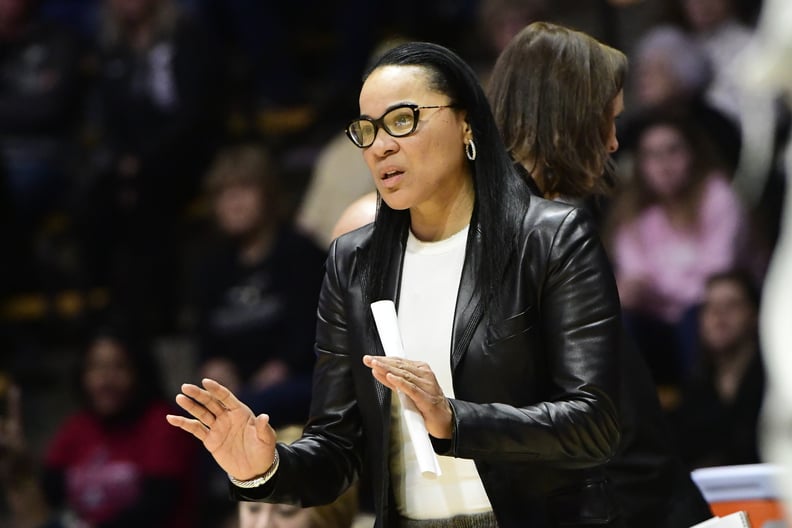 Dawn Staley
Dawn Staley, a Hall of Fame WNBA player who now coaches at the University of South Carolina, is outspoken about racial justice. In June, she wrote a searing essay for the Player's Tribune, "Black People Are Tired," describing her visceral reaction to the killing of George Floyd and her own experiences with racism. "My heart is breaking," she wrote. "We've been down this road before, and we continue to go down this road. I mean, it's 2020, and we still have to see this."
Staley, who also coaches the USA women's basketball team, has advocated for diversity in campus and athletic leadership at USC and even taken on politicians on Twitter while defending the Black Lives Matter movement.