Let's be honest: our trips to Starbucks are typically not our most health-focused endeavors, and we don't usually venture to the land of the Frappuccino with hopes of cutting calories. Right? With that being said, I have actually found Starbucks to be my healthiest pit stop while I'm traveling.
Related: Starbucks's Healthiest Iced Drinks

As a frequent road-tripper, I make the eight-hour (at least) haul between San Diego, CA, and San Francisco quite often, and I can tell you firsthand that if you don't pack food, your choices are limited. Let's just say that California's Interstate 5 isn't exactly brimming with healthful roadside options. I find myself craving a quinoa chicken salad, only to be greeted by a truck-stop Denny's and Panda Express.
Fortunately, more and more little green and white mermaid signs have cropped up, meaning there's a bit of healthy hope. From hearty vegetable salads to bistro boxes full of cheese, fruit, and veggies, you can easily find a healthy meal . . . so long as you don't get distracted by a Smoked Butterscotch Frappuccino.
Related: Starbucks's Sweetest Drinks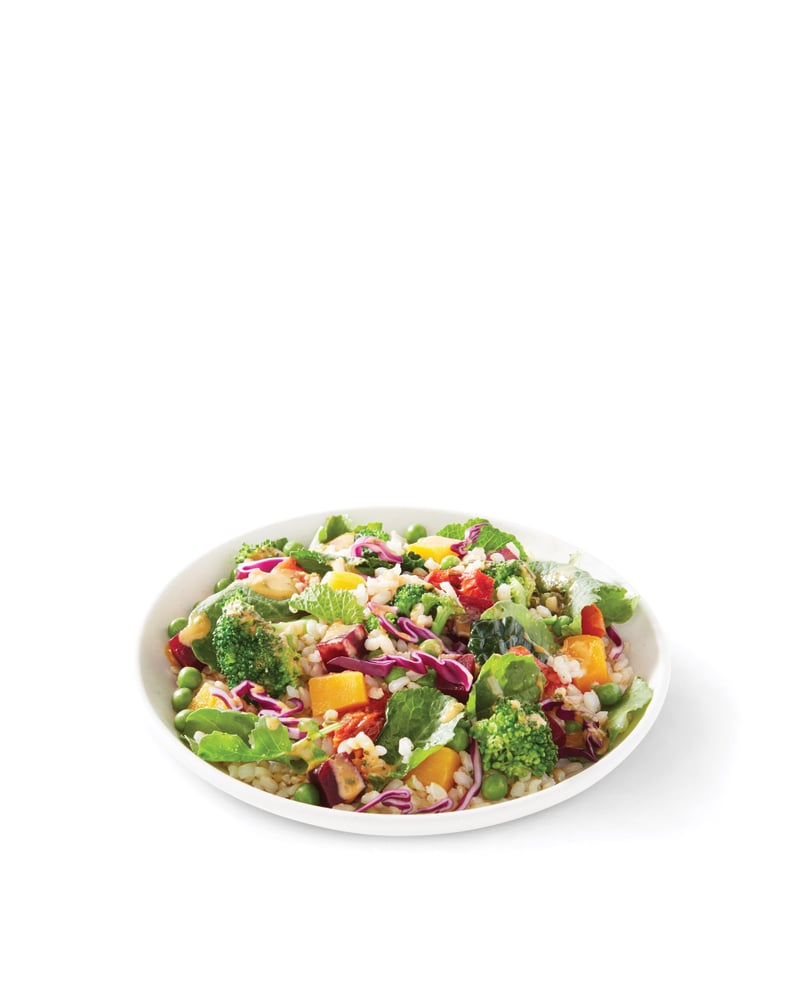 Hearty Veggie & Brown Rice Salad Bowl
This is actually my favorite healthy lunch at Starbucks. With brown rice cooked in heart-healthy olive oil and a bounty of veggies that are rarely found at a fast food or fast casual restaurant (the likes of butternut squash, beets, kale, broccoli, red cabbage, peas, and tomatoes), this 430-calorie bowl is absolutely packed with nutrient-rich, natural ingredients. The dressing is a lemon-tahini blend, which adds a light, citrusy, creamy zest to the whole deal. It's got nearly double your daily vitamin A, 130 percent vitamin C, protein, calcium, fiber, and an impressive 25 percent daily value of iron. This is probably one of the healthiest dishes you can get at any fast-food joint.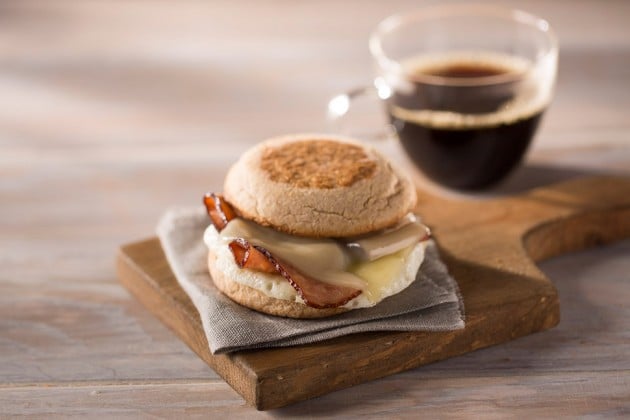 Reduced Fat Turkey Bacon Breakfast Sandwich
This low-carb, low-sugar, high-protein sandwich has a decent amount of vitamins and minerals. The reduced-fat cheese gives flavor without significantly impacting the fat and cholesterol content, making for a savory and filling breakfast meal. Keep things light and classic with a cup of black coffee or a hot tea.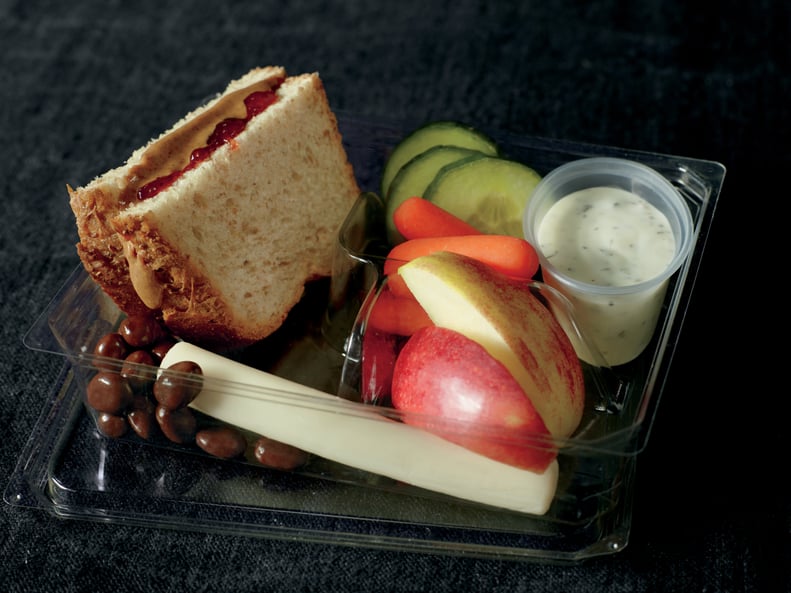 PB&J Bistro Box
Are you looking for 100 percent of your vitamin A with hefty helpings of protein, fiber, calcium, iron, and vitamin C? The 450-calorie PB&J Bistro Box is for you! And if you're looking to cut back on sugar, skip the chocolate raisins and stick with the half sandwich, veggies, fruit, and cheese. This is another option that puts you in the driver's seat in terms of what goes in your body.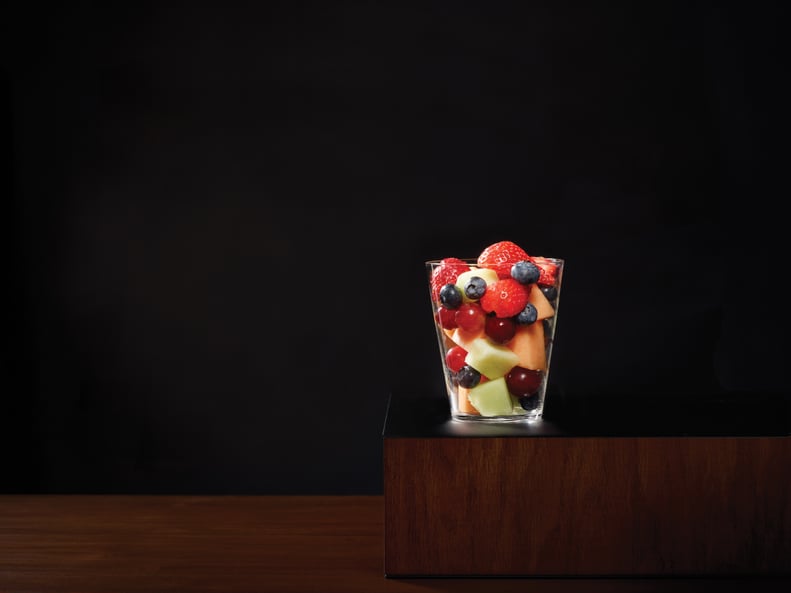 Seasonal Fruit
With no fat, low calories, 60 percent of your daily vitamin C, a bit of iron, and a good chunk of fiber, it's hard to go wrong with straight-up fruit. Although fruit is naturally a little higher in sugar, you know exactly where it's coming from; fructose has a low glycemic index, meaning it won't spike your blood sugar in the way that a processed sugar would.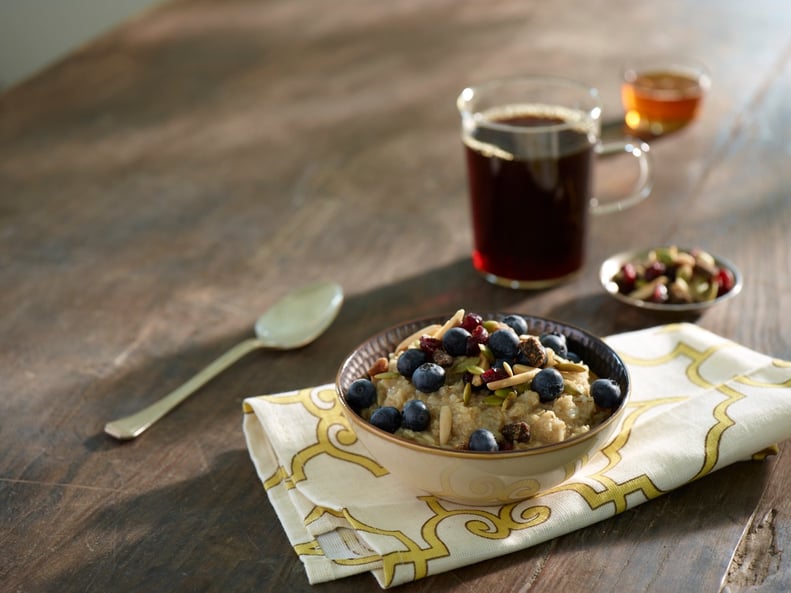 Hearty Blueberry Oatmeal
Oatmeal is always a great choice, and the Starbucks blueberry variety is no exception. It's low fat, low cal, and lower in sugar than most on-the-go oatmeal options, with a great dose of fiber, protein, vitamin C, calcium, and iron. Skip the dried cranberries to cut sugar down even more.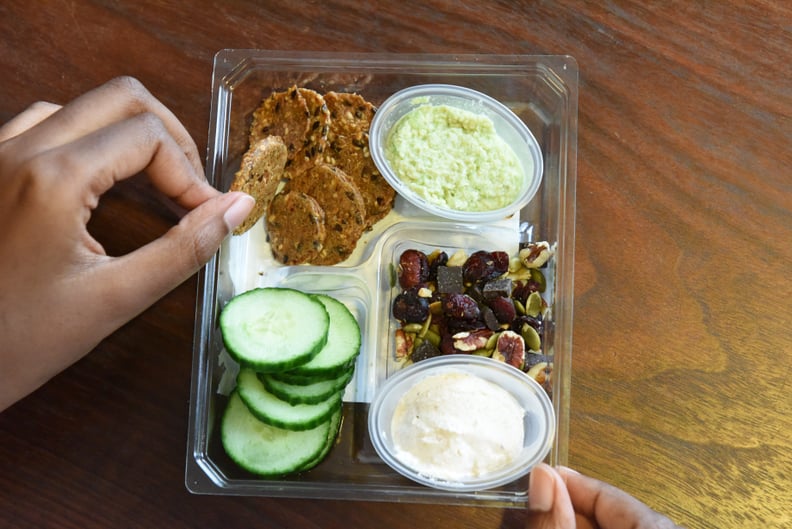 Omega-3 Bistro Box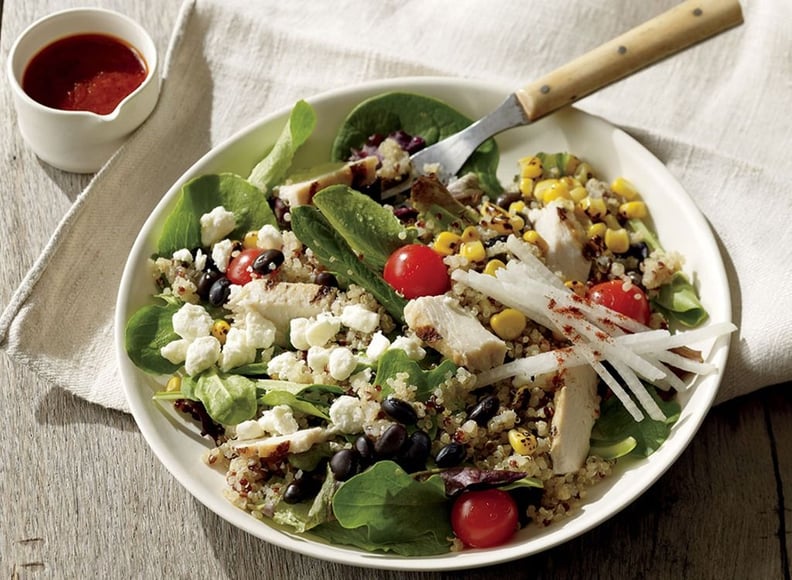 Zesty Chicken & Black Bean Salad Bowl
With corn, black beans, chicken, and quinoa on a bed of jicama, tomatoes, and Spring greens, this salad is anything but an ordinary to-go lunch. High in protein and vitamins (20 percent of your daily iron!), this 360-calorie bowl will help you feel full without breaking your diet. Be wary of the sodium content (35 percent DV), and be sure to balance out and hydrate with water (Starbucks offers free filtered water — just ask!).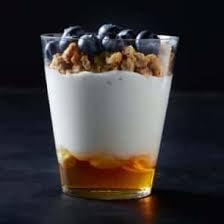 Fresh Blueberries and Honey Greek Yogurt Parfait
While its downfall is sugar content (26 grams), the yogurt parfait is a protein-packed alternative to any other sweet you might find at Starbucks. If you're trying to curb a sweet tooth and the fruit bowl just isn't cutting it, try this nutrient-rich yogurt (yay probiotics!) with natural honey and blueberries. Note: If you don't stir in all the honey, you'll significantly cut back on sugar content.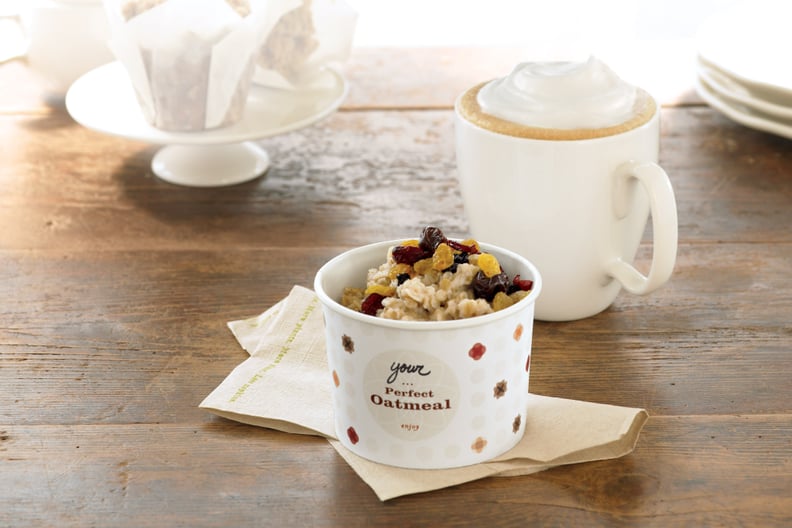 Classic Whole-Grain Oatmeal
There's no sugar in the classic oatmeal until you start adding toppings, so you're totally in control of your nutrition. The base of oatmeal provides iron and fiber, while being low in fat, calories, sugar (literally 0 grams!), and sodium. Adding brown sugar and the nut medley will run you 150 calories, but it's probably best to skip the dried fruit, as there are 22 grams of sugar per serving.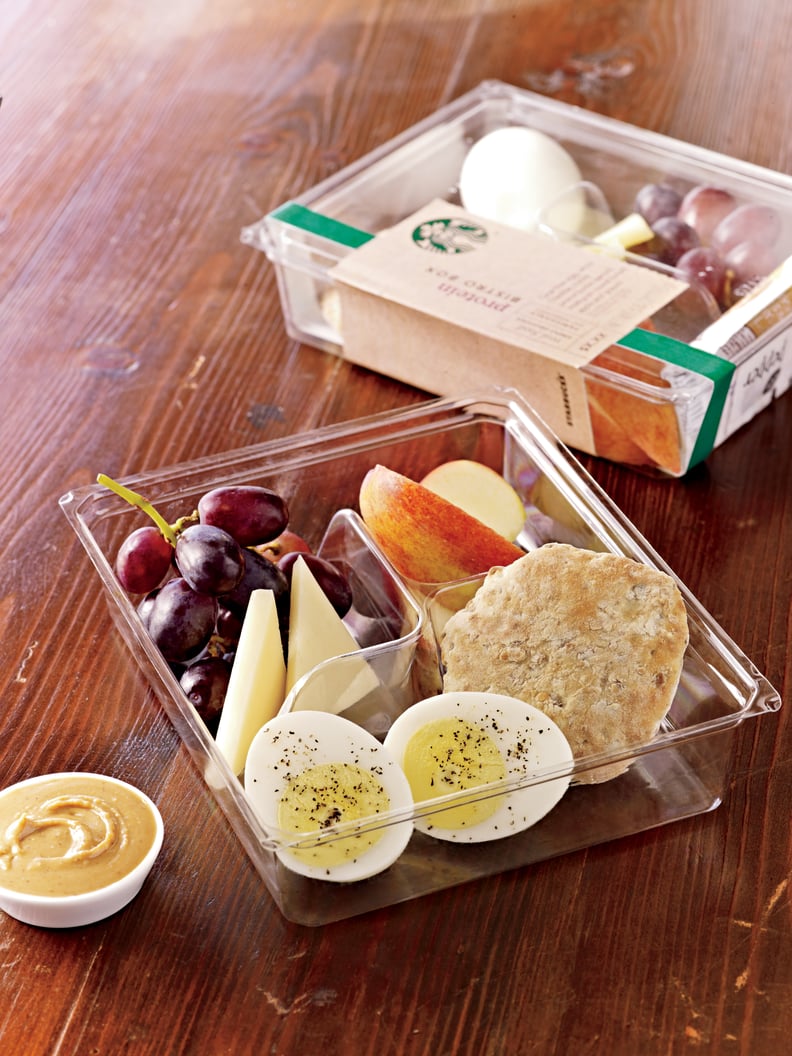 Protein Bistro Box
This box is easy to deconstruct, has whole ingredients, and lets you control what goes in your body. With apples and grapes, hard-cooked eggs, cheese, pita, and honey peanut butter spread for the apples and pita, you really get a nice variety. Skipping dairy? Don't eat the cheese! Avoiding sugar? Don't use the honey-PB spread. Also of note: the majority of the cholesterol (67 percent DV) content comes from the hard-cooked egg (one large egg = over 60 percent of your daily value). However, the whole box in its entirety will give you 13 grams of protein, so it'll be sure to leave you satisfied.