20+ Delicious Vegetarian Meals You Can Meal Prep Any Time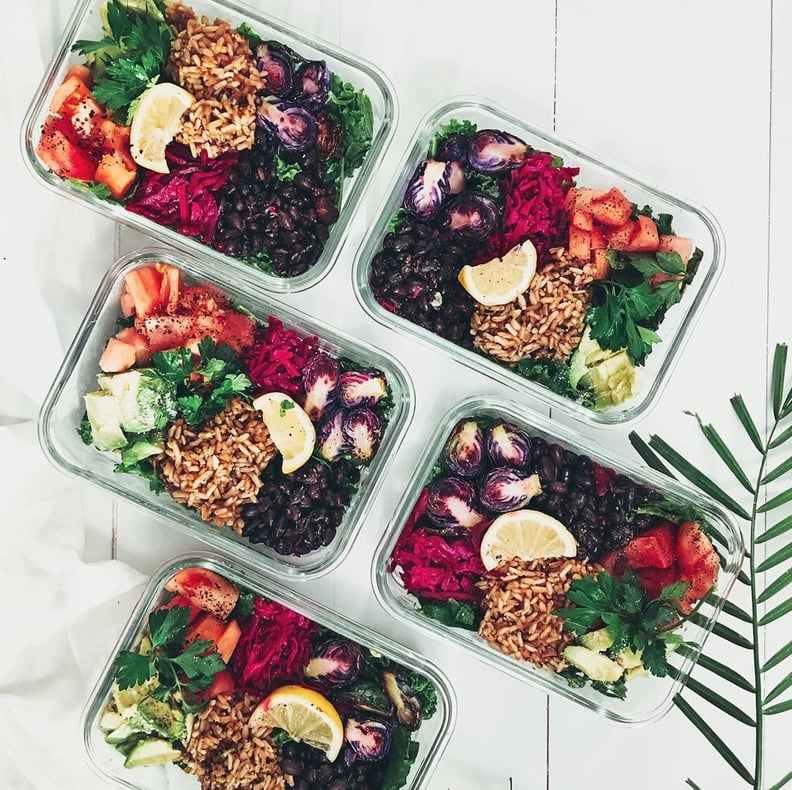 If you're a long-time vegetarian or enjoy participating in the occasional #MeatlessMonday, you'll find that prepping veggie-based dishes ahead of time will be a total game changer. Pick one night a week to chop up as many fruits and veggies as you want to create fresh, colorful, and tasty meals you can take with you everywhere. From healthy sweet snacks to savory (and filling) veggie bowls, these easy-to-prep vegetarian meals will have you drooling.
Check out these 15 vegetarian eats that you'll want to make again and again.
Oatmeal with brown sugar and cinnamon
Brown rice, sliced tomatoes, purple brussels sprouts, black beans, avocado, and kale
Veggie bowl with roasted mushrooms, purple cabbage, carrots, and green zucchini
Black beans, green beans, and roasted sweet potato chunks
Roasted cauliflower, greens, eggplant, and almonds
Steamed rice, green veggies, tofu, and banana
Lettuce, avocado, carrots, and a side of sliced kiwis
Green beans, lentils, broccoli, and corn
Rolled oats with protein powder, blueberries, flax seeds, and milk
Roasted brussel sprouts, chickpeas, sweet potato, and zucchini
Brown rice sushi, greens, cabbage, and tofu with a touch of sriracha
Mini banana loaves and banana chocolate chip muffins
Rolled oats with strawberries, chia seeds, and chopped nuts
Protein pancakes with blueberries and blackberries
No-bake granola bars with peanut butter and honey
English muffin with veggies and cheese
Whole grain noodles, broccoli, and grilled tofu
Bento box with avocado slices, olives, tomatoes, falafel, and veggie sticks
Black bean and sweet potato sliders with an assortment of brussels sprouts, string beans, cucumbers, and grapes
Spring rolls with sliced avocado, zucchini, and carrots
Veggie bowl with butternut squash, gnocchi, tomato, and brocollini
Bento box with chopped squash, bean sprouts, tomatoes, and a side of sweet potato soup
Quesadilla with brown rice, zucchini, mushrooms, onions, and cilantro