TikTok's 60-Clove Garlic Soup Recipe With Photos
TikTok's 60-Clove Soup Recipe Is For Serious Garlic-Lovers Only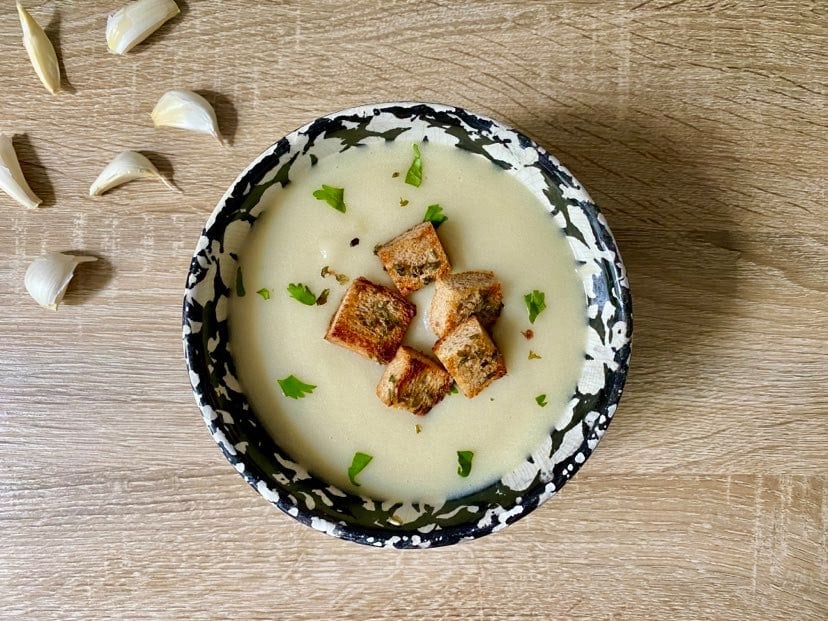 TikTok creators never cease to surprise me with the amazing recipes they come up with. Some seem a little bizarre, some are almost too pretty to eat, and others are downright delicious. So as the kind of person who usually doubles the amount of garlic that any recipe calls for, when I encountered a recipe for 60-clove garlic soup, I knew I had to try it.
If chopping 60 cloves sounds daunting, don't worry — most of the work is done by roasting the garlic, which makes it easy (and, I'll admit, satisfying) to squeeze the cooked garlic out of the papery skin. There's absolutely no mincing required! The recipe also includes potatoes and onion, plus chicken or vegetable broth, to mellow the garlic flavor out a bit. Herbs like thyme or parsley are also highly recommended to help brighten up this dish.
Let me be clear, this soup is for garlic-lovers only — if the number of cloves in the recipe title didn't give it away, this soup is garlicky. But, if roasted garlic is one of your favorite things to see on a charcuterie board and you instinctively know to double (or triple!) the number of cloves a garlic bread recipe calls for, then this soup is for you. It has a thick, creamy texture that you can jazz up with homemade croutons. You can also add mix-ins like chickpeas, shredded chicken, or whatever else might be hiding in your refrigerator. The blended base is a great starter for customization. To make it, you'll start by drizzling olive oil over garlic bulbs with just the tops sliced off. I recommend about two teaspoons of oil per clove plus a sprinkle of salt. Wrap them up in aluminum foil and roast for one hour at 400°F.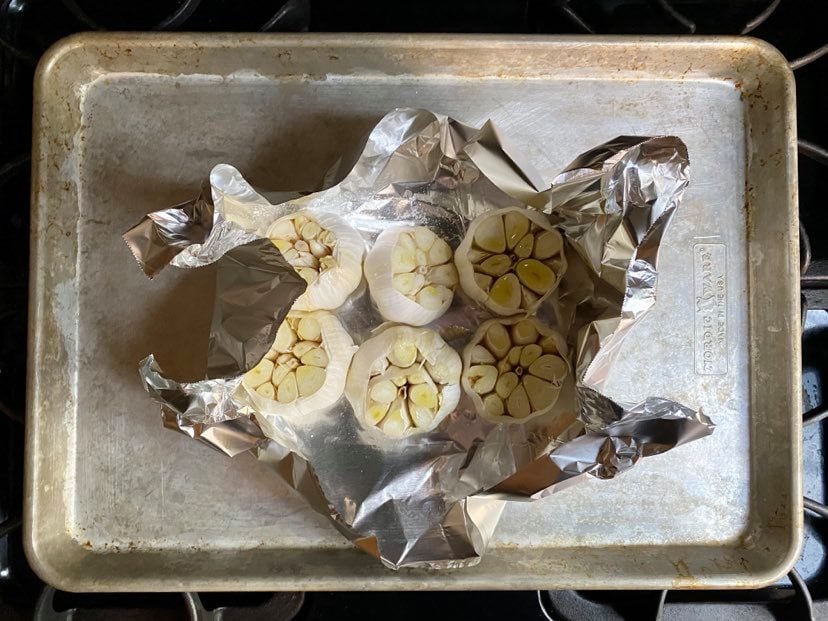 When they're done, they should look golden brown and feel soft and squeezable to the touch (but use the color check first — they'll be hot!).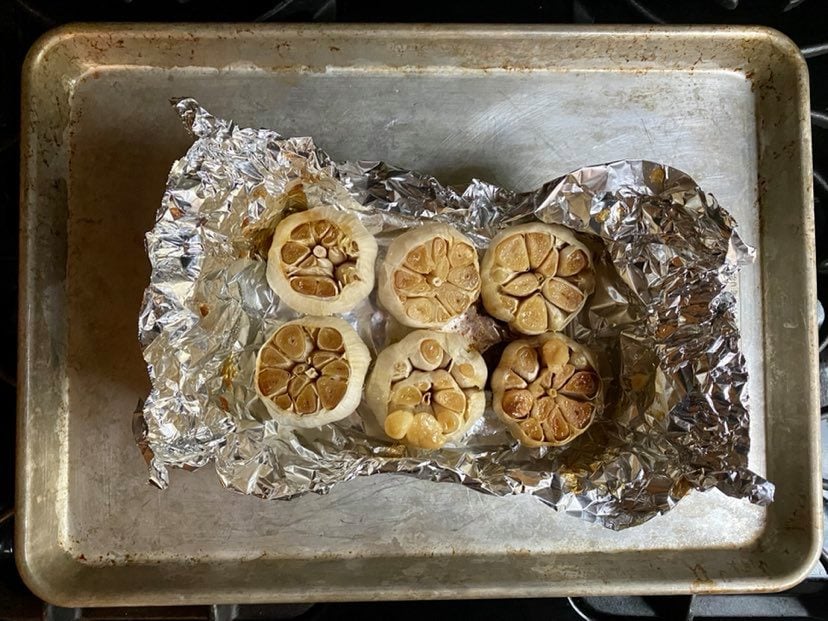 Let the garlic cool, then use your hands to squeeze the garlic cloves out of each bulb. If you have kitchen gloves, I recommend wearing them to keep your hands from smelling like garlic for the rest of the day (or week).
While the garlic cools, you can prep the rest of the soup by dicing two yellow potatoes and one white or yellow onion.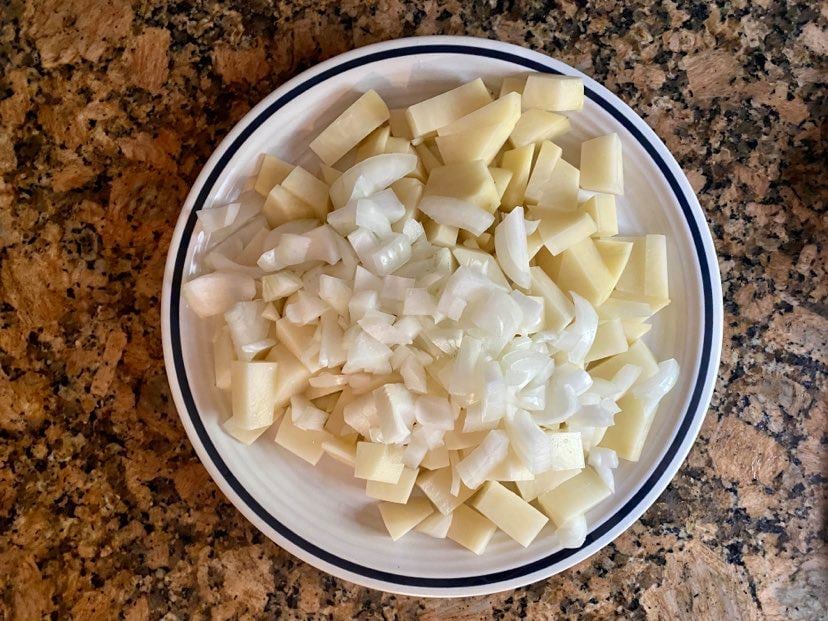 Boil them for 12 to 15 minutes, or until the potatoes can be pierced by a fork. They just need to be tender enough to blend. Once you've strained the potatoes and onions and your garlic is cool, add them to a blender with milk, chicken broth, and herbs if desired. One touch of a button later, and you've got a super-garlicky soup, ready to enjoy. I used a cup of chicken broth and found that the soup was still very thick, so feel free to add more or less for your preferred level of thickness. I also used skim milk since that's what I had on hand, but any type of milk would work here, and a fattier milk would add even better flavor! The hardest part of making this simple soup is smelling your garlic in the oven for an hour knowing that you'll have to wait to eat it. So go ahead, garlic-lovers, and try this one out.

60-Clove Garlic Soup
TikTok User @foodwithliz
Notes
You can adjust the amount of chicken broth or milk, depending on whether you prefer thicker or thinner soup.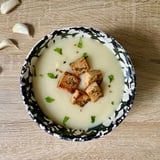 Ingredients
60 cloves of garlic (about 6 large cloves)
Olive oil
2 yellow potatoes, peeled and diced
1 yellow or white onion, diced
1 1/4 cups milk
1 cup chicken or vegetable broth
1 teaspoon salt
Optional: parsley or thyme
Croutons, for topping
Directions
Start by slicing the very top off each bulb of garlic, so that the cloves are intact but exposed.
Drizzle about 2 teaspoons of olive oil onto each garlic bulb. Top with a sprinkle of salt. Wrap in tinfoil.
Roast the garlic at 400°F for one hour, or until the cloves are golden brown and soft. Remove and let cool.
Meanwhile, dice the onions and potato. Boil them for 12-15 minutes or until fork-tender.
When the garlic is cool, squeeze the roasted cloves out of the papery skin. Discard the skin.
Combine the cloves, cooked potatoes and onion, chicken broth, milk, salt, and optional herbs in a blender.
Blend and serve topped with croutons and herbs.
Information
Category

Soups/Stews

Yield

4-6 bowls of soup

Prep Time

20 minutes

Cook Time

1 hour

Total Time

1 hour, 19 minutes, 59 seconds
Image Source: POPSUGAR Photography / Kaley Rohlinger