Dairy-Free Pumpkin Spice Latte Recipe With Photos
This Vegan Pumpkin Spice Latte Recipe Is the Answer to Your Plant-Based Prayers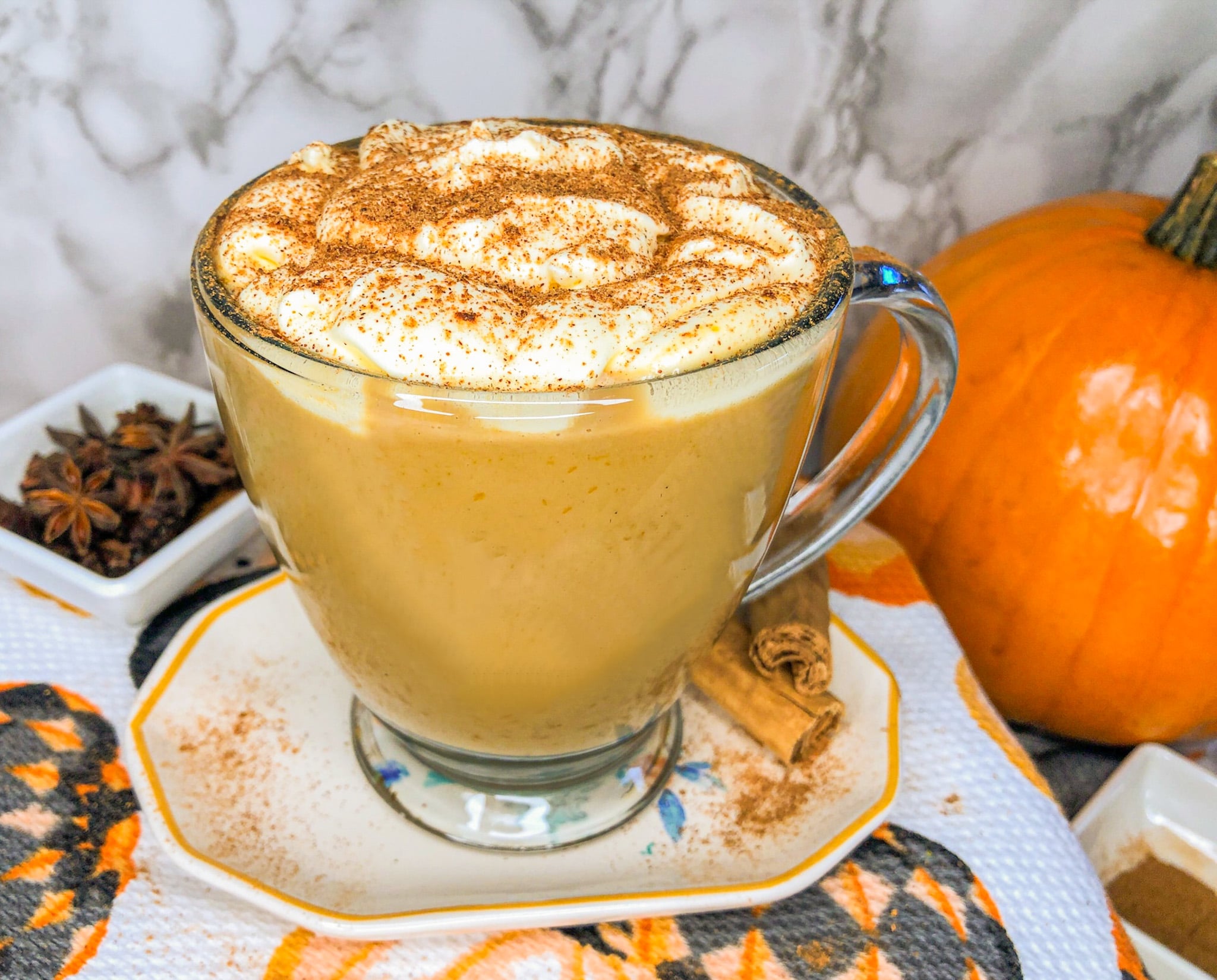 As both a lover of anything pumpkin spice-flavored and a current consumer of a 100 percent plant-based diet, I was heartbroken to learn that Starbucks's famous Pumpkin Spice Latte is not fully vegan, even when ordered with any plant-based milk. The culprit of this dairy source lies within the coveted pumpkin sauce used as the base of the latte, which is made with sweetened condensed (cow's) milk. As someone who consumes only plant-based foods in a non-vegan world, however, I have gotten used to making my own recipes at home to ensure that my favorite beverages and snacks are free of any animal products. So, when I learned about the PSL's hidden dairy, I went to work in my kitchen to concoct an even better homemade version.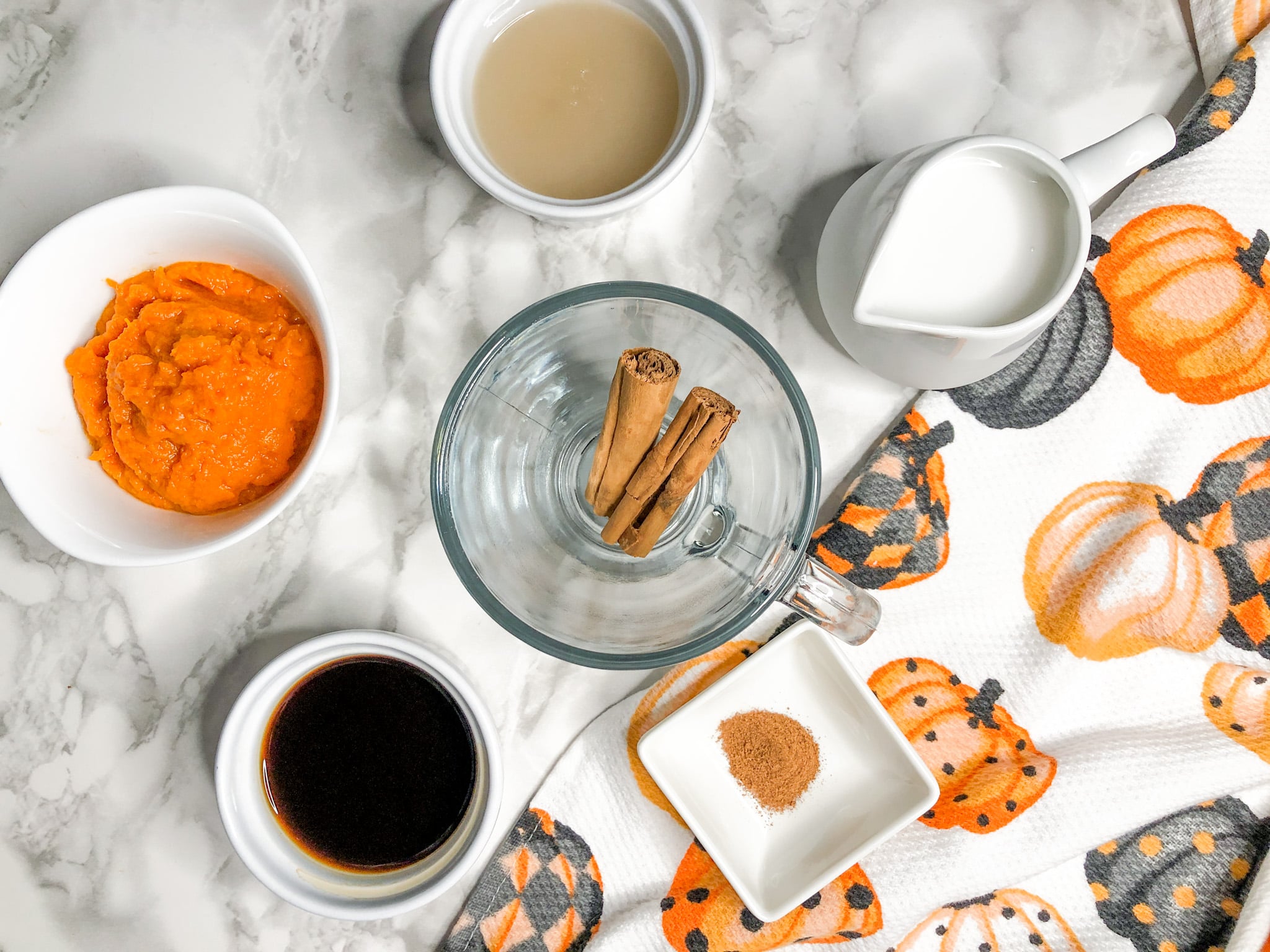 The hero of this vegan latte is coconut milk, for so many reasons. Instead of using dairy, this recipe uses coconut milk to create a luxurious vegan sweetened condensed milk and whipped cream. I love to use coconut milk as the main latte milk because of its ability to get nice and frothy, but if it's not your favorite non-dairy option, oat milk or the plant-based alternative of your choosing will also do the trick (though many can be hard to get foamy, even when whipped with an electric whisk). To make this simple recipe, just combine all of the yummy plant-based ingredients in a mug, sprinkle some pumpkin pie spice on top, and enjoy. Here are the simple steps to follow to make this delicious drink:
First, make the sweetened condensed milk by boiling coconut milk and sugar, then simmering until the mixture has thickened.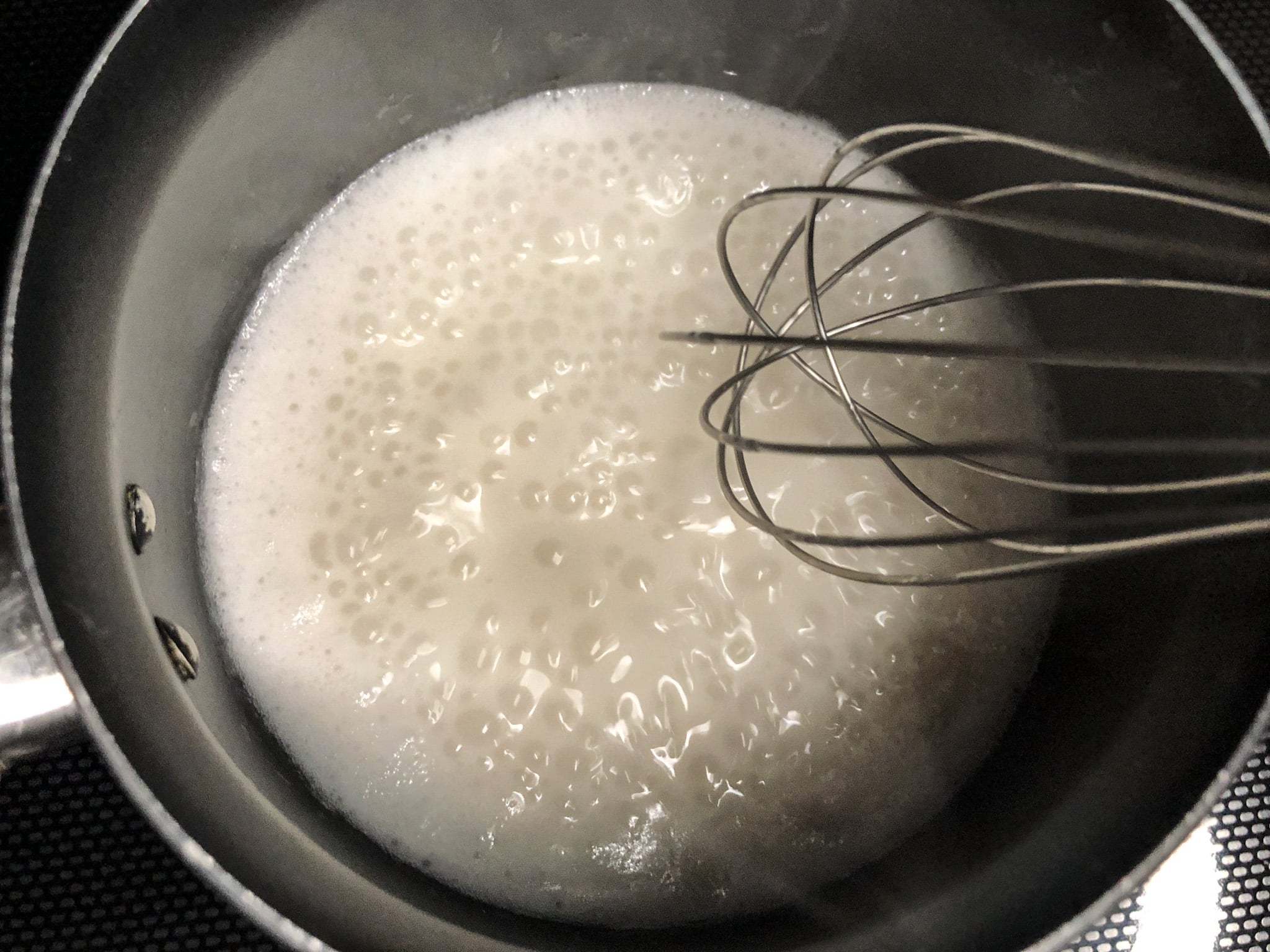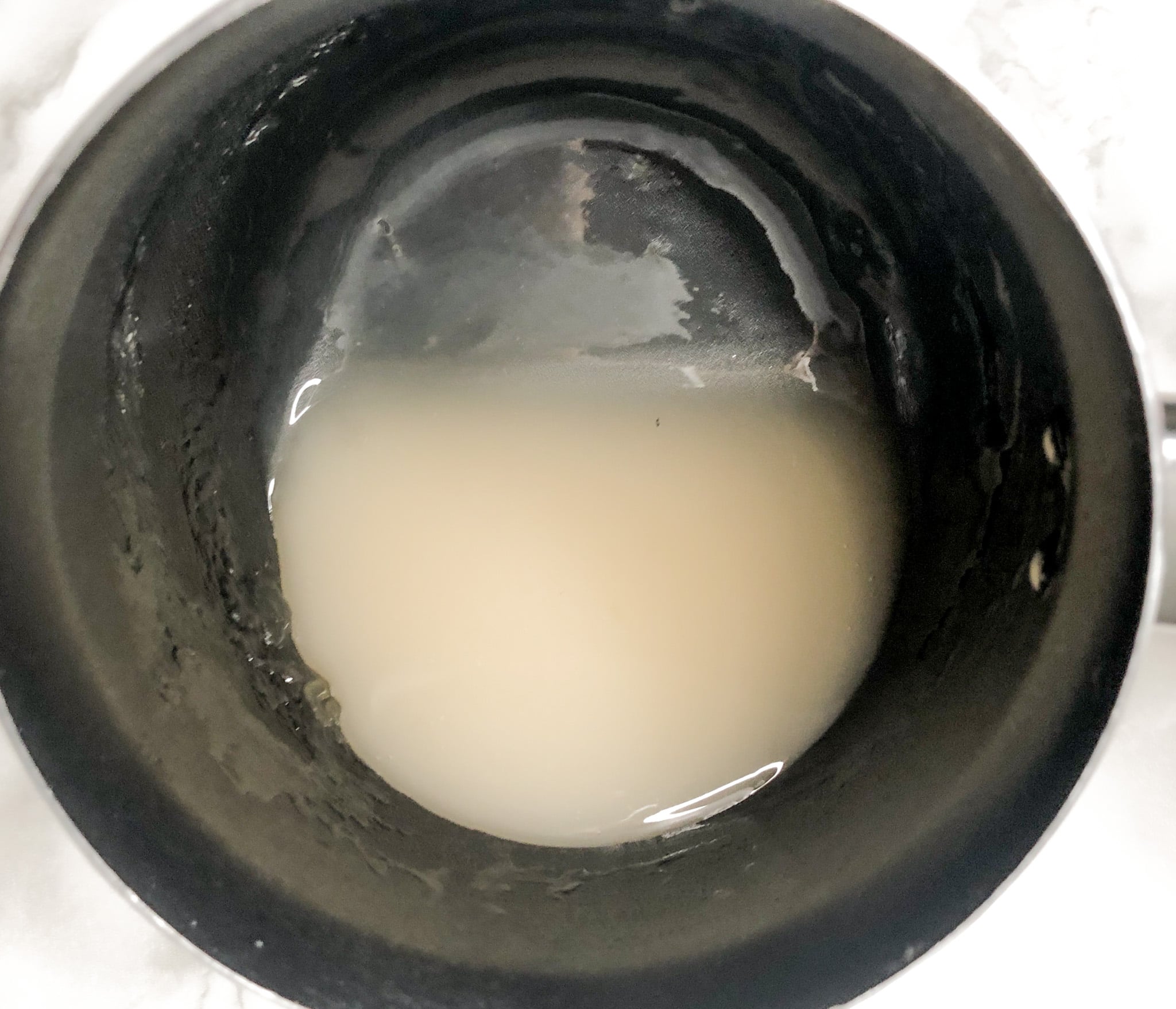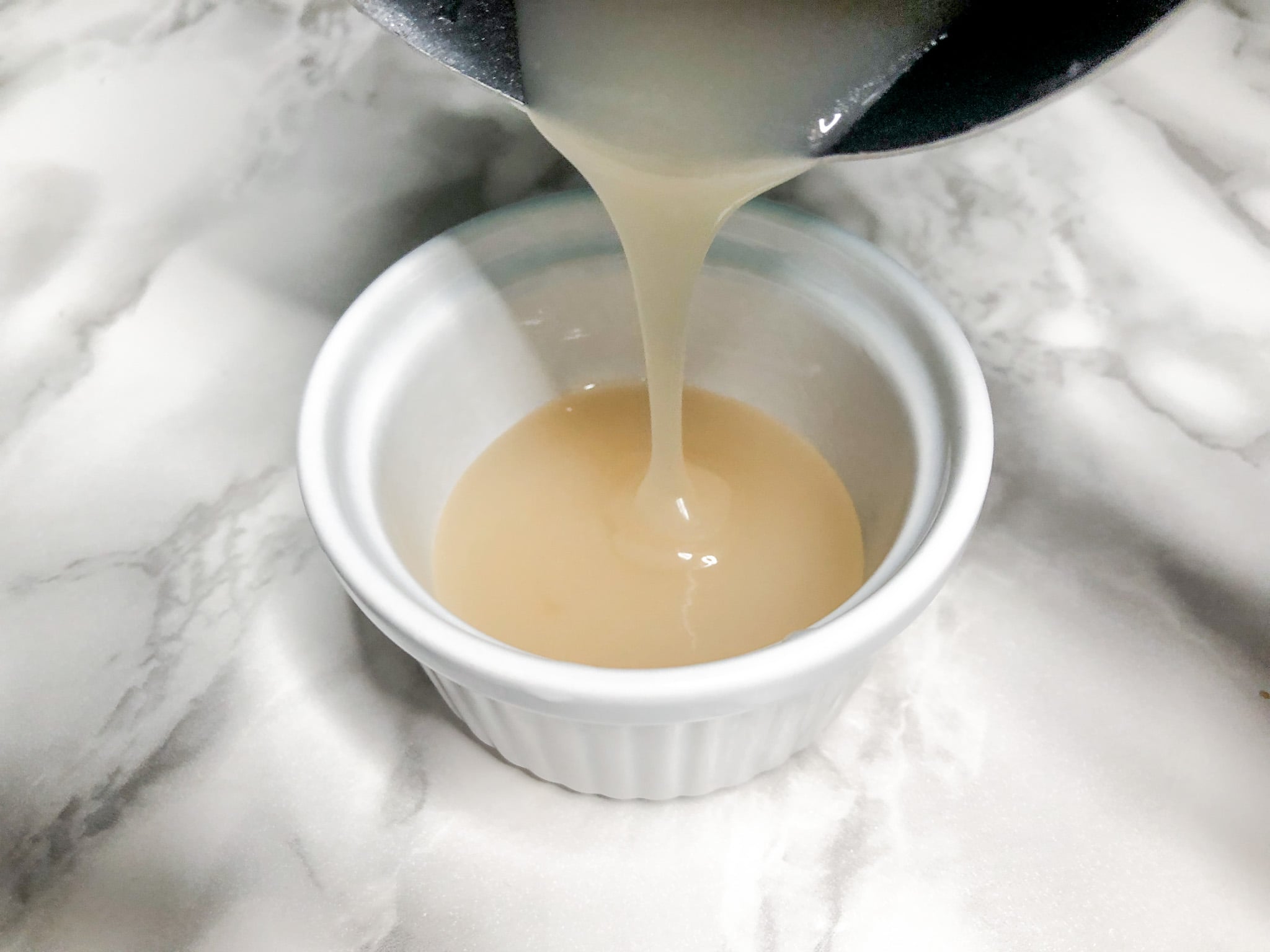 Once you've made your vegan condensed milk, it's time to make the delicious pumpkin sauce.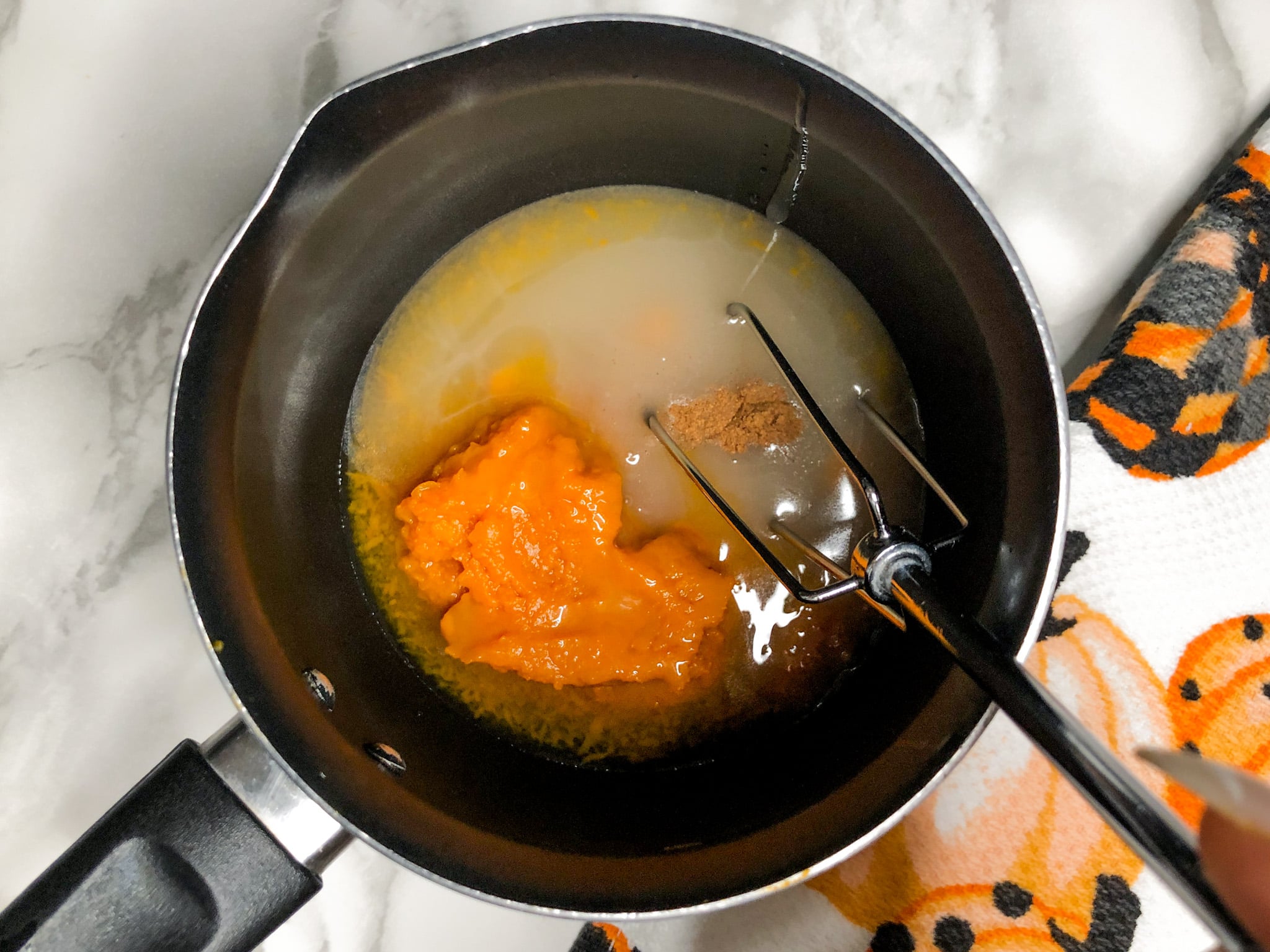 Once your pumpkin sauce is combined and thick, remove from the heat and begin building your latte, using the pumpkin sauce as the first layer of the drink, followed by espresso.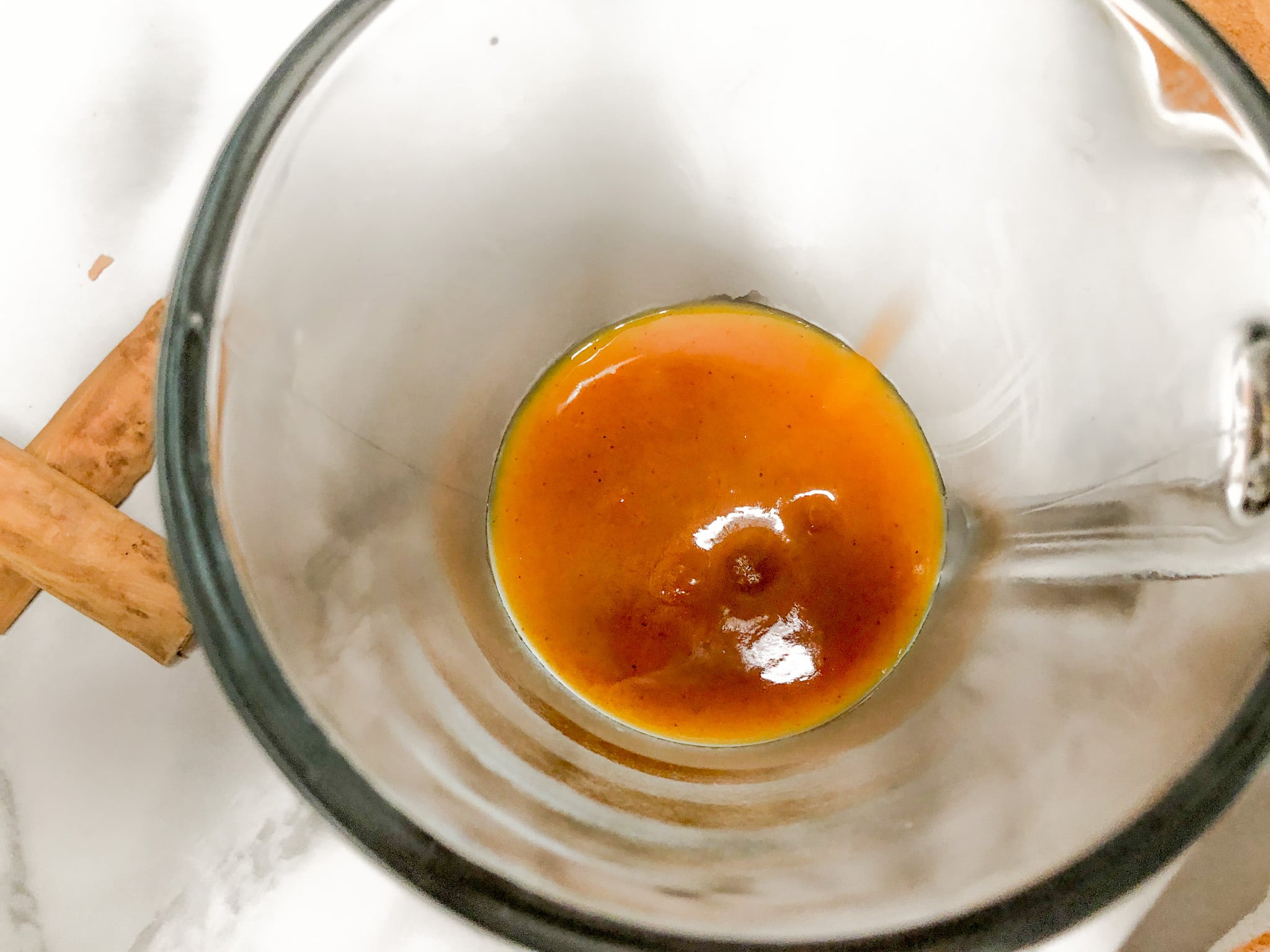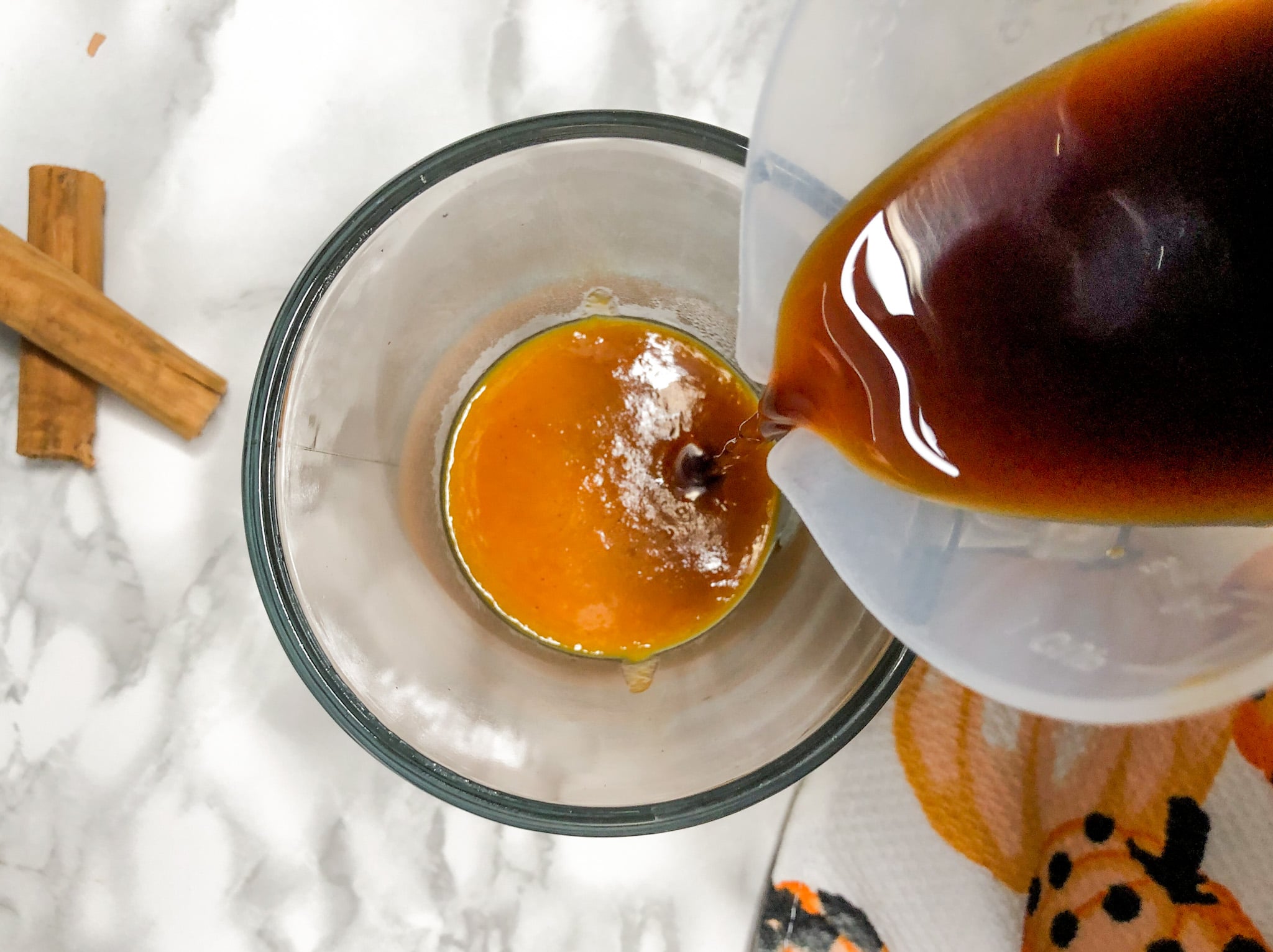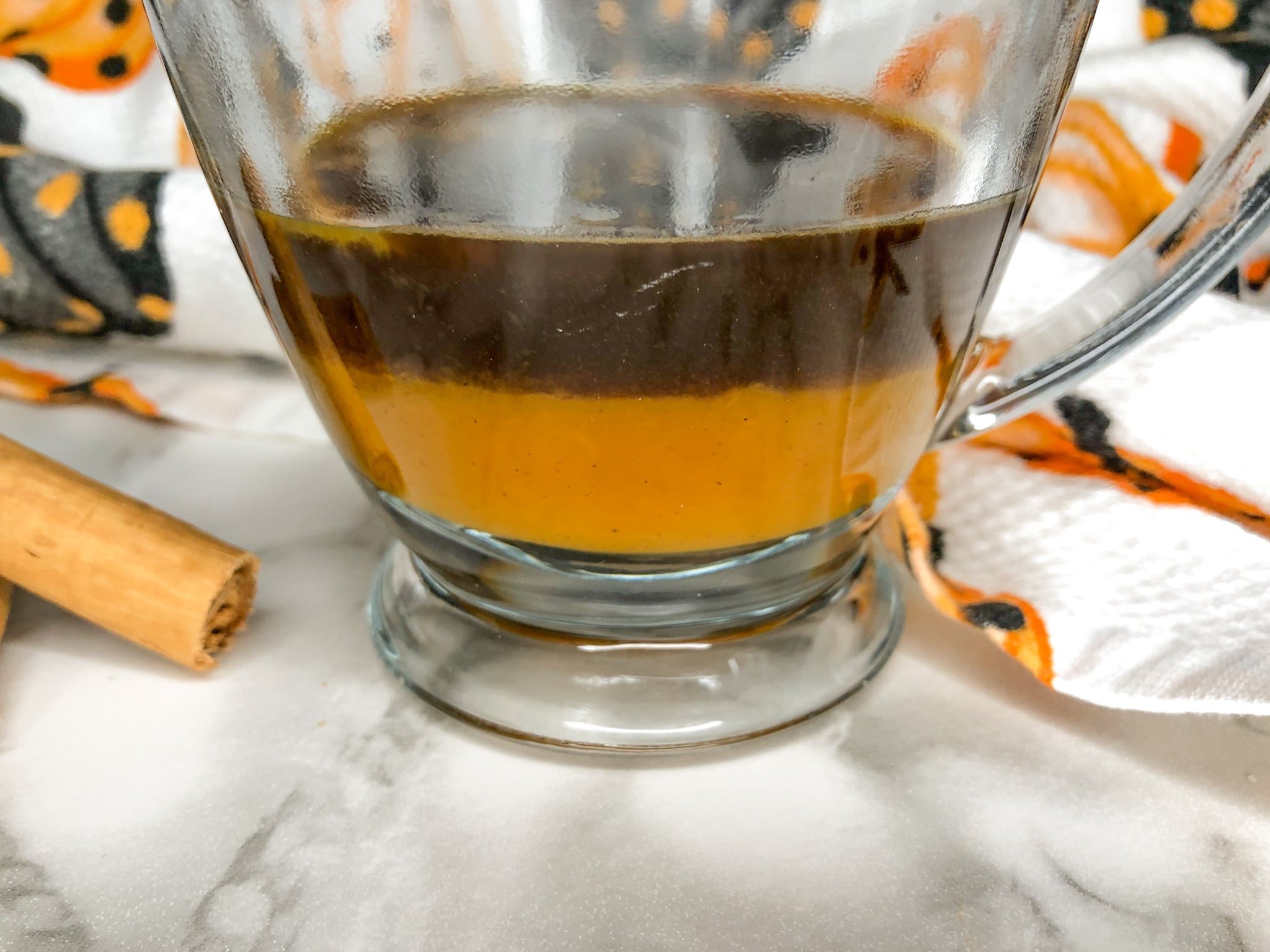 Stir the pumpkin sauce and espresso together before adding the milk.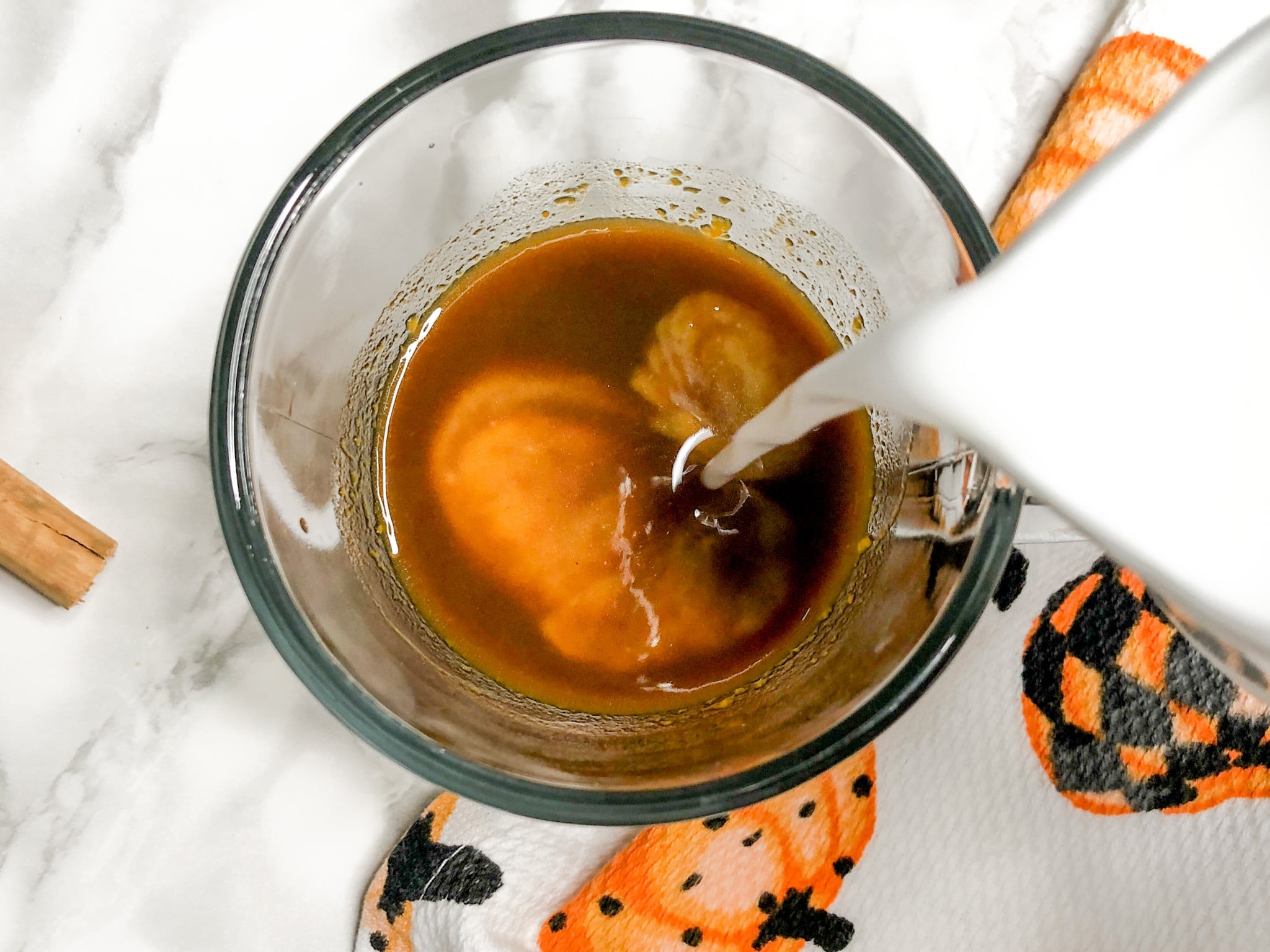 Garnish with some vegan whipped cream and pumpkin pie spice, and enjoy!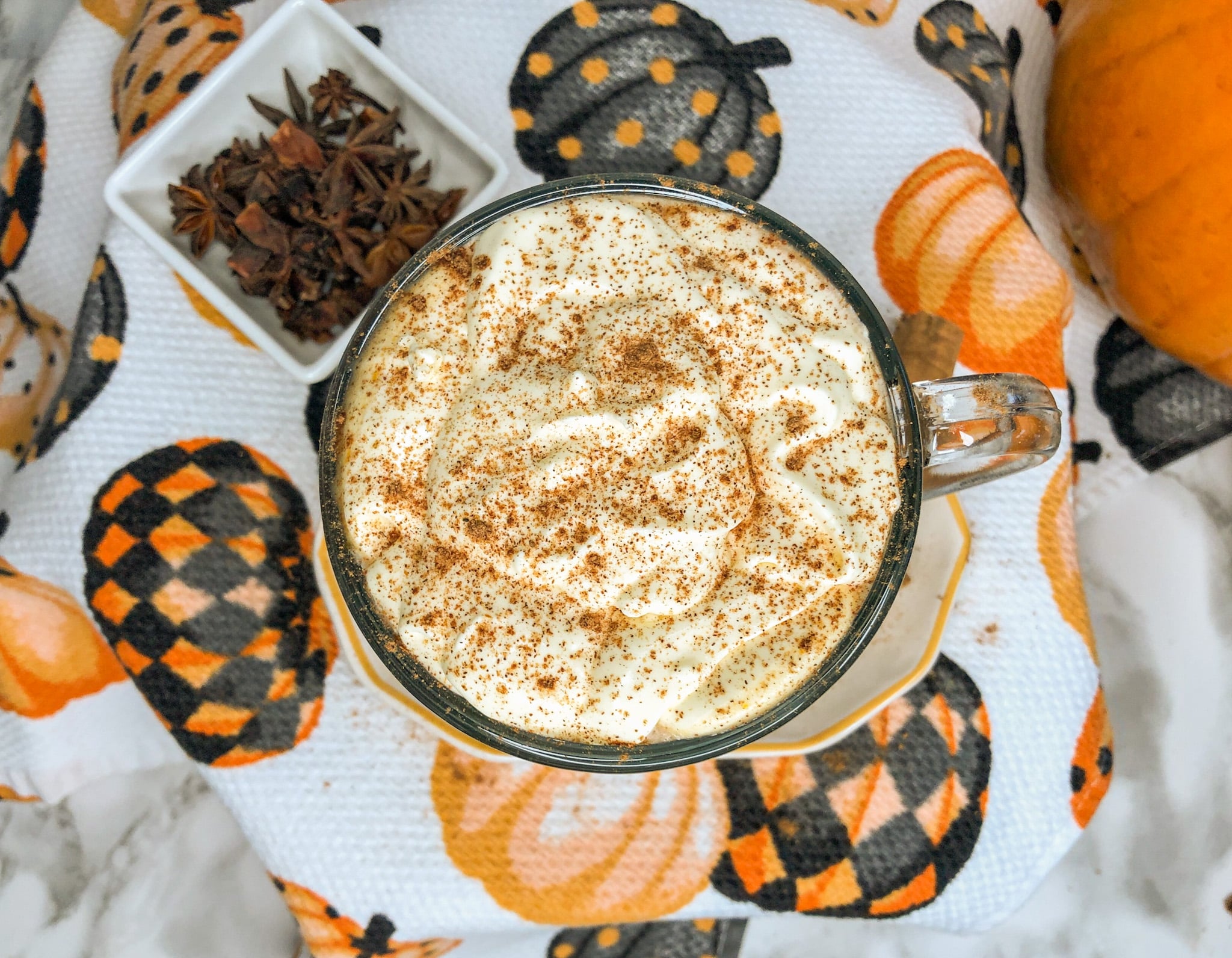 Vegan Starbucks Pumpkin Spice Latte
Original Recipe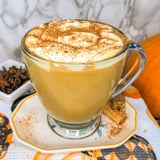 Ingredients
For the vegan sweetened condensed milk
1/2 can coconut milk
3 tablespoons granulated sugar
For the pumpkin sauce
2 tablespoons water
2 tablespoons granulated sugar
1/3 cup pumpkin puree, canned or fresh
1/4 cup vegan sweetened condensed milk
1/8 teaspoon pumpkin pie spice
pinch of salt
For the whipped cream
1/2 can unsweetened, full-fat canned coconut milk
3 tablespoon powdered sugar
1/4 tsp vanilla extract
For the latte
1/4 cup vegan pumpkin sauce
4 tablespoons espresso
1 cup coconut milk
vegan whipped cream
pinch of cinnamon or pumpkin pie spice
Directions
Place 1/2 can of coconut milk and a medium-sized bowl in the fridge overnight in preparation for whipped cream.
Make sweetened condensed coconut milk by combining the remaining (non-refrigerated) coconut milk and sugar in a small saucepan over medium heat until the sugar has dissolved and the mixture has come to a boil, whisking constantly.
Reduce the heat to low and allow the mixture to simmer for 10-15 minutes, or until it has reduced by half.
Remove the pot of thickened coconut milk from the heat and let cool for a few minutes before adding it to the pumpkin sauce.
Make the pumpkin sauce by heating water and granulated sugar in a small pot over medium heat until the sugar has dissolved. Bring the mixture to a boil, then, once the mixture is boiling, reduce the heat to low.
Add pumpkin puree, condensed "milk," pumpkin pie spice, and salt into the pot. Stir over low heat until all ingredients are combined.
Remove the pumpkin sauce from the heat and let it cool for a few minutes before building your latte.
To make the whipped cream, remove the hardened coconut milk from the fridge; you should see that the coconut milk has separated into a solid white top layer and a clear bottom layer. Gently scrape off the white coconut cream from the top to use in this recipe, and store the bottom layer in the fridge for up to seven days to use in other recipes.
Place hardened coconut cream into the chilled bowl, along with the remaining ingredients, and whip together using an electric mixer for about 3-5 minutes, or until the mixture is fluffy and creamy. Set the whipped cream aside.
To begin building your latte, first prepare 2 ounces of espresso.
Warm your preferred milk in a small saucepan and froth generously using a mini electric whisk.
Pour pumpkin sauce and espresso into a clean mug and stir until fully combined.
Pour the warmed milk on top of the pumpkin and espresso mixture, then top with coconut whipped cream and a dash of cinnamon or pumpkin pie spice.
Information
Category

Drinks, Coffee

Yield

1 Latte

Prep Time

25 minutes

Cook Time

5 minutes

Total Time

29 minutes, 59 seconds
Image Source: POPSUGAR Photography / Ashley Ortiz