Bloody Mary Ideas
Garnishes and Mix-Ins to Enliven Your Bloody Mary Routine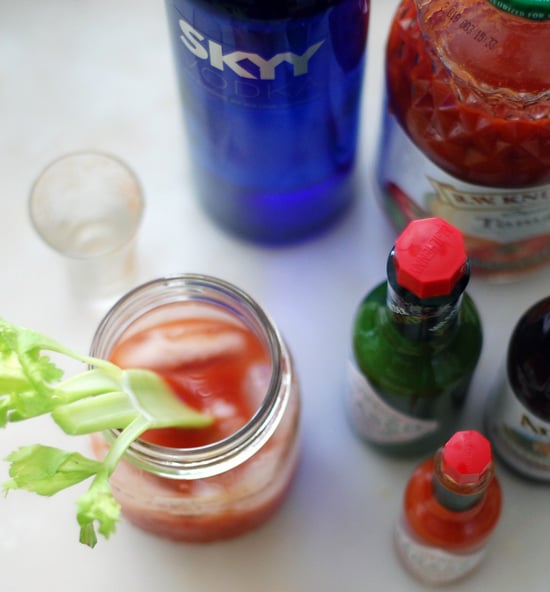 Photo: Camilla Salem
More a blueprint for experimentation than set-in-stone recipe, the classic bloody Mary plays nicely with a vast variety of flavors. Generally speaking, there are three ways to enliven the tried-and-true hangover-buster: swap out a standard ingredient for an exotic (or at least novel) one, add bloody good garnishes, or rim the glass with something unexpected. Just remember, as with any kitchen experiment, make sure to season to taste and use your best judgement when pairing flavors.
Novel Mix-Ins
Change up the liquor: Try vodka infused with jalapeño peppers or cucumbers or Sriracha-flavored vodka, or leave out the vodka entirely and turn to gin, sake, tequila (for a bloody Maria), or even beer.
Heat things up: Experiment with different hot sauces in lieu of Tabasco, like a homemade batch, Cholula, Frank's RedHot, or sriracha. Alternatively, try wasabi or red pepper flakes instead of horseradish or puree in a bit of kimchi.
Make it vegan: While we rarely leave out a dash or two worcestershire sauce (it's just that good!), its not exactly vegetarian-friendly. Instead, try Bragg Liquid Aminos or a splash of soy sauce.
Change the acid: Likewise, don't even think of skipping something acidic to balance out the flavors. If you're bored by the standard spritz of lemon, try lime or vinegars like balsamic, sherry, or red wine.
Add spice: Savory spices like Chinese five-spice, garam masala, coriander, celery seed, jerk seasoning, and Old Bay are all solid options.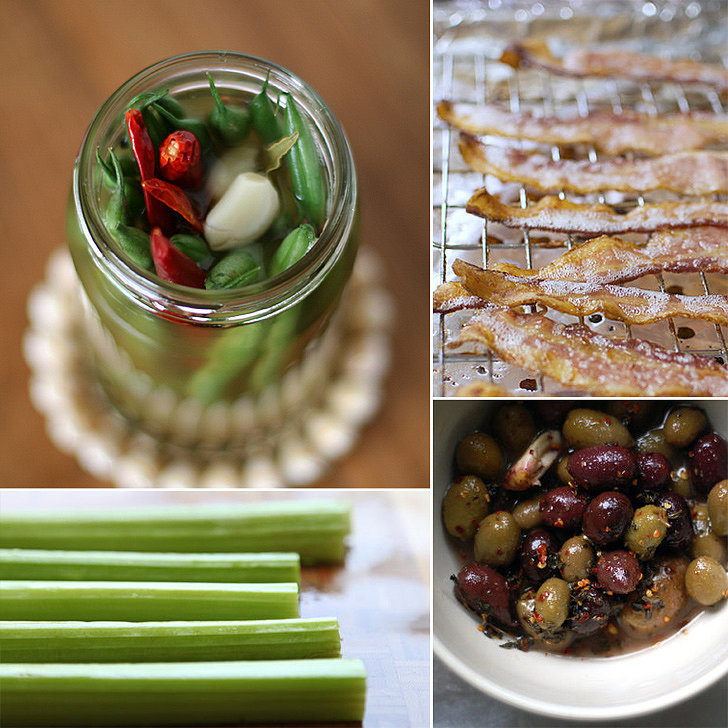 Source: Anna Monette Roberts, Lauren Hendrickson, Camilla Salem, and Nicole Perry
Bloody Good Garnishes
Try something pickled: Pickled green beans, okra, dill spears, jalapeños, kimchi, cocktail onions, and cauliflower will enliven the glass. Just make sure to slightly tone down the acidity of the drink if you're adding lots of these tangy snacks.
Add meat: Some may balk at the idea of a truly savory cocktail, but if you're feeling a bit adventurous, drop in a piece of crispy bacon or beef jerky or balance a piece of shrimp on the rim for a true meal in a glass.
Go the salad bar route: If it's good in a tomato salad, it will probably work here — we're talking cucumber spears, celery stalks, olives (plain or stuffed with pimento or blue cheese), roasted red peppers, cherry tomatoes, whole scallions, or herbs like parsley and basil.
Rim Favorites
To rim a glass, run a lemon or lime wedge around the edge and then dip the rim into a saucer filled with your seasoning of choice. Celery salt, or kosher salt, is standard (and delicious) or alternatively try Old Bay seasoning, shichimi togarashi (a Japanese seven-spice blend), or other savory-leaning spices cut with salt.