Easy Pickled Jalapenos Recipe
Pack the Heat With Pickled Jalapeños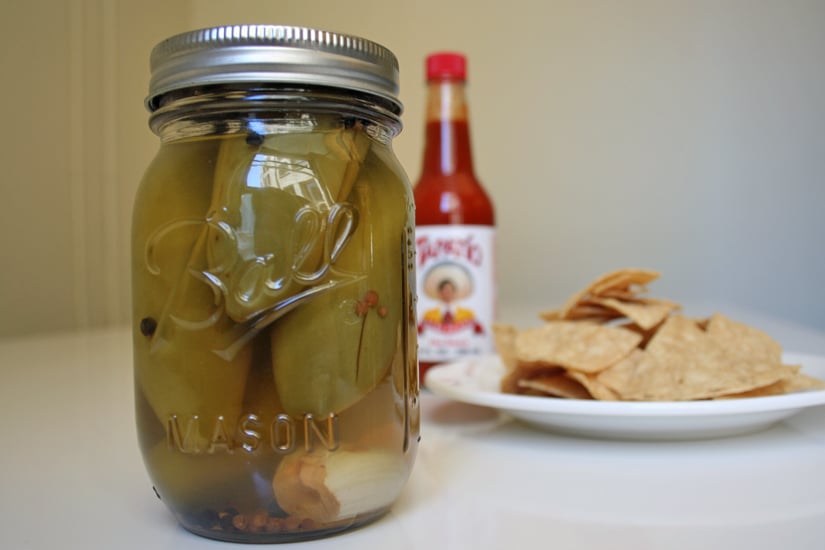 This holiday season, treat your friends, family, and loved ones to a homemade edible gift. We've compiled 30 of our favorite edible gifts — including this recipe — so you can deliciously DIY.
My dad is a jalapeño fiend who is known to order and hoard bowls of fresh and pickled jalapeños every time we go to a Mexican restaurant. For Father's Day, his birthday, Christmas, and anytime in-between, I make a batch of homemade pickled jalapeños so my dad can get his spicy fix while he's eating chips and guacamole at home.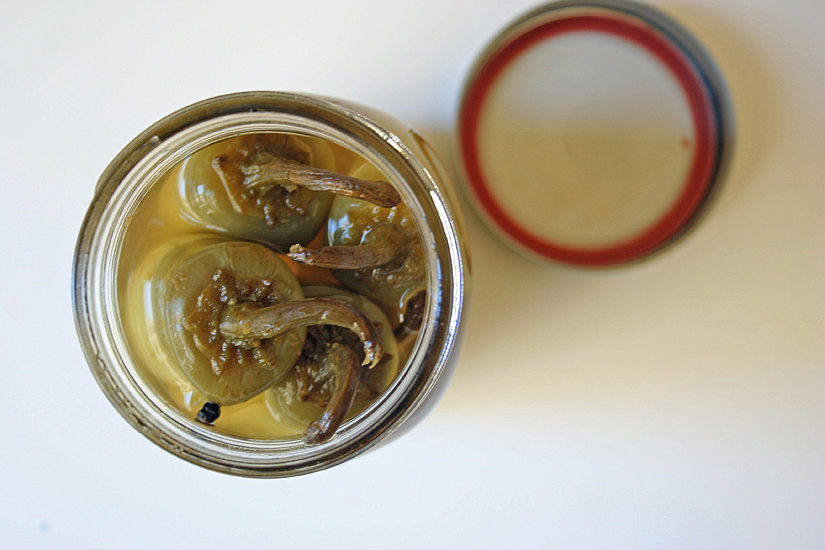 Sweet, tangy, and very spicy, these homemade jalapeños give Mexican restaurants a run for their money. Prepare to engage in some hee-hee-hoo-hoo breathing, because these jalapeños are the real, mouth-burning deal.
Serve these jalapeños on chips, dice them into homemade salsa, or wake up just about any Mexican fare with them. Stay cool by washing down these jalapeños with a refreshing, crisp Mexican beer. Ready to take on this super-picante recipe?
Pickled Jalapeños
By Anna Monette Roberts, POPSUGAR Food
Ingredients
5 whole jalapeños, stabbed 2-3 times with sharp paring knife
1/2 cup apple cider vinegar
1/2 cup filtered water
1/2 teaspoon whole peppercorn
1/2 teaspoon whole coriander
1 bay leaf
1 clove of garlic, pounded once
1/2 teaspoon salt
1 teaspoon honey
Directions
To sterilize mason jar: In a very large pot, bring water to a boil. Submerge glass mason jar and lids and continue boiling for at least 12 minutes to sterilize. Use tongs to remove jar and lids, and place on a clean kitchen towel to dry. Keep large pot on the stove to process jar later.
To make brine: In a small saucepan, combine all ingredients and bring to a boil. Reduce heat and simmer for five minutes.
To jar jalapeños: Using tongs, remove jalapeños from saucepan and place them into a clean, sterilized mason jar. Pour brine on top, leaving about 1/2 inch of space on top. Apply lid and screw metal band on firmly.
To process jar: In the large pot of boiling water, lower jarred jalapeños, submerging jar in at least 2 inches of water. Process for 10 minutes. Use canning tongs to carefully remove hot jar, then set it in a cool, dark place. As jar cools, listen for lid to snap, signaling a proper seal. Wait four to five days before opening jar. (If jar does not seal correctly, then refrigerate once it cools to room temperature and use within two weeks.) Refrigerate upon opening. Discard opened jar of jalapeños after two weeks.
Information
Category

Other, Condiments/Sauces

Cuisine

North American

Yield

1 jar