Burma Superstar Chili Lamb Recipe
If Eating Spicy Foods Makes You High on Life, You Must Try This Recipe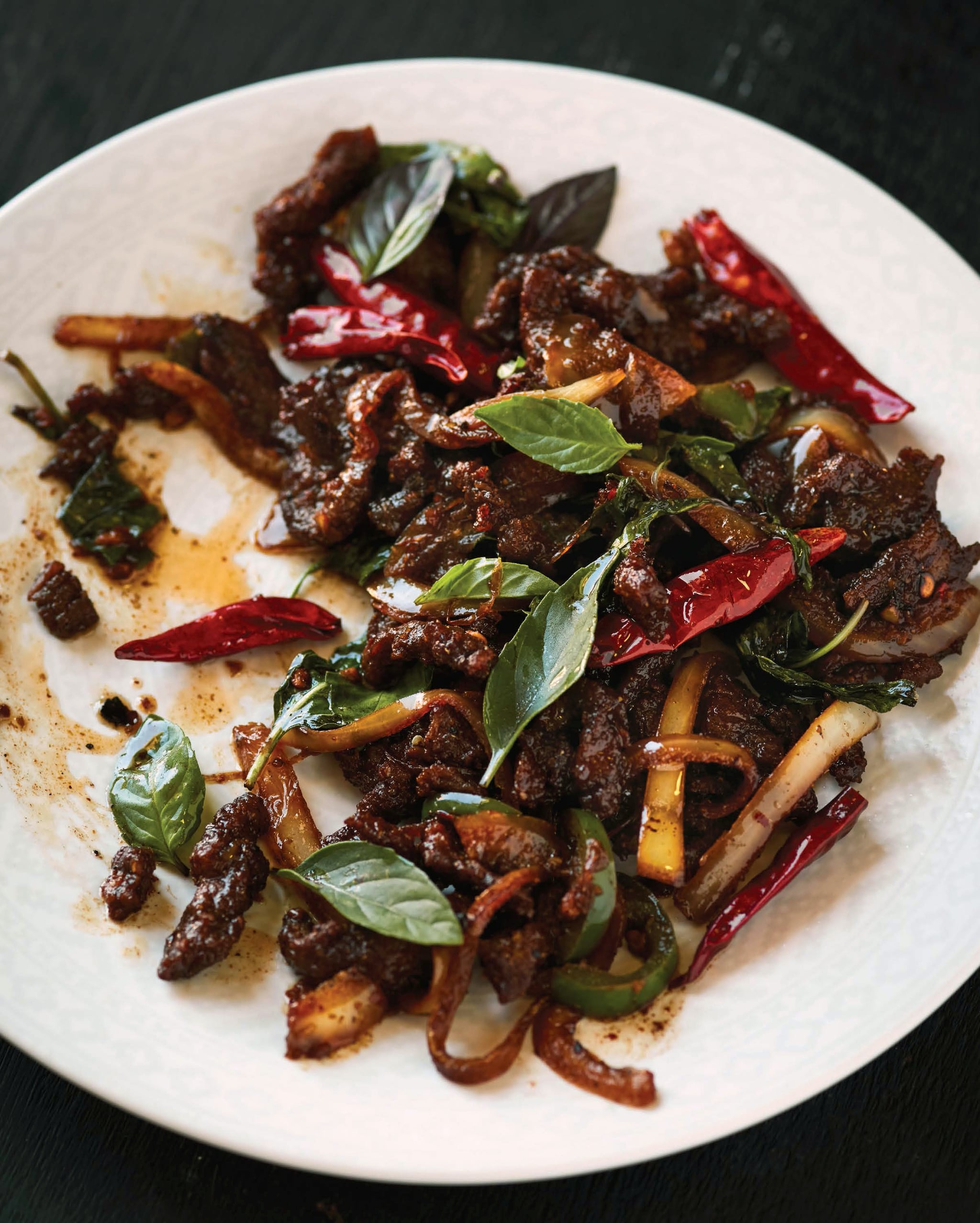 The Southeast Asian nation of Myanmar (formerly Burma) borders India, Bangladesh, China, Laos, and Thailand, serving as a melting pot of cuisines, spices, and unique flavors. If a trip to Myanmar isn't in your near future, you can at least have a taste of the cuisine thanks to the new cookbook Burma Superstar: Addictive Recipes from the Crossroads of Southeast Asia ($20, originally $30) by Desmond Tan and Kate Leahy. Its pages contain some of the most coveted recipes from a beloved, extremely popular San Francisco restaurant, Burma Superstar.
The restaurant's most famous dishes definitely earn a spot in the cookbook, including Tea Leaf Salad (a veggie "chopped" salad with actual fermented tea leaves), coconut rice (jasmine rice steamed with coconut milk and topped with fried onion), and pumpkin pork stew. However, it's the chili lamb that I love most of all.
I'll never forget, six years ago, entering the restaurant and watching this sizzling plate of caramelized meat and onions wiz past me on the way to my table. I deviated from my path and followed the dish to learn more. Succulent strips of lamb bathing in a syrupy sauce and studded with bright red chilis and dainty basil leaves. From that day forward, I would go on to order this dish at least 50 times. The servers always warn, "It's very spicy," to which I reply, "Then I'll go ahead and order the large side of coconut rice."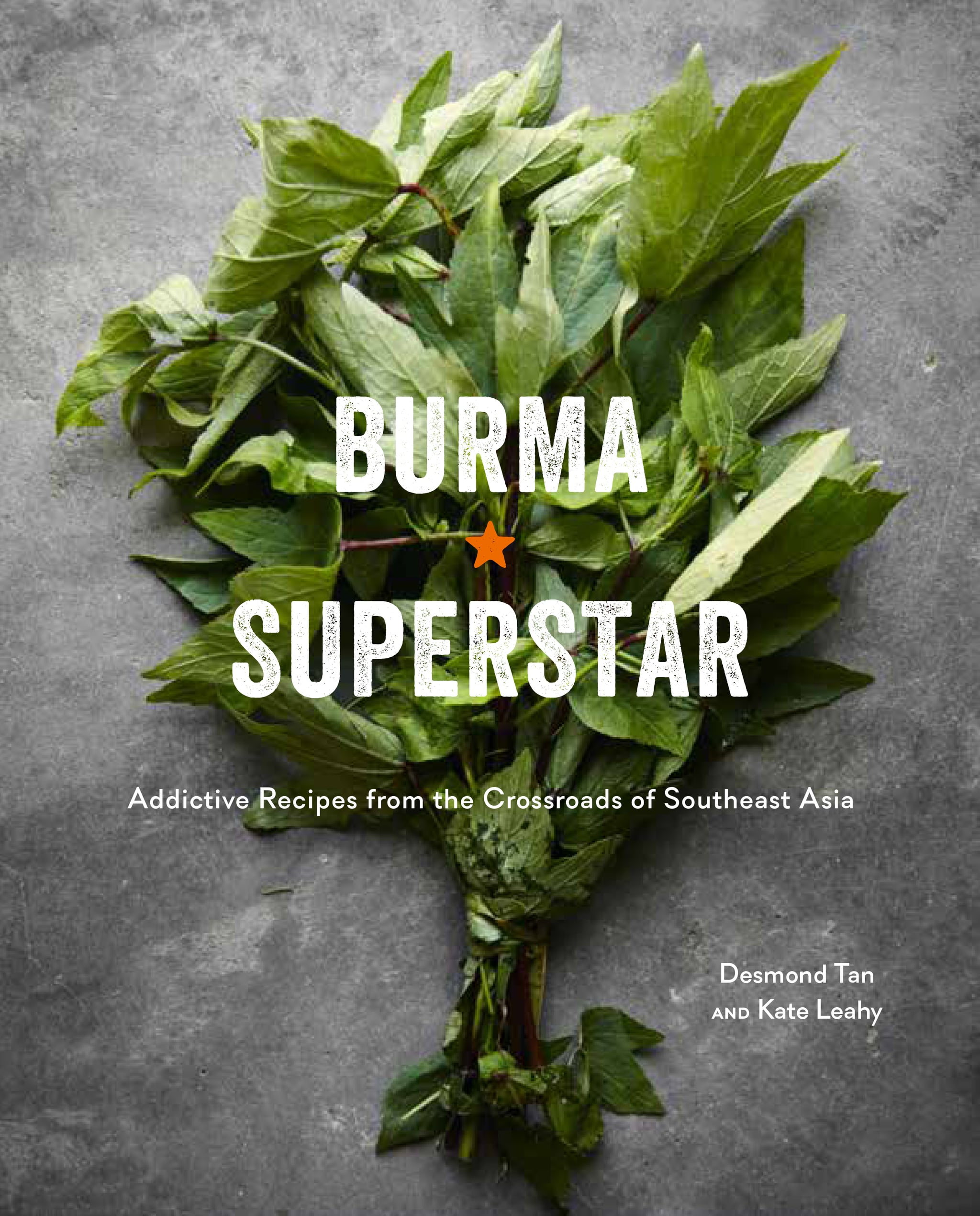 The truth is, this dish is very spicy, and that's it's appeal. Though the amount of chiles used is borderline insanity, studies have shown consuming capsaicin makes you euphoric. Yes, this dish sends a mad rush of endorphins flowing through your bloodstream.
Now, while I haven't attempted this recipe yet to determine if it truly tastes exactly like the restaurant's, I fully intend to ASAP report back. In the meantime, do yourself a favor and make it too. Feel the burn and cool it off with a ginger beer cooler (official recipe also in the book).
Notes
With cumin and black mustard seeds complementing soy sauce, garlic, and rice vinegar, this dish comes across as Pan-Asian. Yet its roots are Chinese. In northwestern China, Uyghur Muslims have used cumin for years, and the spice, while still not that common in the rest of China, makes appearances in lamb stir-fries and grilled meat dishes. Regardless of its historical roots, Chili Lamb has a large and devoted fan base at Burma Superstar.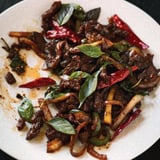 Ingredients
1 1⁄2 pounds boneless leg of lamb
1 teaspoon cornstarch
1⁄4 teaspoon ground black pepper
1⁄2 teaspoon salt
3 tablespoons canola oil
1 teaspoon cumin seeds
1 teaspoon black mustard seeds
1 1⁄2 teaspoons soy sauce
1 1⁄2 teaspoons dark soy sauce or regular soy sauce
2 teaspoons unseasoned rice vinegar
1 teaspoon sugar
1 tablespoon minced garlic
2 tablespoons minced jalapeños
3 small dried chiles, seeds retained, broken in half
1⁄4 to 1⁄2 teaspoon dried chile flakes
1 cup sliced yellow onion
10 Thai basil leaves, plus extra for garnish, optional
Directions
Trim off the external sinew of the lamb leg. With a knife, separate the muscles by following along where the muscles naturally separate and slice against the grain into thin strips, removing any sinew as you work.
Transfer lamb to a bowl and use your hands to mix the meat with the cornstarch, pepper, salt, and 1 tablespoon of the oil. Let marinate at room temperature while you prepare the remaining ingredients.
In a dry wok or skillet, toast the cumin seeds and mustard seeds until the cumin is fragrant and the mustard seeds start to pop, no more than 30 seconds. Transfer to a mortar and use a pestle (or a coffee grinder used for grinding spices) to pulverize to a coarse powder.
In a small bowl, stir together the soy sauces, 1 teaspoon of the rice vinegar, and the sugar.
Heat the wok over high heat. Add 1 tablespoon of the oil and swirl to coat the sides. Stir-fry the lamb until the pieces have separated and are lightly browned but not fully cooked, about 2 minutes. Transfer to a plate.
Heat the remaining 1 tablespoon of oil in the wok. Add the garlic and jalapeños and cook briefly, about 15 seconds. Add the mustard-cumin blend, chiles, and chile flakes and stir-fry briefly. Pour in the sauce mixture, increase the heat to high, and let the sauce come to a boil.
Add the lamb and onions and cook, stirring often, until the lamb is cooked through but the onions are still slightly crisp, 2 to 3 minutes. Add the basil and the remaining 1 teaspoon vinegar. Taste, adding more soy sauce or vinegar if desired. Garnish with more basil.
Reprinted with permission from Burma Superstar, copyright © 2017 by Desmond Tan and Kate Leahy. Published by Ten Speed Press, an imprint of Penguin Random House LLC.Photographs copyright © 2017 by John Lee
Information
Category

Main Dishes, Lamb

Cuisine

North American

Yield

Serves 4 as part of a larger meal
Image Source: John Lee