Chicken Thighs With Rhubarb Salsa
Rhubarb's Not Just For Pies: Let It Give Zing to Chicken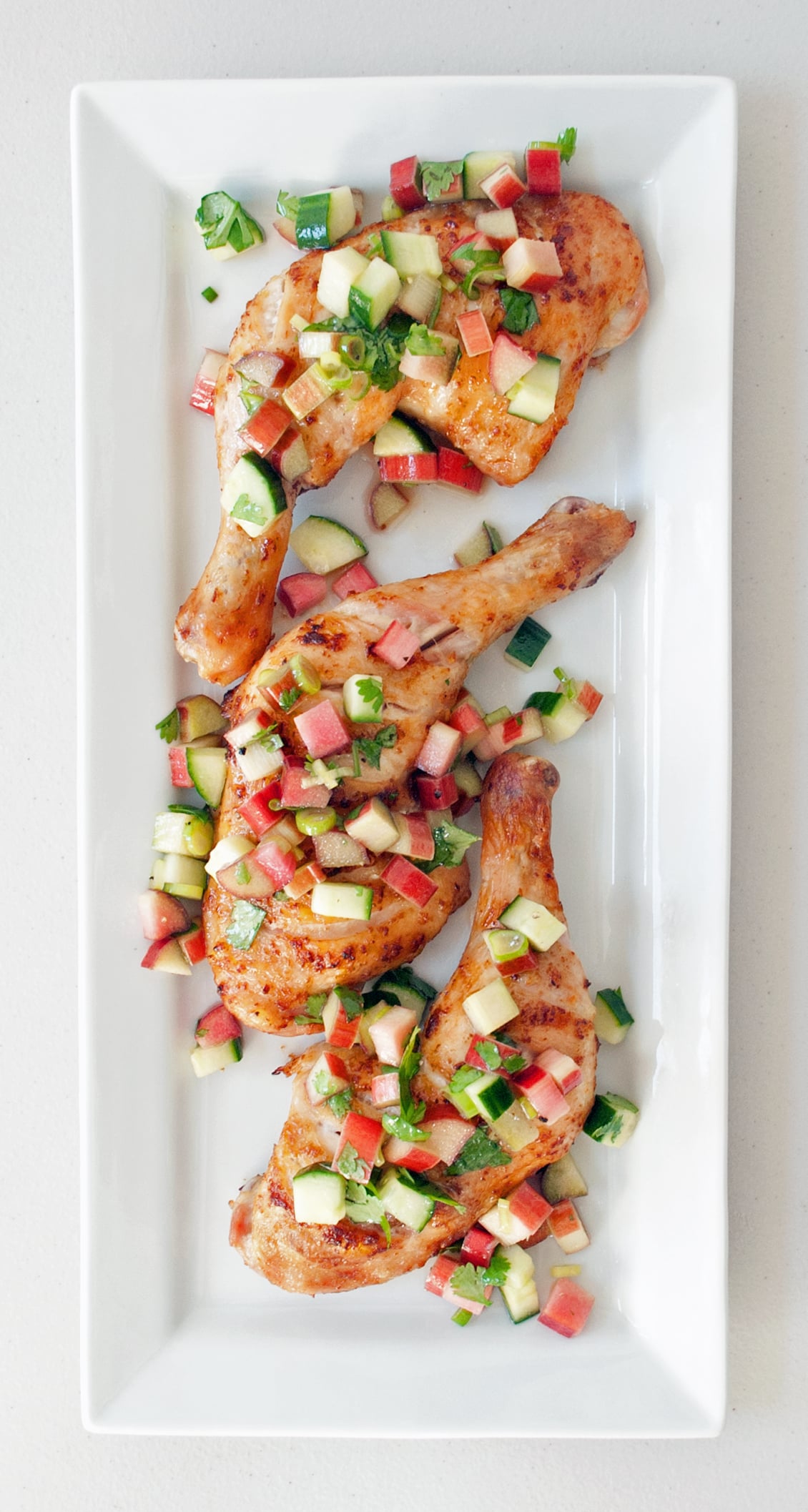 If you've only tried rhubarb in sweet applications (like pies or crumbles), it's time to consider the tart vegetables (yes, you read right!) as a welcome addition to dinnertime. It's just the ticket for brightening up chicken thighs, especially when paired with crisp cubes of cucumber, cilantro leaves, and lime for an unconventional yet utterly delightful salsa. You can make the salsa as spicy or mild as you like depending on the number of peppers you use. So, bust out your knife skills, get chopping, and count down the mere minutes to an elegant and unexpected dinner perfect for busy weeknights.
Chicken Thighs With Rhubarb-Cucumber Salsa
From Bon Appétit
Notes
For spicier results, double up on chile peppers.
Ingredients
1 habañero, Scotch bonnet, or Thai chile, with seeds, stemmed
2 garlic cloves
2 scallions, thinly sliced, white and green parts divided
1 tablespoon soy sauce
1/4 cup olive oil
6 large skin-on, bone-in chicken thighs, or 4 whole legs
Kosher salt
1 1/2 cups rhubarb, cubed into 1/4-inch pieces
1 cup English cucumber, seeded, unpeeled, cubed into 1/4-inch pieces
1/2 cup fresh cilantro, coarsely chopped
1 tablespoon honey
1 tablespoon neutral oil, such as canola or grapeseed
1 teaspoon freshly squeezed lime juice
Freshly ground black pepper
Directions
Preheat oven to 500°F. Line a baking sheet with foil.
Pulse chile, garlic, and white parts of scallions in a food processor until finely chopped. Scrape down the bowl with a rubber spatula. With the machine running, drizzle in soy sauce, then olive oil; process until an emulsion forms. Transfer sauce to a bowl.
Place chicken thighs, skin side up, on a work surface, and slash each crosswise at 3/4-inch intervals down to the bone. Season generously with salt. Place on prepared baking sheet, and brush with sauce.
Bake until the skin is crisp and an instant-read thermometer inserted into thickest part of thigh registers 165°F, 20 to 25 minutes. Broil on high for an additional 2 to 3 minutes for crisper skin, if desired. Let rest for 5 to 10 minutes.
Meanwhile, toss the rhubarb, cucumber, cilantro, honey, oil, lime juice, and green parts of scallions in a medium bowl to coat. Season to taste with salt and pepper, and let stand for at least 10 minutes to allow flavors to meld.
Serve chicken with rhubarb salsa alongside.
Information
Category

Poultry, Main Dishes

Cuisine

North American

Yield

4 to 6 servings