Honey Lavender Biscuits Recipe
These Honey Lavender Biscuits Are Better Than Grandma's (Sorry, Grandma!)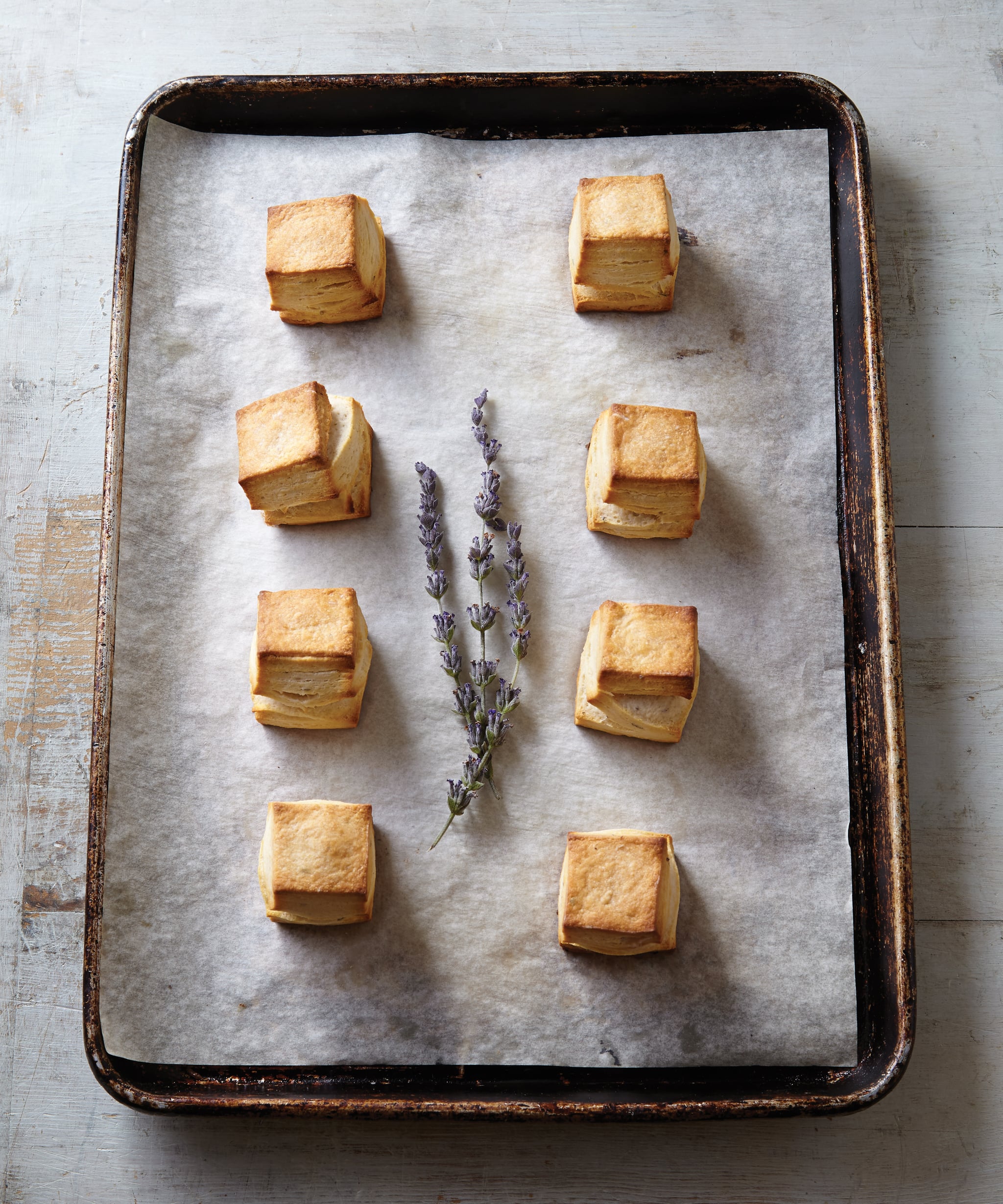 Imagine waking up to the heavenly aroma of honey, lavender, and buttery biscuits. If you're feeling a wave of happiness and calmness just thinking about that, then this recipe is for you. It's from Muffins and Biscuits: 50 Recipes to Start Your Day with a Smile by Heidi Gibson, which is a cookbook (out March 7) that's guaranteed to turn you into a morning person. We're most excited about these honey lavender biscuits because they're a little sweet, mostly savory, and versatile enough to serve for breakfast, brunch, dinner, or dessert. Slather a fresh-baked biscuit with butter to pair with your morning coffee, add them to your brunch menu, serve them alongside lavender chicken for dinner, or use them as the base for a shortcake with berries and vanilla ice cream.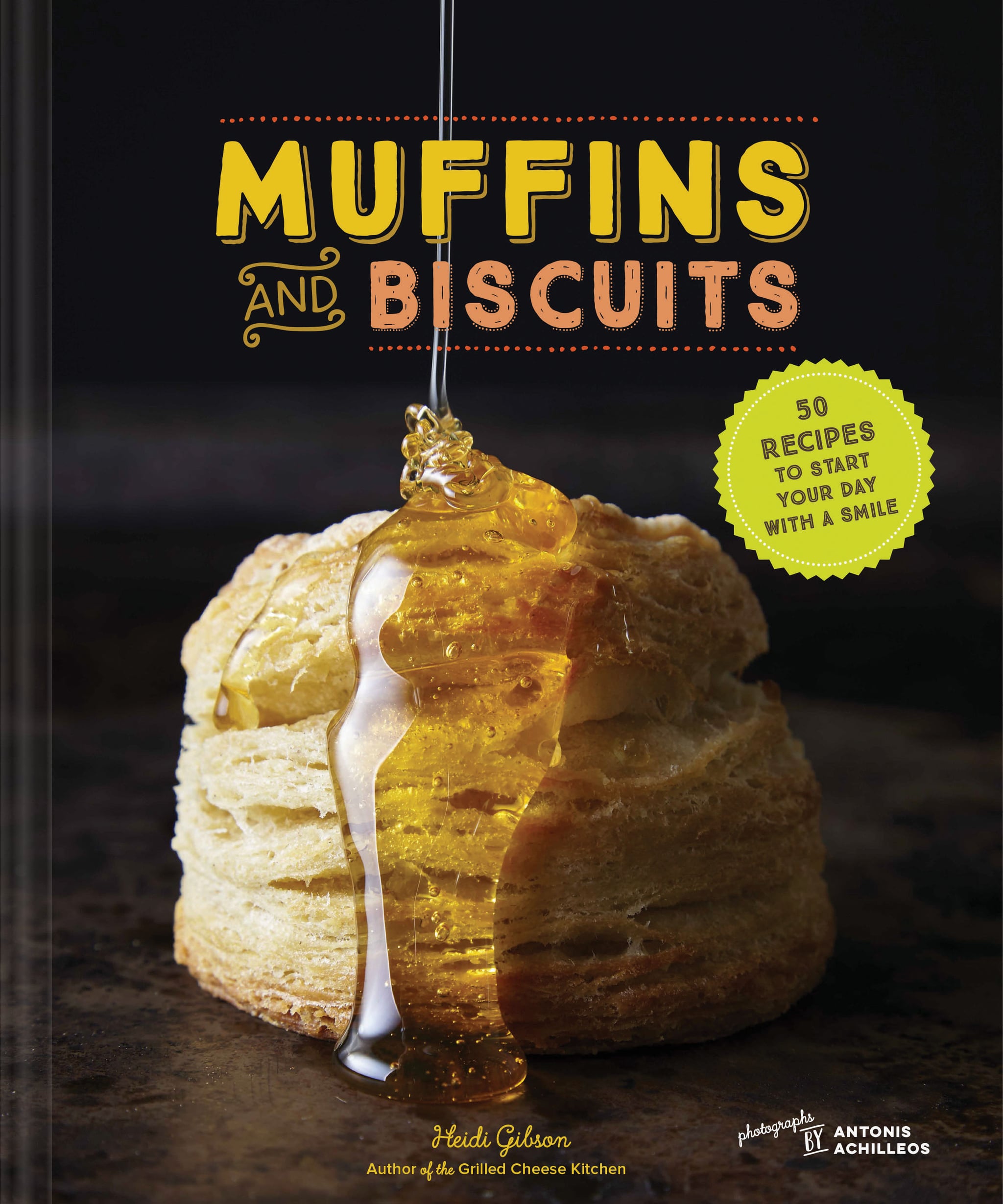 Notes
Take a big whiff of these biscuits when they come out of the oven, and you'll get a noseful of earthy honey and floral lavender. Their texture is somewhere between that of a biscuit and a shortbread, and they're not as sweet as you might expect from their lovely aroma. Serve them at dinner with, say, a simple roasted chicken or pork loin and a fresh green salad, or dress them up for dessert by splitting them and topping them with fresh berries, a dollop of Raspberry Curd (page 156), and a scoop of vanilla bean ice cream.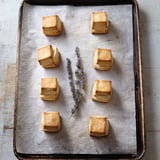 Ingredients
6 tablespoons [85 g] cold unsalted butter, cut into 1/2-in [12-mm] cubes
1 3/4 cups [245 g] all-purpose flour
1 tablespoon baking powder
1 teaspoon kosher salt
1/2 cup plus 2 tablespoons [150 ml] cold whipping cream
3 tablespoons wildflower or orange blossom honey
2 teaspoons minced fresh or dried culinary lavender buds
Directions
In a large bowl, toss the butter cubes with 1 tablespoon of the flour until evenly coated. Transfer the coated butter to a small bowl and place in the freezer
for about 10 minutes while you prepare the other ingredients.
In the same large bowl, whisk together the remaining flour, baking powder, and salt. In a small bowl, whisk together the cream, honey, and lavender until the honey is completely incorporated into the cream.
Remove the butter from the freezer, add to the flour mixture, and use a wooden spoon or rubber spatula to toss gently. Using a pastry cutter or two knives, cut the butter into the flour mixture until marble-size chunks of butter are visible. (Alternatively, in the bowl of a food processor fitted with the metal blade, cut the butter into the flour mixture with about three 1-second pulses.)
Add the buttermilk mixture to the flour mixture and toss gently with the wooden spoon or rubber spatula until the dough just starts to clump together. It will be shaggy and quite dry, and you should still see chunks of butter. Right about now you're likely to be thinking that there's a typo in the recipe or that I'm completely insane. Don't worry; it's going to work out, I promise! Cover the bowl with plastic wrap and place in the refrigerator for 30 minutes to allow the flour to hydrate.
Dust a large clean cutting board or counter with flour (a Silpat-style baking mat works well for this). Remove the bowl of dough from the refrigerator and scrape out the dough and any dry floury bits sticking to the bowl onto the board. Coat your hands with flour and then pat the dough into a rectangle about
3/4 in [2 cm] thick, with the long side approximately twice as long as the short side. Starting at one of the short ends, carefully fold the dough into thirds, like
a business letter (a bench scraper is a handy tool for folding and for squaring off the sides and corners). It's fine if the dough isn't really holding together well and is breaking up; just pat it gently back into place and keep going. After turning the dough so that the short (open) end is facing you, use your hands to press the layers together gently and neaten the dough to restore its rectangular shape. Then use a rolling pin to roll the dough into a 1/2-in- [12-mm-] thick rectangle, and repeat the folding and gentle pressing. Repeat the turning, rolling, and folding one more time, for a total of 3 times, and then roll the dough into an approximately 4-by-8 3/4-in [10-by-22-cm] rectangle. Wrap the dough in plastic wrap and refrigerate for at least 30 minutes or up to 24 hours.
Preheat the oven to 400°F [200°C]. Line a baking sheet with parchment paper or coat with nonstick cooking spray.
Remove the dough from the refrigerator, trim about 1/2 in [12 mm] off the edges of the rectangle, and then, using a large sharp knife dipped in flour after each cut, cut the rectangle into 8 equal pieces. (I like to roll the trimmed bits into a tight spiral, pinch the ends together, and bake those as well.) Place the pieces on the prepared baking sheet, spacing them at least 1 in [2.5 cm] apart.
Bake for 5 minutes, then lower the oven temperature to 375°F [190°C] and rotate the pan. Bake until puffed and golden brown on top, 8 to 10 minutes more.
Transfer the biscuits to a wire rack to cool for 5 minutes. If you are not serving the biscuits right away, wrap them tightly in plastic or place them in a resealable bag and store in the freezer for up to 1 month. To serve, place the biscuits on a baking sheet and warm in a preheated 400°F [200°C] oven for 5 minutes.
Information
Category

Breakfast/Brunch

Cuisine

North American