Poke Nachos Recipe
The 1 Genius Recipe That Combines Your Love of Poke and Nachos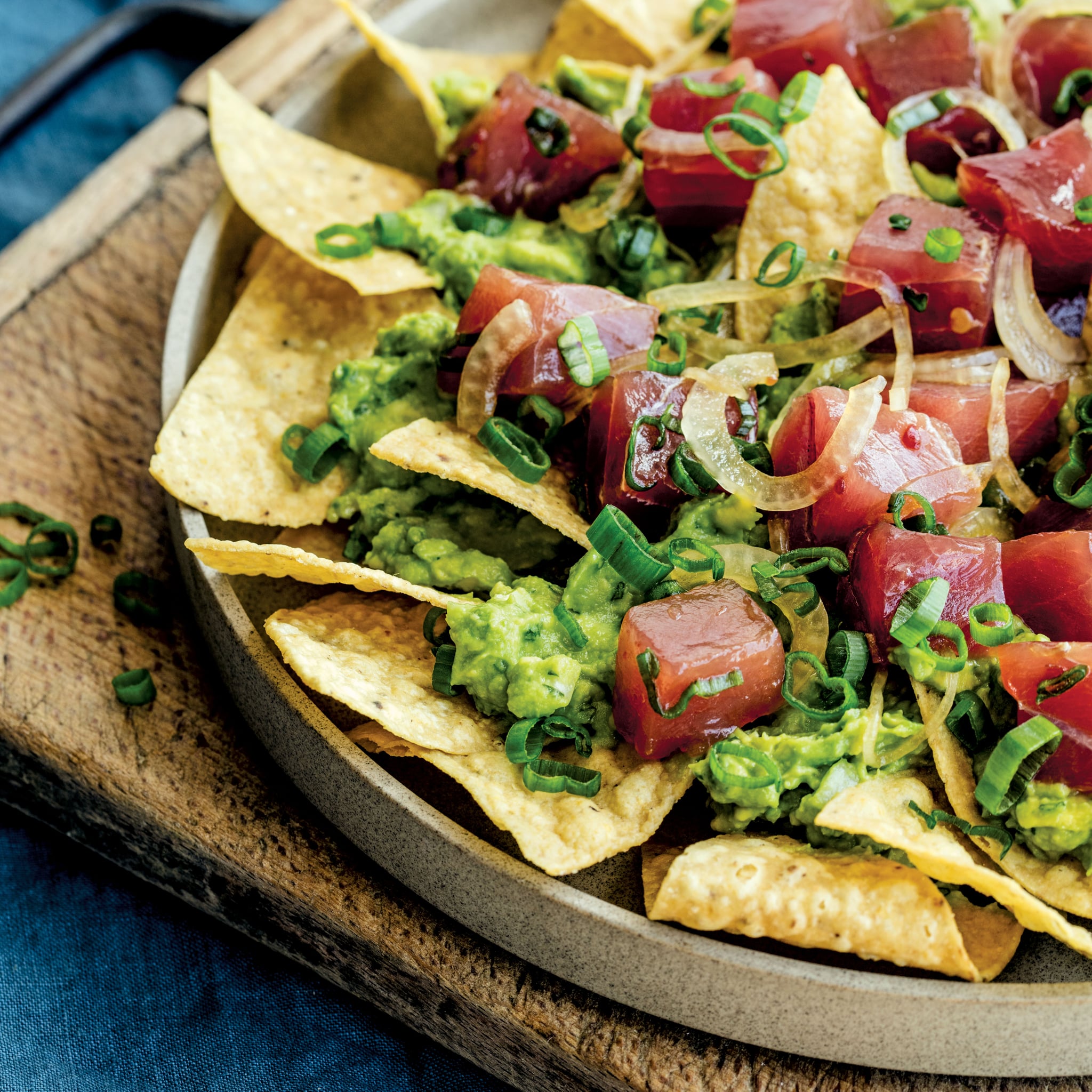 Tuna poke bowls are more popular than ever, and this recipe takes the Hawaiian classic to a whole new level by combining it with nachos. Marinated sushi-grade tuna, homemade guacamole, and crispy tortilla chips prove they're a match made in heaven in this recipe from The Poke Cookbook: The Freshest Way to Eat Fish by Martha Cheng. The author admits "there's no cheese in these nachos," but that's OK. The creamy guacamole and salty, bite-size pieces of tuna get the job done in this Asian-inspired nachos recipe.
Poke is traditionally served with fried wonton wrappers, but this recipe switches things up by using corn tortilla chips as the base. Whip up this easy appetizer for a dinner party, or take it to a game-day party to give people a new perspective on nachos.
Notes
Okay, so there's no cheese in these nachos—maybe a better name for this recipe would be "fish and chips," but then I imagine there'd be even more confusion. What there should be no confusion about: how good poke, guacamole, and chips are together. In Hawai'i, fried wonton wrappers usually act as the base, but I find that corn tortilla chips work just as well — or even sweet potato, taro, or jalapeño kettle chips, if you like some spice. If you want to jazz it up even further, you can top the nachos with additional condiments such as chopped fresh tomatoes, tobiko, and/or pickled ginger.
Ingredients
For the guacamole:
2 ripe avocados, diced
1 tablespoon freshly squeezed lime juice
1/4 teaspoon fine-grain sea salt
2 tablespoons finely chopped white onion
1 jalapeño, seeded and minced
2 tablespoons chopped fresh cilantro leaves
For the poke:
1 pound sushi-grade tuna, cut into 3/4-inch pieces
1/2 cup thinly sliced yellow onion
1/2 cup thinly sliced scallions (green parts only)
2 tablespoons soy sauce, plus more to taste
1 teaspoon toasted sesame oil
1/2 teaspoon sambal oelek (chilli paste)
4 ounces tortilla chips (about 2 big handfuls)
Directions
For the guacamole: Combine the avocados, lime juice, and salt in a medium bowl. Mash coarsely with a fork, leaving the avocados a little chunky. Add the onion, jalapeño, and cilantro, and fold gently until evenly distributed.
For the poke: In a medium bowl, combine all the ingredients. Fold gently until evenly distributed. Taste, and adjust with more soy sauce as desired. Serve immediately, or cover tightly and refrigerate for up to a day. If you let the poke marinate, taste it again right before serving; you may want to add another splash of soy sauce.
For the nachos: Place the chips in a bowl or on a rimmed plate. Spread the guacamole over them, and then top with 8 ounces of the poke of your choice.
Source: Reprinted from The Poke Cookbook. Copyright © 2017 by Martha Cheng. Photographs copyright © 2017 by Aubrie Pick. Published by Clarkson Potter/Publishers, an imprint of Penguin Random House, LLC.
Information
Category

Appetizers, Finger Foods

Cuisine

North American

Yield

4 servings
Image Source: Aubrie Pick