America's Test Kitchen Pumpkin-Pecan Pie Recipe
A Pie Recipe That Uses Vodka Might Be Just What Your Thanksgiving Needs
We're thrilled to bring you kitchen wisdom from our friends at America's Test Kitchen. They're sharing a recipe that combines Fall's two favorite desserts: pumpkin and pecan pie.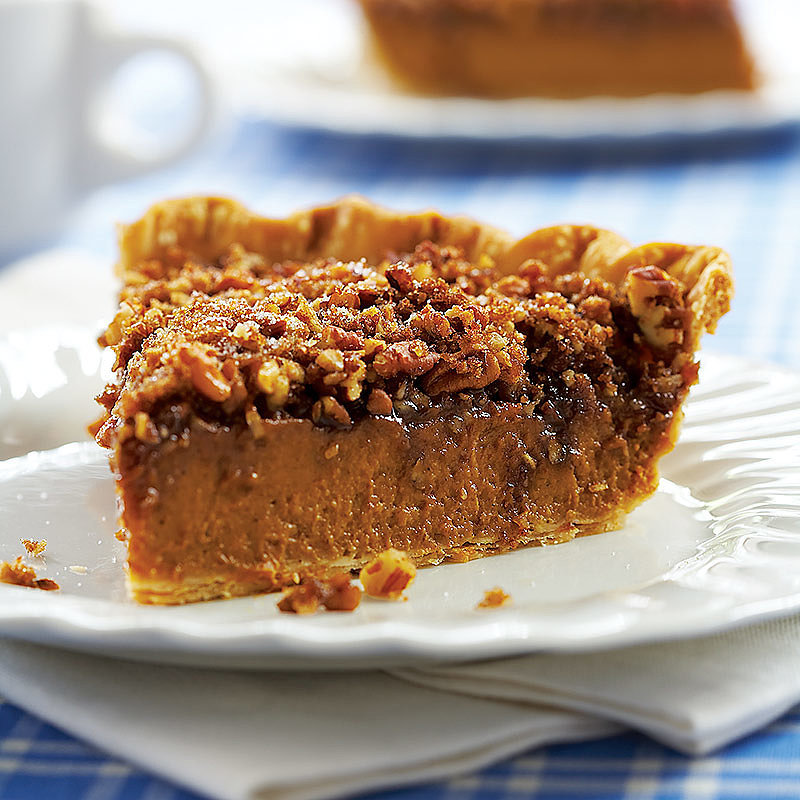 Sticky-sweet pecan and custardy pumpkin pies each have their devoted followers. Could we combine the best of both and make one pie that would satisfy everyone?
There are plenty of existing recipes for hybridized pumpkin-praline pie. We baked up a bunch and then got to work combining two of our favorite desserts — pumpkin pie and pecan pie — into the ultimate dream-come-true recipe. Few recipes have been as exhaustively tested by the test kitchen as pie dough, and the test kitchen's foolproof dough includes an unlikely ingredient and unique mixing method that capitalizes on that ingredient. The ingredient? Vodka.
Water is crucial to a pie dough to blend and bind the dry ingredients together and make it plastic enough to be rolled out. However, too much water — and too much mixing — leads to excessive gluten development and toughness. This is where the vodka comes into play. While gluten forms readily in water, it doesn't form in ethanol, and vodka is 60 percent water and 40 percent ethanol (which burns off in the oven). So adding vodka (in combination with water) produces a moist, easy-to-roll dough that won't toughen.
Because of vodka's unique properties, the test kitchen found it could assemble the dough in a unique fashion. Instead of the traditional approach of chopping cold fat into the dry ingredients until only small bits remain before adding the water, the test kitchen mixes the fat (a blend of butter and shortening for flavor and tenderness) with a portion of the flour until completely incorporated, then mixes in the remaining flour to be bound together with a blend of cold water and vodka. The moist dough couldn't be easier to roll out and fit to the pie plate — nor could it bake up any flakier.
Looking for more great America's Test Kitchen recipes? Sign up for a free trial of America's Test Kitchen's 2-week all-access membership. Membership includes recipes (tested by 60,000 at-home cooks!), unbiased equipment and ingredient ratings, innovative techniques, and how-to videos every month.
Secrets to Baking a Perfect Pumpkin-Praline Pie
Puree pumpkin (with brown sugar and spices) to break up any fibers.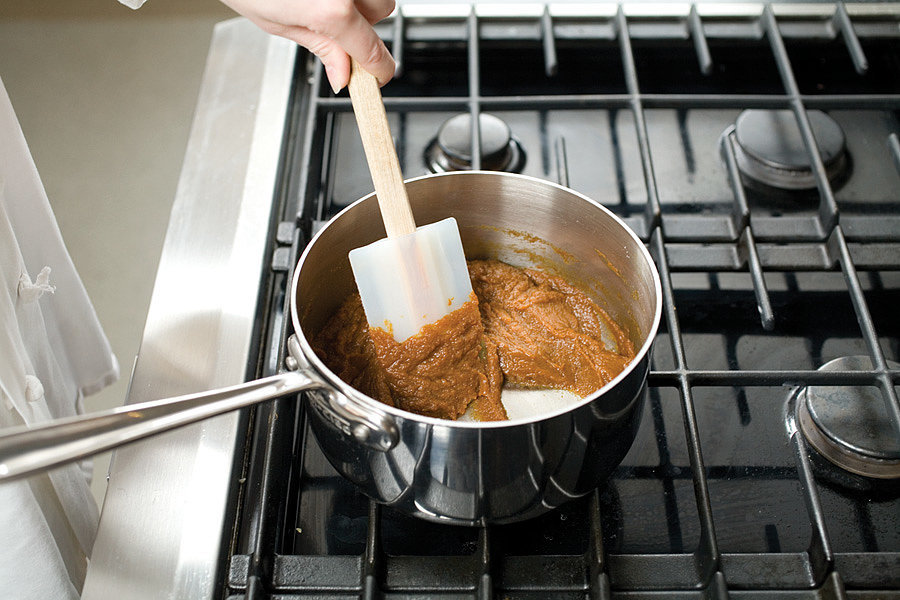 Cook pumpkin mixture to get rid of excess moisture.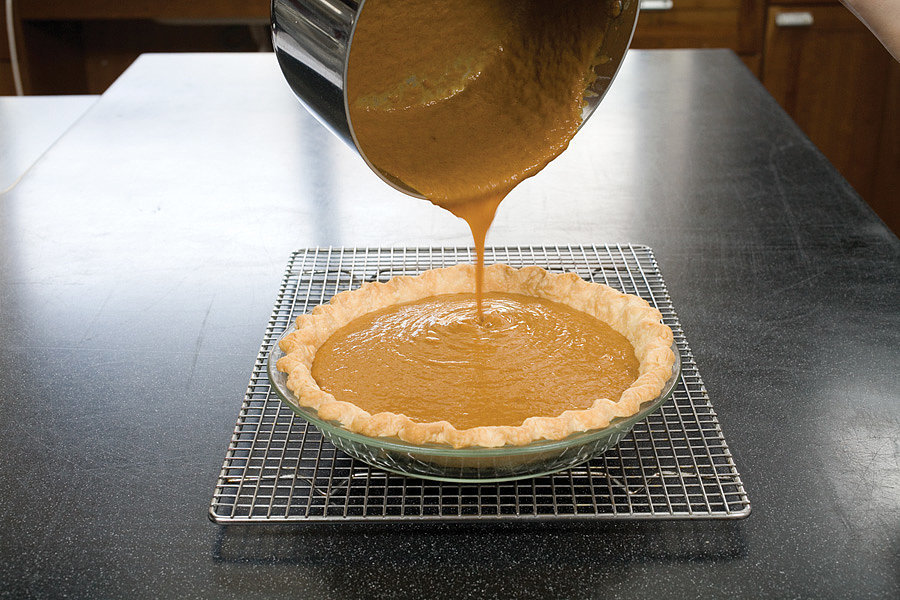 Pour hot filling into warm pie crust to minimize baking time and promote even cooking.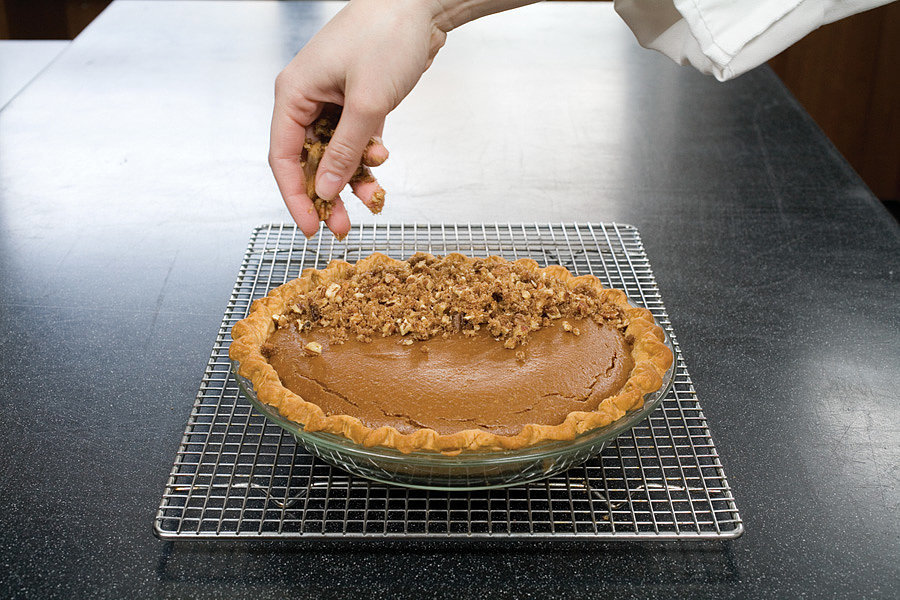 To prevent the sugary praline from burning or sinking into the custard, it's added to the top of the pie once the custard is set. Wait for filling to crack on top before adding praline topping. Usually the sign of a problem, the cracking in this recipe is the cue that tells you exactly when to add the praline topping, and the topping covers any trace of the cracks.
Why This Recipe Works
The idea of combining two of our favorite holiday desserts — pumpkin pie and pecan pie — into one holiday recipe was pretty appealing. To make it a reality, we sweetened our filling with evaporated milk and dark brown sugar. We got rid of any stringiness by whirling the filling in a food processor, and cooking it on the stovetop evaporated any excess moisture that threatened to make our pumpkin-praline pie recipe runny.
Notes
The pie should be filled while the crust is still warm; if the crust is no longer warm from the oven, then reheat it until hot to the touch.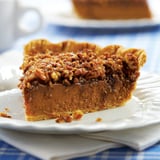 Ingredients
For the foolproof pie dough (single crust):
1 1/4 cups (6 1/4 ounces) unbleached all-purpose flour, plus extra for work surface
1 tablespoon granulated sugar
1/2 teaspoon table salt
6 tablespoons (3/4 stick) cold unsalted butter, cut into 1/4-inch slices
1/4 cup chilled solid vegetable shortening, cut into 2 pieces
2 tablespoons vodka, cold
2 tablespoons cold water
For the pumpkin filling:
1 (15-ounce) can plain pumpkin puree
3/4 cup packed (5 1/4 ounces) dark brown sugar
2 teaspoons ground cinnamon
1 teaspoon ground ginger
1/2 teaspoon ground allspice
Pinch of ground cloves
1/2 teaspoon table salt
1 cup evaporated milk
3 large eggs
2 teaspoons vanilla extract
For the praline topping:
1 cup (4 ounces) pecans, chopped fine
1/2 cup packed (3 1/2 ounces) dark brown sugar
Pinch of table salt
2 teaspoons dark corn syrup
1 teaspoon vanilla extract
2 teaspoons granulated sugar
Directions
For the pie dough: Process 3/4 cup flour, granulated sugar, and salt in food processor until combined, about two one-second pulses. Add butter and shortening, and process until homogeneous dough just starts to collect in uneven clumps, about 10 seconds (dough will resemble cottage cheese curds with very small pieces of butter remaining but no uncoated flour). Scrape down sides and bottom of bowl with rubber spatula, and redistribute dough evenly around processor blade. Add remaining 1/2 cup flour, and pulse until mixture is evenly distributed around bowl and mass of dough has been broken up, four to six quick pulses. Empty mixture into medium bowl.
Sprinkle vodka and water over mixture. With rubber spatula, use folding motion to mix, pressing down on dough until dough is slightly tacky and sticks together. Flatten dough into four-inch disk. Wrap in plastic wrap, and refrigerate at least 45 minutes or up to two days.
Adjust oven rack to lowest position, place rimmed baking sheet on oven rack, and heat oven to 425°F. Remove dough from refrigerator, and roll out on generously floured (up to 1/4 cup) work surface to a 12-inch circle about 1⁄8 inch thick. Roll dough loosely around rolling pin, and unroll into pie plate, leaving an at least one-inch overhang on each side. Working around circumference, ease dough into plate by gently lifting edge of dough with one hand while pressing into plate bottom with other hand. Leave overhanging dough in place; refrigerate until dough is firm, about 30 minutes.
Trim overhang to 1/2 inch beyond lip of pie plate. Fold overhang under itself; folded edge should be flush with edge of pie plate. Flute dough or press the tines of a fork against dough to flatten it against rim of pie plate. Refrigerate dough-lined plate until firm, about 15 minutes.
Remove pie pan from refrigerator, line dough with foil, and fill with metal or ceramic pie weights. Bake for 15 minutes. Remove foil and weights, rotate plate, and bake for five to 10 additional minutes, until crust is golden brown and crisp. Remove from oven, and reduce oven temperature to 350°F.
For the filling: Following photos, puree pumpkin, brown sugar, spices, and salt in food processor until smooth, about one minute. Cook mixture in large saucepan over medium-high heat until sputtering and thickened, about four minutes, and remove from heat. Meanwhile, put pie crust back in oven to warm, if necessary (see note above).
Whisk evaporated milk into pumpkin mixture, and then whisk in eggs and vanilla. Pour filling into warmed pie crust, and bake until filling is puffed and cracked around edges and the center barely jiggles when pie is shaken, about 35 minutes.
For the topping: While pie is baking, toss pecans, brown sugar, and salt in bowl. Add corn syrup and vanilla, using fingers to ensure that ingredients are well blended.
Scatter topping evenly over puffed filling and sprinkle with granulated sugar. Bake until pecans are fragrant and topping is bubbling around edges, about 10 minutes. Cool pie completely on wire rack, at least two hours. Pie can be wrapped in plastic and refrigerated for up to two days. Serve pie at room temperature.
Information
Category

Desserts, Pies/Tarts

Cuisine

North American

Yield

8-10 servings
Image Source: America's Test Kitchen