Slow-Cooker French Onion Pot Pie Soup Recipe
Slow-Cook Your Way to Greatness With This French Onion Pot Pie Stew
There's a new breed of food hybrids cropping up in cookbooks and recipe sites: casseroles-turned-soups like Chrissy Teigen's chicken pot pie soup and soups-transformed-to-casseroles, like Delish.com's chicken noodle soup casserole. During this cold, wet Fall season, I've had french onion soup on my mind and wanted to see if I could pot-pie-ify it. Presenting this french onion pot pie stew, served with gruyere pie crust crackers. Comforting, nostalgic, and best of all, easy, it begs to be part of your weeknight dinner rotation or even served at a Halloween or Fall party.
The recipe starts with all the traditional french onion soup ingredients and chuck steak, thrown in a slow cooker for hours until the onions melt into caramelized submission and the meat becomes fork tender. French onion soup is often served with melted gruyere cheese and sliced baguette. As a nod to the traditional recipe, I made pie crust crackers that sub out most of the butter for gruyere cheese. They almost taste like cheese straws, and if you're up for a spicy kick, add in the touch of cayenne. Lastly, if you want to make the crackers more festive, consider using Fall cookie cutters in the shapes of Fall leaves, pumpkins, or even turkeys. Keep in mind, this will reduce the bake time to about 8-10 minutes.
So what are you waiting for? Get that slow cooker out and cranked up to "low." The efforts will reward your tastebuds.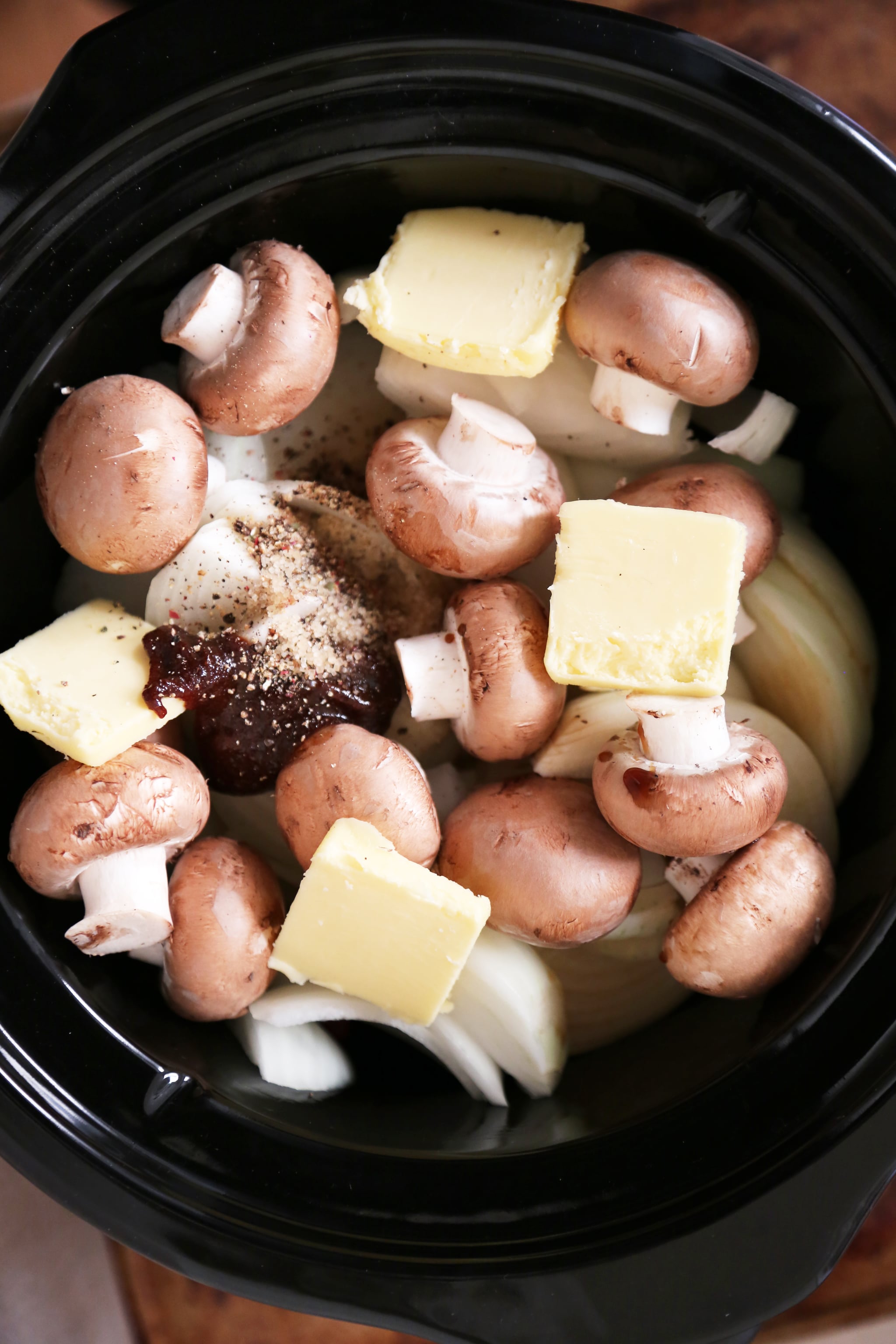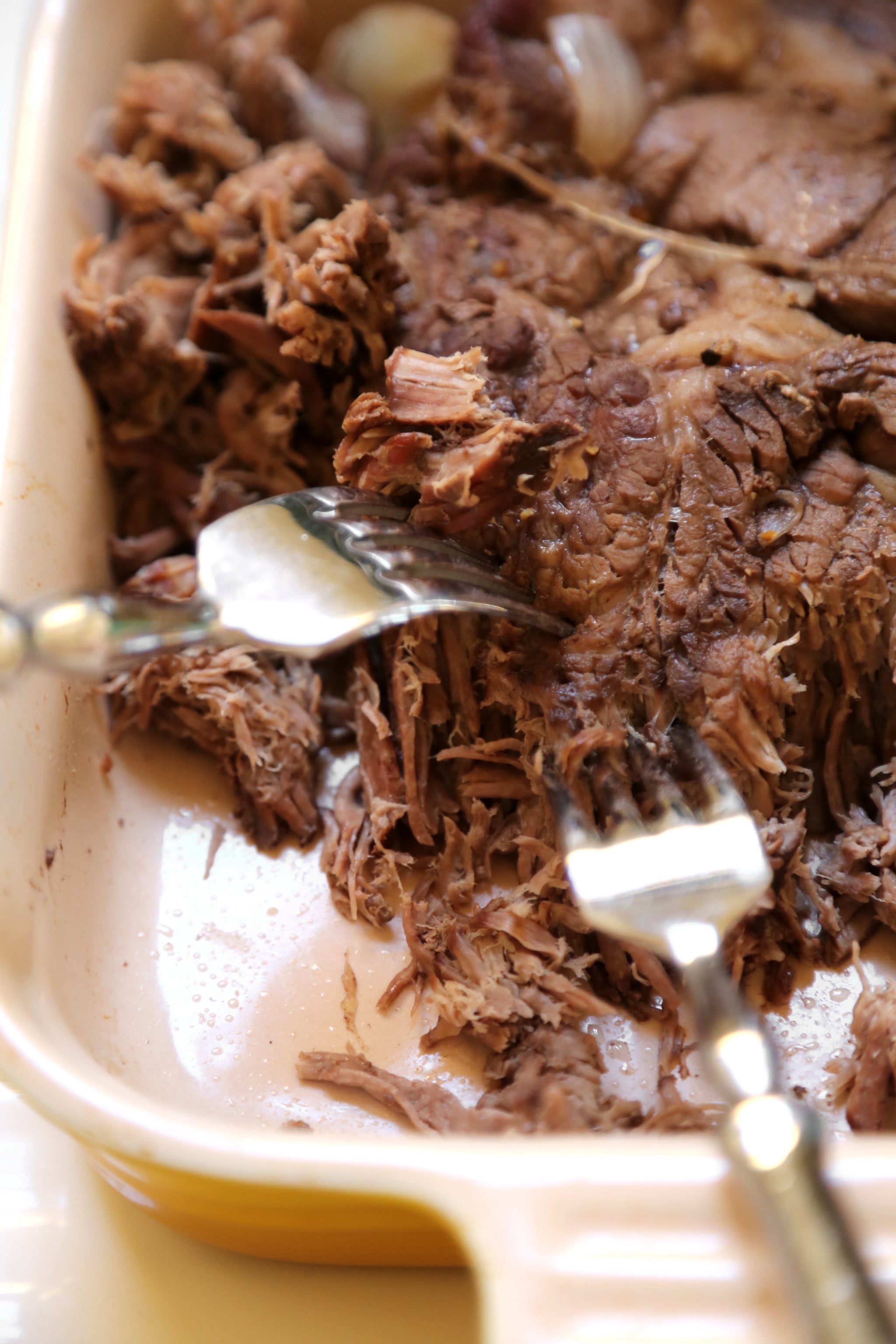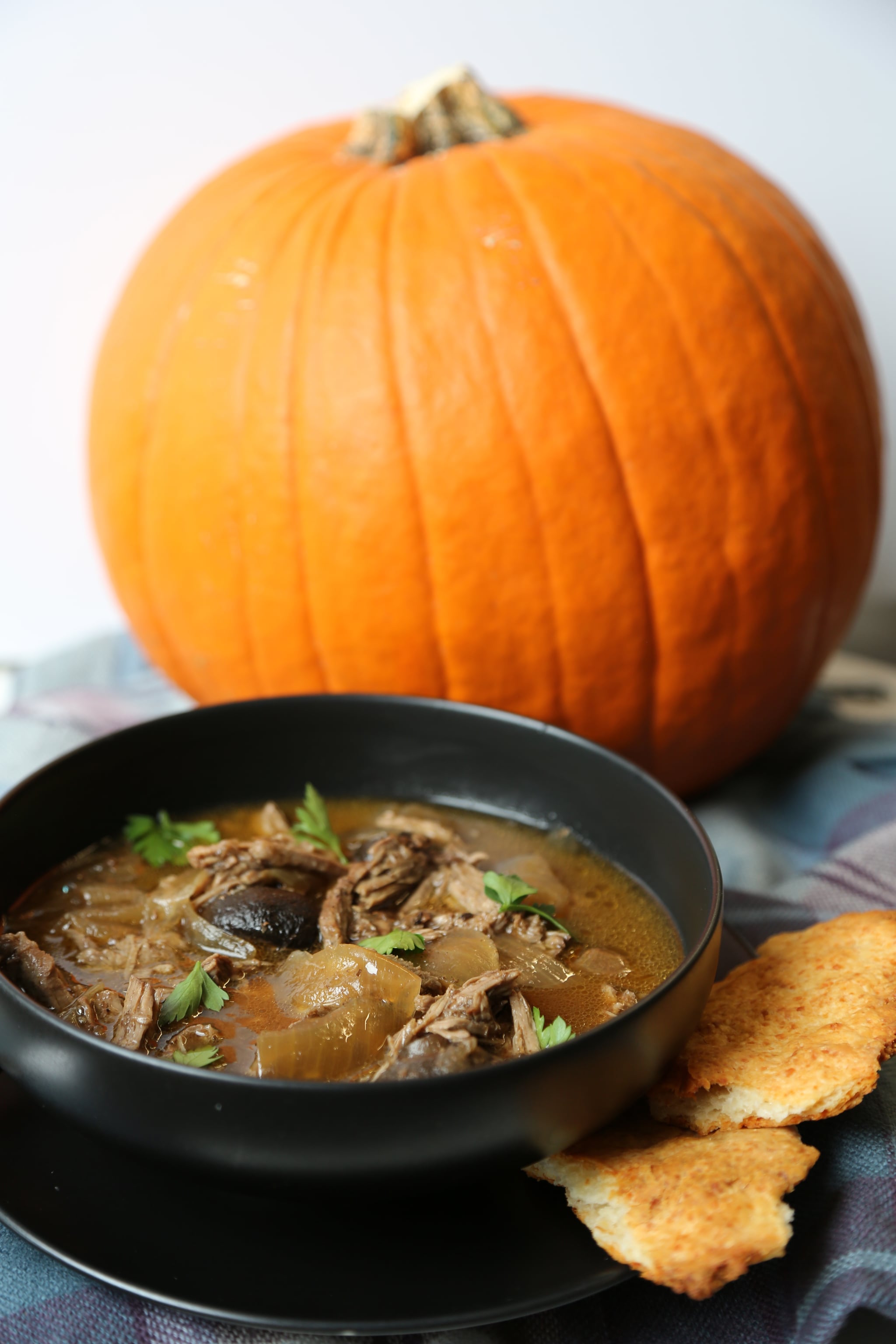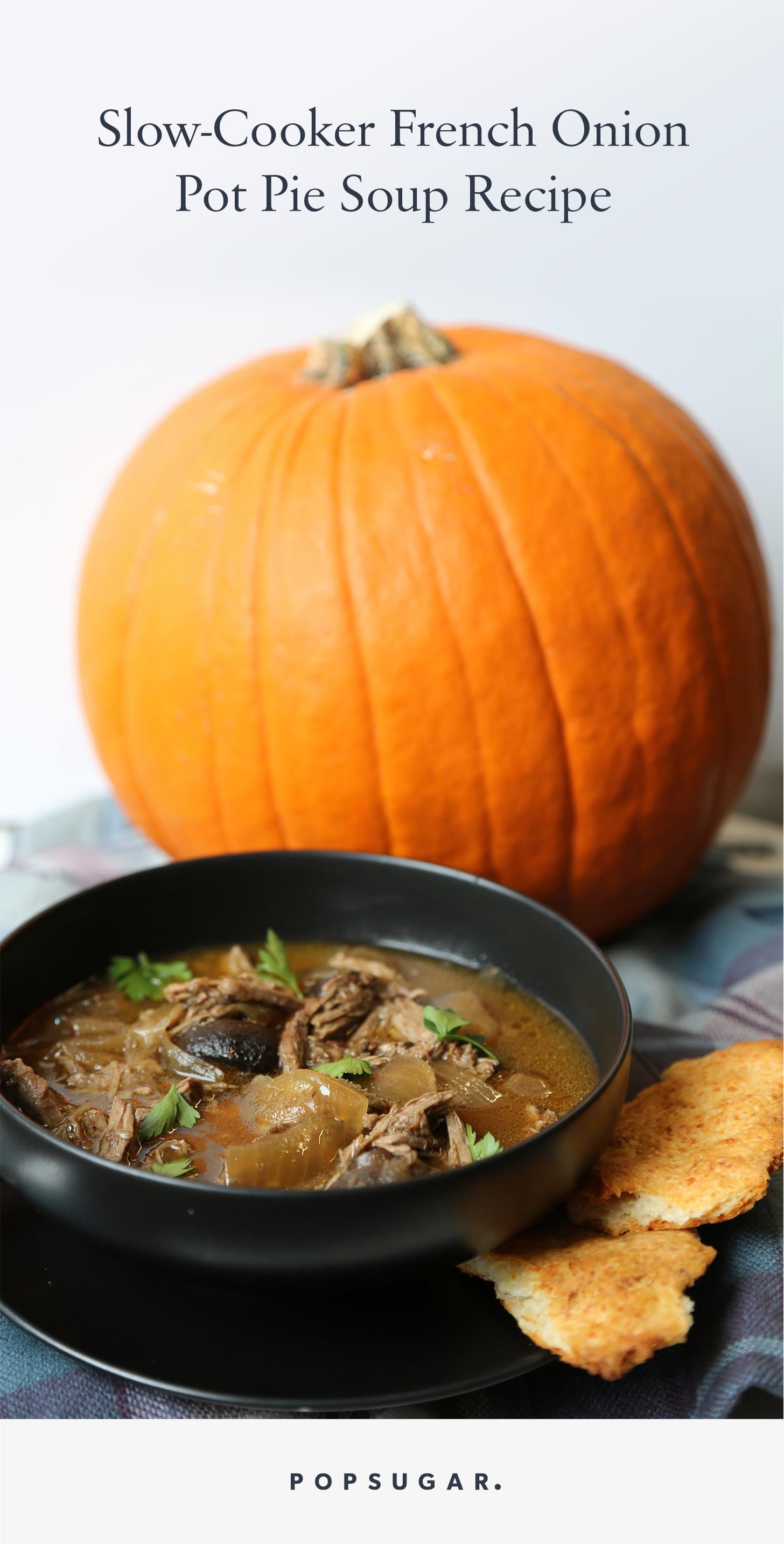 Slow-Cooker French Onion Pot Pie Stew
From Anna Monette Roberts, POPSUGAR Food
Ingredients
For pot pie stew:
4 tablespoons (1/4 cup) salted butter
2 large yellow onions, sliced
1 package mushrooms
1 tablespoon vegetable or beef bouillon, such as Better Than Bouillon Vegetable Base
1 teaspoon freshly ground pepper
1 tablespoon Worcestershire sauce
1 teaspoon sugar
2 - 2 1/2 pounds chuck roast
Salt and pepper, to taste
For pie crust crackers:
2 1/4 cups all-purpose flour
1 teaspoon salt
1/8-1/4 teaspoon cayenne, optional
2 tablespoons salted butter
6 ounces gruyere or swiss cheese, shredded
1 cup ice water
Directions
Coat slow cooker with butter. Layer sliced onions and mushrooms and top with remaining butter, bouillon, pepper, Worcestershire, and sugar. Add meat, salt and pepper the top of the meat, then cover. Cook on low for 8-12 hours, or until meat becomes fork tender and onions are completely caramelized and translucent. (For me, it took 9 hours). Once meat is fork tender, carefully transfer it to a rimmed cutting board or surface and shred it with a fork and transfer it back to the slow cooker. Stir and salt and pepper to taste. Change slow cooker setting to "warm" until ready to serve.
About 2 hours before soup is ready, make the cheese pie crust crackers. In a food processor, pulse flour and salt. Pulse in butter and shredded gruyere. Pulse in ice water 1 tablespoon at a time, until dough appears shaggy. (For me, it took 10 tablespoons.) Use a rubber spatula to help transfer the dough to a flat, floured surface. Knead a few times until dough comes together. Divide dough into two parts using a knife or dough cutter. Form two flat disks. Wrap in plastic wrap and refrigerate for at least 20-30 minutes.
After refrigeration, preheat oven to 375°F. Roll out dough to 1/4-inch thick. Prick the dough with a fork to prevent it from bubbling up as it bakes. Transfer to a baking sheet lined with parchment paper. Bake for 20-25 minutes, or until dough turns golden brown. Allow to cool before breaking up into crackers.
Serve soup out of slow cooker with crackers on the side.
Information
Category

Main Dishes, Beef

Cuisine

French

Yield

Serves 4-6
Image Source: POPSUGAR Photography / Anna Monette Roberts