How to Make Barbie Pink Pasta From TikTok
TikTok's Viral Pink Pasta Recipe Is Bringing Barbiecore to Our Taste Buds
@foodmymuse

Barbie Pink Beet Pasta & Toasted Pinenuts 💗 sooo good and flavorful. The sauce was inspired by tzaziki but obviously not traditional in the slighest! Something about me is that I don't love cooked beets but love them raw! Ingredients: •1 shredded beets (raw). •2 persian cucumbers (shredded). •1 garlic clove. •1/2 lemon (add more if you want). •3 tbsp fresh dill + more for topping. •3 tbsp chives + more for topping. •serranos to taste. •1/4 c olive oil + more for topping. •2 cups labneh. •1/4 c pinenuts. •1 lb fusilli corti pasta (cooked but save some pasta water). •Seasoned salt or salt and pepper (I use pegs). Directions: 1.- Grate the cucumber and remove excess moisture. Grate the beet but do not remove excess moisture. 2.- Combine with the labneh, dill, chives, olive oil, seasoned salt and lemon. Grate some garlic and mix it in. 3.- Toast the pinenuts until golden. 4.-Add the pasta (semi cooled down) to the tzaziki and mix it in with some pasta water. #pastarecipes #diprecipes #beets #damnthatsdelish #appetizer #snackrecipes #entertainingathome #summerpasta #pinkpasta #barbiemovie

♬ original sound - Nadia Aidi
TikTok chefs have been busy cooking up something delicious in their mojo dojo casa houses: Barbie pasta — and we have the recipe. For months, Greta Gerwig's "Barbie" movie has fueled a Barbiecore fashion and beauty takeover, and now even our taste buds can't resist. Made popular by TikTok user Kat Clark, who modified a recipe she found online, the viral Barbie-inspired pink pasta recipe has turned many fans of the movie into at-home cooks. Whether you consider yourself Chef Barbie in the kitchen or not, this pink-pasta recipe is easy to recreate with just a handful of ingredients.
While most of the pink in Barbie Land is made of vinyl and other plastics, this creamy pasta gets its rich magenta color from a classic vegetable: beetroot. In addition to the beets — which are known for staining fingers and surfaces a deep pink — the recipe gets its exact shade of Barbie pink from the addition dairy. Most commonly, Barbie fans recommend using mascarpone cheese, sour cream, or Greek yogurt and feta to balance out the beets. You can also use dairy-free sour cream if you want the recipe to be vegan. Other ingredients include lemon juice, lemon zest, and garlic.
Unlike the controversial pink sauce from earlier this year, the general consensus on the Barbie pasta seems to be positive. "If you've got the time, let the pasta sit for like 10 minutes and the pink literally soaks into the pasta. It looks weird but it tastes so delicious," Clark said.
If you ever secretly wished you could eat forbidden "foods" like Play-Doh or your Barbie's strikingly realistic jelly sandals, this recipe is the ultimate childhood wish fulfillment — minus the gross plastic taste. Plus, like dressing a Barbie and styling her with all of the coolest accessories, dressing your pasta is just as fun. While the accoutrements are fully up to you, TikTokers recommend using fresh herbs, fried pine nuts, and a drizzle of olive oil to complete the dish.
Ahead, see the full Barbie pasta recipe and a few different variations on the delicious trend.
Barbie-Inspired Pink Pasta
Food Network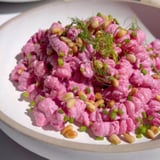 Ingredients
3 medium-sized beets, trimmed, washed and scrubbed
1 tablespoon olive oil
1 1/2 teaspoons salt, divided
1 1/2 cups mascarpone or sour cream, divided
1 lemon, zested and juiced
1 large garlic clove, roughly chopped
1/2 cup grated Parmesan, plus more to serve
1/2 teaspoon black pepper
9 ounces fiorelli, orecchiette, or rotini pasta
Basil, to serve (optional)
Directions
Preheat the oven to 425°F.
While the oven is preheating, toss the scrubbed beets in olive oil and 1/2 teaspoon salt.
When the oven is preheated, wrap the beets tightly in two layers of aluminum foil and set them on a baking sheet. Roast the beets in the oven for 50 minutes to one hour or until fork-tender.
Once the beets are done, carefully remove them from the foil and set them aside to cool.
When the beets are cool enough to touch, rub the skins off with a paper towel and slice them into quarters.
In a blender, combine the chopped beets, remaining salt, one cup of mascarpone, lemon juice, lemon zest, garlic, grated Parmesan, and pepper. Blend until smooth and well combined.
Cook your pasta of choice according to the instructions on the package.
Drain the pasta. Make sure to reserve a cup of pasta water for later.
In the empty pasta pot, add the noodles, beet sauce, and a splash of pasta water. Stir until well combined.
Plate the pasta with a dollop of mascarpone, a drizzle of olive oil, a squeeze of lemon juice, and fresh basil leaves. Serve hot and enjoy!
Information
Category

Pasta, Main Dishes

Yield

3–4 servings

Prep Time

15 minutes

Cook Time

75 minutes

Total Time

1 hour, 29 minutes, 59 seconds