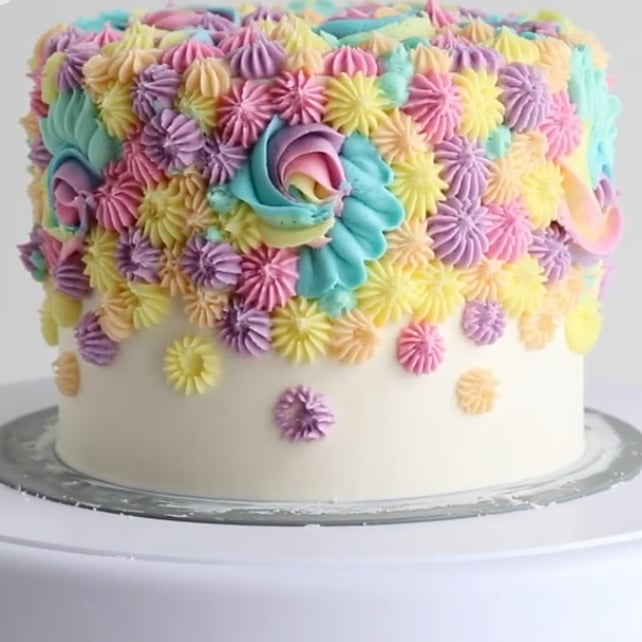 For the most part, baking a cake is easy. You buy the ingredients, preheat the oven, follow the recipe, and voila! You've got a cake. But have you ever tried to decorate a cake? Like, really decorate it to the point where it's basically a work of art? Those who have tried know just how hard it is. But even if you don't want to tackle the decorating part, you have to admit that watching videos of other people transforming cakes into incredibly creative creations is pretty awesome. If you're looking for decoration inspiration (or just want to get lost in a colorful and sugary world for a bit), keep reading for our favorite cake decorating Instagram accounts.
01
The Purple Cupcake
There's something so feminine, magical, and mysterious about the cake decorations found on The Purple Cupcake. If you want desserts straight out of a fairy tale, these are it.
02
Tortik Annuchka
The cakes decorated by Tortik Annushka are elegant, inventive, and unlike anything you've probably ever seen before. These cakes are the definition of having your art and eating it too.
03
Chelsweets
After scrolling through Chelsweets' feed, you'll feel transported to a cake wonderland. These decorations are so fun and frisky. They also show that it's just as important to decorate the inside of your cake as it is to decorate the outside.
04
Koali Pops
These cake decorations are proof that you can design a cake based on pretty much anything. When you see the cakes presented on Koali Pops, you'll be expecting these cakes to come to life right through the screen.
05
Genela Cakes
When scrolling through Genela Cakes, you'll be stunned that someone could possibly bake something so gorgeous. These cakes will remind you of a magical dollhouse or a sugary dreamworld.
06
Cake Design by Sheri
The posts made by Sheri Wilson are proof that it's all in the details. These cakes are overflowing with so many glorious touches that you'll constantly discover new things.
07
Lindsay the Flour Girl
In a word, the cakes decorated by Lindsay the Flour Girl are ethereal. They remind you of something that sprouted from the Garden of Eden. They're that divine.
08
Hot Hands Bakery
The decorations Amie Suwito from Hot Hands Bakery attempts are so lovely! They're beautiful enough to look professional but simple enough that you can definitely try them at home.
09
Treats by Tay
If you're looking for a playful, eclectic, and creative vibe, look no further than Treats by Tay. A striped cake? Yes, please!
10
Wilton Cakes
If you like your cakes overflowing with color, take a look at Wilton Cakes. Not only are these cakes alive with creativity, but the feed also includes plenty of video tutorials to help you decorate your own.
11
Preppy Kitchen
When you see the decorations done by Preppy Kitchen, you'll wonder how they could have even come up with something so gorgeous. Luckily, the feed includes some seriously satisfying videos that show you how it's done.
12
Cake by Courtney
Be warned: the cakes decorated by Courtney Rich will put you under a whimsical spell. They're fun and colorful, and just like this layered strawberries and cream cake, will make you want to eat the whole entire thing.
13
Lovlie Cakes
If you're looking for a variety of cake decorating styles, peruse Lovlie Cakes immediately. The decorations range from simple and chic all the way to wild and out of this world.
14
Cakes by Lynz
No, that isn't a stack of pancakes. That's a pancake cake. Cakes by Lynz breaks the mold and reveal all sorts of fun cake decorating possibilities!
15
Amy Cakes Online
If you're a fan of the art of calligraphy, you'll hit "follow" as soon as you lay eyes on Amy Cakes' feed. These cakes are proof that there's no excuse for messily drawn letters.