Tie-Dye Cake | Food Video
Hypnotic Tie-Dye Cake Is Guaranteed to Get You All the Instagram "Likes"
If you are the kind of person who loves watching paint being mixed or are mesmerized by the milk, food coloring, and soap experiment, then this is the dessert for you! Create a stunning tie-dye frosting in a matter of minutes with this incredibly easy hack to frost a cake.

Hypnotic Tie-Dye Cake
From Nicole Iizuka, POPSUGAR Food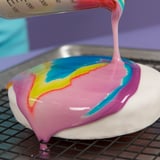 Ingredients
1 6-inch round cake covered in fondant
1 cup powdered sugar
3 tablespoons water
Neon food coloring
Directions
Place fondant-covered cake on a wire rack over a pan to catch excess glaze.
In a mixing cup with a pour spout, whisk together powdered sugar and water until a thin, pourable consistency is reached.
Add 1 drop of each food coloring color into the glaze, being sure to leave space between each color. Pour glaze over the top of the cake and let the excess drip off the sides. Let cake dry for 1 hour, or until frosting has set.
Information
Category

Desserts, Cake