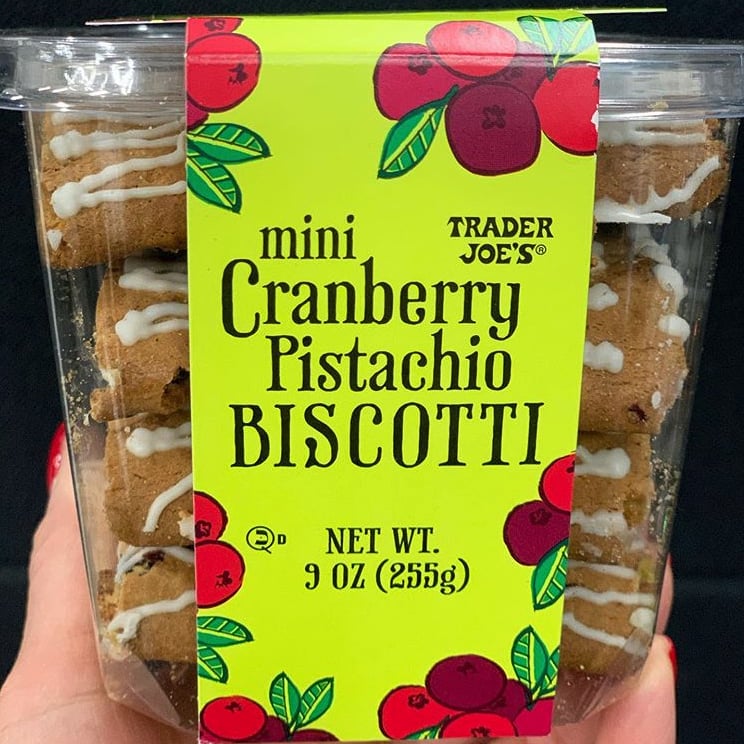 Trader Joe's definitely doesn't have a shortage of delicious treats, and we're especially in love with its cookies! Like pretty much all products at Trader Joe's, its cookie selection changes pretty frequently, thanks to a constant influx of seasonal and semiregular treats. That's why the best option, obviously, is to stock up your pantry when you find a favorite! Ahead, we've taken stock of some of the best cookies Trader Joe's has to offer, both seasonal and "regular," and picked the 10 very best recent finds. Keep reading to see which cookies made the cut, then get to your local stores and grab 'em before they're gone!
01
Chocolate Hazelnut Cookies
Is there anything better than hazelnut and chocolate? Yes: Chocolate Hazelnut Cookies. These are yummy sandwich cookies with a filling that's as indulgent as your favorite chocolate hazelnut spread.
02
Mini Cranberry Pistachio Biscotti
These Mini Cranberry Pistachio Biscotti are the perfect companion for your morning coffee: just sweet enough with a drizzle of frosting and a satisfying, crunchy texture.
03
Mini Heart Cookies
These yummy bite-size treats are a seasonal twist on TJ's chocolate-dipped crunchy cookies, similar to its popular holiday Mint Star Cookies. But this time, not only is the outside robed in dark chocolate, but the cookie inside is chocolate, too!
04
Raspberry Heart Cookies
Throughout the year, Trader Joe's comes out with different variations of its raspberry-filled shortbread cookies. The Raspberry Heart Cookies combine a cute shape and sweet shortbread with the tangy, delicious raspberry filling you love.
05
Chocolate Enrobed Joe-Joe's
Elevating the traditional (and tasty!) Joe-Joe's to a whole new level are these Chocolate Enrobed Joe-Joe's. The only downside? They're a seasonal treat, so they won't be on shelves all the time.
06
Macarons Variés
Over in the frozen section, you can pick up these assorted Macarons Variés. They are dainty and pretty and have just the right amount of light flavor.
07
Triple Ginger Snaps
When you are craving a bite of something but want to steer clear of large servings or overly sweet flavors, the Triple Ginger Snaps are just right. Not only are they flavored with ginger, but they've also got chunks of spicy candied ginger scattered throughout for some extra flavor.
08
Oat and Greek Yogurt Sandwich Cookies
For an unexpected twist on the classic sandwich cookie, look no further than these Oat and Greek Yogurt Sandwich Cookies, with yummy oatmeal cookies sandwiching a light, vanilla-yogurt creme filling. Plus, oats and yogurt have to mean they're healthy, right?
09
All Butter Shortbread Cookies
Sometimes, simplicity is best. These buttery, melt-in-your-mouth All Butter Shortbread Cookies are a total classic, but they've still got that little bit of a twist, courtesy of the rich chocolate in the middle.
10
Oatmeal Cranberry Dunkers
Different seasons come with different variations of TJ's beloved "dunkers," but we especially love the Oatmeal Cranberry Dunkers variety! They're crisp, crunchy, and perfect for dipping in your morning coffee.