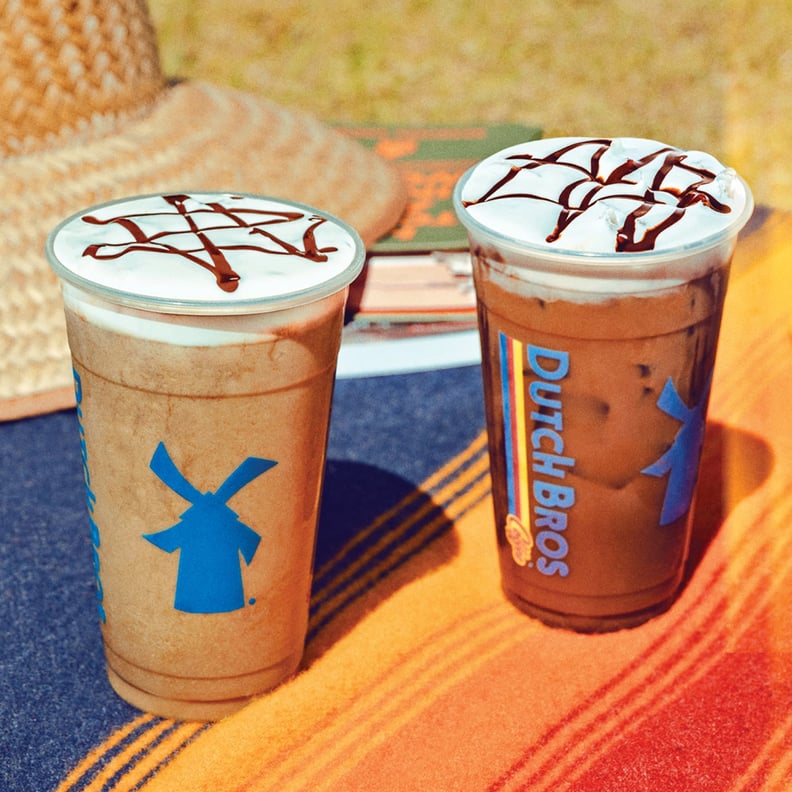 It can't just be us who immediately drives to the closest Dutch Bros every time we get in the car, right? The coffee chain, which has locations across the western U.S., is known for it's buzzy drinks, and figuring out what to order is the first step in satisfying your caffeine cravings. And, leave it to TikTokers to know (and thankfully, share) the best drinks on (and off!) the menu. Complete with summer-themed flavors and espresso-based beverages, these Dutch Bros drinks are delicious enough to make you drool. If you're wondering what to order during your next drive-thru excursion, consider trying one of these tried and true TikTok ideas. Whether you're craving the sweet taste of a Rebel or you're looking for that perfect afternoon pick-me-up, these delectable drink ideas are just what you need.
01
Half Kicker, Half Annihilator
Looking for a drink that'll give you a serious caffeine buzz? Meet the Half Kicker, Half Annihilator. Complete with a creamy soft top, this drink will wake you right up.
02
Pomegranate Orange Blended Rebel
Bright and beautiful, don't sleep on this drink! To order it, ask for a Blended Rebel with pomegranate and/or orange drizzle.
03
Sparkling Lavender Lemonade
With bright hints of lemon and crisp splashes of sparkling water, this lavender-infused drink is sure to give you the pick-me-up you were looking for.
04
Iced Golden Eagle Beve
Vanilla and caramel work together to make this drink a Dutch Bros. classic. Complete with breve milk and caramel drizzle, this will make you come back for (so many) more.
05
Shark Attack Soda
The Blue Raspberry Rebel is the star of the show here! With a dash of peach and watermelon, this is the ultimate summertime drink.
06
Tropical Lemonade Blended
Take your taste buds to the tropics with this blended lemonade concoction. Made with lime, blue raspberry, and a hint of lemon, this drink will whisk you away to paradise.
07
Green Tea With Blue Raspberry and Strawberry Drizzle
Sweet, fruity, and so refreshing, this green tea blend will leave your taste buds in a tizzy. If you really want to give it a flavor blast, add a dash of peach syrup.
08
Double Blended Capri Sun Rebel
Made with blackberry, cherry, vanilla, and almond, this Capri Sun Rebel is as exciting as it sounds. It's smooth, refreshing, and a treat for your taste buds.
09
Sunset Mixer
Summer is calling and the Sunset Mixer has answered! This lemonade drink is made with real strawberries and coconut milk, and wow, is it good.
10
And Here's a Dutch Bros. Daily Affirmation!