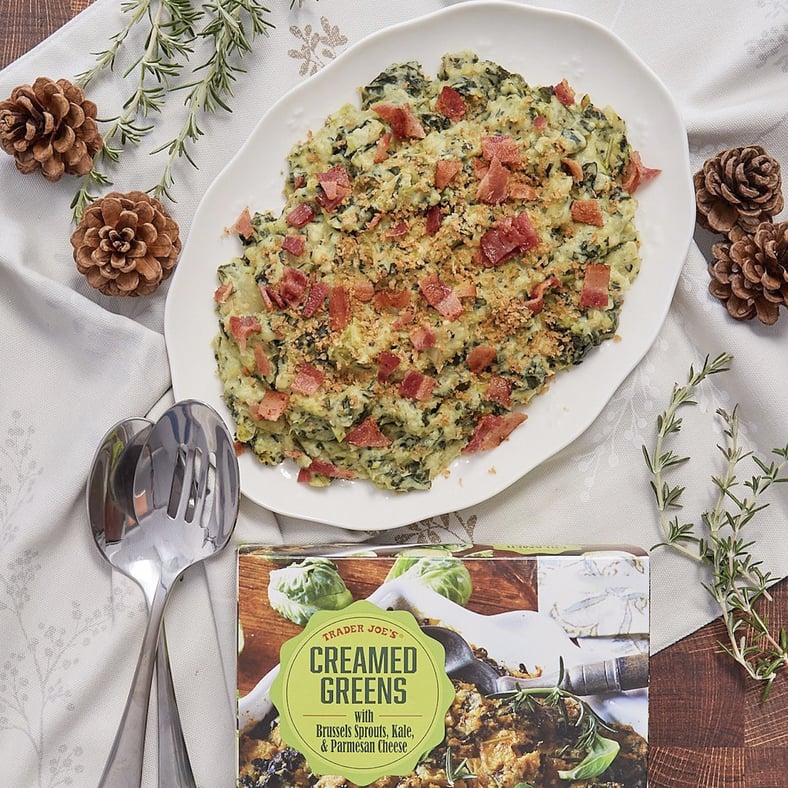 Trader Joe's just made the prep for Thanksgiving dinner a breeze with its easy-to-make-food selection, tasty and hearty bites, and drool-worthy desserts. From prepackaged appetizers that'll have people coming back for more to main-course meals that even the least experienced chef can make, these festive picks will fill your table with mouthwatering dishes (and your heart with thanksgiving that you didn't have to spend hours in the kitchen!). Whether you want an rich loaf of cornbread to pair with the turkey or you're looking for a berry-packed pie to flaunt on the dessert table, these Trader Joe's finds will fill your kitchen with all the Thanksgiving food you could dream of. This year, spend less time in the kitchen and more time around the table enjoying these delicious Thanksgiving-inspired foods from Trader Joe's. Check out our favorite picks, ahead!
— Additional reporting by Lauren Harano
01
Trader Joe's Gluten-Free Stuffing Mix
If you love stuffing but happen to be gluten-free, the food gods have heard your prayers! Just add sausage and fresh veggies to make this meal complete.
02
Trader Joe's Pumpkin Cheesecake
Pumpkin and cheesecake are seriously a win-win combination. This cake is made with real pumpkin and pumpkin pie spices, so every bite tastes like fall.
03
Trader Joe's Mini Cornbread Biscotti
Crunchy, cute, and packed with corn, pair these tasty treats with soup, baked cheese, gravy, and more.
04
Trader Joe's Cornbread Mix
A chilly fall night, a hearty Thanksgiving dinner, and a side of cornbread — what could be better? This easy-to-make mix lets you whip up moist and crumbly cornbread in less than 30 minutes. Just add butter or honey to make it complete.
05
Trader Joe's Creamed Greens
Get a dose of vegetables that are creamy, cheesy, and freakin' delicious with the Trader Joe's creamed greens dish. Serve it as a side to accompany your turkey and 'taters.
06
Trader Joe's Turkey Stock
Trust us, you'll love using this affordable and richly-flavored turkey stock for all your Thanksgiving dishes.
07
Trader Joe's Pumpkin Joe-Joe Cookies
Oreos, but make them pumpkin! These Joe-Joe's are pumpkin wafer cookies that are held together with a pumpkin creme filling. Perfect for dunking or just eating by the handful. Add them to the dessert table when in doubt.
08
Trader Joe's Rustic Apple Tarte
We get it, apple dishes are a pain to make. But luckily this tasty tart is not only so easy to make, but it's also super tasty. Yum!
09
Trader Joe's Mashed Sweet Potatoes With Pecans
Make dinner even easier when you whip up these delicious mashed sweet potatoes. Just throw them in the oven, and your work here is done.
10
Trader Joe's Pumpkin Cranberry Crisps
Want to make the perfect Thanksgiving appetizer? Pair these cranberry crisps with baked Brie or a cheeseboard, and everyone's mouths will be watering.
11
Trader Joe's Pumpkin Pie
An all-time classic, you can't go wrong with pumpkin pie on Thanksgiving! Creamy, moist, and rich, you'll want to dig into this all night long.
12
Trader Joe's Cornbread Stuffing Mix
If you like cornbread and you like stuffing, then this will be the double whammy of your taste bud's dreams. Flavorful cornbread mixed in with the season's finest spices make this stuffing a one-hit wonder.
13
Trader Joe's Gingerbread Turkey Trot Cookie Decorating Kit
After a hearty dinner, there's nothing more enjoyable than decorating these cute cookies. Not to mention, they taste just as good as they look!
14
Trader Joe's Pumpkin Biscotti
If you need an after-dinner sweet, reach for these pumpkin biscotti cookies. They're sweet and packed with deep pumpkin and spice flavors.
15
Trader Joe's Pumpkin Bread and Muffin Mix
Whether it's bread or muffins you want, this mix can do both! If you're a pumpkin bread-lover, add this to your cart, and don't think twice about it. Serve it as a warm appetizer before dinner or enjoy it with dessert.
16
Trader Joe's Gourmet Fried Onion Pieces
Add these crunchy pieces to the top of a casserole, mixed in with the stuffing, or just douse them in gravy.
17
Trader Joe's Turkey and Stuffing en Croute
For a mouthwatering appetizer, we suggest making this frozen find. It's a turkey tenderloin wrapped in a cornbread stuffing, and wow, it's good.
18
Trader Joe's Nantucket-Style Cranberry Pie
If you're craving this classic East Coast dessert, you need to pick up this TJ's delight. Enjoy it with a dollop of whipped cream for best results.
19
Trader Joe's Apple Cranberry Tart
Sorry, pie, but this tart is too good to pass up. Warm it up after dinner to make it the Thanksgiving treat of your dreams.
20
Trader Joe's Harvest Apple Salad Kit
If you're looking for a delicious fall salad that can be made in a matter of minutes, this Trader Joe's Harvest Apple Salad Kit is it. Featuring cheddar cheese, apple cinnamon chips, pecans, and apple vinaigrette, it's hard to not crave it. Toss it together to make an easy Thanksgiving dinner side.
21
Trader Joe's Spiced Cider
A Thanksgiving classic, apple cider pairs well with everything from turkey to pie. Drink it warm or cold depending on your preference.
22
Trader Joe's Pumpkin Blondie Brownies
Trader Joe's Pumpkin Blondie Brownies are made with white chocolate chips, pecans, and pumpkins (of course). The recipe is so moist and rich in flavor, you'll be satisfied after just one helping.
23
Trader Joe's Everything but the Leftovers Seasoning
This seasoning was made to make Thanksgiving dinner better than ever. With an ingredients list that includes a familiar mix of Turkey Day spices like rosemary, thyme, sage, and parsley, we suggest adding a dash of this to all your dishes.
24
Pumpkin Spiced Pumpkin Seeds
As if you couldn't possibly have enough pumpkin, Trader Joe's has upped the ante and introduced pumpkin spiced pumpkin seeds. These seeds are coated with a sugar toffee glaze and seasoned with traditional pumpkin pie spices — cinnamon, ginger, nutmeg, and allspice. Enjoy them as a pre-dinner appetizer.
25
Trader Joe's Chocolate Mousse Pumpkins
Take the dessert table to the next level when you add these chocolatey pumpkins to the mix. They're filled with a rich almost cake-like inside and coated in a silky mousse.
26
Trader Joe's Maple Leaf Cookies
Surprise your Thanksgiving guests with a treat they won't be able to turn down. These maple leaf cookies feature a cream filling that's pretty much drool inducing.
27
Trader Joe's Holiday Vegetable Hash
Complete with butternut squash, sweet potatoes, red onion, celery, and herbs, this holiday hash has all the best veggies of the season. Cook it up for a light sautéd side, throw it in the stuffing, or toss it into a soup.
28
Trader Joe's Breaded Turkey-Less Stuffed Roast
Calling all vegans! This roast is covered in gravy and baked to perfection. You can thank us later.
29
Trader Joe's Turkey Harvest Salad
If you're really feeling lazy, you can serve this salad as a supereasy side! We suggest buying a couple packages, throwing them in a bowl together, and mixing them all up. It's almost too easy.
30
Trader Joe's Pumpkin Butternut Squash Bisque
Thick, rich, and exceptionally creamy, this flavorful soup will be your new favorite side dish. Mixed with a dash of brown butter and sage, it has all the best flavors of the season.