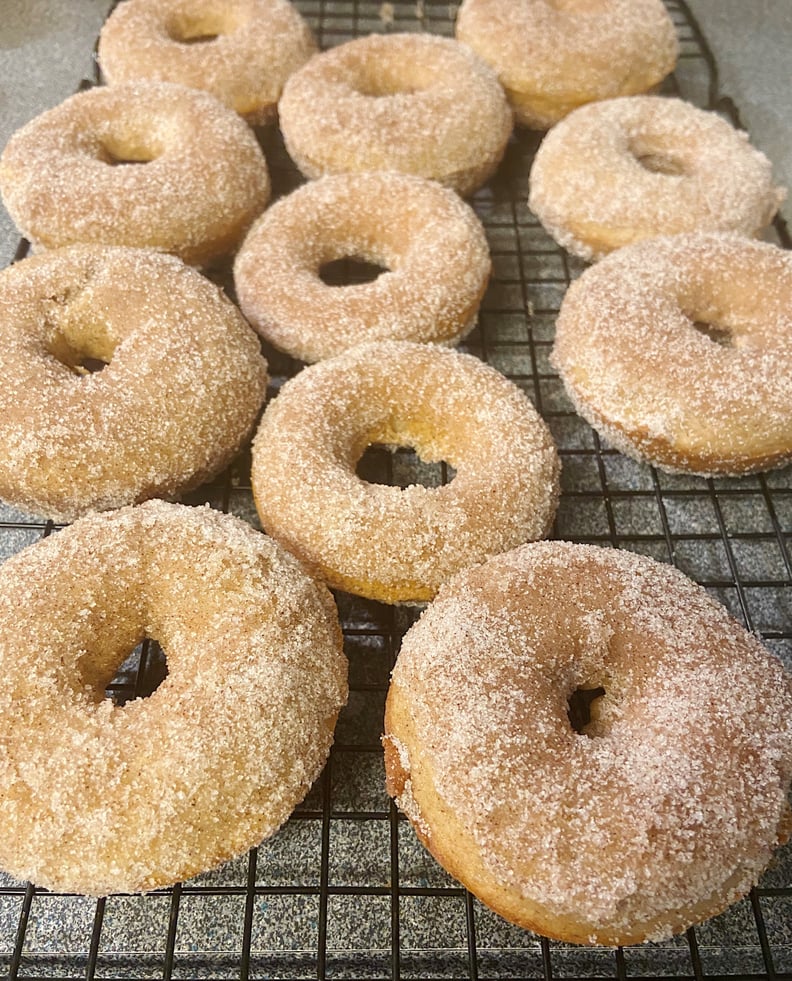 POPSUGAR Photography | Jessica Morone
POPSUGAR Photography | Jessica Morone
Doughnuts are my weakness . . . as in I literally can't resist them if they're around. I was doomed whenever someone brought a box into work, and now whenever I pass a doughnut shop on the street and smell a fresh batch, I have to stop and treat myself. As somewhat of a doughnut expert (at least I like to think so), the best doughnuts of all, in my opinion, are apple cider doughnuts. Traditionally, these are heavily associated with fall, when apples, cider, and flannel are everywhere. But there's no reason why you can't enjoy them any time of the year, especially if instead of regular cider you use hard apple cider for a boozy upgrade!
For my recipe, I used Doc's Draft Hard Cider made by Warwick Valley Winery & Distillery, which is local to me in New York State and so delicious. It's a semidry variety, which works great for these doughnuts, but you can really use any brand you like.
These doughnuts are baked, so it's best to have doughnut pans to cook these in, but if you don't have one, you can use a mini muffin pan instead and bake them for about eight minutes (if you use a full-size muffin pan, bake them for about 18-20 minutes). I used an easy cinnamon-sugar topping on these, but you could do anything you want with them, such as dipping them in powdered sugar, coating them with glaze, or putting chocolate frosting on them. It's totally up to you and your current cravings!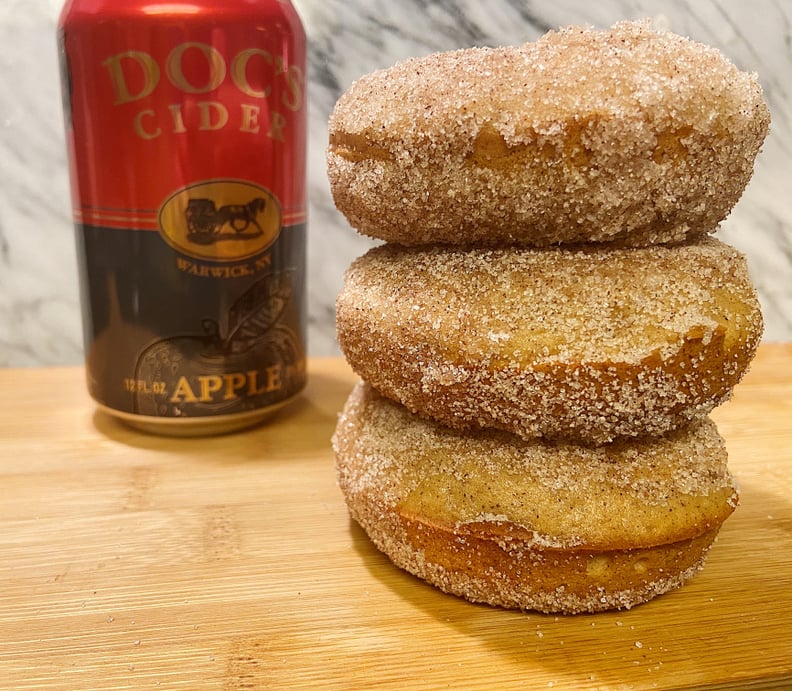 Ingredients
Doughnuts:
1 12 oz. can, or 1 1/2 cups hard apple cider
2 cups all-purpose flour
2 teaspoons baking powder
1 teaspoon ground cinnamon
1/2 teaspoon nutmeg
1/4 teaspoon salt
1 large egg
2 tablespoons butter, melted
1/2 cup granulated sugar
1/2 cup packed brown sugar
1/2 cup milk
1 teaspoon vanilla extract
Topping:
1 cup granulated sugar
1 teaspoon ground cinnamon
6 tablespoons butter, melted
Instructions
In a small saucepan, heat the hard apple cider over low heat for about 20-30 minutes until the liquid is reduced to about 1/2 cup. This took me exactly 25 minutes.
Preheat the oven to 350°F. Spray doughnut pans with nonstick cooking spray. If you don't have doughnut pans, I suggest using a mini muffin pan. Set pans aside.
Combine the flour, baking powder, cinnamon, nutmeg, and salt in a large bowl.
In a separate bowl, whisk together the egg, melted butter, granulated sugar, brown sugar, milk, and vanilla extract. Once combined, pour the wet ingredients into the bowl with the dry ingredients. Add the hard apple cider, and whisk everything together. Batter will be thick.
Fill the doughnut-pan wells 3/4 full. You can use a spoon, but the easiest way I've found to fill up the doughnut molds is to get a Ziploc bag, spoon the batter into the bag, and cut off one of the bottom corners to create a piping bag to pipe the batter into the doughnut molds.
Bake for 10-12 minutes in the oven, until lightly browned. The doughnuts should bounce right back when poked.
Let cool for 5 minutes, and then transfer doughnuts to a cooling rack.
When the doughnuts are cool enough to handle, combine the granulated sugar and cinnamon together in a small bowl.
Melt the 6 tablespoons butter in another small bowl.
Coat the doughnuts in butter by dipping each side into the butter bowl, then dip the doughnut into the bowl of cinnamon sugar until it's coated in topping.