Cheddar-Onion Doughnuts With Maple and Bacon Are SO Good
These Maple-Bacon Doughnuts Are Made With Cheddar Cheese and Onions, and They're Frickin' Delicious
Cheddar cheese, onions, and bacon might sound like toppings for your favorite omelet, but these ingredients — along with a homemade maple glaze — make for an irresistibly delicious doughnut. Yep, you read that right. Cheddar-onion doughnuts with maple glaze and bacon are a thing, and they're about to blow your mind.
My popular recipe is from my cookbook, Cooking In Boxers with Chef Bailey: 50 Ways To Keep Your Mate In Bed, and is the ideal starter for a lazy morning or as a treat after a weekend brunch. With a sharp contrast yet complementing flavors, the recipe calls for adding diced caramelized onions and white cheddar to the doughnut batter prior to baking. You then frost the doughnuts with a maple glaze before topping with fresh bacon bits.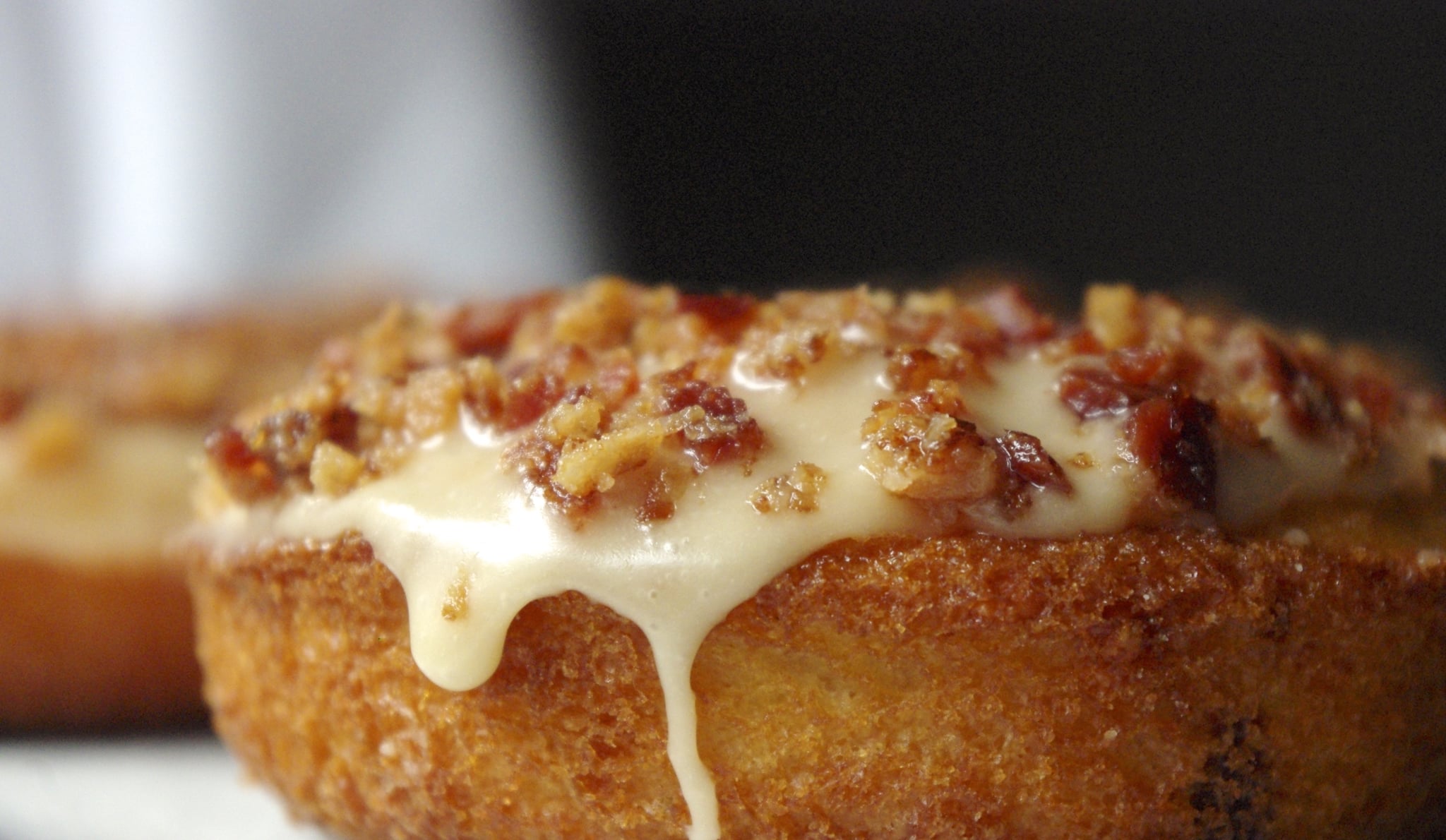 If you're looking to blur the lines between sweet and savory, whip up a batch of these doughnuts and indulge!
Cheddar-Onion Doughnuts With Maple Glaze and Bacon
Original Recipe by Mark Bailey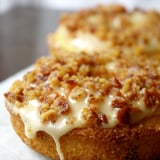 Ingredients
1 cup flour
1 teaspoon baking powder
1/4 teaspoon salt
2 tablespoons butter
1/4 cup sugar
1 egg
1/2 cup milk
1/2 onion, diced
3/4 cup white cheddar, shredded
1 tablespoon butter
1/2 cup maple syrup
1 teaspoon vanilla extract
1 cup powdered sugar
2 tablespoons butter
1/2 cup bacon, cooked, crumbled for topping
Directions
For Doughnuts:
Preheat oven to 325°F. Generously grease a 6-cup doughnut pan with non-stick cooking spray and set aside.
In a small skillet, melt butter over medium heat. Add onions and stir occasionally until onions become translucent and caramelized. Remove from heat and transfer to small bowl. Set aside.
In a medium mixing bowl, combine flour, baking powder, and salt. Mix well and set aside. In a separate bowl, mix sugar and butter well. Add egg and milk. Add the flour mixture and mix until combined. Fold in cheese and onion. Mix to combine well.
Transfer batter to doughnut pan evenly between the six cups. Transfer to oven and bake for 12 minutes. Remove doughnuts from oven and allow to cool. Once cooled, gently remove doughnuts from pan.
For Glaze:
In a small sauce pan, heat syrup, extract, and butter over medium-low heat. Stir until butter melts.
Remove from heat and transfer syrup to a medium bowl. Add powdered sugar and whisk until creamy.
To Finish:
Transfer crumbled bacon to a platter. Dip the top of a doughnut in the maple glaze then dip in bacon. Gently press doughnut on bacon to ensure bits adhere. Rest doughnut on a separate platter. Repeat with remaining doughnuts. Serve warm.
Information
Category

Breakfast/Brunch

Yield

Serves 3-4

Prep Time

35 Minutes

Cook Time

20 Minutes

Total Time

54 minutes, 59 seconds
Image Source: Mark Bailey