Frozen Pancakes Are the Breakfast Hack You Need
TikTok's Frozen-Pancake Hack Is a Total Breakfast Game Changer
Frankly, the only thing that keeps us from eating pancakes every morning is the prep and cleanup. Mixing up batter isn't a huge pain, but on a three-cups-of-coffee-before-7-a.m. kind of morning, it can feel absolutely insurmountable. Add in having to wash a bowl, a ladle, a spatula, and a pan all caked in batter — not to mention the syrupy, buttery plates and any tools you needed to wrangle toppings (chocolate-chip pancakes, anyone?) — and it's more understandable why we're not having pancakes for breakfast every day. But that might change now that we've learned about frozen pancakes.
Texas-based food blogger Deimante Dabravolskis posted a video to TikTok and Instagram explaining a hack for freezer pancakes, and quite frankly, it's genius. She doesn't claim to have invented the idea, but her video already has over one million likes, and it's easy to see why it's caught on — it takes the stress out of pancake breakfasts. The idea: you make the batter, pour it into ice-cube trays, and freeze it. That's right: freeze the batter, not the cooked pancakes. Then, when a pancake craving hits, you simply take out the frozen batter, pop it on the frying pan, and let the magic happen. Your pancakes stay fresh-tasting, and you can cook up as many or as few as the heart desires.
This recipe uses gluten-free flour, which you can substitute with all-purpose flour if that's all you have on hand (some flours can't be substituted one-to-one, so check your brand's packaging or search online to find the right substitution conversion), or you can use the batter recipe of your choice. This creator adds fruit and chocolate to the batter before freezing to eliminate the need to prep toppings ahead of time, too.
In short, this frozen-pancake hack is the perfect way to prepare a fuss-free breakfast any day of the year. Read how to make the freezer pancakes below, then have fun experimenting with your own toppings.
Freezer Pancakes
Instagram user @dliciously.inspired
Notes
Since there's raw egg in most pancake batters, Does It Go Bad? suggests storing it for no longer than two months in the freezer.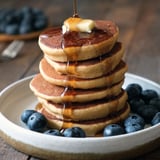 Ingredients
4 eggs
1/2 cup milk of choice
2 teaspoons vanilla extract
4 tablespoons pure maple syrup
2 tablespoons baking powder
Pinch of salt
1.5 cups of gluten-free flour
Toppings such as berries or chocolate chips
Directions
Add eggs, milk, maple syrup, and vanilla to a bowl and whisk.
Add baking powder, salt, and flour to the bowl. Whisk to incorporate. Don't overmix.
Pour the batter into a regular-size ice-cube tray. Add toppings of your choice and freeze.
When ready to use, heat some oil in a frying pan on low heat and add the frozen batter cubes. These will take a few minutes to fully melt. To help it melt quicker, gently press down on each pancake or use a cover.
Flip each pancake and cook until no more batter is oozing out.
Enjoy with added sides or toppings of your choosing.
Information
Category

Breakfast/Brunch, Pancakes/Waffles

Yield

Makes 16