How to Make Disney's Cinnamon Churro Toffee | Recipe
This Recipe For Disney's White Chocolate Cinnamon Churro Toffee Looks So Freakin' Tasty
Craving some of your favorite Disney treats? The park has been releasing recipes for Gooey Grilled Cheese, Crispy Churros, and more, but a few Disney fans are already hungry for more, and this copycat Disney Churro Toffee recipe is next on my list of desserts to attempt at home. Made by @code_word_disney on Instagram, the recipe blends together crunchy toffee with creamy white chocolate and a churro cinnamon sugar coating that already has me dreaming of dining at Cinderella's castle.
The original snacks are typically found at Trolley Treats in Disneyland's California Adventure Park, and are often shaped like a square. But this recipe adds a fun twist that involves turning the toffee into mini Mickey Mouse heads to make you feel even more like you're just grabbing a snack before taking a ride through the Haunted Mansion. Fun and easy to make, the recipe only calls for six ingredients and involves more waiting than cooking, but it's worth it for a Mickey-shaped toffee treat reminiscent of Disneyland's finest. So grab your Mickey Mouse cookie cutters and keep reading to take a look at the full, tasty recipe ahead.
Disney Parks Churro Toffee Recipe
Code Word Disney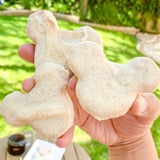 Ingredients
For the Churro Cinnamon Sugar:
1 teaspoon ground cinnamon
1 cup white sugar
For the Toffee:
1/4 cup crushed blanched almonds
2 cups salted butter
2 cups white sugar
1/2 teaspoon of salt
2 1/2 cups white chocolate
Directions
For the Churro Cinnamon Sugar:
In a small bowl, combine one teaspoon of ground cinnamon and one cup of white sugar. Set this aside for later.
For the Toffee:
In a saucepan, combine the remaining two cups of sugar with 1/2 teaspoon of salt and two cups of salted butter. Bring the mixture to a boil over medium heat while constantly stirring. Use a candy thermometer to determine once the mixture has reached exactly 300 degrees Fahrenheit. At this point, remove the mixture from the heat.
While hot, immediately pour the mixture into a parchment-lined 9-inch x 13-inch pan and spread evenly. Once the mixture is even, sprinkle the top of your toffee with the crushed blanched almonds.
Optional: If you would like to cut the toffee into shapes, wait until it is a malleable consistency and cool enough temperature to press cookie cutters into the mixture. The toffee will be thick and you may need a knife to fully trace the shape of the cookie cutter through the mixture.
Melt the white chocolate and pour it into a shallow bowl or plate to make for easy dipping. Once the toffee has completely cooled (about 45 minutes at room temperature), drop your toffee shapes into the white chocolate and use a spoon to completely coat each piece. Next, drop the chocolate-coated toffee into the nearby cinnamon churro sugar mix. If you did not cut your toffee into shapes, simply pour the white chocolate in an even layer over the mixture and follow up with an even coating of cinnamon churro sugar on top.
Let each toffee shape sit for five minutes on a parchment-lined plate. Once the white chocolate has hardened again, dig in!
Information
Category

Desserts, Candy