How to Make Disney's Grilled Three-Cheese Sandwich
Disney Keeps Sharing Its Signature Recipes, and the Latest Is This Gooey Grilled Cheese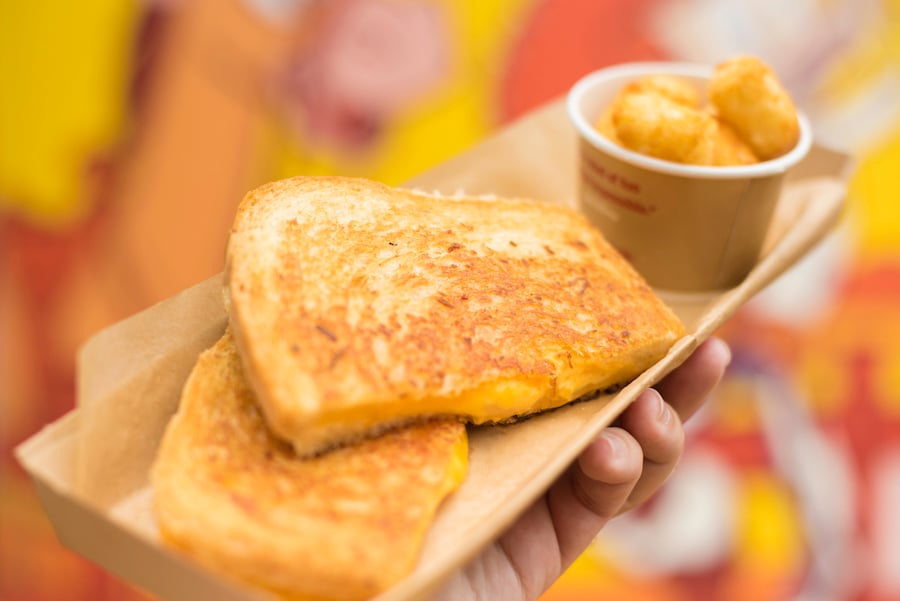 How do the Disney Parks manage to make something as simple as a sandwich taste so damn good? Magic . . . and three types of cheese. After previously sharing the recipe for sweet churro bites, the Disney Parks Blog released one for the Grilled Three-Cheese Sandwich typically found at Woody's Lunch Box in Hollywood Studios.
As opposed to the churros, which have been a park staple for quite some time, the sandwich is actually a newer addition since the Toy Story-themed eatery opened less than two years ago. A slightly more elaborate version of the nostalgic lunchtime meal, the sandwich simply consists of cheddar, provolone, and a cream cheese spread. The bread is also brushed with a garlic spread for an added savory twist. Learn how to re-create it at home ahead!
Disney Parks Grilled Three-Cheese Sandwich
Disney Parks Blog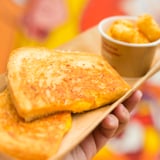 Ingredients
8 slices of artisan bread
8 cheddar cheese slices
8 provolone slices
For the cream cheese spread:
1/2 cup of cream cheese
1/2 cup of shredded cheddar or Double Gloucester cheese
2 tablespoons of heavy cream
1/4 teaspoon of coarse salt
For the garlic spread:
1 cup of mayonnaise
1 1/2 teaspoons of minced garlic
1/2 teaspoon of coarse salt
Directions
For the cream cheese spread:
Combine the cream cheese, cheddar or Double Gloucester, heavy cream, and salt in a food processor.
Blend until smooth and set aside.
For the garlic spread:
Combine the mayonnaise, garlic, and salt in small bowl.
Stir until blended and set aside.
For the sandwich:
Lay out artisan bread slices on parchment paper or a large cutting board.
Place 2 slices of cheddar on 4 of the bread slices. Place 2 slices of provolone on remaining bread slices.
Equally spoon the cream cheese spread on the slices with provolone. Gently smooth cream cheese spread over each slice.
Press cheddar side and provolone side together.
Heat a large skillet over medium heat for 5 minutes, until hot.
Brush both sides of the sandwiches with the garlic spread.
Grill sandwiches for 2 minutes on each side, until cheese is melted and bread is golden brown!
Information
Category

Main Dishes, Sandwiches

Yield

Serves 4