How to Make Heart-Shaped Pizza With Photos
Spread the Love (and the Sauce) This Valentine's Day With This Heart-Shaped Pizza Recipe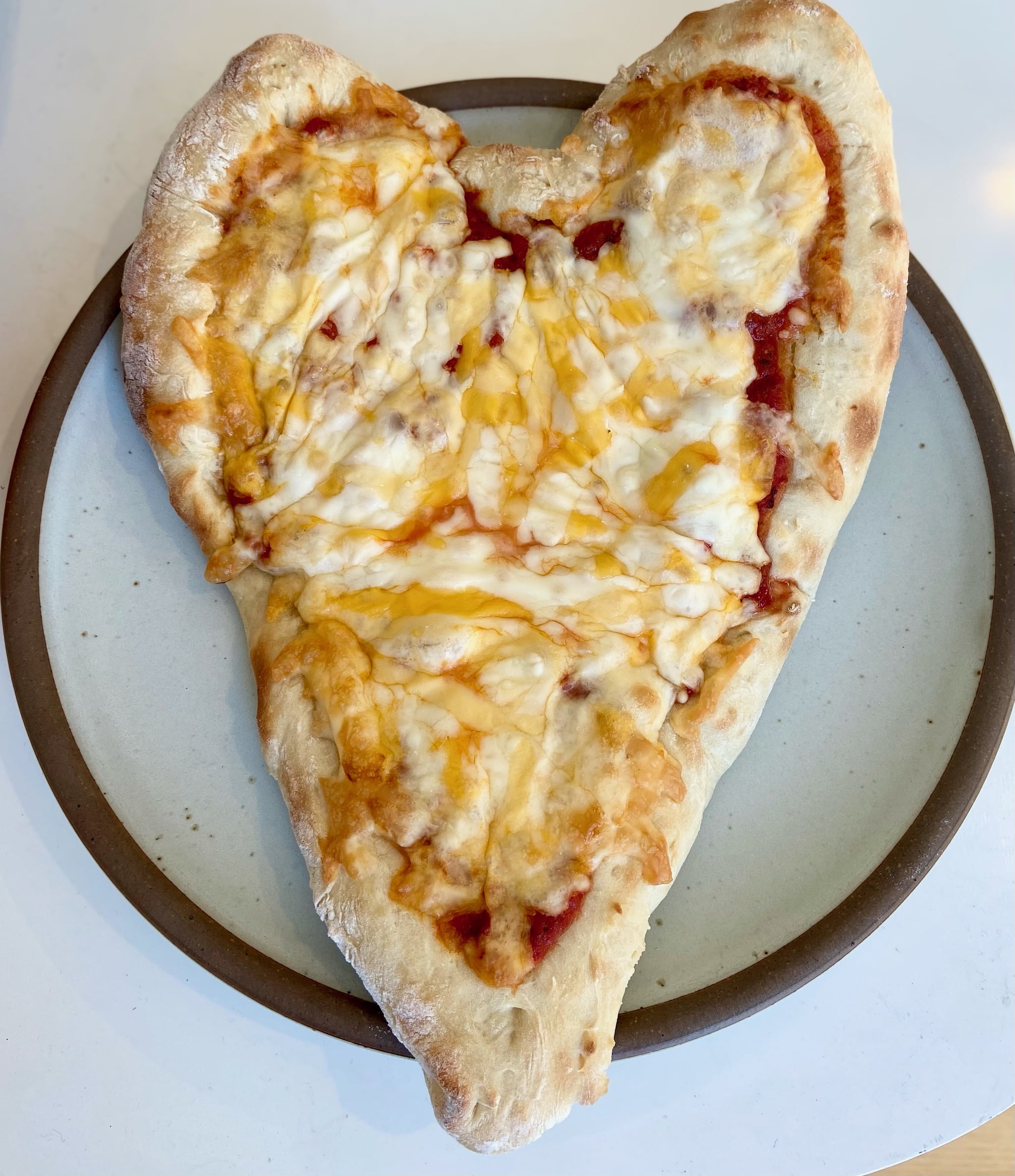 If you've ever been on Instagram during the month of February, you've seen a heart-shaped pizza. Every time I see an image of one of these — the romantic twist on an already adored dish — it only makes me fall more and more in love with the Italian pie. While heart-shaped pizzas are definitely popular around Valentine's Day, they can be a cute and delicious way to tell someone (including yourself) how much you love them any time of the year!
Many restaurants offer heart-shaped pizzas to order around Valentine's Day, but we all know that homemade tastes better. So if you're looking to whip one up at home, I have good news: You. Can. Do it! All you need are fresh pizza dough (you can use store-bought or make your own), sauce, cheese, and your favorite pizza toppings. Using homemade dough or store-bought won't make a difference as long as you can roll, shape, and bake it.
I had a little too much fun shaping my crust — I mean, who wouldn't? I ended up making my bottom a little thicker because I like really bready pizza, but feel free to make the crust as thin or thick as you want.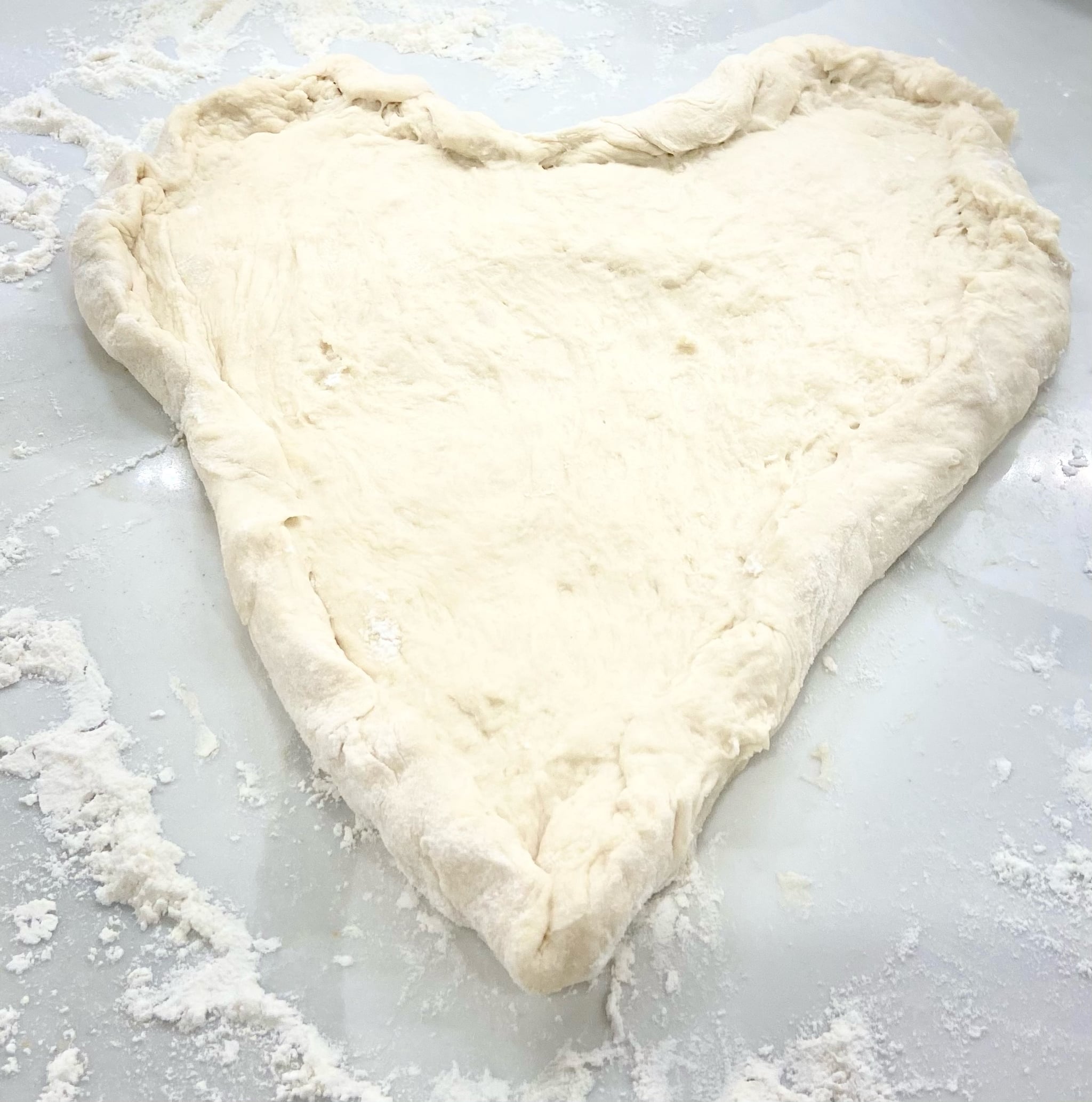 After shaping the dough, the most important step is to "blind bake" it for about six minutes. This means putting just the crust in the oven without any toppings to ensure the bottom is extra sturdy before topping it with sauce and cheese.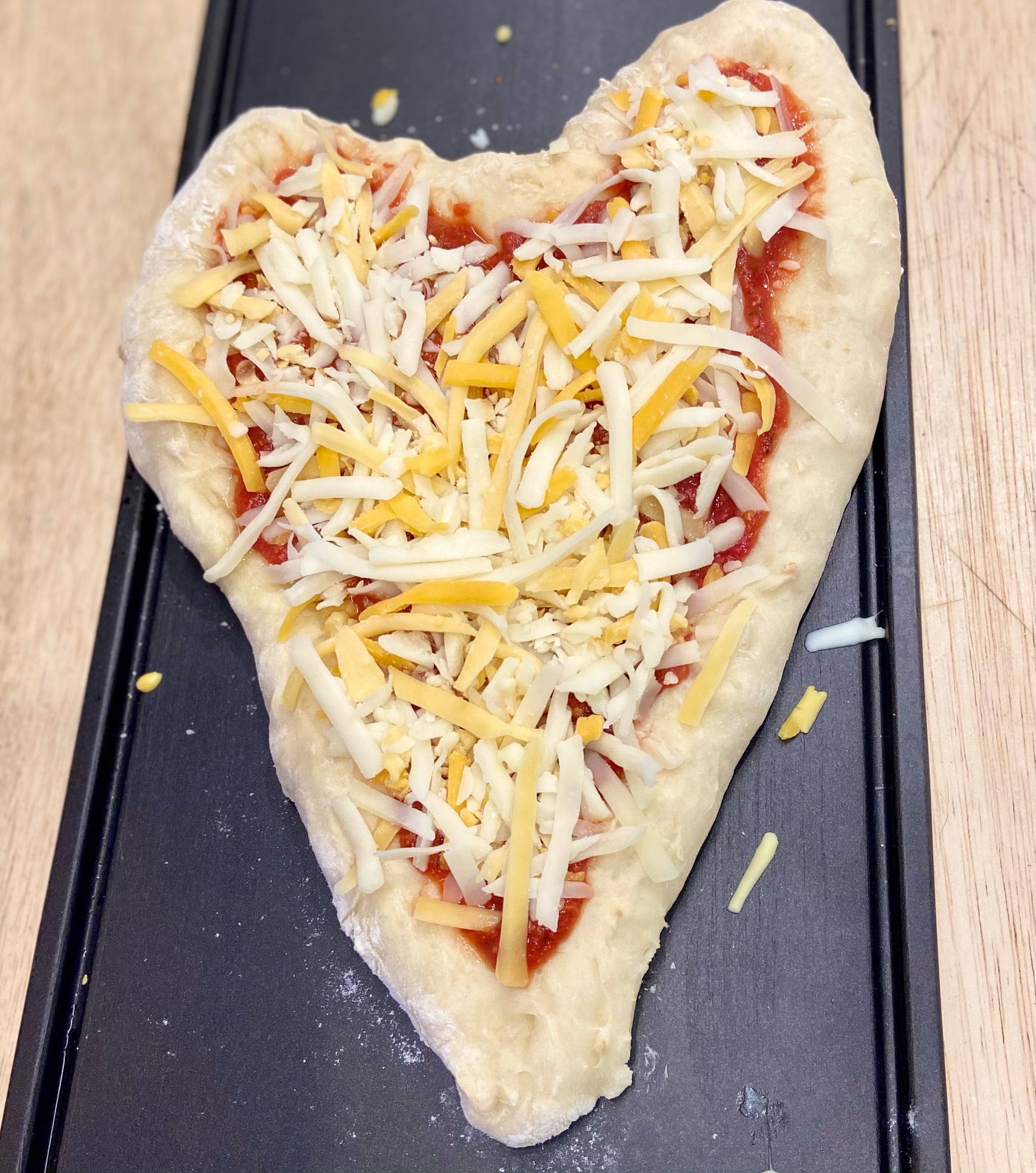 After the dough has spent a little extra time in the oven, it's time to decorate. I went for plain cheese because I love simplicity, but obviously, put anything you desire on yours. Another few minutes baking, and it's ready to go. Bake one for friends, family, significant others, or yourself. Sharing the love is never too cheesy!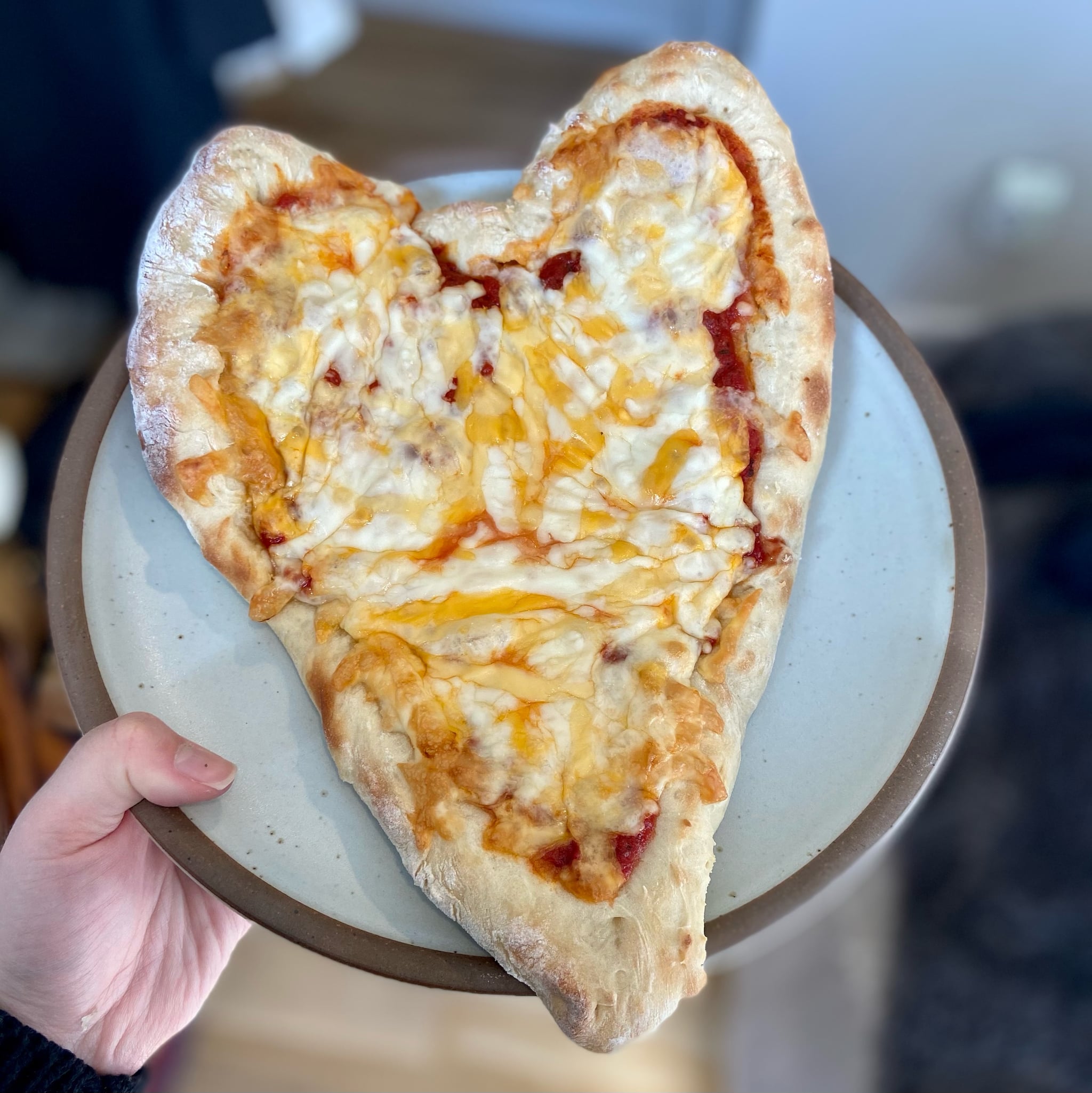 Heart-Shaped Pizza
Lil' Luna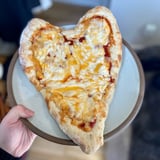 Ingredients
1 ball of pizza dough, homemade or store-bought
2 tablespoons olive oil, divided
30 pepperoni (optional)
1/4 cup pizza sauce
1 1/2 cups shredded mozzarella
3 tablespoons grated parmesan cheese
2 tablespoons chopped parsley or basil (optional)
Directions
Preheat oven to 450 degrees. Line a pizza pan with parchment paper, and set aside.
If using pepperoni, fold each pepperoni in half and cut into heart shapes using kitchen shears. Place on a paper-towel-lined plate and microwave for 15 seconds on high. Dab any excess grease off, and set aside.
Lightly flour a surface and roll dough into a heart shape, about 16 inches tall. Fold edges over, and press to create the crust.
Transfer pizza dough to the prepared baking sheet. Brush with olive oil, then dock the crust with a fork to prevent bubbles from forming.
Place in the oven and bake for 6 minutes. Remove and spread sauce over top, then add cheeses and pepperoni.
Return to the oven and bake for 8-12 minutes or until the crust is golden brown and the pepperoni is crispy. Remove from the oven and top with fresh parsley or basil, if desired. Let stand for 5 minutes before cutting.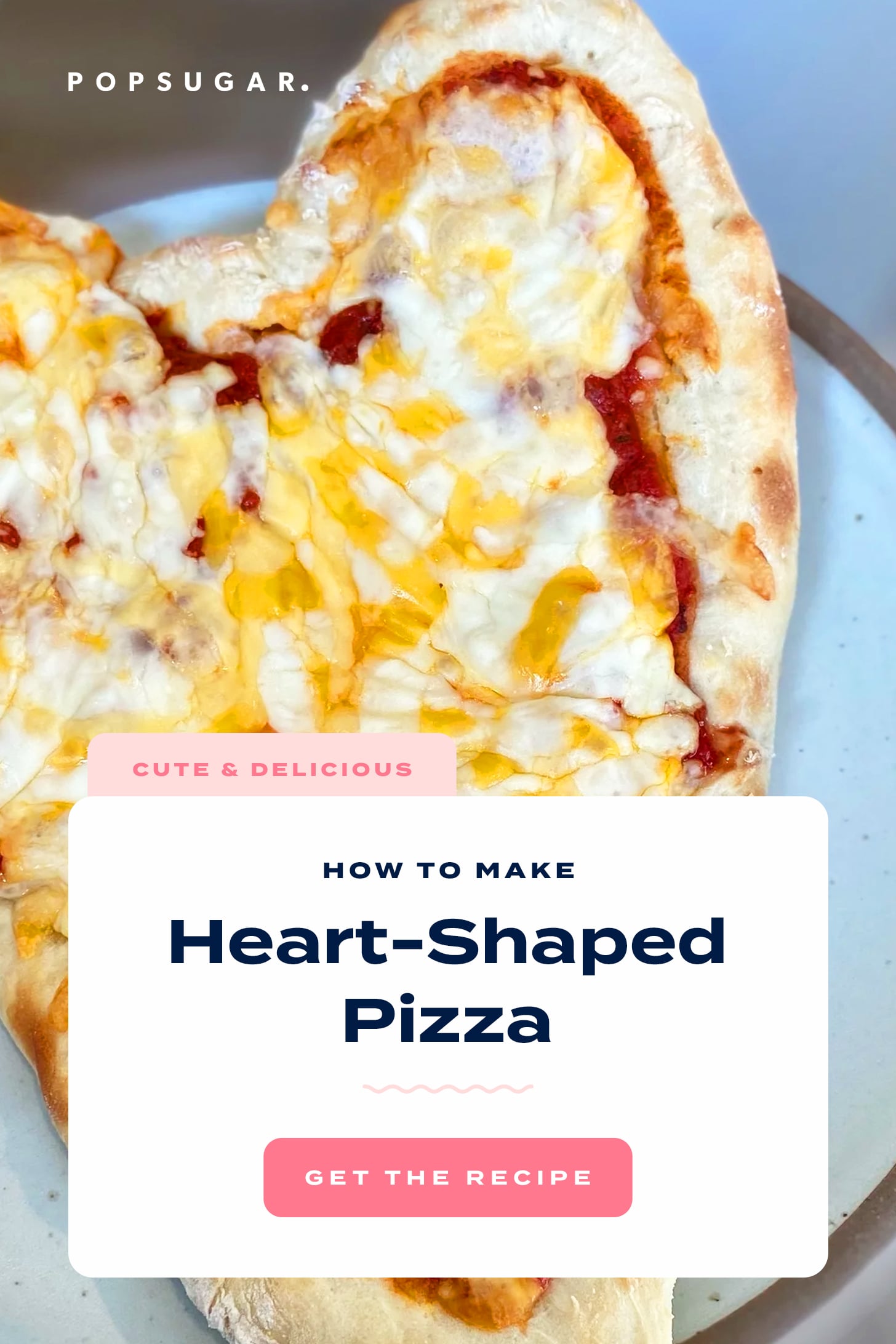 Information
Category

Main Dishes, Pizza

Cuisine

Italian
Image Source: POPSUGAR Photography / Katherine McLaughlin