Joanna Gaines Baklava Recipe and Photos
Joanna Gaines's Baklava Recipe Is a Lot of Work, but I Swear It's Worth Every Minute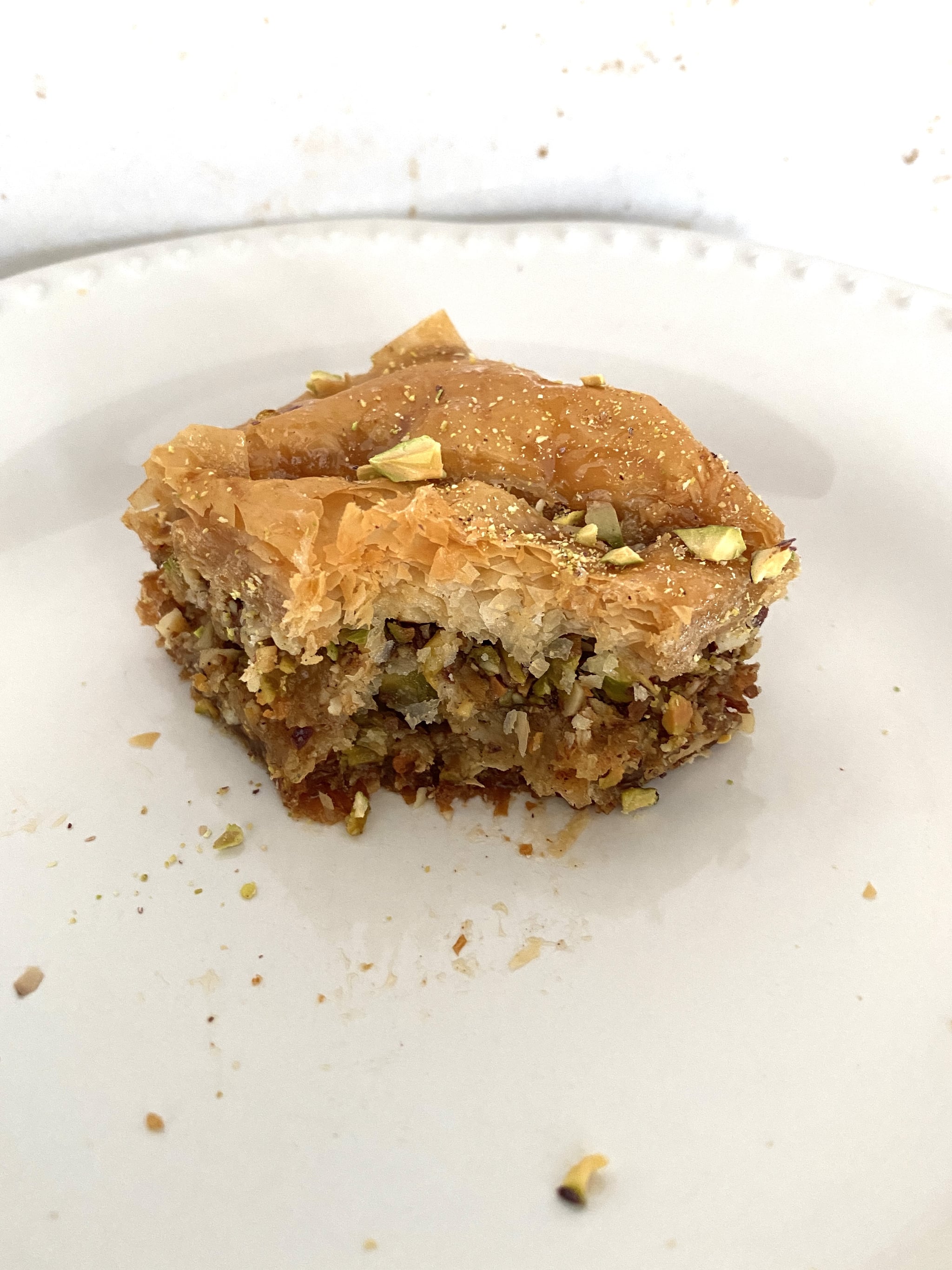 I love to bake, and whether it's a viral chocolate-chip cookie recipe or a TikTok food hack, I love experimenting with new and unique recipes. So, when I discovered that Joanna Gaines had a recipe for homemade baklava, I knew I had to try it.
After checking out Gaines's recipe, I quickly realized why I'd never made baklava before — it's a lot of work! While the recipe only uses a handful of ingredients (which is my favorite kind of recipe), it calls for nearly 30 sheets of phyllo dough, and each gets individually brushed with melted butter. As I was making it, I wasn't sure if it was worth all the effort, but by the time it was done, I was singing a much different tune, so don't be afraid to try it yourself.
This baklava is different from any dessert I've had before: it's sweet, nutty, sticky, dense, delicious, and worth every second spent in the kitchen. I also got preshelled pistachios, which I highly recommend! While they cost a little extra, they'll save you time and some sore fingertips.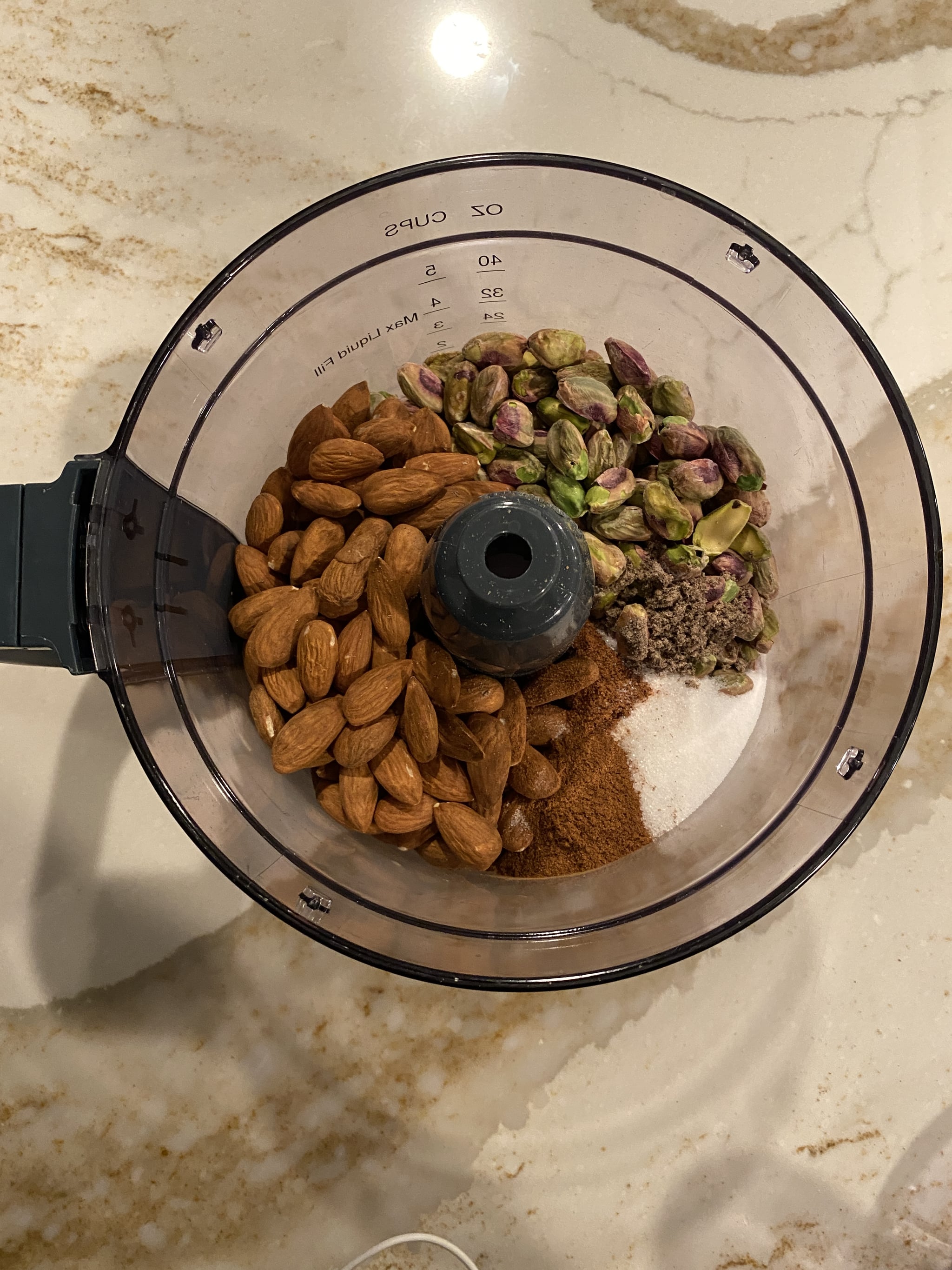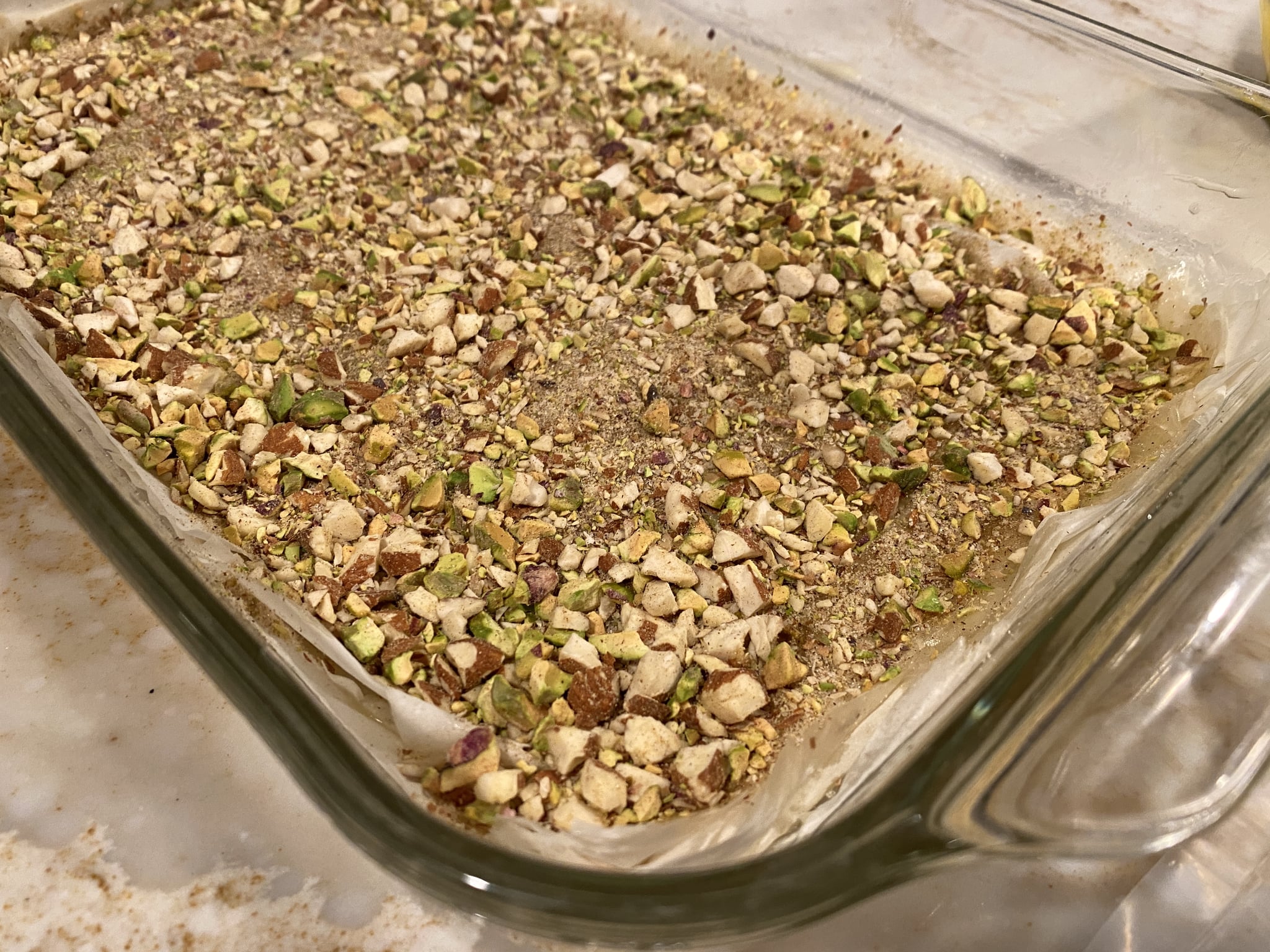 Even though it's time-consuming, this recipe is simple to follow. Gaines recommends trimming the phyllo sheets to fit your 9x13 pan; I'll admit that I just folded the corners in, since phyllo is delicate to work with and I love an extraflaky pastry! And speaking of delicate, don't ignore her advice to cover the phyllo with plastic wrap and a damp towel when it's not in use. This is especially important toward the end of the roll of pastry dough, because it dries out more quickly and becomes more difficult to work with. And work quickly while brushing the sheets with butter if you can! I was brushing rather generously, as the recipe suggests, and ended up using three full sticks of butter, instead of two and a half. And lastly, for the sugar-honey syrup, about two orange slices will get you one tablespoon of fresh orange juice. Then, simply peel the flesh off one slice, and use the peel for the honey.
Cutting the baklava diagonally may seem like a lot of work, but I promise it's worth it, because it allows the honey syrup to fall into the cracks. Here's what mine looked like before baking, after baking, and after syrup.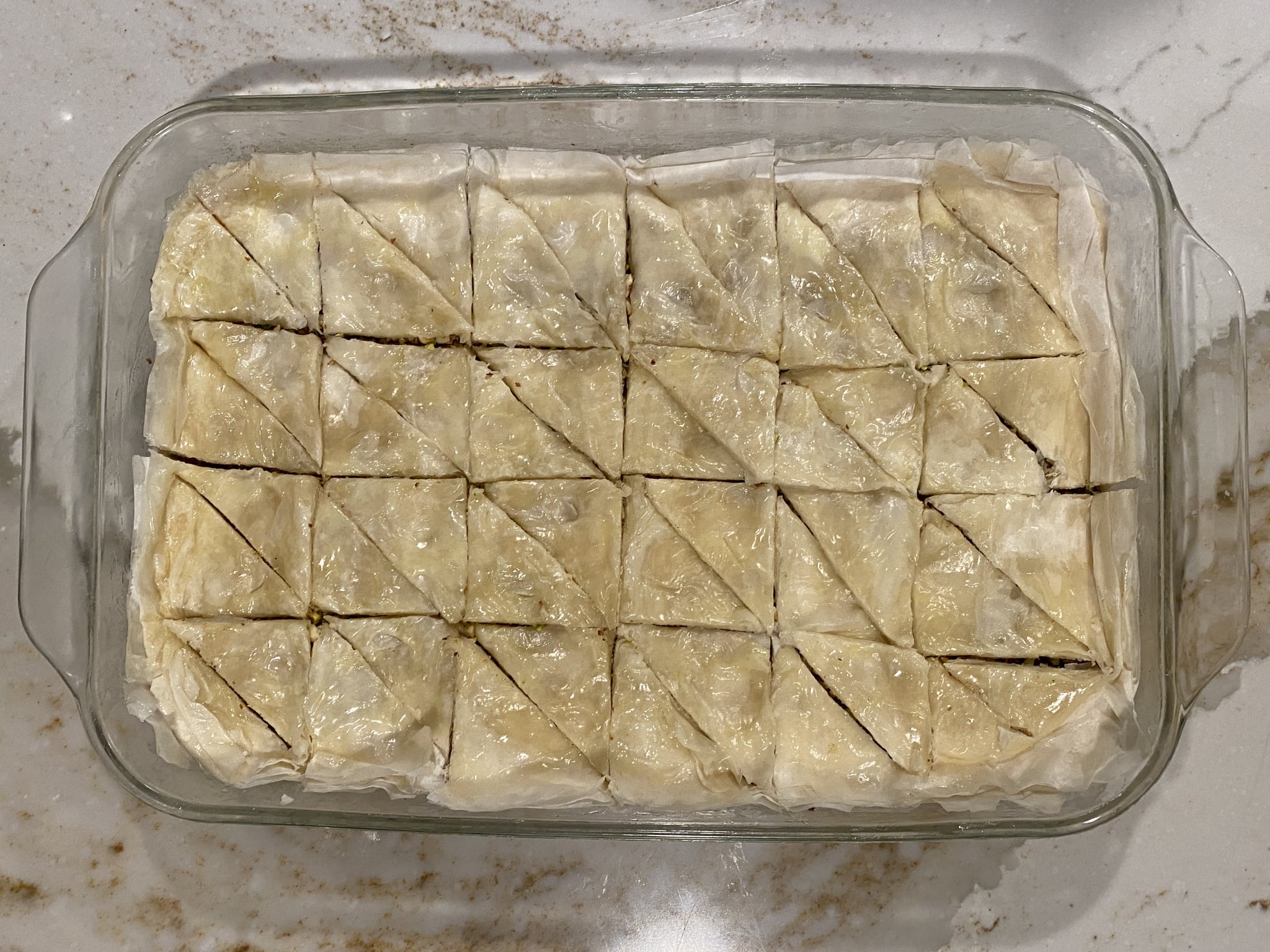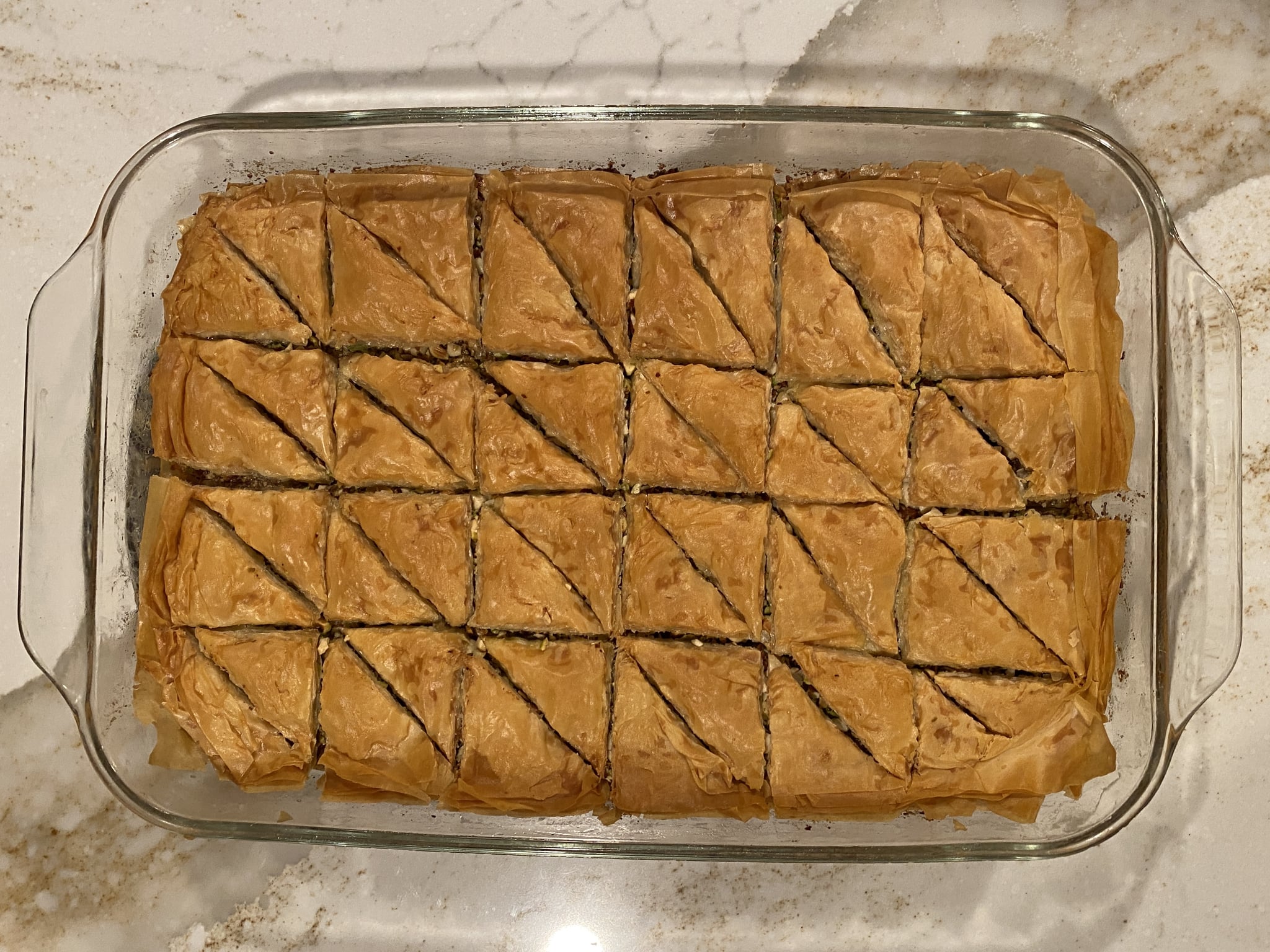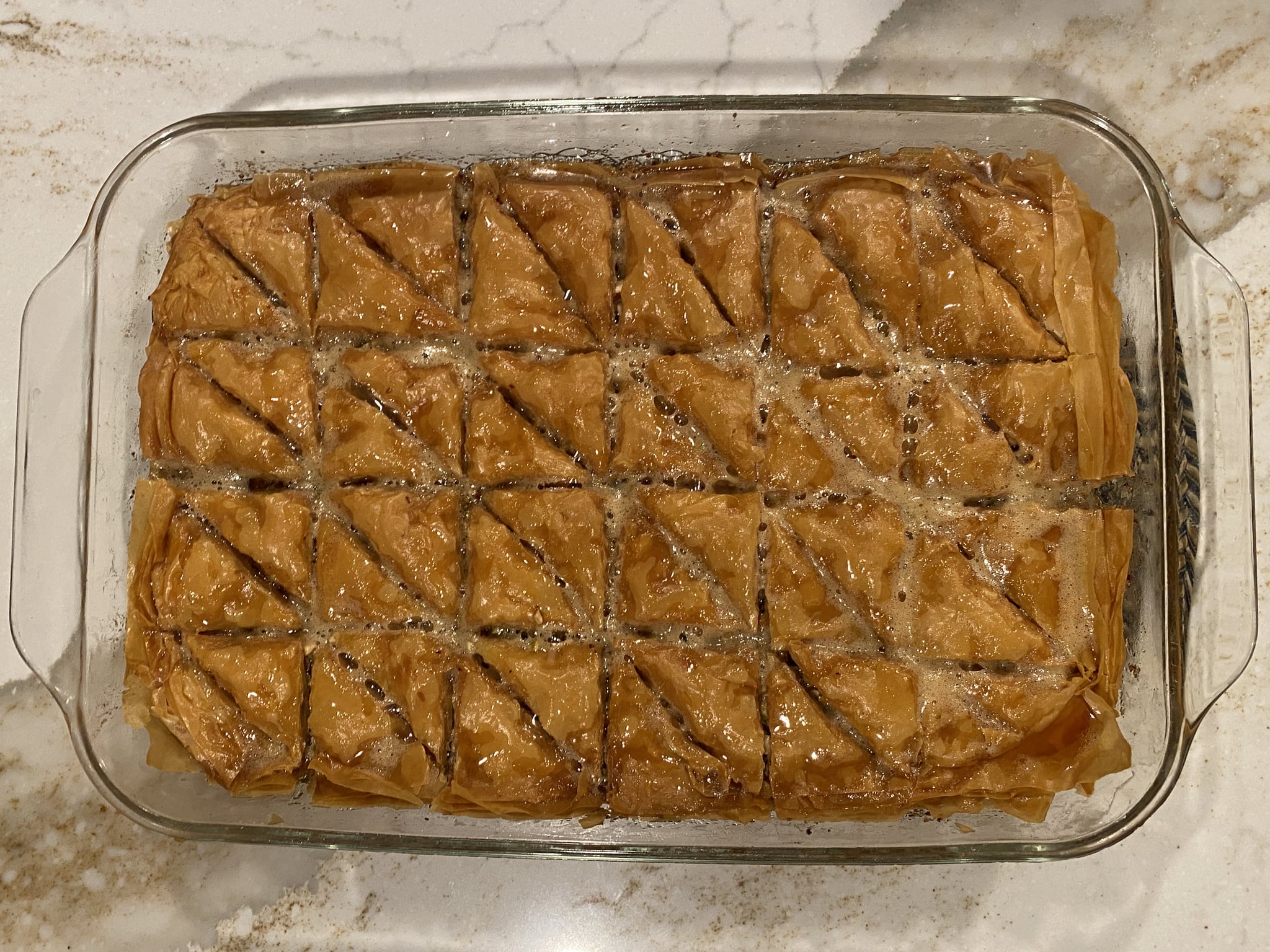 Once the baklava cools, it's ready to eat! I let mine sit out overnight to cool and covered it the next morning. It's delicious cooled, and I also recommend popping it in the microwave for about 15 seconds. Enjoy!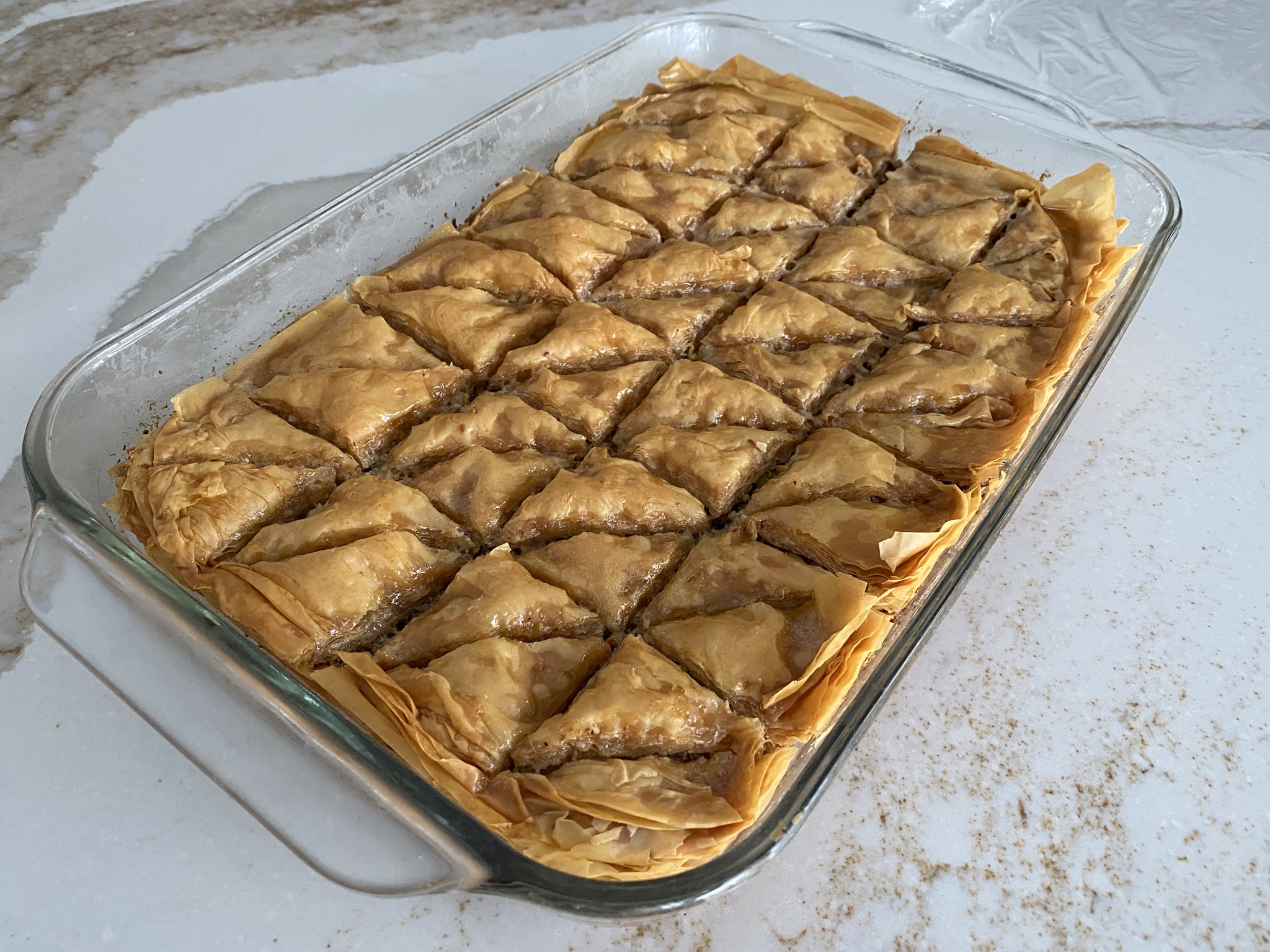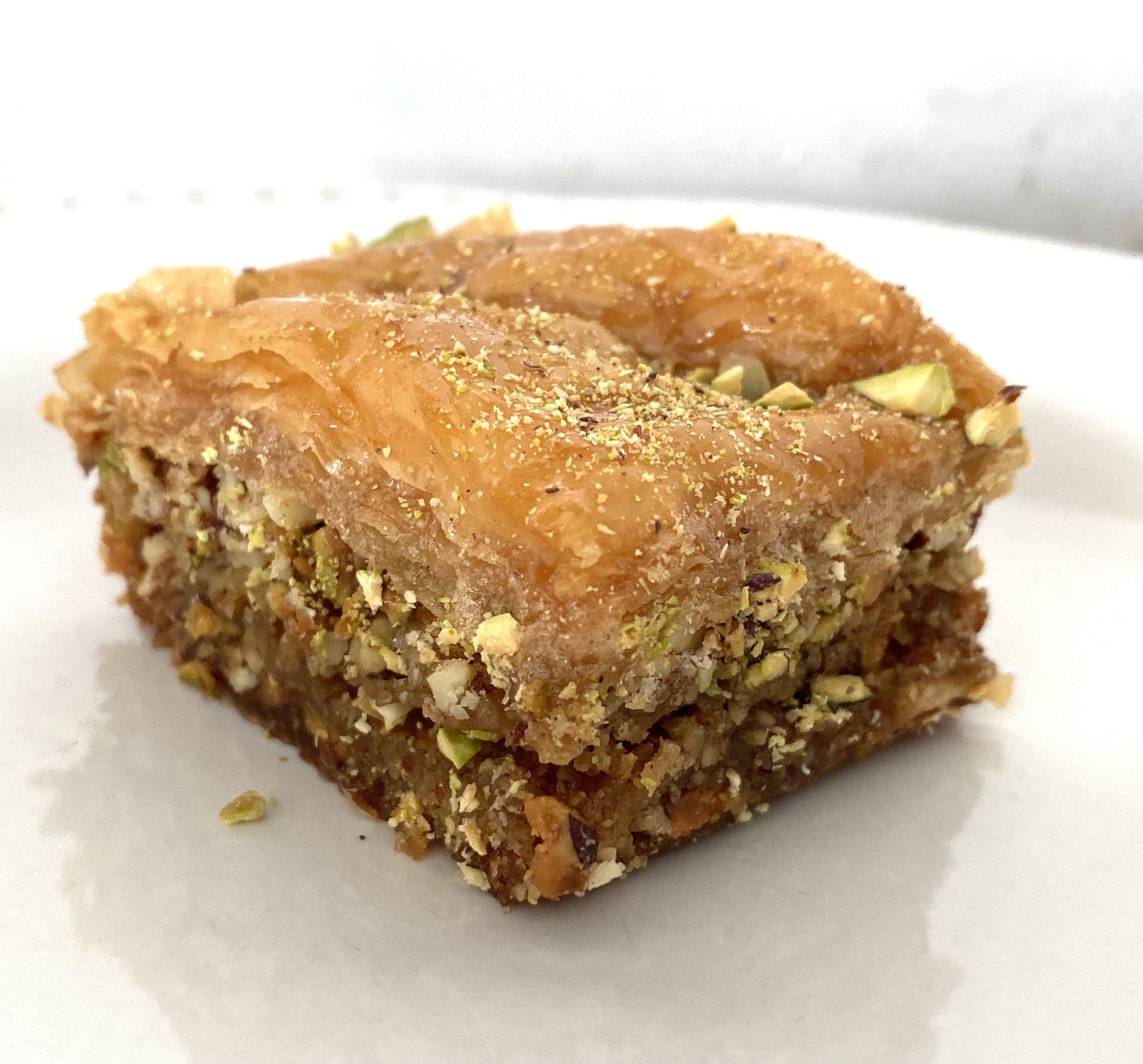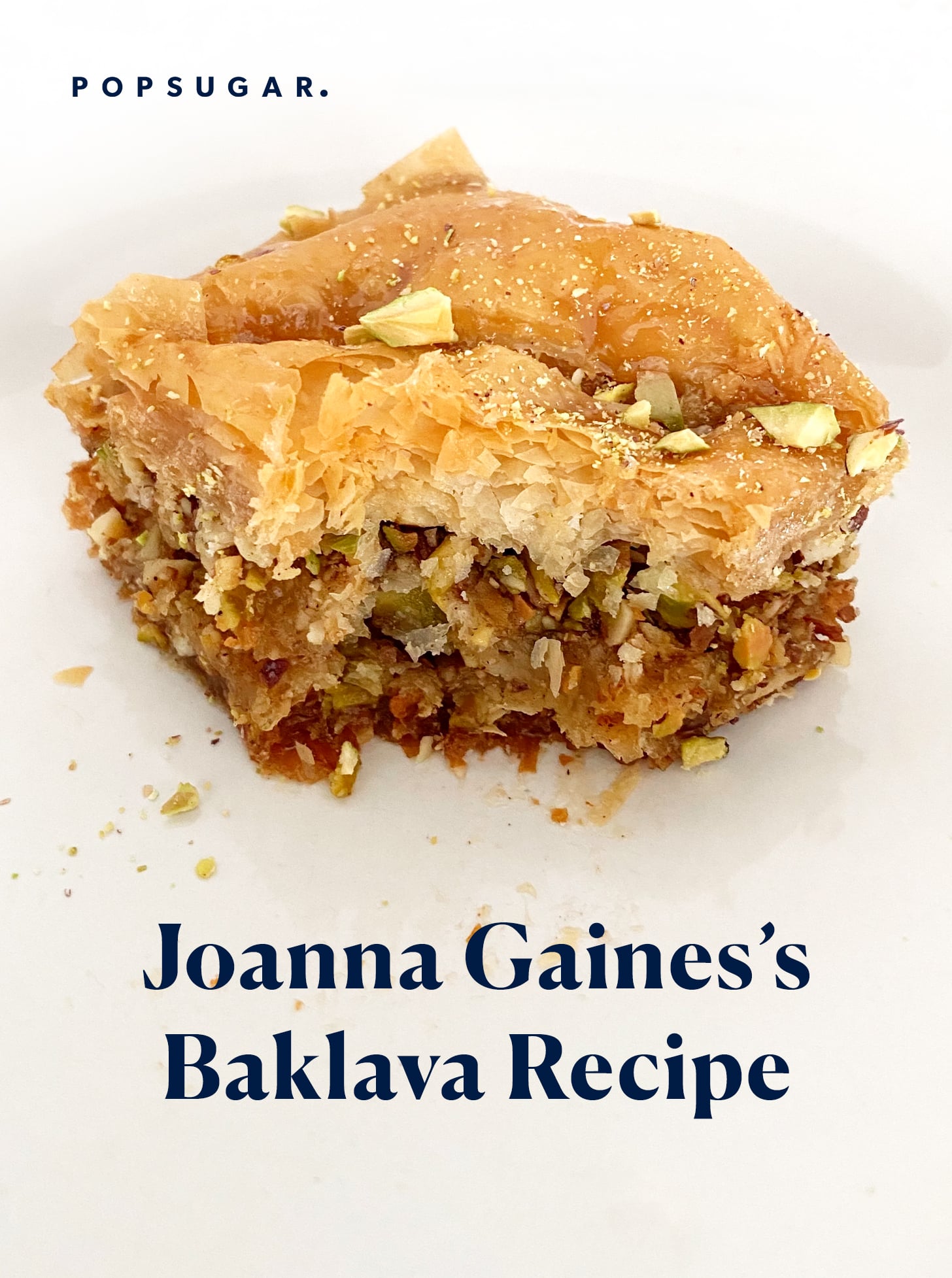 Joanna Gaines's Baklava
Joanna Gaines
Notes
I used roasted pistachios because I was unable to find raw.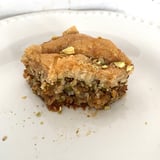 Ingredients
For the Baklava:
1 1/2 cups (8 ounces) whole raw almonds, toasted
1 2/3 cups (8 ounces) raw pistachios, plus 3 tablespoons chopped toasted pistachios
1/4 cup sugar
1 teaspoon ground cardamom
1 teaspoon ground cinnamon
1/4 teaspoon ground nutmeg
1/4 teaspoon kosher salt
1 1/2 cups (2 1/2 sticks) unsalted butter, melted
One 16-ounce package frozen phyllo dough, thawed
For the Honey Syrup:
3/4 cup sugar
1 cup good-quality raw honey
One 3-inch strip orange peel (with pith)
1 tablespoon fresh orange juice
Directions
Preheat the oven to 350 degrees. In a food processor, combine the almonds, 1 2/3 cups of pistachios, sugar, cardamom, cinnamon, nutmeg, and salt and pulse until finely chopped, about 12 times, leaving some of the nuts in larger pieces.
Brush a 9x13-inch baking pan generously with some of the melted butter. Lay the phyllo sheets on a piece of plastic wrap and cover with another piece of plastic wrap followed by a damp towel. Place one sheet of phyllo on the bottom of the prepared pan and trim it to fit. Brush generously with melted butter and repeat with five more sheets of phyllo, gently pressing them on top of each other.
Sprinkle with 1/3 of the nut mixture (about one cup). Top the nut mixture with a phyllo sheet and brush it generously with butter. Repeat with five more phyllo sheets.
Repeat with another 1/3 of the nut mixture and six phyllo sheets, brushing each with butter. Sprinkle with the remaining nut mixture.
Top with 10 phyllo sheets, brushing each sheet generously with butter. (Reserve the remaining phyllo for another use.)
Using a sharp knife, cut the phyllo layers into 24 squares. Cut each square in half on the diagonal. Bake until golden brown, 40 to 45 minutes. Set the baklava pan on a wire rack.
Meanwhile, make the honey syrup (the syrup should be ready when the baklava comes out of the oven.) In a medium saucepan, combine the sugar, honey, one cup of water, and the orange peel. Bring the mixture to a boil over medium-high heat, stirring occasionally. Reduce the heat to medium-low and simmer, stirring occasionally, until slightly thickened, about 10 minutes. Remove from the heat and stir in the orange juice. Discard the orange peel.
Slowly pour all the warm syrup over the hot baklava, covering the entire surface. Sprinkle the chopped toasted pistachios on top.
Let stand at room temperature on a wire rack for at least four hours or up to overnight before serving. Store in an airtight container at room temperature for up to three days.
Information
Category

Desserts

Yield

24 servings

Prep Time

40 minutes

Cook Time

45 minutes

Total Time

1 hour, 24 minutes, 59 seconds
Image Source: POPSUGAR Photography / Kaley Rohlinger