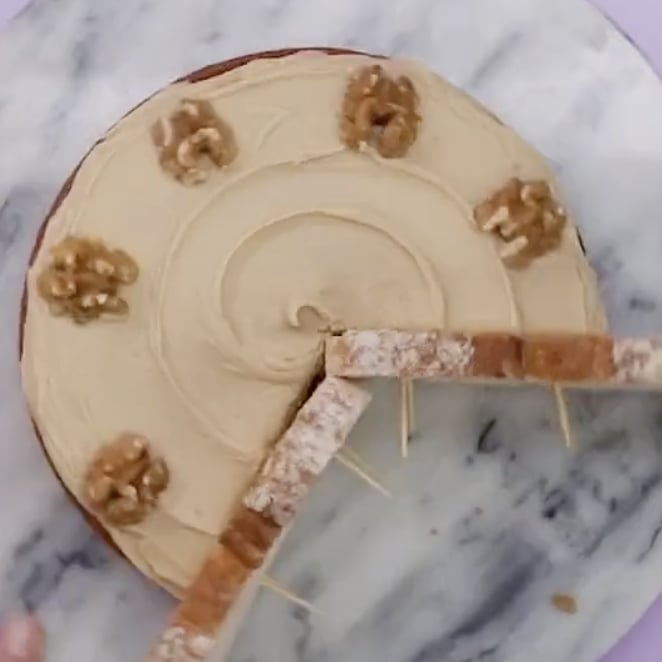 TikTok has quickly become our go-to resource for finding fun drink recipes and helpful food hacks. From mini croissant cereal to homemade Oreos, watching (and trying) food hack videos has become our newest hobby, and in turn, has made our lives easier and more fun! If you want to learn how to do things like whip up microwave mug cakes or properly close a cereal box, these hacks are true game changers in the kitchen. Keep reading to see some of our favorite videos that you'll want to try immediately.
01
Mini Pancake Cereal
Why have regular cereal when you can have mini pancake cereal?! Simply make mini pancakes, add syrup, butter, or milk, and enjoy.
02
Using a Can Opener
Apparently there are two ways to use a can opener? And of course, we've been doing the more difficult way this whole time.
03
Separating Egg Yolks and Egg Whites
Sometimes you only need the yolk and sometimes you're just craving eggs whites. Ditch the slimy fingers and use a fork and bowl to help separate the two.
04
Keeping Cake Fresh
Leftover cake is always a great sweet treat, but keeping it fresh can be tricky. Try placing a piece of bread against each open side of the cake to prevent it from going stale.
05
Closing a Cereal Box
So, it turns out we've been closing cereal boxes the wrong way our whole lives! TikTokers have been sharing tutorial videos for this hack, which involves folding both smaller sides of the box in, then tucking in the two longer sides.
06
Making a Breakfast Quesadilla
07
De-Stemming Strawberries
Get more out of your strawberries by using a straw (yes, you read that right!) to de-stem the fruit. We know it might sound strange, but it totally works.
08
Making S'mores Inside
Who says you can only make s'mores over a campfire? As long as you have the ingredients and a stovetop you're all set!
09
Peeling an Orange
Aside from being a time saver, the best part about this hack is that the orange peels are reusable. Use the peels to garnish a cocktail or for a zest of flavor!
10
How to Close a Bag of Chips
No bag clip? No problem! This hack is a very simple way to properly seal a bag of chips so you can continue to enjoy them throughout the week.
12
Making a Breakfast Sandwich
The breakfast quesadilla hack took the TikTok world by storm, so it only makes sense a breakfast sandwich video would soon follow. Follow these easy steps to make a cheesy egg sandwich with your choice of protein.
13
Cutting an Avocado
Love avocados but hate the mess? This video shows you how to cut an avocado into perfectly even pieces.
14
Peeling Onions
The only thing worse then crying while peeling onions is how long it takes to actually peel an onion. For a quick hack, check out this helpful video.
15
How to Stop Guacamole From Browning
To avoid your guac from turning brown, squeeze lime then drizzle olive oil so the top is completely covered. Make sure it's placed in a tightly sealed container.
16
Squeezing Lemon Juice
The next time you need lemon juice for a recipe or cocktail, try doing this hack.
17
Straining Pasta
While we like the hot water facial we get from straining pasta, we have to admit this hack is probably a lot safer and less messy.
18
Cookie Ice Cream Sandwich
Make your ice cream to cookie ratio perfect with this ice cream sandwich hack. We honestly can't believe we haven't thought of this before.
19
Homemade Toasted Uncrustable
Not only does this video explain how to make an Uncrustable, but it includes an extra step. The secret? Toast each side in a pan for melted goodness.
20
Regrowing Lettuce
Did you know you could regrow your vegetables? Yeah, we didn't either!
21
Homemade Pop Tart
Make your own customizable Pop Tart at home by following this step-by-step guide. We can practically taste the pastry through our screen.
22
Making Deviled Eggs
OK, we love this hack. Preparing deviled eggs can be super messy, but creating a piping bag is genius.
23
Making Kraft Mac and Cheese
Wait, so you're telling me that we're suppose to make the cheese separately and then add it to the cooked noodles?!
24
Homemade Pizza Crust
Everyone has their own way of making homemade pizza dough, but this TikToker has taken it to a whole new level.
25
Cake Cutting
You know that awkward moment when you're cutting the cake but the first piece is too big or too small? This cake cutting hack makes sure each piece is evenly cut.