Joanna Gaines's Crepes Recipe
Joanna Gaines's Crepe Recipe Is a Fixer Upper For Your Breakfast Table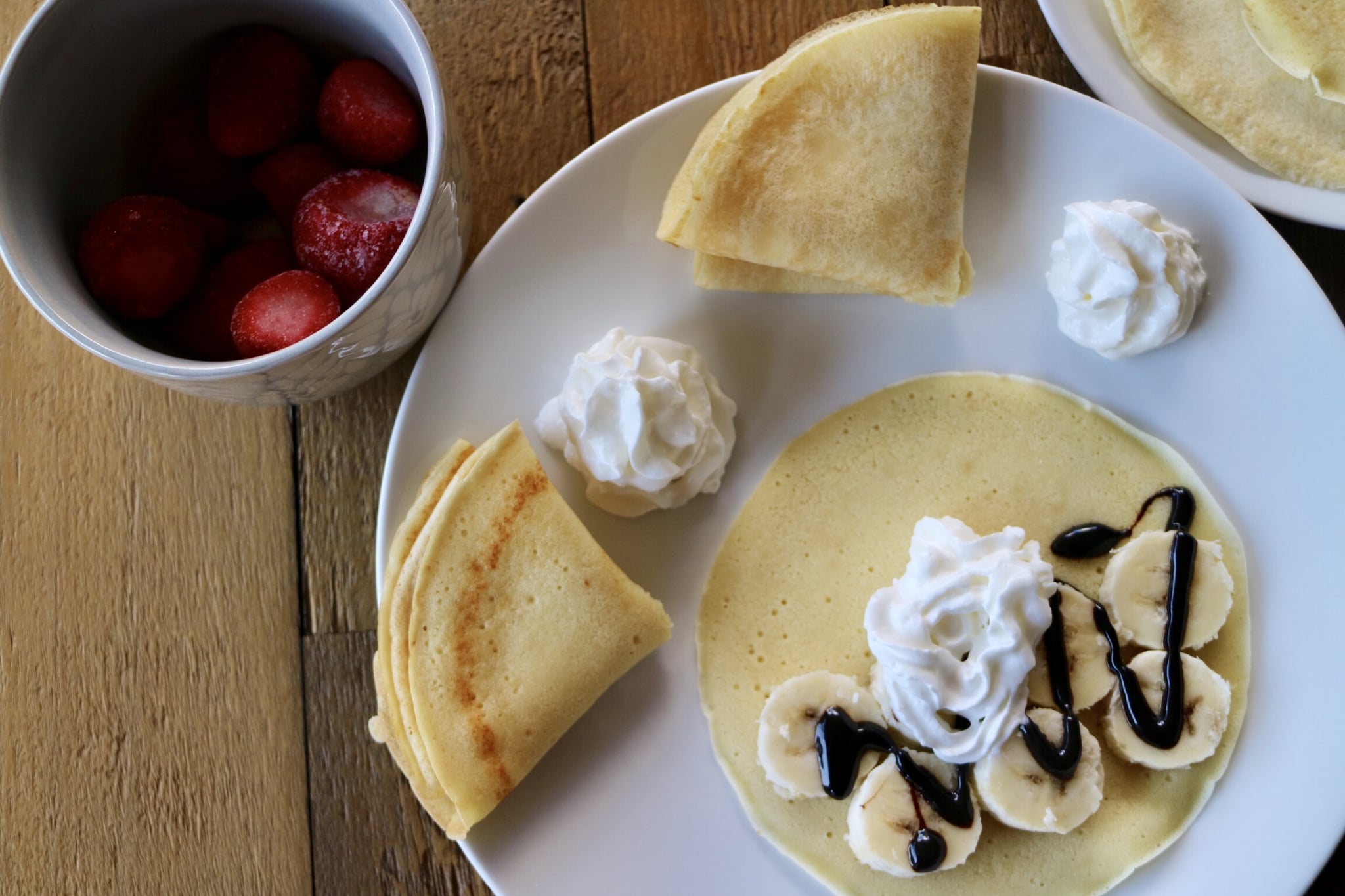 Joanna Gaines is pretty much my shiplap-loving, modern-farmhouse-designing, baking queen. Her Magnolia brand is what my Pinterest dreams are made of, and while we've all had a lot more time at home lately, I've been trying to learn to bake and cook using her original recipes, and that includes her delicious crepes!
In addition to her chocolate chip cookie and zucchini bread recipes from her new Magnolia Table, Volume 2 cookbook, the former Fixer Upper star also recently shared her crepe recipe. Spoiler alert: they're light, easy, versatile, and so, so delicious.
I've never made crepes before this, mostly because the idea of making something so thin and perfectly cooked was just too daunting. But honestly, these were so easy to make that I don't know why I was always so hesitant! The recipe itself is super simple, and it's all mixed together in a blender, which means less cleanup (a major plus for me). Joanna suggests pouring 1/4 cup batter into the center of the pan and gently turning it sideways to fill the space. I finished by laying out all my crepes on a platter to create a "make your own breakfast bar" with fruit, chocolate, Nutella, and whipped cream as sides, but you can choose any topics and fillings (sweet or savory).
If you're looking for a fun breakfast (or dessert), check out the full recipe below!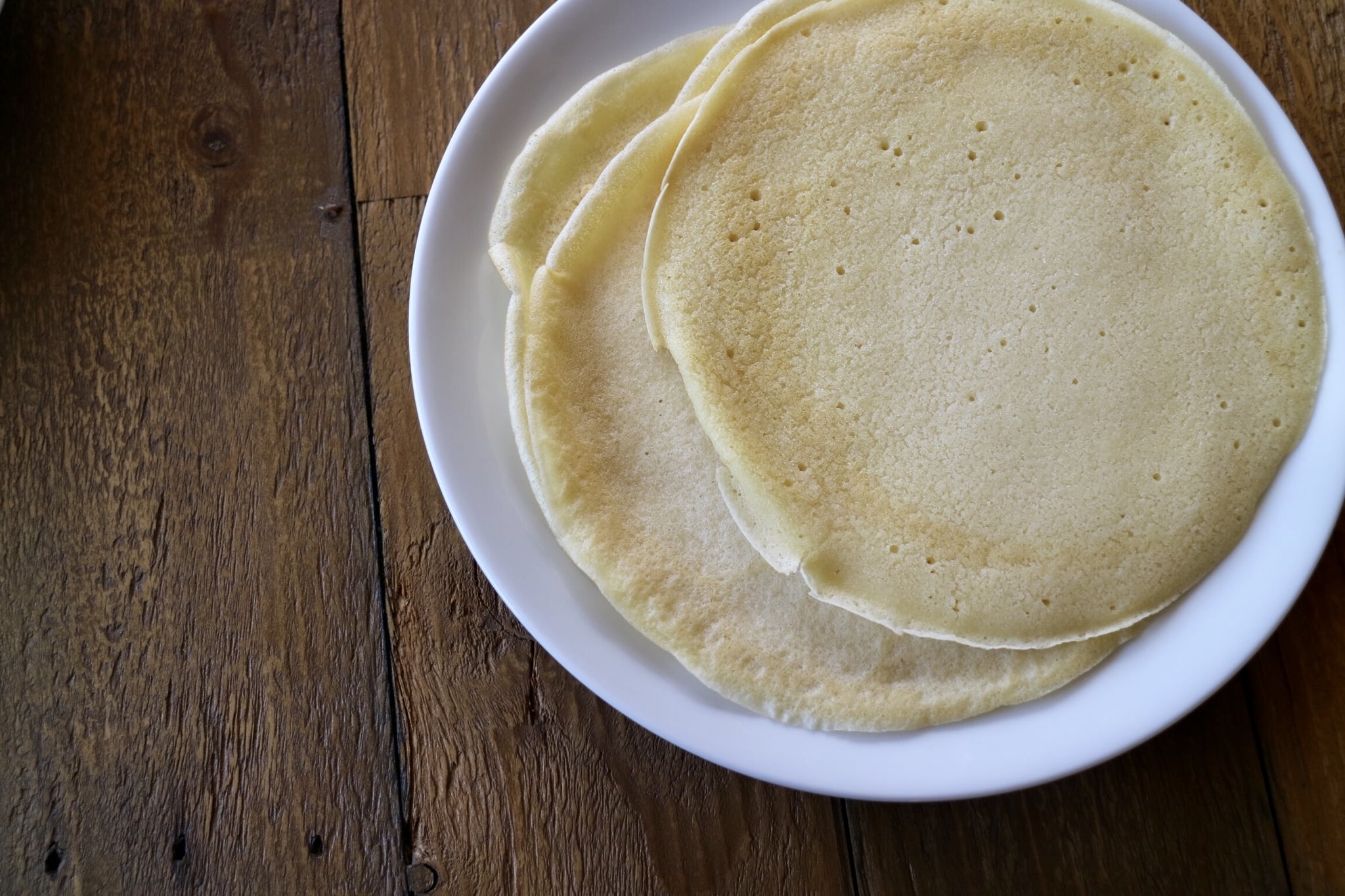 Joanna Gaines's Crêpes
Magnolia Table, Volume 2
Notes
Gluten-Free: Substitute oat or almond flour instead of all-purpose flour.
Vegan: Substitute flax eggs instead of whole eggs and oat or almond milk as a substitute for the whole milk.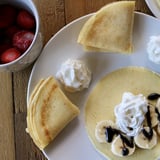 Ingredients
1 cup all-purpose flour
2 large eggs
3/4 cup whole milk
2 tablespoons granulated sugar
1 teaspoon pure vanilla extract
1/2 teaspoon kosher salt
3 tablespoons unsalted butter, melted
Options for filling:
Macerated strawberries
Lemon curd
Sliced bananas and ground cinnamon
Whipped cream with fresh berries
Nutella
Directions
In a blender, combine the flour, eggs, milk, 1/2 cup water, the sugar, vanilla, salt, and butter and pulse to combine for about 1 minute. Let the batter sit in the fridge to rest for at least 20 minutes or overnight.
Heat a dry nonstick medium skillet over medium heat for about 3 minutes. Pour about 1/4 cup of the batter into the center of the pan and tilt in a circle to thin it out. Cook for 20 to 30 seconds, carefully flip the crêpe using a spatula, and cook for another 10 seconds.
Remove the crêpe and lay it on a plate. Repeat to make more crêpes, working quickly but gently, to avoid tearing. Stack the crêpes on the plate to keep them warm.
Fill the crêpes with your filling of choice and roll up carefully. Dust with powdered sugar and serve.
Information
Category

Breakfast/Brunch

Yield

10-12 servings

Prep Time

15 minutes

Cook Time

15 minutes

Total Time

29 minutes, 59 seconds
Image Source: POPSUGAR Photography / Emily Forney