Krispy Kreme's Holiday 2021 Doughnuts Are Too Adorable
Krispy Kreme's New Holiday Doughnuts Are Making This Year Merry, Bright, and Delicious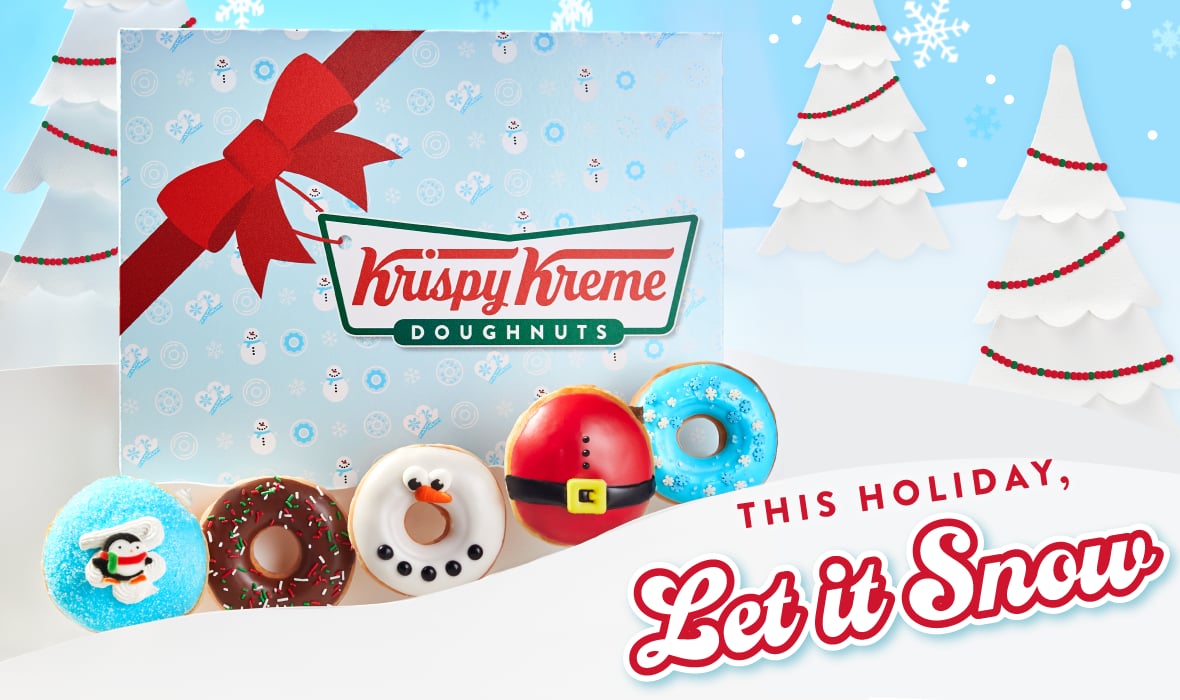 My primal urge to devour a dozen Krispy Kreme doughnuts in one sitting is always pretty strong, but it feels exponentially more powerful after seeing Krispy Kreme's 2021 holiday doughnuts. The brand has added a whopping nine holiday-centric treats alongside the regular Krispy Kreme menu, although the holiday doughnuts are only available for a limited time. With general holiday designs, a Hanukkah design, and adorable Santa and snowman motifs, the Krispy Kreme holiday doughnuts consist of all your usual favorites from the chain.
The Krispy Kreme holiday doughnut lineup features four traditional iced doughnuts, two Kreme-filled doughnuts, and three mini iced doughnut variations. The traditional holiday doughnuts include a chocolate iced doughnut with holiday sprinkles, a blue iced doughnut with Hanukkah sprinkles, a snowy sprinkle doughnut (blue iced with snowflake-shaped sprinkles), and a snowman smile doughnut (white iced with snowman decorations). The adorable Santa's Belly doughnut is a chocolate Kreme-filled variation, decorated with the details of Santa's classic red suit, while the original Kreme-filled Patty Penguin doughnut features snow-dusted blue icing with a small penguin fondant piece in the center. The mini doughnuts include red-, blue-, and chocolate-iced variations with different holiday sprinkle colors. Each doughnut is cuter than the rest, and each is going in my stomach stat.
Because having to choose between these adorable sweets should be a crime, you can order a Krispy Kreme Holiday Dozen, which comes in a limited-edition holiday box and offers you an assortment of the collection. Krispy Kreme's holiday doughnuts are available at participating locations until Dec. 24, but of course, the daily selection will vary by location. Head to your local Krispy Kreme to snack on this season's most festive treats yet, and remember, you can snag a free Krispy Kreme doughnut when you show your vaccination card through 2021.