Check Out Krispy Kreme's New Fall Doughnuts For 2021
Krispy Kreme's Fall Menu Consists of 9 (!) Seasonal Doughnuts, So Who's Hungry?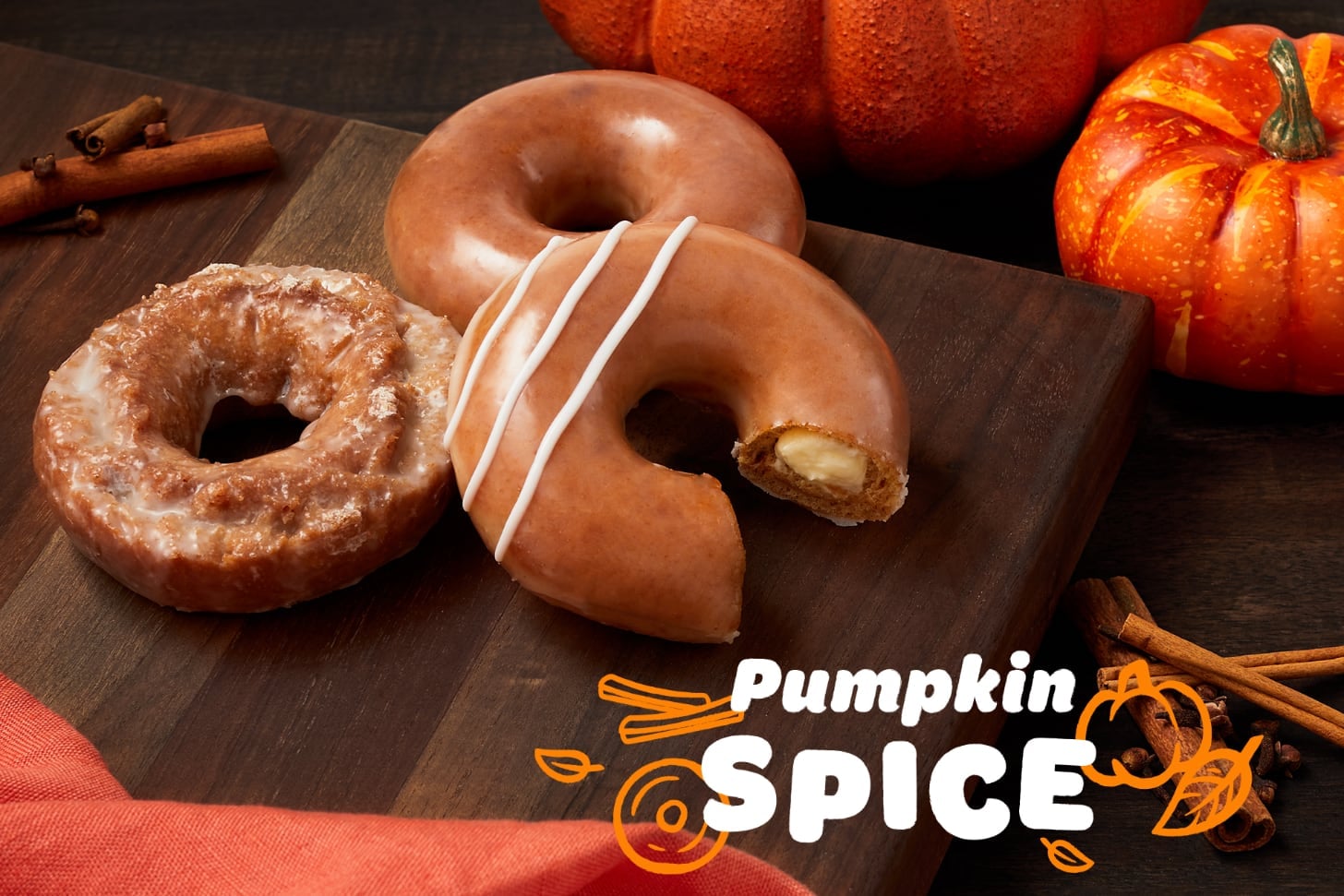 Say hello to September, sweater weather, and of course, fall's finest flavors. Krispy Kreme just released its newest seasonal doughnut selection, and the lineup is nothing short of drool-worthy. This year, the fan-favorite bakery decided to entice the taste buds of doughnut-lovers of all kinds with two new seasonal flavors and one returning classic that are not only deliciously sweet, but also fully fit for fall. And the best part? Each flavor features a variety of different doughnut options. Oh, yes.
What are the Krispy Kreme fall 2021 doughnut flavors?
Here's the scoop: Krispy Kreme has three flavors for fall — apple cider, maple, and of course, pumpkin spice. From those three flavors comes nine doughnuts that feature the fall-inspired favorites. First, we have the pumpkin spice doughnuts. You can take your pick between the Pumpkin Spice Original Glazed, the Pumpkin Spice Original with Cheesecake, or Pumpkin Spice Cake Doughnut. You can order each one individually or get all three, which let's be honest, you need all three. Then, there's the brand-new apple cider flavor which gives doughnut fans the choice between the Apple Cider Glazed, the Apple Cider Glazed Original Filled with Brown Sugar Kreme, and the Apple Cider Glazed Cake doughnut to try. And last, but certainly not least, is the other new flavor, maple, which gives fans a choice of the Maple Glazed, the Maple Glazed Original Filled with Maple Kreme, and the Maple Glazed Cake Doughnut.
When will the Krispy Kreme fall 2021 doughnuts be available?
Ready for the twist? Krispy Kreme has decided to test its dedicated doughnut-lovers by releasing just one fall-inspired treat each week beginning on Sept. 6 and up until Sept. 26. What does that mean, exactly? Well, the beloved Pumpkin Spice doughnuts will only be available in stores from Sept. 6 to Sept. 12, so get them while you can! As for the Apple Cider Glaze treats, those will make their debut in stores from Sept. 13 to the Sept. 19, and the Maple Glaze will be featured Sept. 20 through Sept. 26. Since these flavors are only available for a limited time, be sure to mark your calendars so you can indulge in this season's best flavors. To Krispy Kreme we go!
Image Source: Courtesy of Krispy Kreme