How to Make Starbucks's Eggnog Latte at Home
Starbucks May Have Retired Its Eggnog Latte, but You Can Easily Make It at Home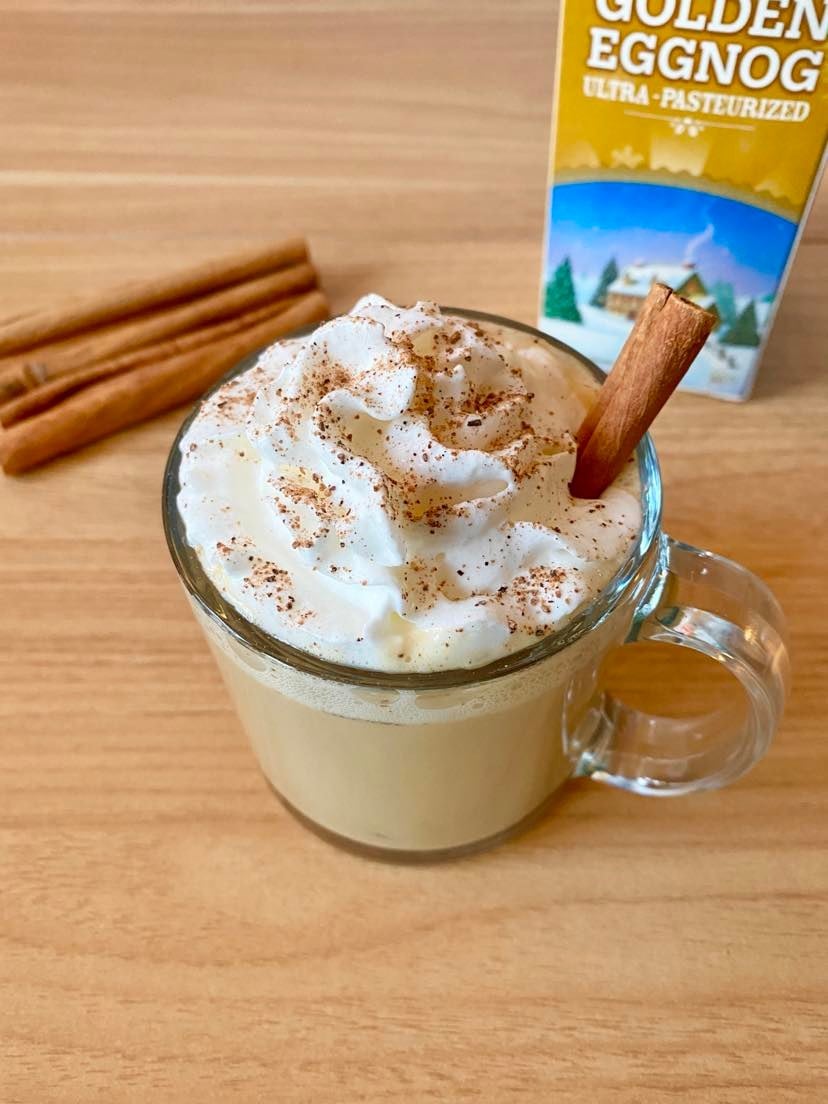 I was devastated to learn that Starbucks wouldn't be returning its signature Eggnog Latte for the holidays this year. Sweet, creamy, and nutmeg-y, the latte was one of my favorite ways to cozy up during the holiday season. While I'll miss not being able to order this treat at Starbucks, I was happy to see it replaced with the Iced Sugar Cookie Almond Milk Latte for lactose-intolerant coffee-lovers. Thankfully, my sadness didn't last too long, as I remembered that my neighborhood barista had shared the general recipe for the drink with me last year.
It turns out, Starbucks's Eggnog Latte has a simple three-to-one ratio of eggnog to milk. Armed with that knowledge, I decided to hit the grocery store to gather ingredients. After a successful mission, I spent a few minutes in my kitchen making a batch of delicious eggnog latte. While this recipe was pretty simple, being able to make it at home means that you can adjust the ratios to your liking!
This drink is going to be a little different from the thick, creamy eggnog that we're used to sipping around the fire. Instead of going for the aforementioned texture, you're going to want to thin the eggnog. I found that diluting the eggnog with 1/4 cup of milk makes it perfectly drinkable. Using coffee or a larger amount of espresso will help thin it as well (without hurting the flavor), so you can play around until you have a ratio that feels perfect for you.
To make this latte, start by combining the eggnog, milk, and a pinch of nutmeg in a saucepan. Unfortunately, while I love a good recipe shortcut as much as the next cook, I don't recommend heating the eggnog up in the microwave, as it can curdle the egg. Stir occasionally until the mixture is hot, and then pour it over your espresso or coffee. Despite the saucepan component, this latte is really just an easy two steps!
I recommend topping with whipped cream and a sprinkle of nutmeg so you can really enjoy this indulgent treat. One note: that sprinkle of nutmeg adds a lot of flavor, but some of it might end up at the bottom of your mug, so keep an eye out for it once you get down to the dregs!
Copycat Starbucks Eggnog Latte
Original Recipe
Notes
Don't heat the eggnog in the microwave, as it can curdle!
Ingredients
1 cup eggnog
1/4 cup milk
1/8 teaspoon nutmeg
1 shot of espresso OR 1/4 cup strong coffee
Optional: whipped cream, nutmeg, or cinnamon sticks for topping
Directions
Combine the eggnog, milk, and nutmeg in a small saucepan over low heat. Cook, stirring occasionally, until hot.
Meanwhile, add your coffee or espresso to the bottom of your mug of choice.
When the eggnog mixture is hot, pour it over the coffee or espresso.
Top with optional whipped cream and a sprinkle of extra nutmeg, and enjoy!
Information
Category

Drinks, Hot Drinks

Yield

1 mug

Prep Time

5 minutes

Cook Time

5 minutes

Total Time

9 minutes, 59 seconds