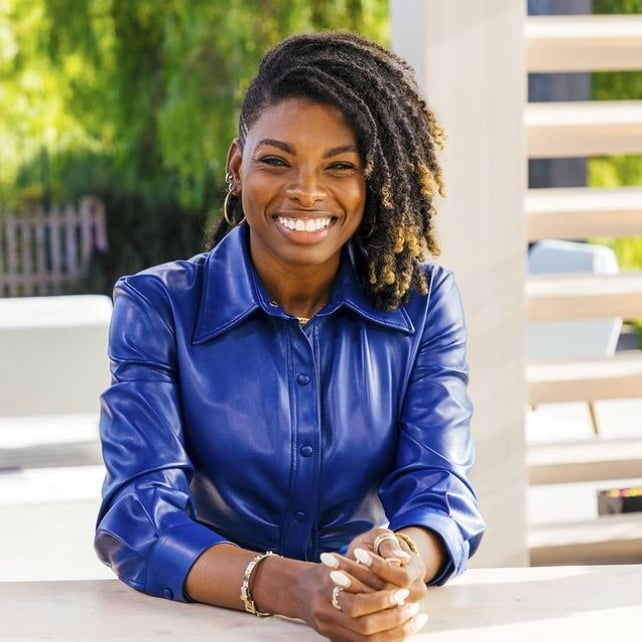 Carmeon Hamilton won HGTV's Design Star: Next Gen (and our hearts) with her bold, beautiful, and bohemian designs that stayed true to her style. Her goal is to elevate the everyday, and she describes her aesthetic as modern, bohemian, cultured, textured, and soulful. "Throughout this competition, I created spaces that were more and more me," she said on the show. "I laid it all out on the table here."
That approach worked, and Carmeon beat out seven other designers, making her the winner of $50,000 and her own upcoming HGTV show at just 35 years old. Before you get excited to binge-watch the show or scroll through Carmeon's verdant Instagram feed, here are 10 things to know about this talented designer.
02
She Didn't Originally Plan on Interior Design
03
She Started Her Career in the Healthcare Industry
04
Design Star: Next Gen Was a New Challenge For Her
Carmeon described her time on the show as "the hardest thing I've ever done in my
whole life. There's nothing like it." Amazing to see her hard work paying off!
05
She's Married
Carmeon has a husband, Marcus. You can watch how cute they are above, when she calls him to tell him that she won while still on set.
06
She Has a Tween Son
Carmeon recently redid her son Davin's bedroom, and the blue hues are stunning. You can check out her tips for designing with kids here.
07
She's a Plant Mom
Designers . . . they're just like us! Carmeon is a self-described plant mom, and her home is filled with gorgeous greenery. "Plants are a super-identifiable part of my aesthetic, but the foundation is always modern and clean-lined," she told Architectural Digest, describing herself as an "environmental curator."
08
She Has a Supersweet Sunday Ritual
Carmeon and her family have a pancake breakfast every Sunday in an effort to be more intentional about family time and to live her goal of elevating the everyday. Can we stop by, please?
09
She Loves Healthy Competition
After her win was announced, Carmeon shared a post to thank and honor her competitor in the final challenge, Eli Hariton. "Not only were [you] an amazing competitor, but you're an even more amazing human," she wrote.
10
She's a Rule Breaker
Carmeon considers herself someone who breaks design rules. In an interview after her win was announced, she said, "You grow up and you spend more time in this industry and you realize that rules are meant to be broken, especially if you want to stand out, so I made it a point to have my design style be very personal to me." We love that!