Lemon Custard Buttermilk Pancakes Recipe and Photos
Fact: These Lemon Custard Pancakes Will Make You Jump Out of Bed in the Morning
Looking to mix up your brunch game? While we'll never turn down classics like waffles, eggs, and bagels, sometimes you just need a little somethin' more to help you jump out of bed in the morning. Enter: these lemon custard buttermilk pancakes! This decadent yet simple breakfast features pillowy pancakes that are topped with a silky lemon custard that's light, tart, sweet, and so delicious.
The pancake base is simple and can be adapted to suit any taste (feel free to use whatever pancake recipe you like best). And for the custard, if you love citrus but aren't a huge fan of lemon, feel free to switch it out for orange or a blueberry compote. The lemon custard in this recipe can also be enjoyed on its own, or with strawberries or raspberries for a lighter treat on the side of the pancakes.
A major plus with this recipe is that is comes together quick (it can be whipped up in about 30 minutes), so you don't have to wait long to dig in if you wake up really hungry!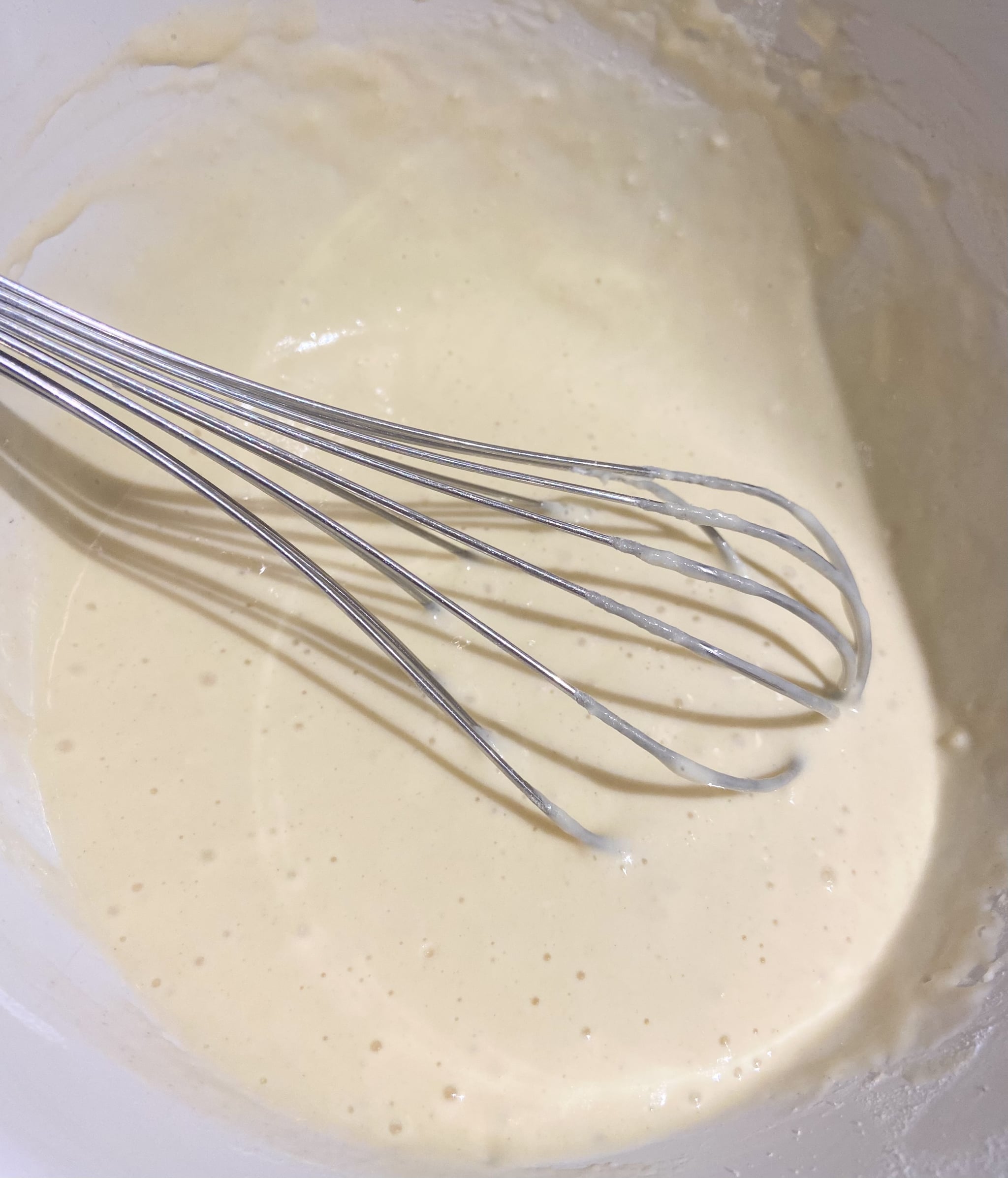 To achieve the fluffiest results, allow your batter to sit for a few minutes.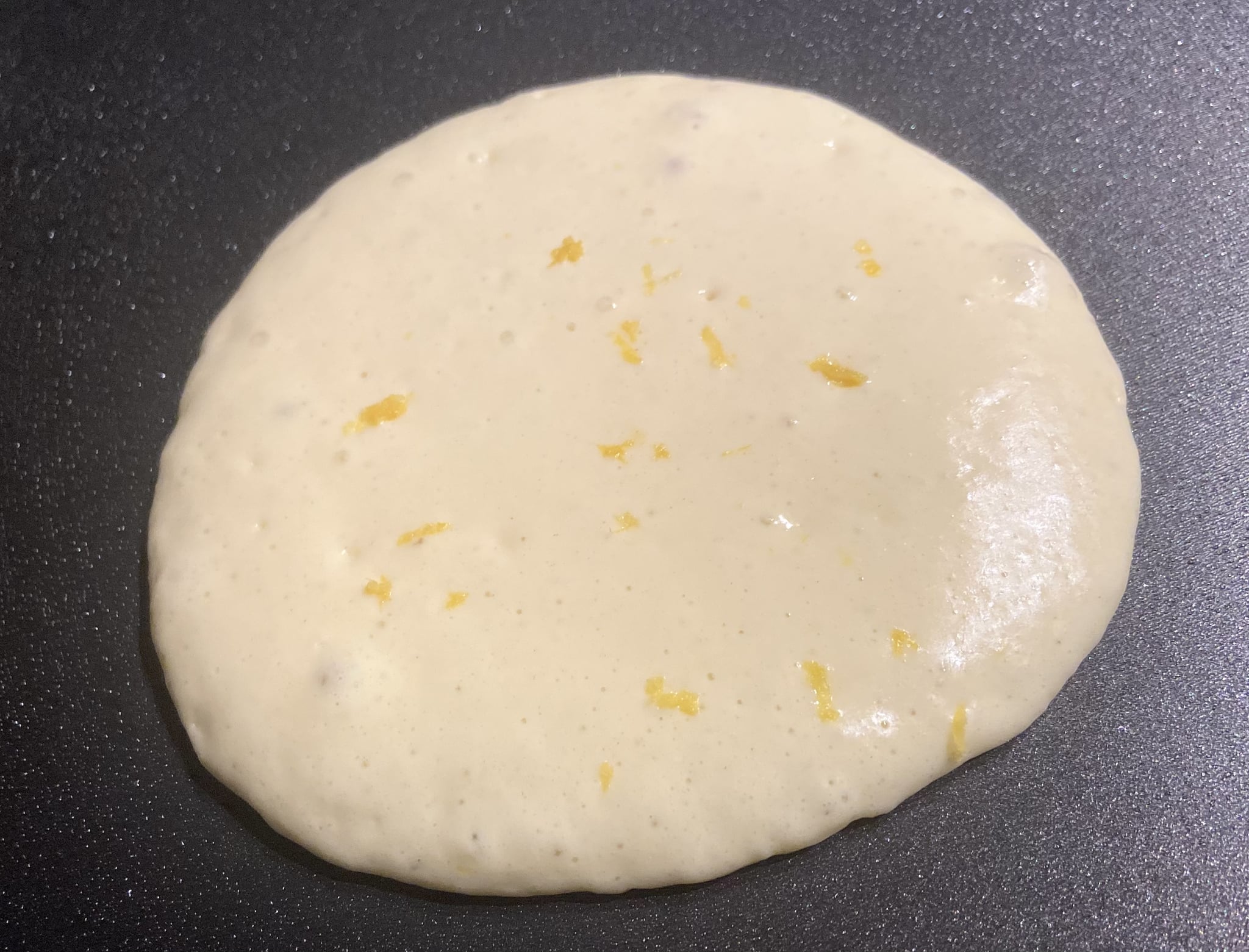 Dust in a bit of lemon zest as your pancakes cook to really get that fresh and light lemon flavor. The unexpected pairing works really together and gives the warm, fluffy pancakes a refreshing and slightly tart and sweet spin. (It tastes similar to lemon loaf cake, but better!) And if you're feeling even more adventurous, feel free to add some poppy seeds in as well.
If you're using butter or syrup to top your pancakes, be sure to layer it on before your custard. But since the custard is already sweet, we recommend only adding butter and maybe a little bit of syrup, so that the lemon flavor can really shine.
Lemon Custard Pancakes
Adapted Recipe by Rachel Alger
Notes
Make sure to make your lemon custard first so that it has time to chill.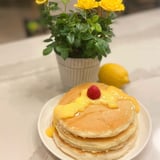 Ingredients
For the Lemon Custard:
1 cup heavy cream
1 tablespoon pure vanilla extract
1 tablespoon fresh lemon juice
1 tablespoon lemon zest
1 drop yellow food coloring (optional)
2 egg yolks
1/3 cup sugar
For the Pancakes:
1 cup flour
1 tablespoon baking powder
1 tablespoon cane sugar
1 cup buttermilk
1 egg yolk
1 tablespoon pure vanilla extract
Pinch of salt
Lemon zest
Directions
Start by making the custard. Whisk the sugar and egg yolks together until silky and smooth, and set aside.
In a separate pot, carefully warm heavy cream, vanilla extract, lemon juice, and lemon zest until bubbling. Slowly add the warmed cream mixture to your eggs and sugar (a little bit at a time) until the two are fully combined. This tempers the eggs, so that they don't cook and become scrambly.
Return mixture to pot and warm slowly over low heat until it becomes rich and thick. Do not add much heat, as you risk congealing the eggs.
Once custard reaches desired thickness, place in bowl to chill until your pancakes are ready. If using yellow food coloring to intensify color, mix in now.
To make the pancakes, sift the dry ingredients together into a bowl.
Mix in buttermilk, egg yolk, and vanilla until smooth.
Put a lightly buttered pan or skillet over medium heat. With a large spoon, add batter to create desired pancake size.
When pancake is lightly cooked on one side, sprinkle in lemon zest. Flip, and cook through.
Transfer to plate, stack, top with custard, and enjoy!
Information
Category

Breakfast/Brunch, Pancakes/Waffles

Yield

4 Pancakes

Prep Time

10 Minutes

Cook Time

20 Minutes

Total Time

29 minutes, 59 seconds
Image Source: POPSUGAR Photography / Rachel Alger