At Home With POPSUGAR: How I Turned My Bedroom Into an Airy Beach Bungalow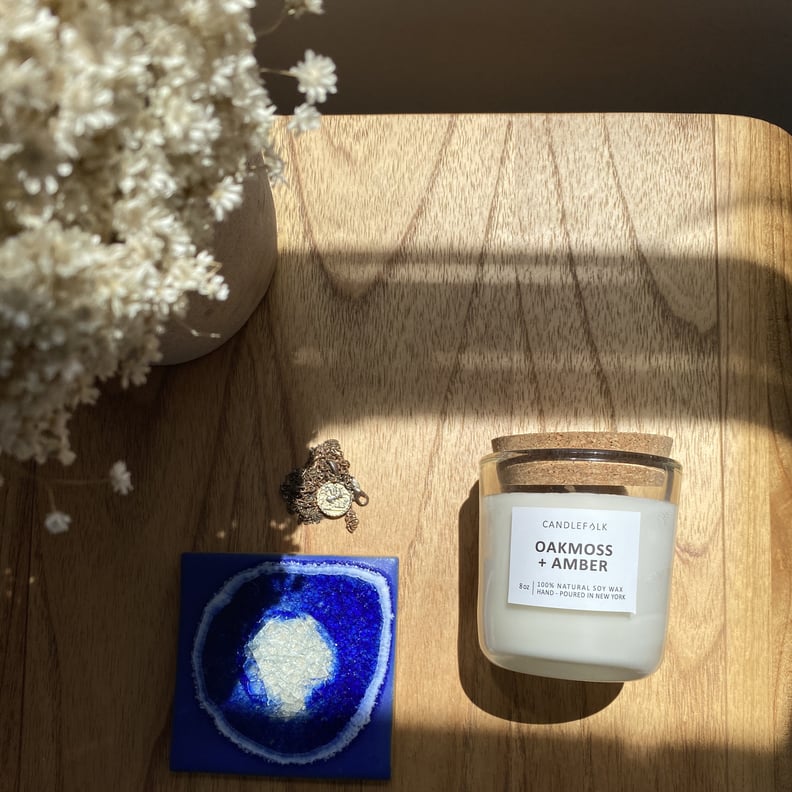 POPSUGAR Photography | Chris Roney
POPSUGAR Photography | Chris Roney
As POPSUGAR editors, we independently select and write about stuff we love and think you'll like too. If you buy a product we have recommended, we may receive affiliate commission, which in turn supports our work.
There's a passage I love in the book Small Pleasures about how small islands and their obvious boundaries — "limited, defined, contained" — tap into a pleasing sense of control in our psyches, a remedy to how busy daily life can be. That's the appeal of minimalism to me, especially living in Brooklyn, NY: designing a space that cuts through the noise and quiets my mind. In my case, that means an open floor plan, lots of light, and decor that's intentional.
Enter my simple, whitewashed bedroom. It's a room I try hard to keep tidy, as inspired by the hotel rooms I lived out of for the first two years I worked from "home" for POPSUGAR before settling down in NYC last year. I'm inspired by off-whites, earthy tones, and sea blues — all mainstays of my months-long stints in Greece. Wherever your small islands are, and whatever color palette puts you at ease, I hope the calm of my room inspires you to carve out a peaceful space in your home, too.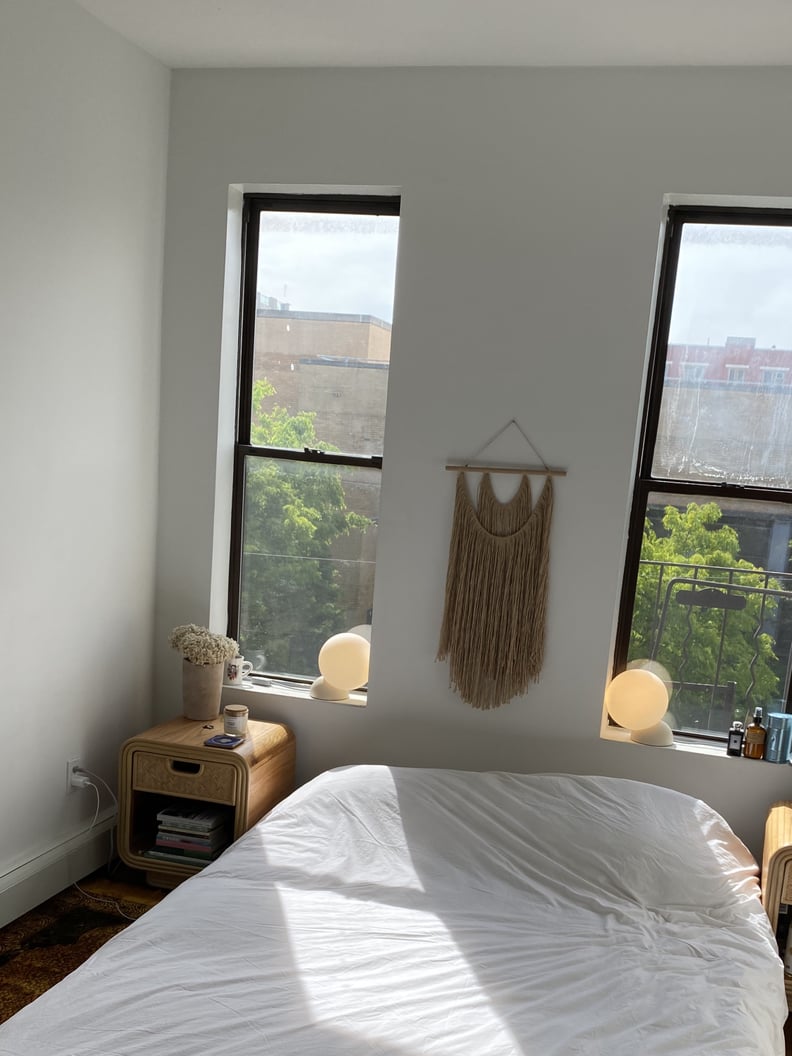 All-White Linens
There's something about crisp hotel-white bedding that just puts me at ease. I love a more soft mattress, so I chose the all-foam Casper Original Mattress in Queen ($986, originally $1095) and all-white Casper linens. (Urban Outfitters' Ria Rattan Bed ($949) is on my wish list.)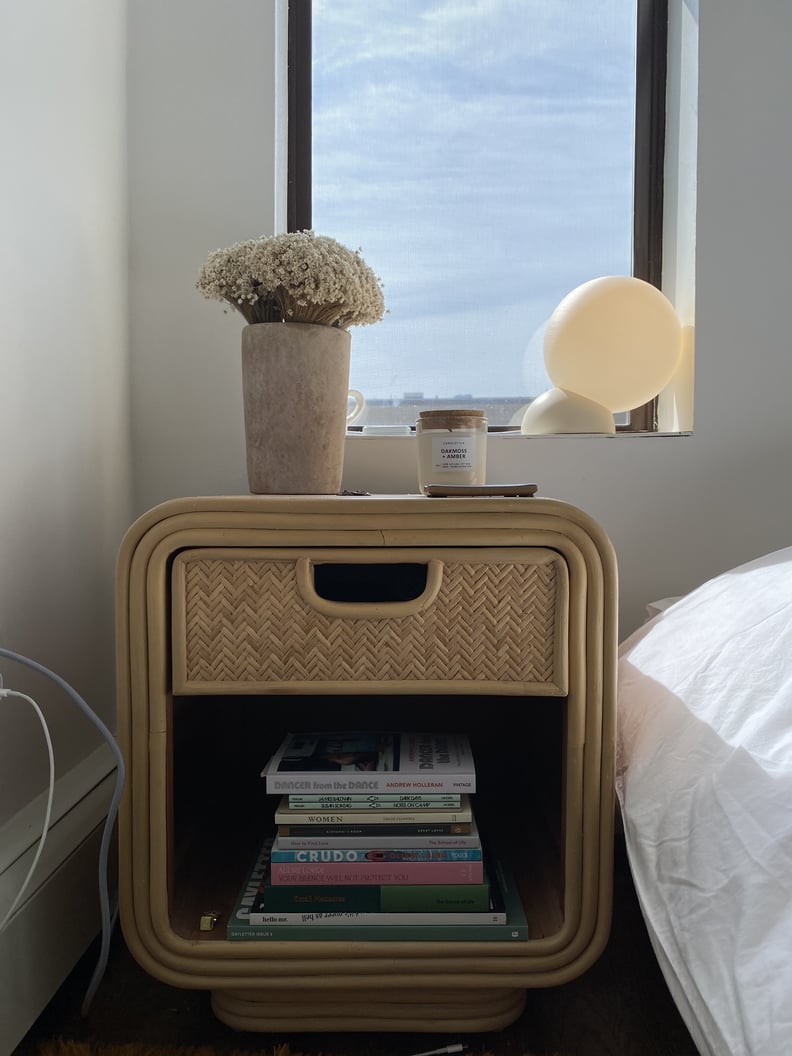 Breezy Bedside Details
I want my bedroom to feel light and airy, which means being sparse about furniture. I chose the chic Ria Nightstand ($199) for the look of its '70s-callback rounded edges, the bamboo tone, and the woven rattan drawer. Plus, it's nice to have some of your favorite books at arm's length. On my shelf is Small Pleasures by The School of Life, along with favorites from Donlon Books like Women by Chloe Caldwell and Crudo: A Novel by Olivia Laing. (This Ria Magazine Holder ($49) is a good match for magazine-lovers, too.)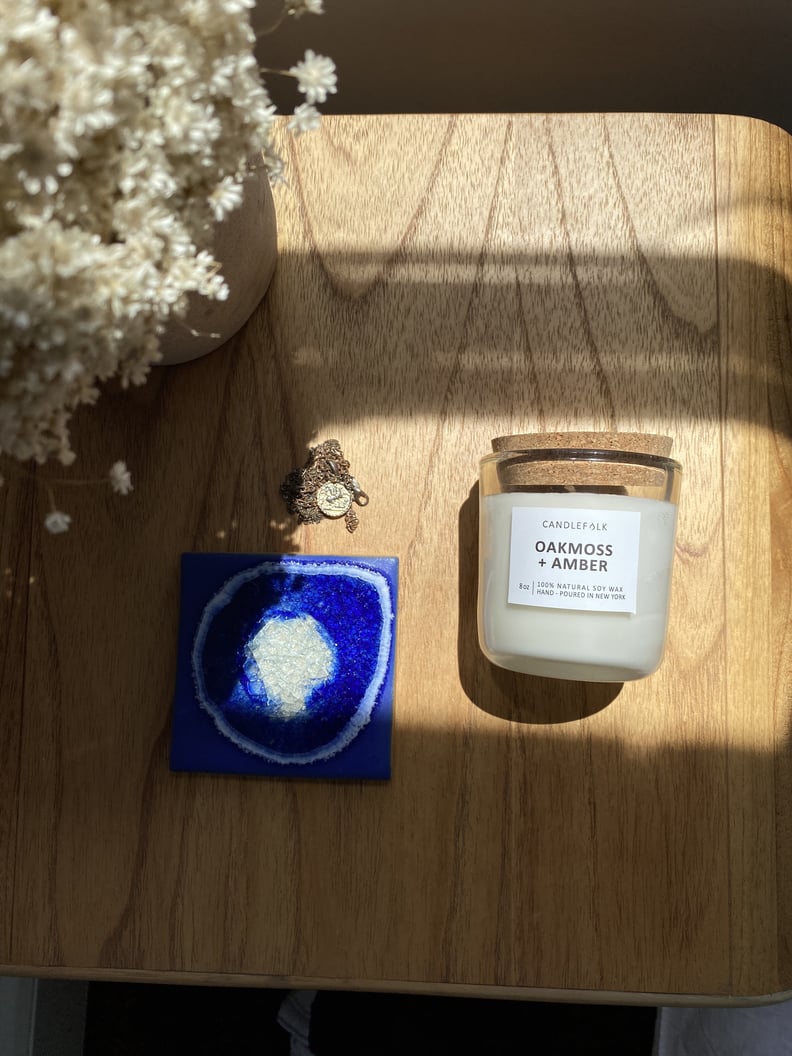 Blue Accents
I'm a huge lover of Greece, so my color palette is plucked straight out of Mykonos: pearly whites, rich blues, and more chalky natural tones: terracotta, cork, and jute included. I got these now-discontinued coasters from Anthropologie for $5 each somehow, but the home-goods store has since dropped a new iteration on the same gemstone blues with the Agate Coaster ($14). Aside from being pretty, I like the feel of the Oakmoss + Amber 8 Oz. Soy Candle ($22) from Brooklyn's own Candlefolk, because the glass jar is perfectly weighty. The vase is from Sprout Home in Williamsburg, which is taking orders by phone for curbside pick-up in New York City and Chicago.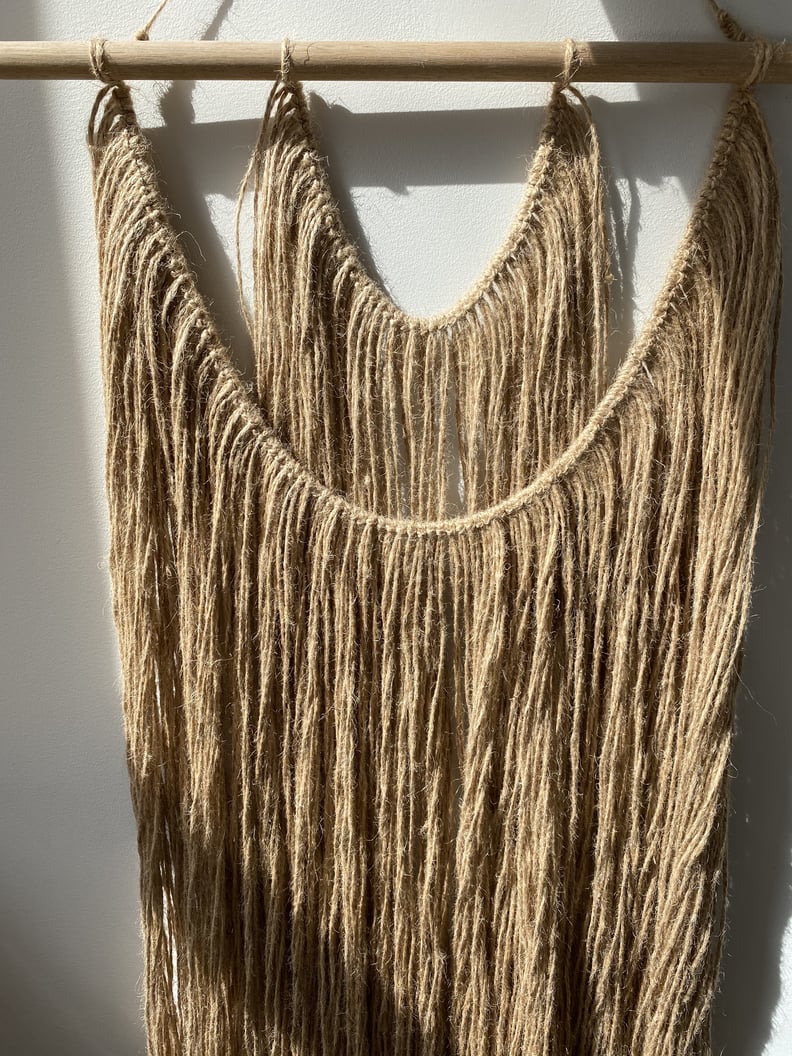 Boho Wall Hanging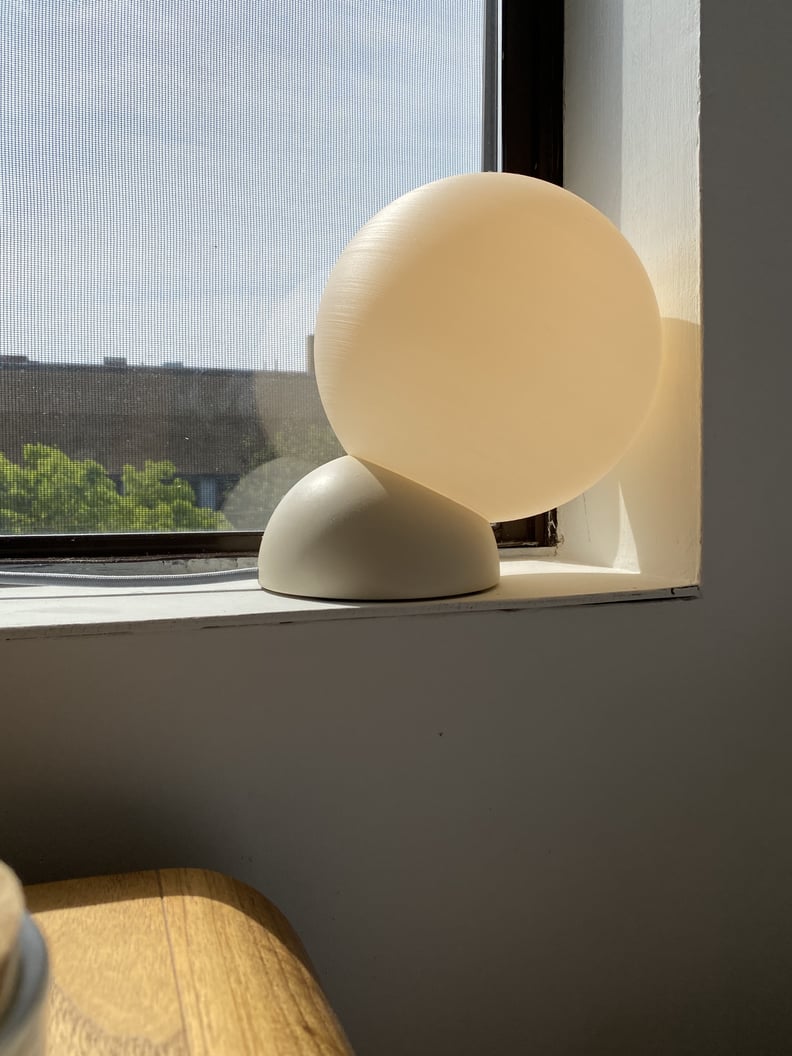 Warm Lighting
Maybe you've seen Gantri all over Instagram, but the Cantilever Table Light in Sand ($98) lives up to the hype. (I was so set on these ball lights, I lived by candlelight for weeks until these bad boys shipped.) It produces a nice warm light that dims to a candle-like glow — great for setting the mood.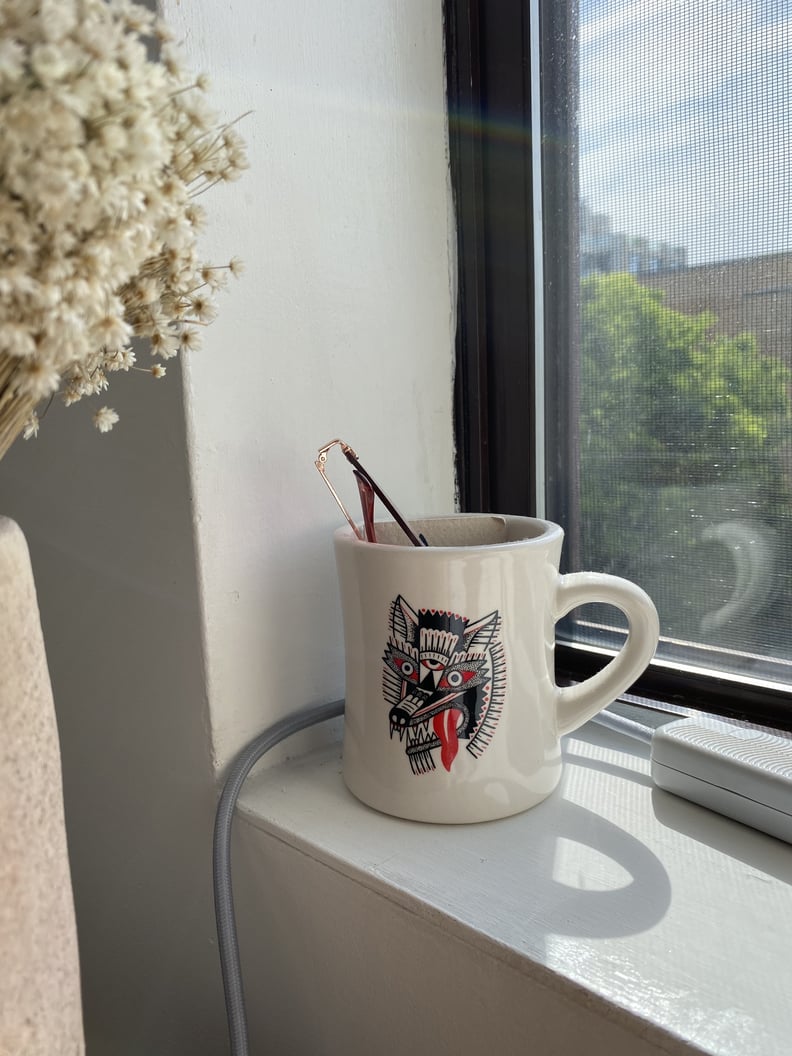 Uncommon Windowsill Decor
Stumptown Coffee Roasters makes a mean mug, and this ceramic one doubles as a catch-all on my window sill. Stumptown rotates its mug designs, and the Have a Nice Day Mug ($12) is just as cheery.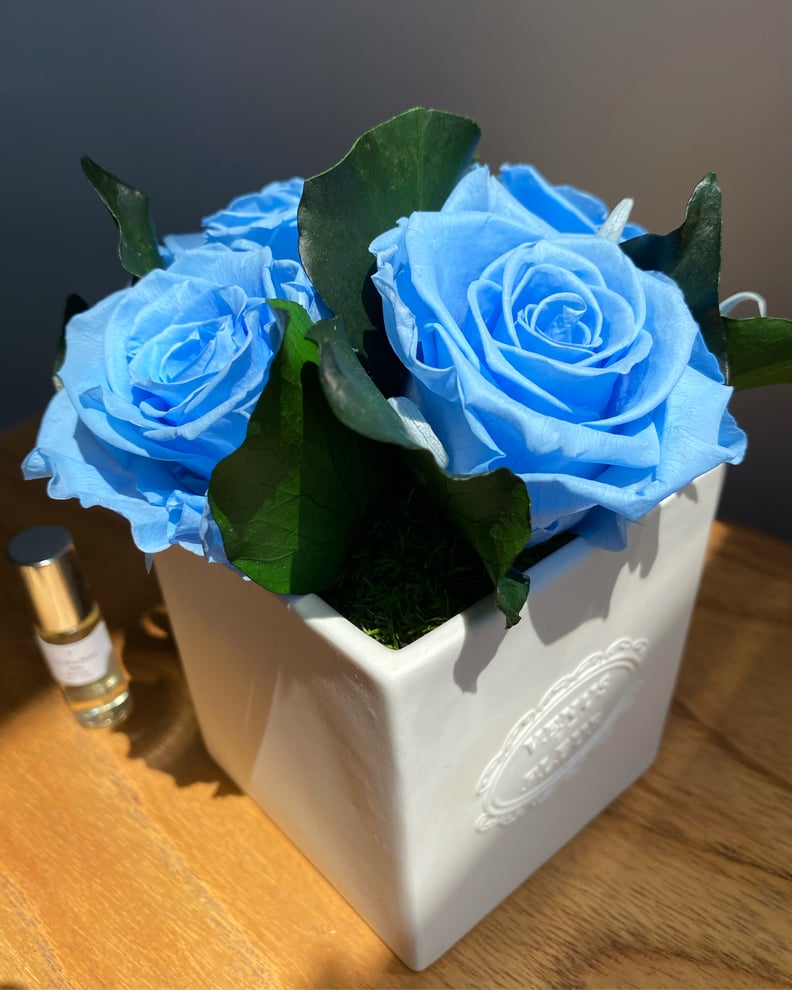 Fresh Flowers
If ever there was a time to enjoy fresh-cut flowers, it's right now while we're spending more time at home. But with many stores still closed, options are limited. (Or, were.) Then came Venus Et Fleur with the Maison collection — real hydrangeas, gardenias, and garden roses that last a full year with no maintenance. (Yes, you read that right.) These flowers bring me so much joy.
I got The Sylvie Vase With Eternity® Roses and Eternity™ Hedera Leaves in Baby Blue ($219), and it has to be the most tasteful arrangement I've ever had on my bedside table. The roses look straight out of Cinderella, for one. The upfront price is not cheap, but when you consider how incredibly long they last, it's a small price to pay for a year's worth of perfectly pristine flowers (in a matte-white porcelain vase, arranged by a white-glove floral designer). I'm already eyeing the Fleura Vase With Mixed Eternity™ Flowers in Lavender ($489) for my mom's birthday.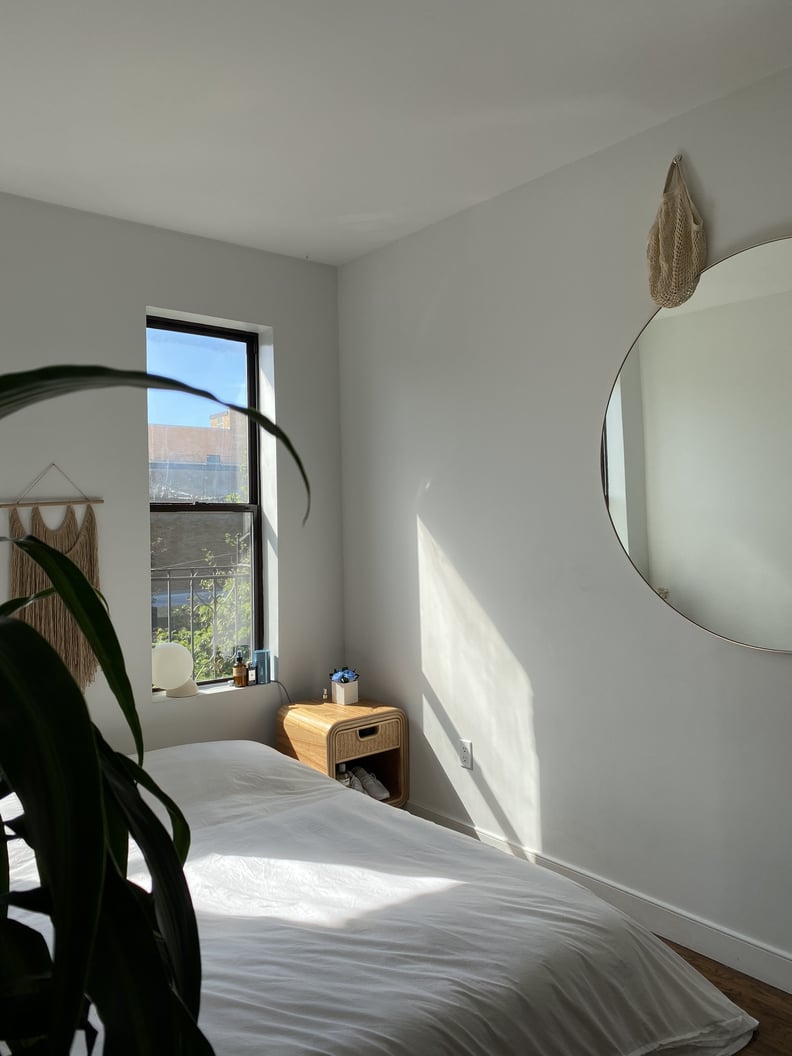 A Large Mirror
Mirrors can be pricey, but nothing opens up a space quite like an extra-large one. This Infinity Brass Round Wall Mirror 48" ($399) from CB2 used to hang in my friend Garrett's hair studio. Now it has a second act on my bedroom wall, bouncing light everywhere. Above it hangs the cotton net tote I used to lug to the beach every day back in Mykonos: the Anthropologie Filt French Market Tote Bag ($20).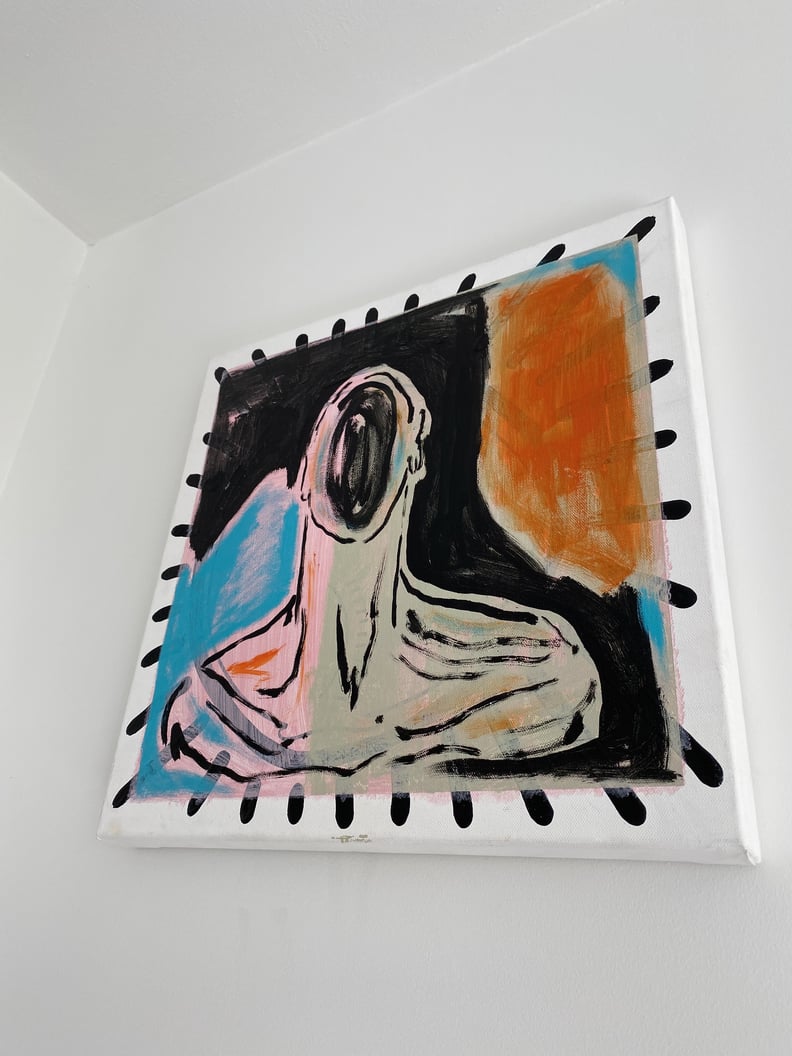 Meaningful Art
This original art is by the British artist-designer Patrick Church, who POPSUGAR sat down with in February. I love Patrick's use of color, and it's the blue that sold me on this one.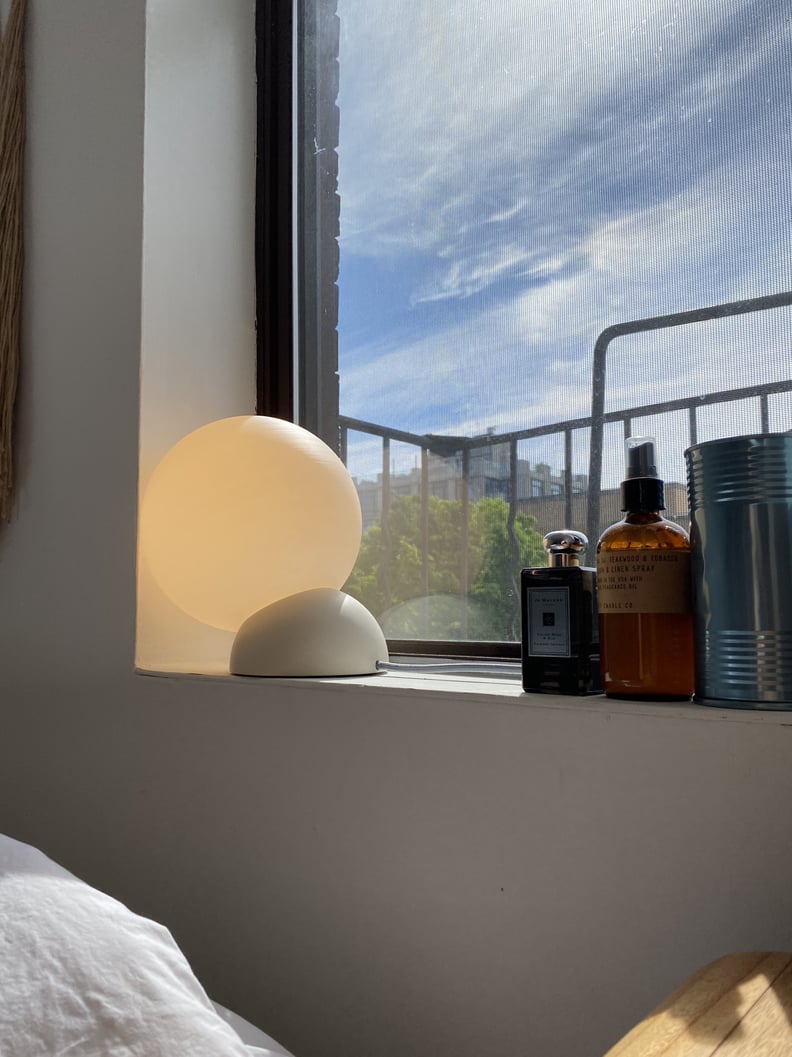 The Right Room Scent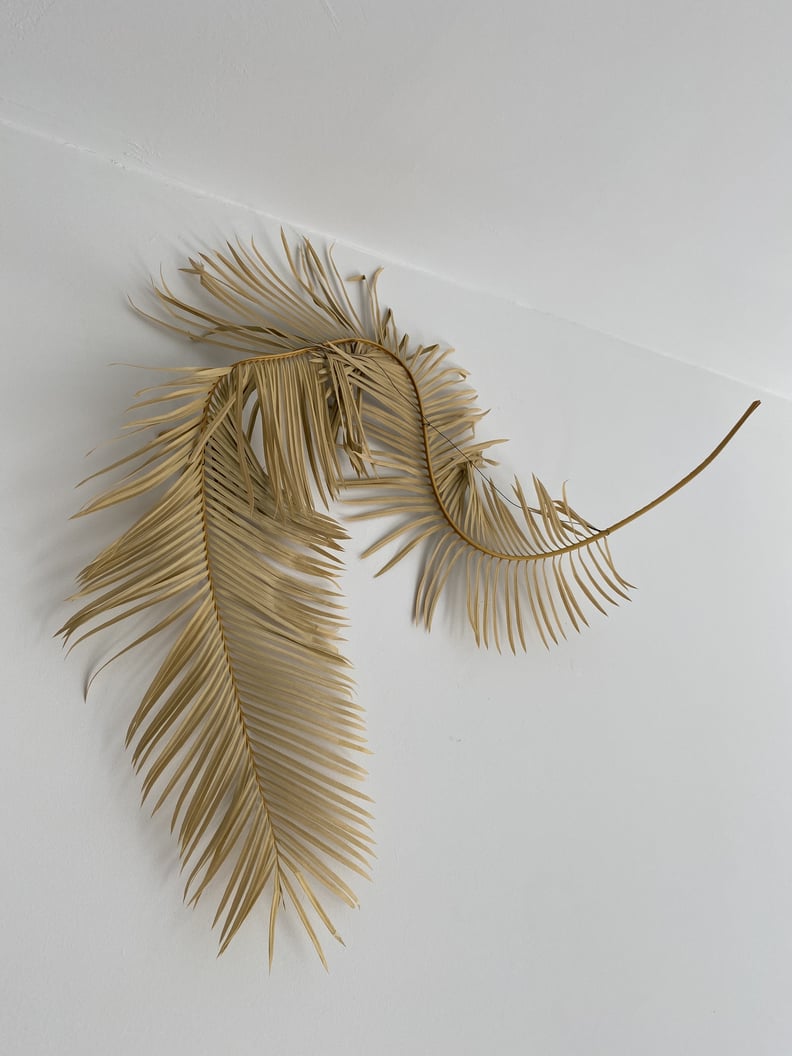 Dried Florals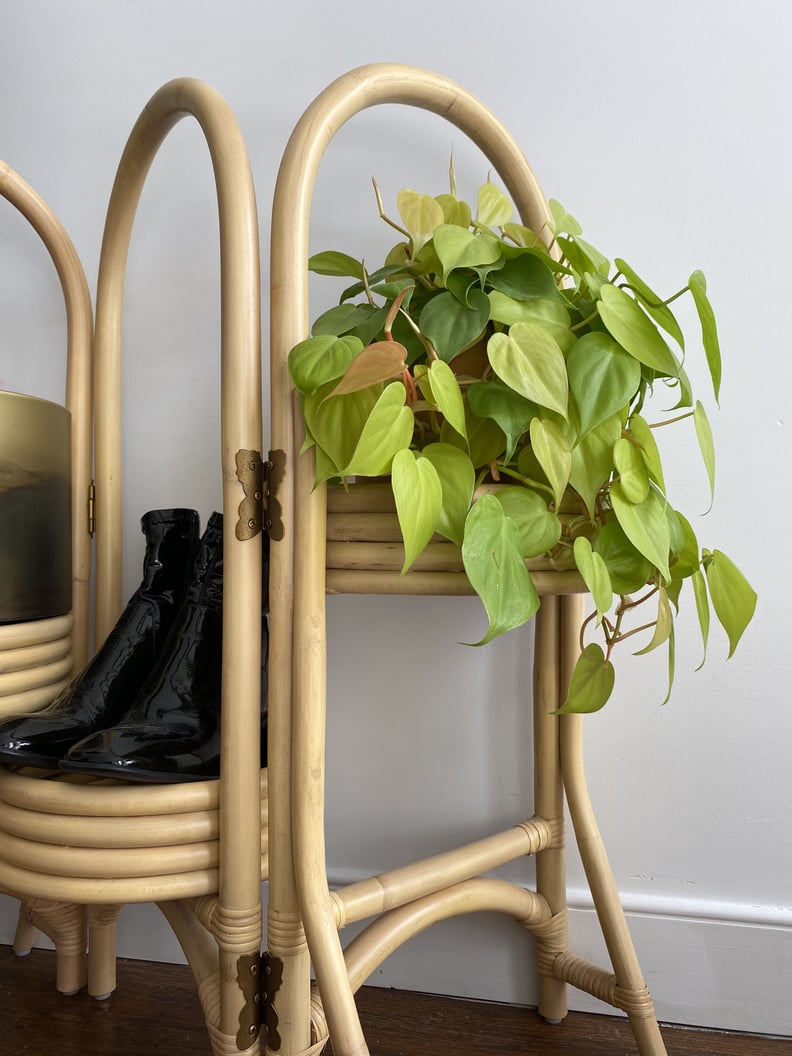 Potted Plants