8 Modern Farmhouse Porch Ideas to Steal From Joanna Gaines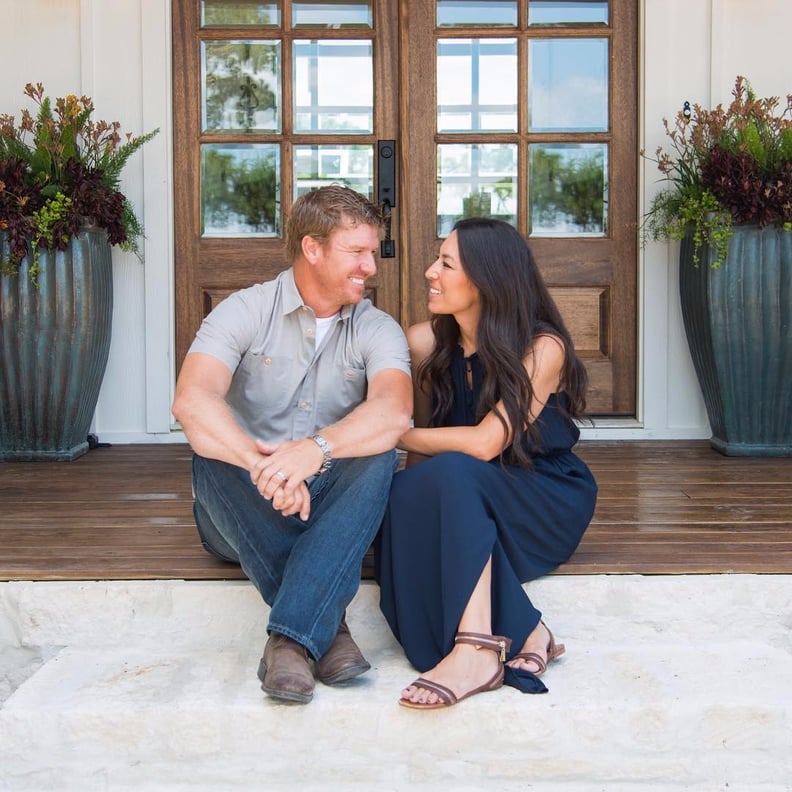 We so love modern farmhouse design that we've outfitted all of our interiors in the charming style. And now we're ready to move on to the outside of our homes, specifically to our front porches where we hope to spend the long Summer days enjoying the warm weather. Who better to inspire our modern farmhouse porches than the woman who brought the style into popularity, Joanna Gaines? Ahead, we take design ideas from the Fixer Upper star's front-porch playbook.
Designated Sitting Area
Joanna beaks up the long front porch on this ranch style home by dividing it into different areas. Namely, the front door marks an entrance space on the right while a pair of chairs creates a sitting area on the left.
Columns and Banisters
A key part of this porch's transformation was upgrading the metal banister and columns. A rich, rustic wood banister elevates the entire porch while newly constructed columns lend an elegance and prominence to the porch that was missing before.
Freestanding Flower Box
No built-in flower boxes? No problem. Joanna placed modern black freestanding flower boxes on this porch to dramatic effect. The succulents and cacti only add to the contemporary cool vibes.
Rocking Chairs
An abundance of beautiful plants, a vintage watering can, and inviting chairs mean one thing: this must be Chip and Joanna's own home! The emphasis on inviting, comfortable seating makes this the porch the perfect place to grab a sweet tea and relax after a long day.
Hanging Swing
This classic Southern-style porch is seemingly made for a hanging swing, and that's just what Joanna added! She balances the swing on one side with a hanging lantern on the other.
Modern Black Accents
The contemporary facade of this home is enhanced by matte black accents, including modern lighting fixtures and flower boxes. While there isn't a full-size porch, Joanna snuck in a cozy sitting nook beside the door.
Many Levels of Plants
Self-proclaimed plant lady Joanna knows how to bring a space to life with greenery. And the key to this vibrant porch's styling is in the many layers of plant life she fills it with; for example, the varied heights of the planters beside the front door and the row of plantings just in front of the porch.
Tall Planters
Savvy decorator Joanna adds subtle drama to this front porch by supersizing the planters. A colorful mix of flowers look extravibrant in the waist-high planters she's placed on either side of the door.