22 Times Demi and Wilmer Gave Us Serious #RelationshipGoals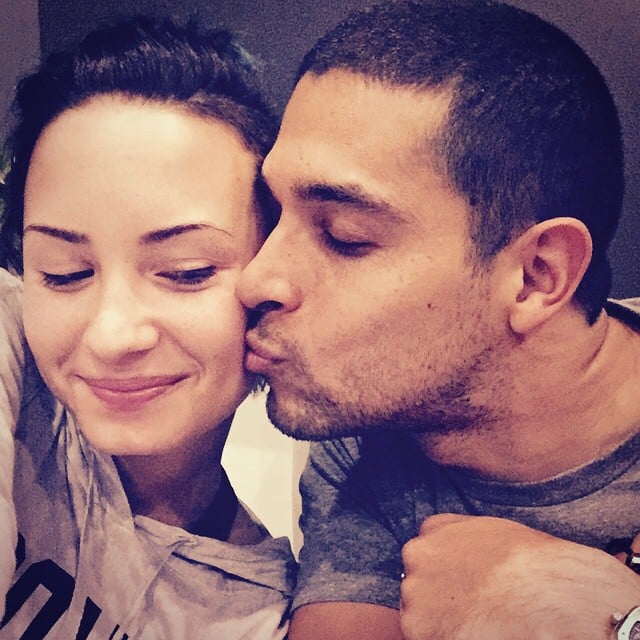 Instagram | ddlovato
If we're being completely honest here, when Demi Lovato and Wilmer Valderrama first started dating, we were somewhat confused. That '70s Show's Fez and another Disney star? (Remember when he dated Lindsay Lohan?) It just didn't add up. But now, a few years down the road and a fair share of lovey pictures and public declarations of love later, we've done a total 180: these two might possibly be the cutest couple in Hollywood — or, at the very least, on Instagram. Between the loving birthday wishes, kissing photos, and videos that makes us audibly "aww," we just can't seem to get enough of this pair, who may be ready to take things to the next level sometime soon. Keep scrolling to see why this couple gives us #RelationshipGoals with every adorable post, then check out Demi's incredible style evolution.
01
When Wilmer Came to Support Demi on Set
It was 4 a.m. and he had to be up at 8 a.m., but he stopped by anyway. That's love, people. That's love.
02
When They Took This Silly Car Selfie
Even making funny faces, these two still look flawless!
03
When Demi Reposted This Hilarious Throwback
And told her fans to "stay cool for the Summer," quoting her current single, then added "sorry, baby, I had to."
04
When They Looked Badass in All-Black Outfits
And Demi gave her man a smooch.
05
When Wilmer Was So Grateful That Demi Flew to See Him
His caption? "She flew all the way from Vietnam to Japan, LA to then fly to NYC to support me as we announced @MinorityReport at #FOXUpfront. Thank you for sharing this moment in time with me. I love you, angel!" Awww!
06
When Demi Said She Still Gets Butterflies
Just thinking about him she gets butterflies. Just thinking about him.
07
When We Saw This Sweet Photo of Them Kissing
And Demi thanked him for supporting her during her ups and downs and throughout her recovery.
08
When They Spent Their Sunday Funday With Dinosaurs
And Wilmer joked that they were photobombing his picture.
09
When Demi Bragged a Little About Her Man
And hashtagged #RIPFez because Wilmer looked superbuff, unlike his That '70s Show character.
10
When They Celebrated Valentine's Day Together
They looked so chic with Demi rocking a red dress and Wilmer in a dapper suit.
11
When Demi Shared All These Throwback Photos
We were like "Whaaaa . . . ?! They've been together that long?!"
12
When Demi Showed Us How to #DevonneYourMan
Hilariously using products from her skin care line, Devonne by Demi. He's such a team player, that Wilmer.
13
When Wilmer Referred to Demi as "My Sweet Angel"
And thanked her (and, OK, his brother) for helping him celebrate his birthday.
14
When Demi Secretly Snapped This Pic of Her "Boys"
They make such a cute little family!
15
When They Flew to Dallas to Be With Loved Ones
16
When Demi Called Wilmer "Perfect"
We just can't take how sweet they looked as he kissed her on the cheek!
17
When They Were Lucy and Ricky For Halloween
18
When Wilmer Sent This Message to Demi
Oh . . . my . . . gosh! Our hearts.
19
When Wilmer Came to Support Demi on Tour
He also posed for pictures with her fans.
20
When Demi Wished Wilmer a Happy Birthday
And called him "the funniest, most inspiring, incredible man I know."
21
When They Went Furniture Shopping and Took a Nap Instead
But who took the pic, guys?
22
When They Wore Matching Onesies
Can it get any cuter?! Nope, we don't think it can.