There's More Than Reggaeton! These Are the Latinx Artists to Watch in 2021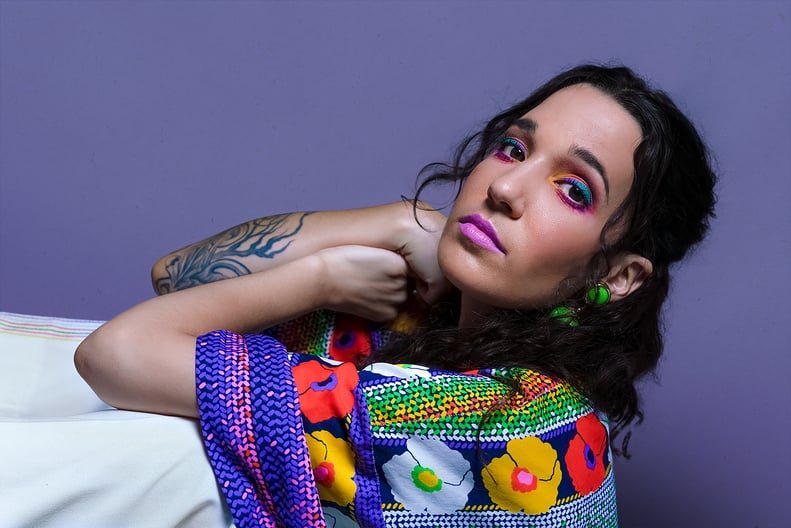 Cesar Berrios for Sony
Cesar Berrios for Sony
Breaking news: your playlist called, and it needs a refresh. Boost your usual reggaeton favorites with these Latinx artists sampling salsa, dance pop, trap, cumbia and indie-rock. From activists like iLe, to essential workers like PJ Sin Suela, to social media sensations like La Ross Maria, these artists have found their voices. Take a listen as we've rounded up the hottest Latinx artists to rev up your 2021 soundtrack. And don't worry, we snuck some reggaeton in there for you too.
iLe
iLe is a multi-talented Puerto Rican singer-songwriter and composer. She started her music career as the sole singer for her brother's band Calle 13. Now, as a solo artist, she experiments with Afro-Caribbean and traditional Puerto Rican root sounds in rhumbas, bombas, and salsa. iLe's smooth but piercing melodic voice carries with it a message of protecting Puerto Rican culture, confronting abuses of power, and shining a light on the armor women need to wear to survive in our current reality. Her latest album, Almadura, received a coveted 2020 Grammy nomination for best Latin rock, urban or alternative album. Immerse yourself in iLe's art when you want to be moved and empowered by female strength.
Guaynaa
Guaynaa may not look like your typical Puerto Rican rapper, but that's precisely how he got his stage name. His friends dubbed him "Guaynabito" referring to Guaynabo, an area of the island known for its wealth and preppy style. He blew up in popularity after releasing a freestyle video rapping about the realities of living in a post-Hurricane Maria Puerto Rico in a humorous way.
His chart-topping music video for "ReBoTa" has gotten over 430 million views on YouTube and cemented him firmly in the Latin music industry. In 2020, he released his debut studio album, BRB Be Right Back, which included collaborations with Nicky Jam, Yandel, Becky G and more. His conservative fashion sense mixed with the unapologetic, raunchy lyrics, typical to reggaeton, make him a unique and memorable contender for best upcoming Latin artist.
Buscabulla
Buscabulla, slang for "troublemaker," is an indie-pop duo made up of Puerto Rican husband and wife, Luis Alfredo De Valle and Raquel Berrios. In 2020, they released their first album, Regresa, an emotional exploration of their return to Puerto Rico following Hurricane Maria's devastation and after a decade in NYC. Raquel said in an interview with Pirchfork, "Regresa is about self-acceptance of oneself with all our imperfections and the acceptance of being back in Puerto Rico with all its flaws." You know it's time to check the album out when Bad Bunny was spotted on his social media blasting this duo's mellow, 90s, disco dance-inspired music.
La Ross Maria
Rosa Maria Pineda, better known as La Ross Maria, is the 17-year-old Dominican singer with swagger and a raspy voice, like that of a grown woman with an old soul. She formally began her music career in the summer of 2020. So how has she already released a hit song with bachata king Romeo Santos? The video for her freestyle, "Tu Vas a Tener Que Explicarme," filmed from a car's front seat, reached 1 million views on YouTube. Her full-length music video, "Mi Regalo Mas Bonito," has already over 112 million views. Aside from her viral skills, La Ross Maria is a true talent with a unique voice. Up next, her first full studio album.
Yera
Yera is a seasoned Colombian producer and composer turned solo artist. His big smile and smooth, flirtatious lyrics make him instantly likable. He mixes tropical afro-beats with Latin pop and electronic dance for a style all of his own. Since his start as a singer in 2018, Yera has released hit after hit, and it doesn't look like 2021 will be an exception. He has amassed over 2 million monthly listeners on Spotify across Latin American countries like Chile, Mexico, and Peru. Still, we expect his crossover in 2021 as his collaborations will only get bigger.
Maria Becerra
Maria Becerra is a rising Argentinian singer-songwriter who loves to fuse genres between R&B, funk, and trap, and cites Rihanna as her biggest musical inspiration. Becerra is the first Latin artist to join indie label 300 Entertainment, who also represents Megan Thee Stallion, Young Thug, and Fetty Wap. Her single, "Tú Me Lo Haces Fácil," is about the raw, magical experience of falling in love for the first time.
PJ Sin Suela
PJ Sin Suela is a Puerto Rican doctor turned rapper. After getting his medical degree in 2015, he decided to shoot his shot as an artist, and it paid off. PJ Sin Suela opened for fellow Boricua, Residente, recorded a song with Lin Manuel Miranda, and his collaboration with Bad Bunny earned him the 13th spot on Billboard's Hot Latin songs in 2018. Sin Suela has expressed his desire to make a positive change in the world through his music with socially conscious lyrics. He's currently working at a local hospital treating Covid-19 patients, yet somehow managed to release eight new singles in 2020. We're eager for more from this multi-talented essential worker.
TINI
TINI is an Argentinian pop singer and actress who boasts 15 million followers and counting on her Instagram. She burst onto the scene at 15-years-old as the lead on Disney Channel's Latin American tween musical series, Violetta. Her solo album, TINI TINI TINI earned her the title of the second most-streamed female artist in Argentina. Her sound is dance-pop heavy with undertones of Cumbia and urban styles.