Princess of South Beach Podcast Spotlights Latinx Stories
Latinas Are Underrepresented in Podcasting, but Princess of South Beach Is Looking to Change That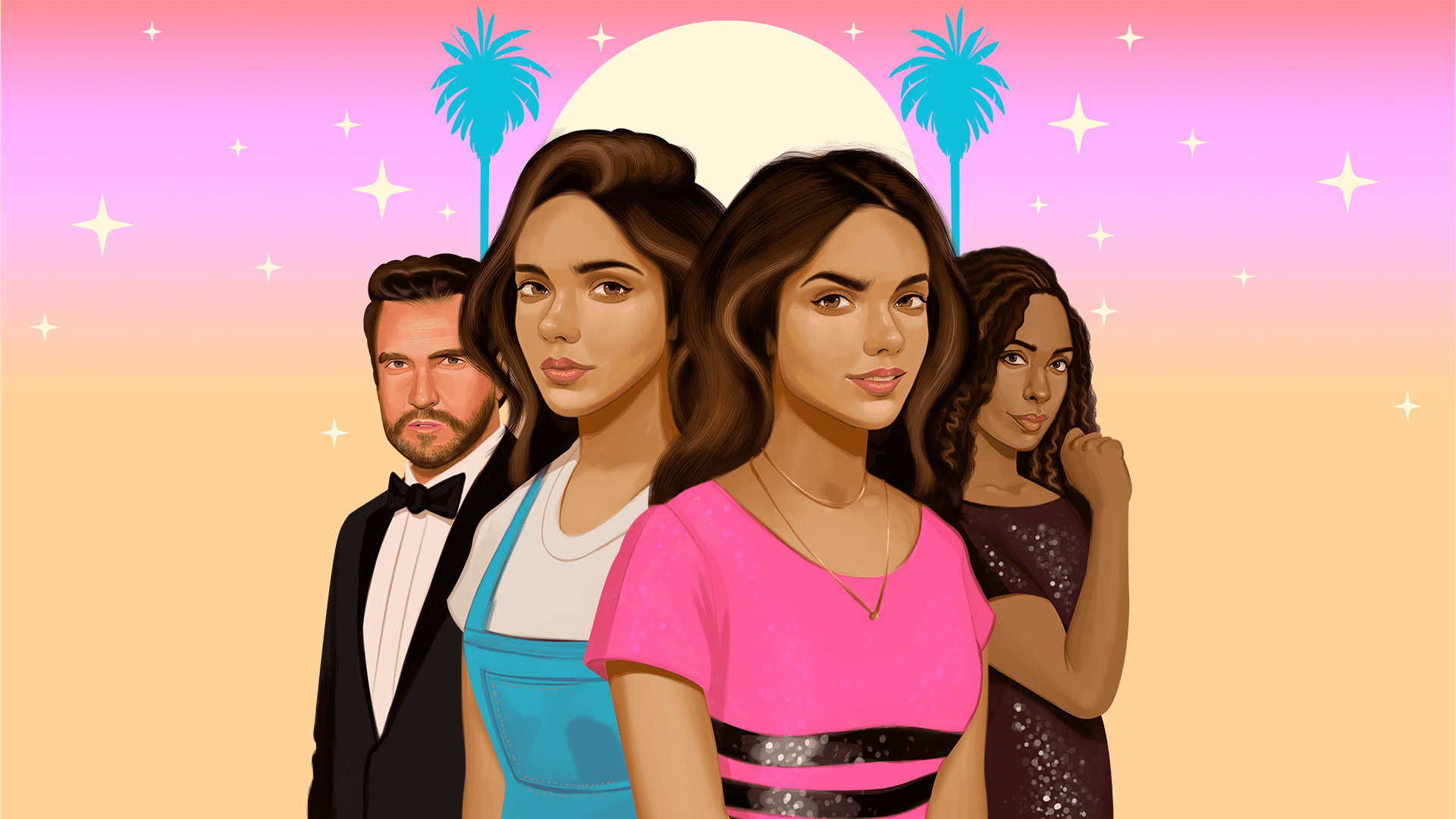 Latinas are underrepresented in podcasting, but Jasmine Romero is working to change all that. Working as the head of development for Sonoro, she's out with a new English and Spanish (Spanglish too, claro) podcast, Princess of South Beach. A production of iHeart's My Cultura Podcast Network and Sonoro, it's a classic telenovela (about separated-at-birth twins, naturally) told in radio-play style, including some of our favorite Latinx talents like Rachel Zegler, Danny Pino, Gina Torres, and more.
Latinxs are the fastest-growing part of podcast listeners. In fact, a recent study from Nielson shows over the last decade, we've increased our listening rates sixfold, more than any other group. And as Edison reports, as of 2021, a slightly higher percentage of Latinxs have listened to a podcast (56 percent) in their lifetime than the general US population (55 percent). The same wasn't true a year ago.
So why are we tuning in now? "In terms of podcasting, so overwhelmingly the stories we get are from the white male perspective," Romero told POPSUGAR. She said Latinxs are "really hungry for content that is made for them and is of high quality," and that's what she's making at the "100 percent Latinx" Sonoro. Their sole focus "is finding new Latinx talent and amplifying their voices in the podcasting space."
A veteran of the industry, Romero is actively building an on-ramp for Latinxs, starting with how she finds and develops talent. "Nobody wants to take a risk on someone who hasn't done this before, but that's how we ended up with this [representation] problem," she told POPSUGAR while expressing her excitement to open the door for folks without experience. "A big part of my job is taking someone who has an idea and helping them turn that into the best possible audio show [using] my experience and expertise in making great podcasts."
The results include podcasts with A-list Latinx talent like Stephanie Beatriz and in all different genres from kids' stories to narrative nonfiction. And Latinidad is interwoven throughout. Take Toxicomanía: El Experimento Mexicano, which tells the true story of a scientist in Mexico who oversaw the legalization of drugs there in the 1940s. With shows like Toxicomanía, Romero is "going to correct the things that the history books missed." And here, we're talking about Latinxs who, historically significant or not, haven't gotten our fair share of the podcast treatment.
So yeah, she "absolutely" has a goal with her storytelling, and it's "to not be the last one. My show might be the first of its kind, but if it's the last of its kind, I did my job poorly." Before making Princess of South Beach, she kept looking for a telenovela show to tune in to or greenlight. She wanted to listen to "a little piece of fun, some popcorn entertainment to set my day off right." But it never came. So eventually, she decided to make it herself, teaming up with Joanna Hausmann, a Venezuelan comedian, to cowrite it with her. The result is a 36-episode show, released in parallel English and Spanish installments (and casts), playing with the telenovela genre.
Romero describes Princess of South Beach as like the "telenovelas we grew up watching, but told with a modern perspective." That means playing with tropes like twins, a super-rich family, and larger-than-life "accidents" and using them to get into social issues like LGBTQ+ rights, toxic masculinity, and immigration. For example, Romero couldn't stop talking about X Mayo (The Daily Show) and Gina Torres (Suits, 9-1-1: Lone Star) and how exciting it was to have Afro Latinas shine in central roles. Listening in, it's clear everyone in the cast "completely understood the assignment," going for that over-the-top telenovela fun. And the episodes are short, making it easy to tune in (and tune out when you're done).
Princess of South Beach stars Rachel Zegler (the upcoming Snow White and West Side Story) as the titular princess in the English version (and Sheryl Rubio of Casa de las Flores in the Spanish). They both actually voice a set of long-lost twins, with María del Carmen replacing her rich and famous sister Gloria after a freak accident. Listeners to the English version will also catch Torres as the rich matriarch, Danny Pino (Mayans MC, SVU) as the villain, and X Mayo as the maid who's going to turn the expectations around her part upside down.
Romero is proud of the show and what it means for her and for her community: "I've had this idea inside of me for a really long time. And it wasn't until I had this conversation with Sonoro that I was able to bring it to life. Now I just want to do that for other people." Sonoro is just a year old and has had major successes with "a bunch of number one podcasts across Latin America." Princess of South Beach may just be its next hit. But regardless, Sonoro, Romero, and the good people at places like Futuro Media, iHeartRadio's My Cultura, and Spotify's SoundUp Latinx are changing the sound of podcasting. And Latinxs are listening.
Image Source: iHeartMedia / My Cultura