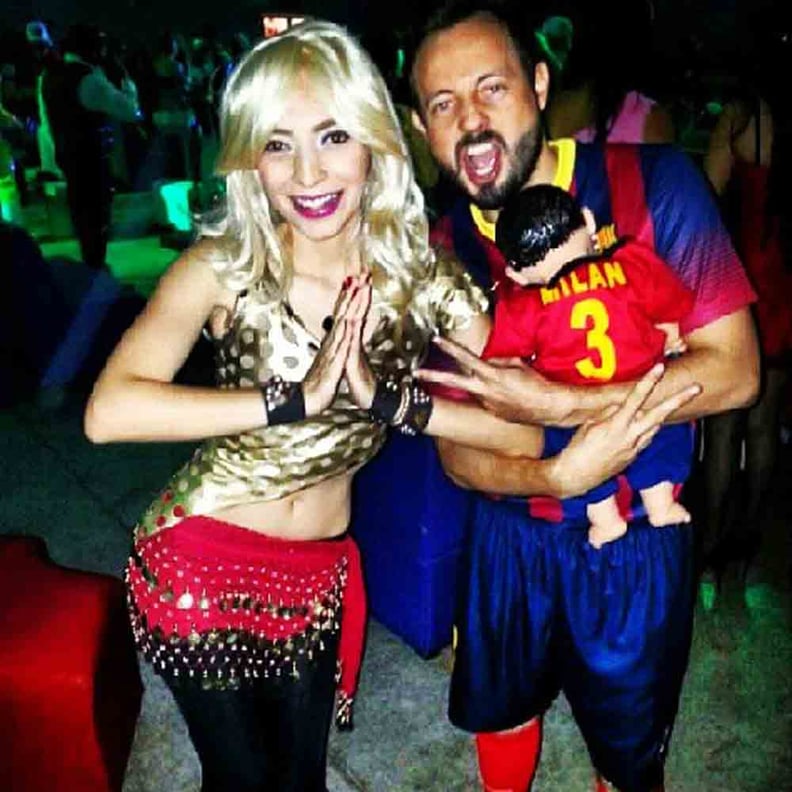 Shakira and her supertoned body, sexy dance moves, sultry voice, and amazing curly hair are what we aspire to be every day, but while we work at turning into the Colombian singer, we're taking inspiration from her for Halloween.
From her music video outfits to her everyday casual-chic look, there are many ways to pretend to be the "La Bicicleta" singer for a night and show the world that your hips don't lie. Keep scrolling to be inspired by how real girls brought their Shakira costumes to the next level, and then check out even more fun and original costumes.
— Additional reporting by Macy Daniela Martin
First of all, no matter which Shakira look you decide to go for, boho jewels are key to making a costume like this work.
Want to keep it simple? Master Shakira's signature blond waves. Once you've done that, the possibilities are endless! Might we suggest shimmying into a bandeau top and drawing your very own arm tattoo à la Shakira's Laundry Service cover?
Blond curly hair, an all black outfit, and a silver coin belt make for the easiest Shakira costume.
Throw on a blond wig, swipe on red lipstick, and shimmy your way around your Halloween party like you're Shakira at the World Cup.
Channel Shakira's "Can't Remember to Forget You" moves and slip into something she'd totally wear for rehearsals: jeans, sneakers, and, of course, a crop top.
When it comes to re-creating Shakira's best looks, you can't go wrong with gorgeous curls and all kinds of black leather.
If what you want is to show your legs, this costume straight from Shakira's "Can't Remember to Forget You" music video is the perfect excuse. Choose a lacy red bodysuit and dangly earrings, and add a pop of gorgeous color to your lips.
Another slightly warmer version of Shakira's classic look includes a crop top, black pants, and a belly-dancing skirt.
Bring the '90s back with a belly tank top tied at the neck, lots of gold shimmers, and Shakira's always classic curly hair.
Have red hair? Don't count out a Shakira costume. Take inspiration from the singer circa 2011, add gold jewels and dark eyeliner, and you're good to go!
If your favorite Shakira period is during her "She Wolf" days, you need to put a little more thought into your costume. Wear a body-hugging leotard with cutouts.
Just one more good reason to wear a crop top for a night out! Pair it with a long maxi and a gold scarf or belt tied around your waist, and you're golden — sorry, we couldn't help ourselves.
If you want to use what you might already have in your closet, go with cozy harem pants and a baggy t-shirt for an option that personifies Shakira's favorite casualwear. Not only will you be super comfortable all night, but you don't even really need to change for bed when you get home — score!
Adding baby Milan to the mix is the perfect way to win any costume contest this Halloween!