What Brock Turner's Early Release Means
What Needs to Change So We Never Hear About Another Brock Turner Again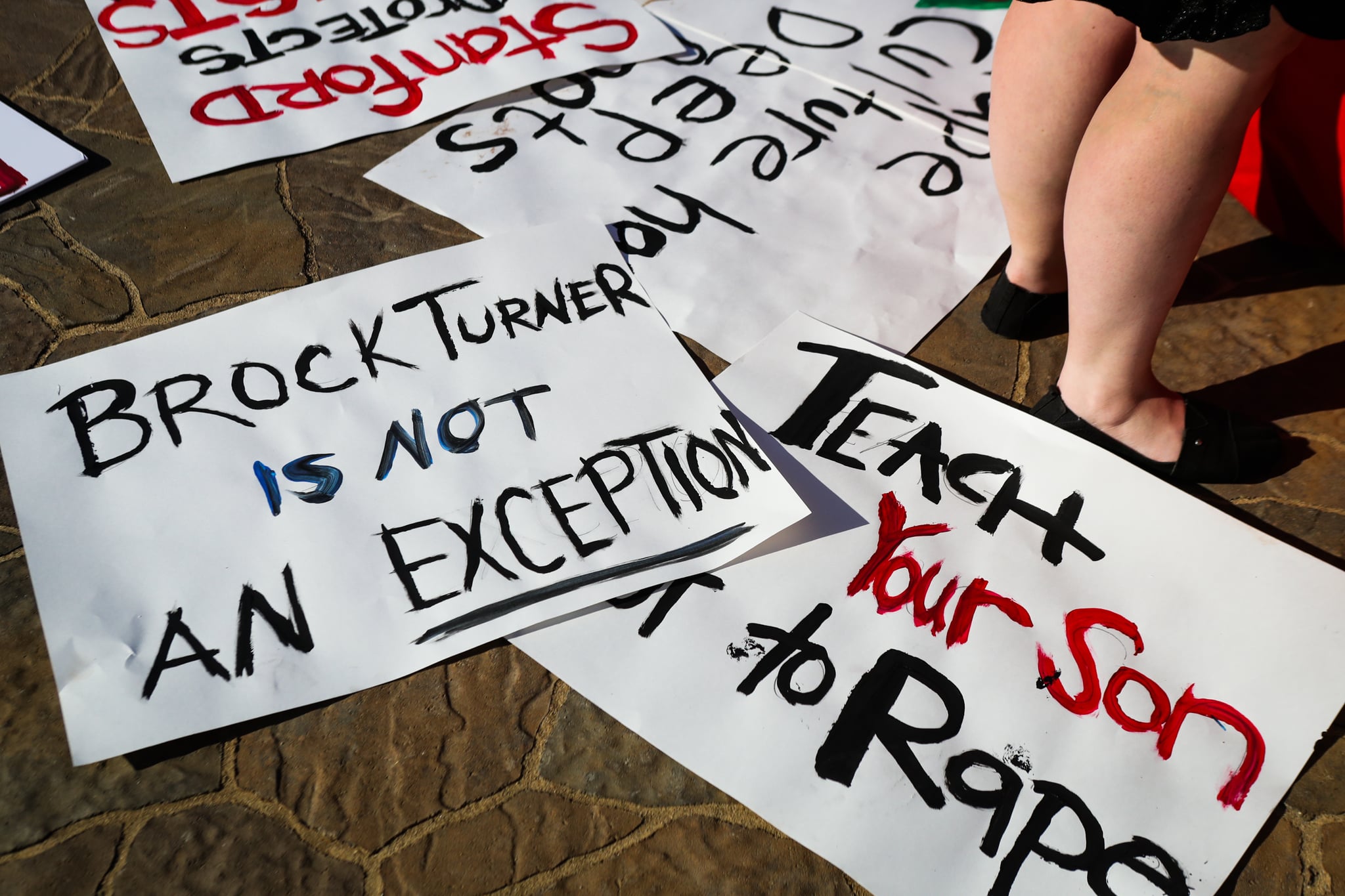 If you are a woman in America, Brock Turner's lenient sentencing and early release sends a clear message: justice is unlikely for rape or sexual assault victims. Turner, who was convicted of sexual assault and punished with six months in county jail, was released Sept. 2 after serving just half of his sentence. The case initially garnered national attention for several reasons. The victim's haunting but powerful statement to the court quickly went viral because of its eloquence and ability to serve as a voice for all victims; Turner was a 20-year-old Stanford swimmer with a clean record, which made him seem sympathetic to some, and the judge who presided over the case, Aaron Persky, drew outrage over the controversial sentencing. But what is perhaps even more alarming is that nothing about Brock Turner's case is new.
What Happened at Stanford
The victim, who was 22 at the time and remains anonymous, was not a Stanford student but the sister of one. The women attended a party on the night of Jan. 18, 2015, at a fraternity house on the California campus. Both Turner and the victim drank. Around 1 a.m., two men rode their bikes past the house and caught Turner behind a dumpster pinning down a woman who appeared unresponsive, according to reports. Her underwear had been removed and her dress was pulled above her waist. The men, who were foreign exchange students, restrained Turner as they waited for police to arrive. Officers who arrested Turner found nude images of the victim on his phone that Turner had sent to friends. During the trial, Turner insisted that their interaction was consensual, despite her apparent unconsciousness.
Nothing about Brock Turner's case is new.
Both police and first responders attempted to wake the victim; she did not respond, even when medics shouted and shook her, and she did not regain consciousnesses when a paramedic pricked her to insert an IV into her arm. According to court documents, the victim regained consciousness about three hours after she was found, at 4:15 a.m.
Students at Stanford have criticized the administration in the past for how it has handled sexual assault on campus. However, since Turner was discovered on top of a woman evidently unable to give consent, the school acted swiftly. Turner withdrew from Stanford shortly after he was arrested and the school banned him from campus.
After Turner's case caused national uproar, Stanford announced it would ban liquor on campus, a solution many view as missing the point and even implicitly aligning with Turner. In his court statement, Turner said his actions were a result of a culture that promotes drinking, partying, peer pressure, and sexual promiscuity. By prohibiting hard liquor, specifically bottles over 750 ml, Stanford seems to also be suggesting that drinking is responsible for assault. This sends the wrong message. The problem is not drinking, but a culture that permits — even glorifies — a sense of entitlement over women's bodies. As the victim recounted in her statement, "Again, you were not wrong for drinking. Everyone around you was not sexually assaulting me."
The Prevalence of Leniency in Rape Cases
Turner's six-month sentencing by the judge might seen abnormal at first. It's true that Persky is a former Stanford athlete, which some thought made him biased. It's also true that Persky has a history of leniency. His past sentencings include punishing a man who pleaded no contest in a case of domestic violence against his now-ex-girlfriend to 12 weekends in county jail, even though the charge carried a maximum of four years. And in 2015, Persky also sentenced a man who pleaded guilty to possessing extremely graphic child pornography photos to four days in jail.
While it is alarming that a judge would hand down these decisions, judges across the country have issued similar punishments for equally egregious crimes, especially when it comes to sexual assault.
David Becker, an 18-year-old in Massachusetts, was charged with two counts of rape and one count of indecent assault and battery after sexually assaulting two unconscious women at a party; in August, he was sentenced to two years of probation. In May, Austin Wilkerson, a student at the University of Colorado, admitted to and was convicted of sexual assaulting a "helpless" victim. While the prosecution sought four to 20 years in prison, the judge sentenced Wilkerson to two years in a jail work-release program and 20 years probation. And in 2009, a jury convicted a wealthy oil heir, Robert H. Richards IV, of raping his toddler daughter. Despite Richards's eight-year sentence in jail, the judge suspended the sentence and gave him probation instead because, according to the judge, he would "not fare well" in prison.
Worse still, most rape cases do not even make it to sentencing. An analysis of Justice Department data from 2014 by the Rape, Abuse, & Incest National Network found that a mere six out of every 1,000 rapists will serve a day in prison. The results of the investigation are astounding: only 344 out of 1,000 rapes are even reported to police. Of those reported rapes, 63 lead to arrest, 13 perpetrators get prosecuted, seven are convicted, and six serve time in prison.
When Rape Occurs on College Campuses
One in five women are sexually assaulted in college, according to the government-sponsored campaign against campus sexual assault called It's On Us. College athletes like Turner are particularly immune to receiving appropriate punishments for sexual assault. An investigation by CNN found that in the last 20 years, there were 52 cases of NCAA Division 1 athletes accused of rape; only 13 cases resulted in jail time. These cases were not remarkably different from the Stanford incident; most occurred after or during social gatherings where alcohol was consumed and many times, the cases turned into the victim's word vs. the attacker's.
The problem is not drinking, but a culture that permits — even glorifies — a sense of entitlement over women's bodies.
Universities have overwhelmingly turned a blind eye toward victims and in some cases encouraged students not to report assaults to police so that the schools avoid having to report the incidents to federal investigators. Title IX is a law that says education programs receiving federal funding must not discriminate on the basis of sex; as part of this law, schools must independently investigate and report any accusation of sexual assault on campus to the federal government. Underreporting accounts of rape on campus also works in a school's favor when it comes to reputation. Since 2011, the government has investigated 321 universities for mishandling reports of sexual assault and rape. (Mishandling can mean anything from not investigating the cases at all to issuing punishments that do not fit the accusation.) As of this year, 270 remain open and 51 cases have been resolved.
In 2014, Landen Gambill's case against the University of North Carolina received national attention after she was threatened with potential expulsion from school for "intimidating" her abuser and she filed a Title IX complaint against the university. Gambill said at first, the school encouraged her not to file a police report when she came forward; eventually, the school investigated Gambill's accusation that her former boyfriend had raped her and found him guilty of harassment. The ex-boyfriend later filed his own accusation of harassment against Gambill, and despite her being a victim, UNC pursued an investigation against her. Gambill claims the university ultimately charged her with an honor code violation as retaliation for filing the Title IX complaint against the school.
In filing the complaint, Gambill found that the assistant dean of students, Melinda Manning, was pressured to underreport accusations of sexual assault because the number was "too high." The investigation against UNC remains open, but Gambill's story is not uncommon; she was one of four women who filed Title IX complaints against UNC. Presently, Stanford has five cases under review, the most of any university investigations.
As a nation, we have already made some strides to promote awareness about how prevalent rape is on college campuses. Vice President Joe Biden has spearheaded the It's On Us campaign to eliminate campus sexual assault and he also responded to Brock Turner's sentencing with a profound open letter to the victim herself. Biden went as far as to call those who see a questionable encounter transpire but don't act accomplices. "If you don't have the courage to walk up and say, 'Hey, Jack, not in my house,' you are an accomplice. You are an accomplice," he said at the United State of Women Summit in Washington DC. Still, there is much more work to be done to eradicate the taboo surrounding sexual assault, especially when it stops victims from speaking out.
How This Deters Victims From Coming Forward
These outrageous flaws in how we handle rape undoubtedly have an effect on women. Why would anyone want to report a sexual assault when we're consistently taught that victims are often traumatized in the process of the investigation, the consumption of alcohol somehow negates the validity of a rape accusation, and perpetrators rarely get punished to the extent they deserve?
Brock Turner was CAUGHT IN THE ACT and only served 3 months in jail & y'all wonder why victims stay silent!!!!!!!!!!!!

— brittany (@mogirlprobs) September 2, 2016
The reality that Turner's case is actually astonishing because he was even convicted of a crime is appalling.
it feels strange to watch everyone's fury over Brock Turner's release when it is so rare for a rapist to serve Any time at all

— audrey wollen (@audreams) September 4, 2016
Encouraging victims to report sexual assault is difficult, especially when statistics show that nine out of 10 campus sexual assault victims know the perpetrator. An exploration by The Atlantic overwhelmingly found that victims did not report their assault because they were worried about how they would be perceived. Caroline Kitchener interviewed 10 victims about their assault and why they didn't report it — the majority told her that they were concerned about how their attacker's punishment would affect them. One victim said, "I didn't want to isolate myself by telling people what he did and getting him in trouble." The other victims Kitchener interviewed echoed this fear of being ostracized and doubted.
One of the ways college campuses are addressing this issue is by introducing anonymous reporting systems. In August, Minnesota passed a law that requires universities in the state to provide sexual assault training to all students, including instruction on consent. The law also requires campuses to have an online system for reporting assault anonymously. Allowing for victims to report namelessly certainly encourages reporting, but it also makes an investigation difficult and it doesn't solve the problem of lenient punishment. Still, it sends the message to victims that someone is listening and acknowledging the problem.
How Do We Combat the Pervasiveness of Sexual Assault?
Since Turner's case received public outcry, the prosecutor in the case, Jeff Rosen, introduced a California bill that would impose mandatory minimums on convictions where the assailant attacked an unconscious or inebriated victim. While the bill would prevent judges from unfairly applying biases in sentencing, critics of the law claim it would result in more convictions against people of color. They point to the disproportionate number of black men incarcerated under the mandatory minimums for drug offenses as evidence. If mandatory minimums and bestowing elected judges with full liberty to decide the fate of the convicted criminals are not the solution, how do we fix this ostensibly rampant problem?
When rape occurs, reporting and investigating the incident should be the norm, especially on campus. Victims should also be encouraged to file complaints with the school and police, since the investigations can occur simultaneously. Banning alcohol or drinking is not the answer either; college students should receive education on consent, rape, and sexual assault.
A mere six out of every 1,000 rapists will serve a day in prison.
But it should start earlier than that. There is a dire need to teach people from a young age what consent means. If they know the difference between a healthy sexual relationship and a relationship where one person is forced or coerced, they should know how to act even when they are drinking. They must also be clearly informed that their actions will have consequences, and adults need to need to ensure that those consequences are enforced. (As adults, we also have the responsibility to research the judges we elect since they will decide punishment.) We cannot be afraid to have these conversations, however uncomfortable they are.
Many young people in America are not taught sexual health until after they are sexually active, if they are taught at all. But recent studies have indicated that children who are simply taught the correct way to describe their sexual anatomy are more likely to feel ownership over their bodies. Doctors and sex-abuse educators suggest parents educate their children about their anatomy as a way to combat sexual crimes. If we want to change the culture, children need to know that sexual organs are not shameful.
One study from Georgetown University said that children as young as 10 should receive sexual education since children tend to develop a gender identity around the same time. In the Netherlands, children are educated about relationships and gradually sex starting at 4. Unsurprisingly, researchers found that most adolescents in the Netherlands had "wanted and fun" first sexual experiences compared to the 66 percent of American teens who said they wished they had waited. Nine out of 10 teens in the Netherlands use protection when they have sex and they have their first sexual encounter at an older age than teens in the United States. Encouraging kids to avoid sex and teaching abstinence only — as many states do — is unrealistic and implies that sex is neither normal nor positive.
Education is one of the only ways to change the culture and how we think about our bodies so we never hear of the likes of another Brock Turner again.