How to Fly First Class
Everyone Can Fly First Class in Their Lifetime: Here's How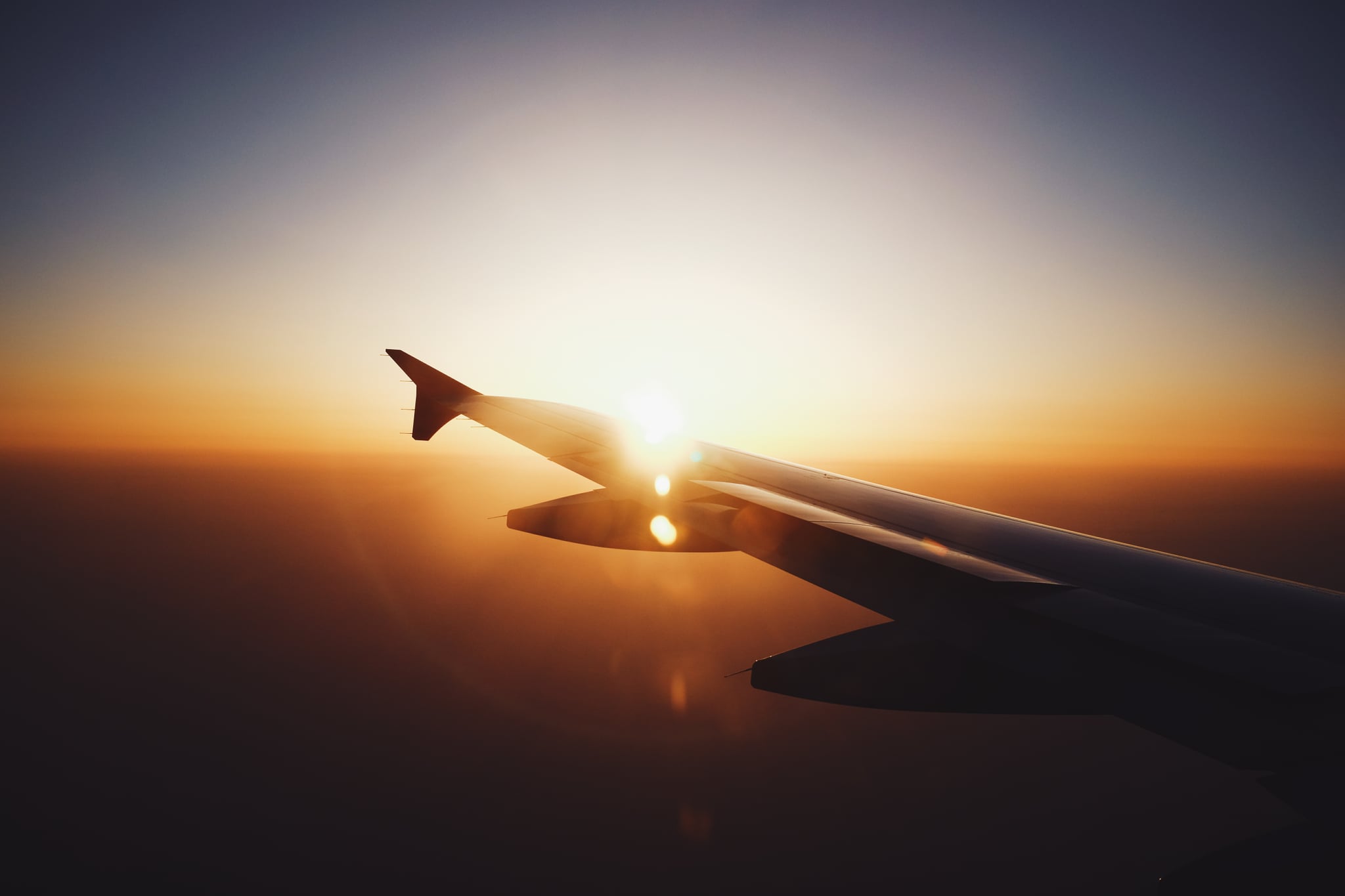 If you're flying to a different country, first class is the way to go. Fold-flat seats, top-shelf cocktails, chef-curated fare, and other luxuries await. Rather than arriving sleep-deprived and a little disheveled, your international vacation begins rested, fed, and ready to tackle the sights.
But let's cut to the chase — first-class tickets are also incredibly expensive. We're talking typical fares ranging anywhere from $3,000 up to $10,000+ for a round-trip flight. So unless you're a celebrity or international businessperson, you might think seat 1A is simply out of reach. But fear not! Luckily, it is possible to snag a first-class seat without burning thousands of dollars. With some help from travel experts, here are our tips for securing a first-class travel experience without maxing out your credit card. Another glass of Champagne, please?
Miles, miles, miles. Save them! You can find excellent deals on first-class seats with miles. Even if you're not an avid traveler, it is possible to rack up enough miles over time. Remember that with most airlines, your miles will expire if there isn't any account activity in a predetermined amount of time. If you fly at least once or twice a year, you'll be good to go. To avoid the risk all together, consider an airline without a mileage expiration date (like Delta).
Get carded. Consider a travel credit card with a generous sign-up bonus. Saving 120,000 miles for a round-trip first-class ticket to Europe might sound steep if you don't fly a lot, but when you get half of them simply by signing up, it feels much more attainable.
Hunt for special offers. Most credit cards will run temporary promotions that double (or more) the standard sign-up bonus. And don't limit your search to only airline credit cards. Many cards have partnerships with airlines and will allow you to transfer your points into miles. Some even offer airport lounge access — totally worth it if you're a frequent flier.
Can I charge that? Amie O'Shaughnessy, founder and CEO of Ciao Bambino, reminds travelers that unexpected things can be charged. "Choose the card that has the most airline relationships and at least offers one-to-one conversions for points to miles, and charge everything on it. Property tax, DMV fee, doctors, home and personal service providers — everyone takes cards these days, so take advantage of that. Miles can accumulate fast."
Make a transfer. Check to see if your current credit card allows you transfer points into miles. Clem Bason, CEO of goSeek.com and the former president of Hotwire, advises researching the transfer policies first, as it's favorable for some airlines and less so for others.
Get creative with Google Flights. Rob Harper of Costa Rican Vacations suggests opening up your search to find the best deal. "Rather than selecting an arrival city, search best price on business/first class by selecting the region. For example, if you're heading to Spain, rather than searching for business class flights to Madrid or Barcelona, use the "Search Europe" feature to see if you can simply get to the continent on a cheaper first-class rate. Then, you can just take a 'puddle jumper' to your primary destination."
Keep your eye on the deals. Bason recommends regularly checking for sales year round. "The big international airlines typically have [sales] once or twice a year. American and British Airways are famous for it. When those airlines launch the fare sale, use Google Flights to scan travel dates to find the best prices."
Go through a travel agent. Alex Dalton of Travel With Alex, Inc. advises, "Look for an agency that has a preferred relationship with a consolidator that does international first-class travel. They have access to deals that can blow away published fares. The consolidator won't work with the public, so you have to use a travel agent to get those deals."
Go cruising. If you're planning on setting sail once you arrive at your destination, ask the cruise line if they can offer any special rates on first-class airfare. Dalton adds, "The cruise lines strike deals with airlines to get reduced business and first-class tickets to sell to their clients that sail with them."
When all else fails, just ask! Mery Calderon of Kuoda Travel encourages travelers to remember the power of a smile. "If you're a frequent flyer on a particular airline, but don't have top status, try your luck at asking! Show up early, look presentable, and request a complimentary upgrade. A sunny attitude and little luck can go a long way (and yes, it does happen!)."