Six years ago, I opened a British Airways Visa, which came with a whopping 100,000 airline points just for signing up and spending $3,000 in the first three months. My now-husband got the same card, and six months later we traveled business class to London using just our miles. Let me tell you: once you get a taste of international business class and actually sleeping comfortably on a long-haul flight, you'll do whatever it takes to do it again. Since then, we've traveled in business class to Asia, Australia, and back to Europe, all with credit card points. After opening that card six years ago, I now consider how every dollar I spend can help me see the world.
I've enjoyed Dom Perignon on my way from Bangkok to Sydney and had an in-flight meal served by a chef while en route from Los Angeles to Istanbul.
Traveling with credit card points isn't always easy. While it can save you hundreds and even thousands of dollars on air travel, it's a significant time investment to keep track of multiple credit and airline accounts, and finding an open seat requires patience and flexibility. But if you enjoy a good life hack, love exploring new places, are traveling on a budget, and are the type of person who can remember an online password, you might be ready to enter the world of credit card bonus points and free international travel. Are you ready to learn the secrets?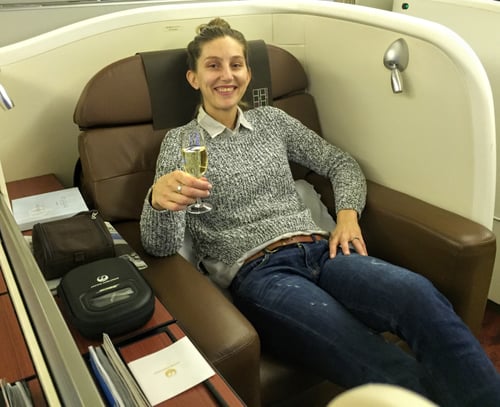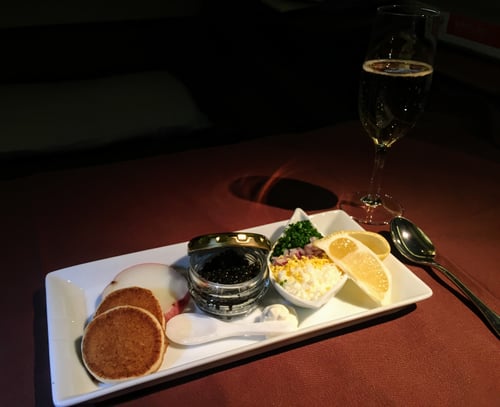 Image Source: POPSUGAR Photography / Annie Gabillet
If you're a debit card or cash-back kind of person, I get it, because I've been there, too. At 23 years old, I used my Bank of America debit card for everything. I liked to keep things simple: avoiding credit cards meant I could see my spending and saving in real time through my checking account. Knowing I needed to build up my credit score, I started with a Capital One cash-back card at 24. With no complicated points system to figure out, I spent about a year getting more comfortable with the credit card world until I was ready to open a new card that had airline mile perks. Growing up, my parents put everything on their credit card "for the miles," and I wanted to get in on that action.
"Pick a trip you want to pay for using points and then get one credit card to work toward making it happen."
Summer Hull, creator of the travel blog Mommy Points, suggests starting with a travel goal in mind. "Pick a trip you want to pay for using points," she said. "Then get one credit card to work toward making it happen." In my case, I started with the goal of a business-class trip to London and used the British Airways Visa card to make it a reality. If you have a destination wedding abroad or want to explore a spot on your bucket list, points significantly reduce the price of travel by removing the airfare, since you only have to save cash for hotel, food, and other incidentals. Hull and her family have used points to travel to Hawaii, first class to Europe, to an overwater villa in the Maldives, to Disney World, to Alaska, to Mexico, and beyond. "Almost any travel goal is reasonable with points," she said. "Some just take a little longer to achieve than others."
Brian Kelly, the founder of the popular site The Points Guy, breaks down the type of "redemption" an average person could get in one year: "50,000 points from a single sign-up bonus is the standard nowadays, though bonuses of 100,000 or 150,000 are possible." Then, you can potentially make many more miles in a single year by maximizing the amount of points you get for each dollar you spend. Kelly cites the Chase Sapphire Reserve, which gives three times the points on all travel and dining, including food purchased via sites like Postmates and Seamless. He notes that you need about 60,000 points for a round-trip coach flight to Europe, which you can get to pretty quickly with a 50,000 bonus and additional points gained from optimized spending on your card.
If keeping track of sign-up points and bonus miles sounds like a hassle, don't be dismayed. The idea that credit card points are more trouble than they're worth is one of the biggest myths, according to Kelly. "I'll admit that they can be confusing to use at first," he conceded, "but once you master them, you can reap thousands of dollars in value, like I recently did for my first-class flight home from Indonesia, which I got from a single credit card sign-up!" (He used the Chase Sapphire Reserve, if you were wondering.)
"You will be surprised just how lucrative this can be for those who are responsible with their credit cards."
Before you get into the credit card point game, though, consider if it's the right fit. You should already have a solid history of paying off your balance in full every month. Be honest with yourself, and if you know you tend to carry a balance or get close to maxing out your limits, focus on building good credit habits first. And also be aware that traveling with points requires a lot of logistical work.
Hull agrees that the biggest hurdle is getting started: "Once you get the first redemption under your belt, it is amazing how much more you want." Like The Points Guy, Mommy Points believes that once you devote a little bit of time to learning the ropes, "you will be surprised just how lucrative this can be for those who are responsible with their credit cards and pay them off monthly." As someone who has been doing this for six years now, I have to agree.
You're probably wondering if will this mess up your credit score. Despite opening one to two new cards each year for the sign-up bonus, my credit score has remained high. Kelly explained why: "There is a small two- to five-point ding off your credit when you apply for a new card, but that is quickly counterbalanced by paying your bills in full and on time." Don't believe him? He continues: "I have 30 credit cards, but my score is above 800 because I pay them off in full every month." (Note anything above 700 is generally considered good.) According to FICO, paying your bills on time is the most important factor for your credit score. The amount of money owed relative to the amount of credit you have (aka your debt-to-credit ratio) is the second most important. So as long as you pay your bills on time and don't come close to maxing out your cards, opening new cards should not greatly impact your score in a negative way.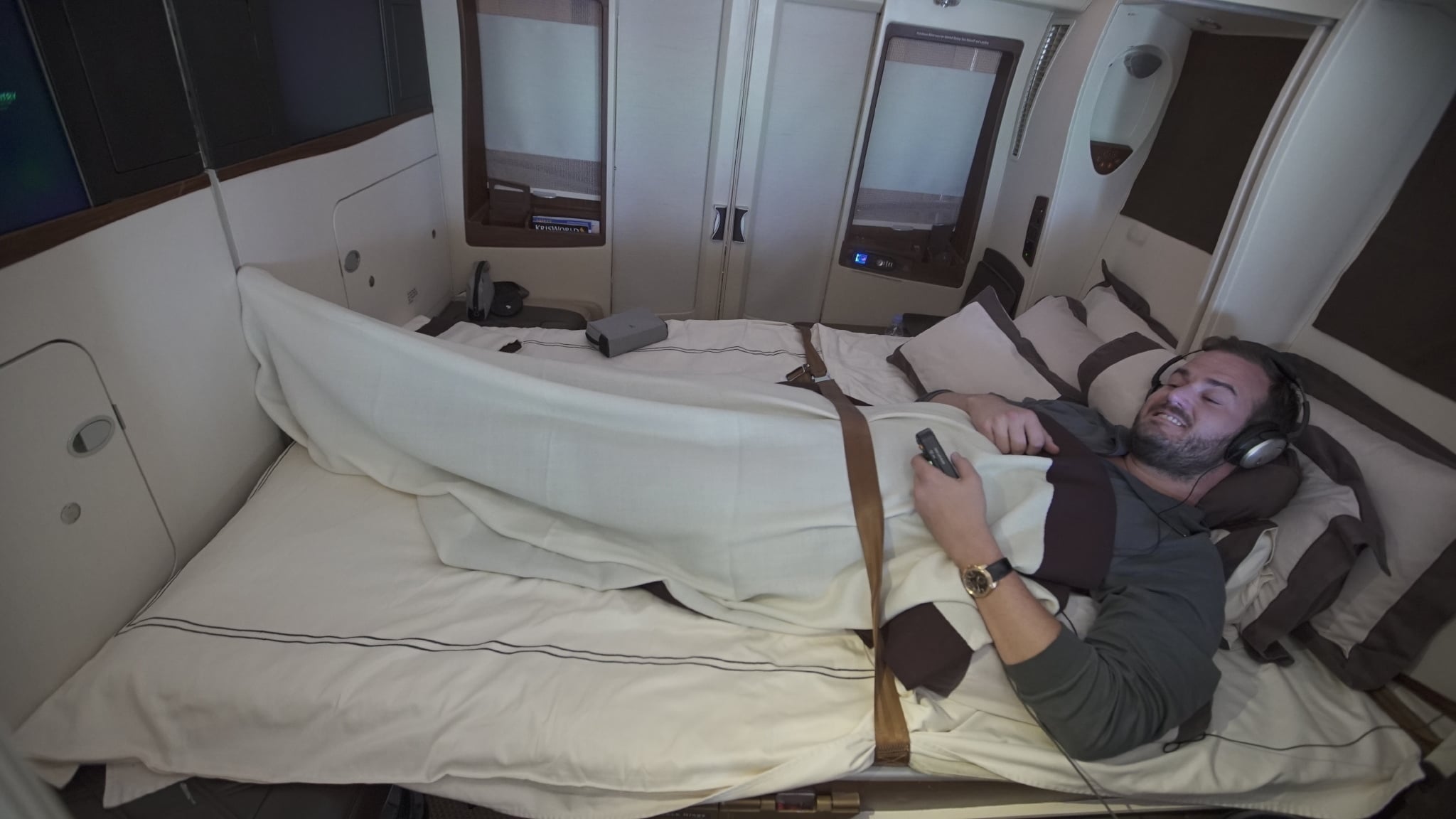 Image Source: The Points Guy
Discovering the Beauty of Business Class
My husband and I have become point geeks, even choosing travel destinations based on the best miles deals we can find. After taking my first miles flight to Europe, I got hooked and made it a goal to save up miles for more business-class flights. Although business-class tickets typically cost twice as many miles as a coach ticket, if you paid cash, it could cost up to 10 times as much, making the purchase a very valuable use of miles. While you do have to pay taxes and fees, these business-class flights have cost me much less cash than the coach tickets I bought during my debit card days. Without airline miles, I would never have been able to afford these premium seats, which can run over $10,000 if you pay for them out of pocket.
With points, you don't have to be a socialite or celebrity to travel in first class. By just signing up for strategic cards and maximizing points, I've enjoyed Dom Perignon on my way from Bangkok to Sydney, sipped tea above the Atlantic on a flight from London to San Francisco, and had an in-flight meal served by a chef while en route from Los Angeles to Istanbul. Most importantly, I've slept, thanks to chairs that turn into completely flat beds.
Hull cites a Nilson report that found the average monthly spending on a credit card is $890. The points gained from that amount, she said, could be redeemed for a domestic round-trip fight. However, she said, "if you are smart about how you use your credit card and put things on there you have to pay anyway — like groceries, car insurance, gas, doctor's appointments, and cell phone charges — you probably can spend more than $1,000 per month easily."
As Hull and other point gurus know, you should apply for a card that earns two, three, or even five times the points in spending categories you use often. Then, just by going about your everyday life, you can earn a first-class flight abroad and back each year or maybe more if you go for cards with sign-up bonuses ranging from 50,000 to 100,000 points.
In addition to being strategic about the cards you open and use for each purchase, you have to be diligent about setting up automatic payments as soon as you get a new card so you don't lose track and miss a payment. And be warned: booking award tickets can often come with a couple hours on the phone with an airline representative.
Opening at least one credit card with a sign-up bonus can get you a free trip abroad every year.
But as the points experts swear — and I've witnessed myself — opening at least one credit card with a sign-up bonus can get you a free trip abroad every year. Look for cards with at least 50,000 bonus miles for signing up; a coach trip to Europe typically costs 30,000 miles each way, so with that bonus and some spending, you'll be close to a round trip. Intrigued? Here's a rundown of tips to get you going.
Start with one card and one airline. If you sign up for a United Airlines card, for example, you can target your flight searches to a specific airline and make sure you have a significant pot of miles to work with.
Be flexible. It's best to choose "saver" award tickets, aka tickets that require the least number of miles. Having some flexibility in your travel dates will help you get these deals.
Plan around big purchases. Often, you must spend a minimum amount of money to get your bonus miles (anywhere between $1,000 to $5,000 within three months). You never want to buy something just because you're getting the miles, but an already planned big expenditure — like moving or remodeling — could be an opportunity to open a new card.
Maximize your miles. If your new card gets triple points at restaurants, make sure you use it! Even volunteer to get the whole bill and ask your friends to Venmo you, assuming they're not working on their own miles. If you get extra points for travel, charge your hotel stay for a work trip and get reimbursed. And be sure you use your card to pay monthly bills like your cable and gym membership.
Set up direct payments from your checking account as soon as you get the card. Carrying a credit card balance — and paying interest on it — negates the financial benefits of traveling with airline miles and hurts your credit score. Avoid this by setting up your account to automatically deduct the monthly balance from your checking account. Just make sure you don't spend more than you can afford.
Keep a list of cards you have open and the anniversary date. Sometimes there is an annual fee associated with a card (often waived for the first year), so you may consider canceling it before the fee kicks in. Pro tip: when you call to cancel, they may offer to wave it again or offer you more miles to keep it another year.
Pay attention to fees and terms. Sometimes a card will waive the fee in the first year and sometimes it won't. When they don't, you often can make up some of the annual fee with other credits. For example, the Citi / AAdvantage Executive World Elite MasterCard will reimburse you $100 for signing up for TSA Precheck and Global Entry, which helps get back some of the relatively expensive $450 annual fee for having the card. You also get free checked bags and lounge access when you travel American Airlines. Before signing up for any card, make sure you read and understand the fine print so you can evaluate whether the fee is worth it and ensure that you're getting everything you can out of the card.
Blogs like The Points Guy or Mommy Points: These sites are the best resources for credit card deals you should sign up for right now and airline redemption tips. Reading points blogs will likely become a hobby once you get hooked on airline miles and help you take things to the next level.
Credit Karma: A free service that helps you to stay on top of your open accounts and credit score. You don't even have to link your accounts, since it can find anything that turns up on your credit report. Credit Karma makes it easy to understand the factors that impact your credit and will also send you email alerts if anything seems amiss. Again, paying off your cards on time is the most important thing you can do.
Award Wallet: This site helps you keep track of all your frequent flyer accounts and will alert you if some miles are expiring soon.
Examples of Current Offers
Some parting words of wisdom from The Points Guy: "Don't bite off more than you can chew." He noted that it can be tempting to sign up for a bunch of credit cards, but because many have spending requirements like $3,000 within three months, you might miss out on the sign-up bonus if you don't hit that amount. "Start slow and make sure you're not tempted to spend outside of your budget," he said. "Once you get the hang of it, then you can build your credit card portfolio."