Got a Creative Bunch? These Halloween Costume Ideas Were Made For Your Friend Group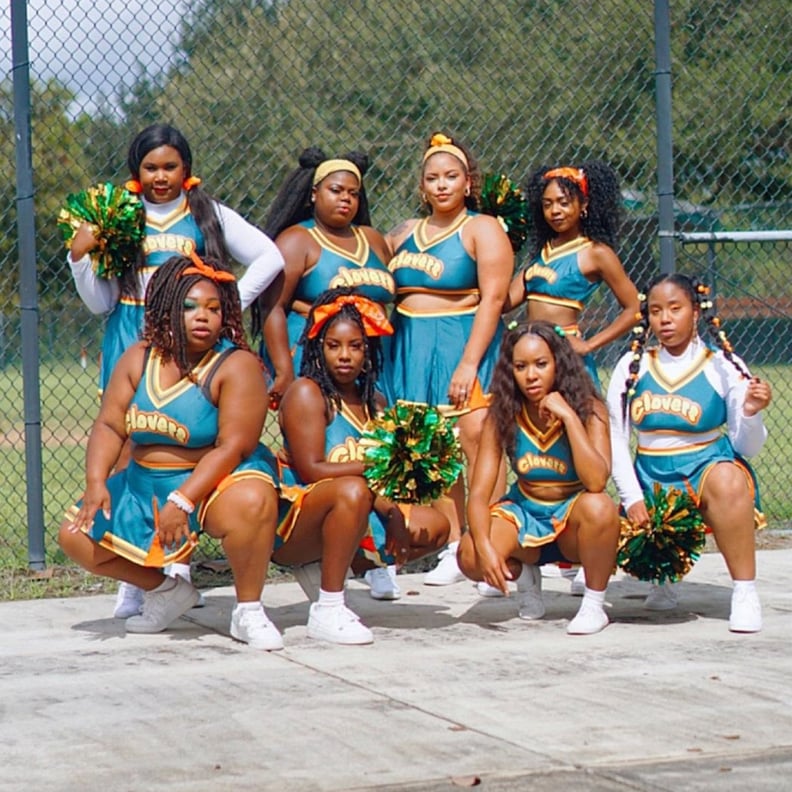 Halloween costumes can sometimes fall into two camps: sexy and funny. While there are definitely costume ideas out there that are both (i.e. this "sexy" Bob Ross costume), chances are if you're really going for one or the other, you fully commit. And if you're team funny, you probably don't care how ridiculous you look, as long as it makes you (and others) laugh. And let's face it — everything is funnier when it's a team effort. So if you're planning on coordinating with your like-minded friends this year, try out one of these funny group costume ideas. They're creative, fun, and, most importantly, frickin' hilarious.
—Additional reporting by Lauren Harano
02
Schitt's Creek
Hide your diamonds, hide your exes, I'm a little bit Alexis. Don't forget the rest of the squad!
03
Pizza
Complete with ranch to dip and red pepper to top, this costume is too good to be true.
04
The Powerpuff Girls
Pick up knee-high socks, an oversize T-shirt, black tape, and a bow to bring this costume to life.
05
The Spice Girls
If you have a crew of five, then Scary, Baby, Sporty, Ginger, and Posh are always a great idea.
06
The Cheetah Girls
Colorful sweatsuits and headbands are key to nailing this costume!
07
Mean Girls
These ideas are so fetch!
08
The Monterey Five From Big Little Lies
If you're getting up to trouble this Halloween, dress up as this iconic bunch.
09
Clue
Solve a mystery with your pals this Halloween.
10
Aliens
This idea is outta-this-world cool.
11
Baywatch
This one is super easy to put together!
12
Zodiac Signs
Let your star sign determine your night.
13
Pac-Man
Bring the old game back to life.
14
M&M's
Nothing's sweeter than this costume!
15
Three Blind Mice
Need a last-minute idea? The three blind mice are always an easy DIY.
17
Olympic Rings
All you need are colored hula hoops for this simple DIY costume!
19
Seven Dwarves
Have seven other people you want to team up with? Be the seven dwarves and Snow White!
20
Scooby-Doo Characters
Ruh-roh! Team up with your gang to form a Scooby-Doo group costume that's easy to put together.
21
Rock, Paper, Scissors
This cute costume is easy to make at home, with just a few cheap materials.
22
Flintstones
The perfect family costume!
23
Sushi Bar
Get your carb overload with this sushi-bar group costume.
25
Spice Girls
Your friendship will never end with this punny group costume.
26
Golden Trophies
Go for gold with these golden sports trophy costumes.
28
Dunkin' Donuts
Athletes with a sweet tooth? These doughnuts can dunk.
29
A Hunter and His Trophies
These animal head mounts are easy to execute and so creative. Don't forget the hunter!
30
Bob Ross and His Paintings
Yeah, you'd definitely win a costume contest with this one.
31
Shark Week
These bloody days of the week are just too good.
32
Domino's Pizza
These costumes are so simple and easy to put together.
33
Witches
Classic and cool, you'll just need witch hats to complete this look.
34
DuckTales
All you need are solid-colored hoodies and fluffy duck feathers to make your childhood DuckTales dreams come true.
35
Bob's Burgers
Bob's Burgers is one of the funniest shows on TV, and the characters translate perfectly to funny costumes as well.
36
A Flock of Seagulls
This hilarious group costume makes a *loud* statement!
37
La Croix
Which flavor would you choose?
38
Social Media
Choose your favorite social media site! Where do I sign up to be Yelp?
39
A Fruit Bowl
This tasty and hilarious costume lets everyone dress as their favorite fruit.
40
Inside Out Emotions
With these Inside Out costumes, you can match your friends' dominant tendencies to their coordinating emotion character: Anger, Joy, Fear, Sadness, or Disgust.
41
Blast From the Past
Instead of just being '90s girls, up your pun game by saying you and your friends are a blast from the past.
42
Disney Channel Games
How clever (and comfortable) is this?
43
Tide Pods
A white shirt and orange ski mask is all it takes to transform into your most trusty detergent!