TikTokers Know Best! Here's Our 35 Favorite DIYs They've Conjured Up For Halloween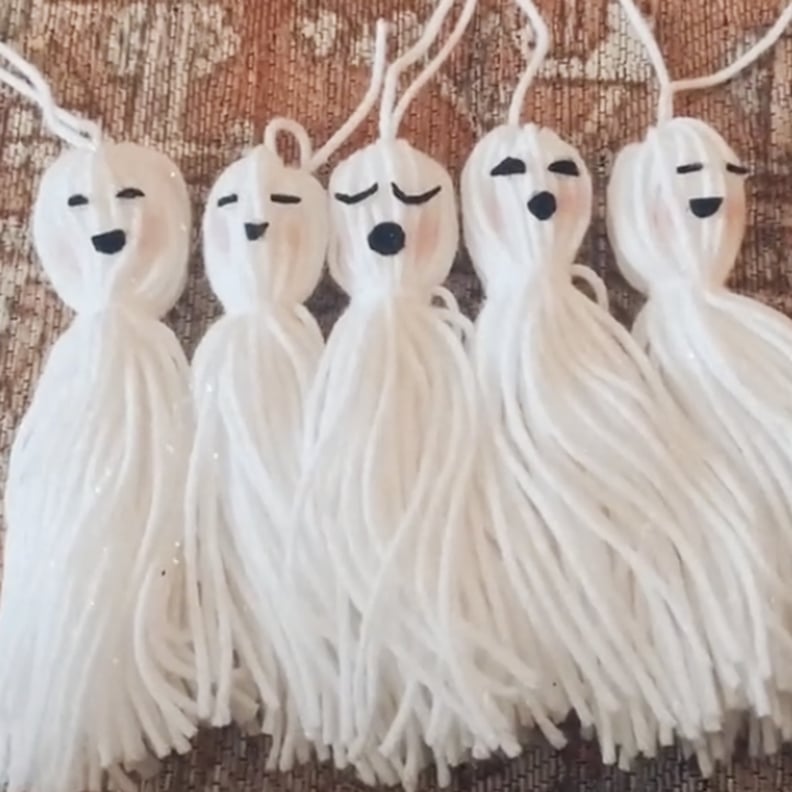 Let's be real – way too many enviable things that are labeled "Halloween" have a hefty price tag. The big stores know how much we love the haunted holiday, but if you want to save a pretty penny (and who doesn't?), TikTok's got your back. The millions of creatives on the platform have DIY'd their way to spooky success with things like decor, makeup, food, and more. And, to be honest, these offerings beat store-bought by a long shot. From a plastic skull planter to a delicious coffin cake to spider-infused Halloween slime and more, see all the very best DIY ideas for the frightful holiday, right here.
01
DIY Desk Decoration
Turn your desk at home into a Halloween wonderland with a glass vase, glitter, halloween ribbons, stickers, and more.
02
DIY The Nightmare Before Christmas Halloween Planters
This DIY may take a little time to complete, but when it's all set and done, it's so worth it! Grab a batch of foam cups and paint them as The Nightmare Before Christmas characters (hint: you can use a stencil from the internet). After all the paint drys, place a plant inside, and your creepy decoration is finished.
03
DIY Halloween Lanterns
Get some black gauze, a skeleton head, a tea light battery-operated candle, and a crow to top it all off! Your lantern will go from ordinary to creepy in no time.
04
DIY Sally Pumpkin From The Nightmare Before Christmas
This one's both easy and cheap! Pick up a plastic pumpkin from The Dollar Tree, paint it all white as a base, mix aqua and white acrylic paint to get Sally's teal base, draw on her face, add wall shields for ears (can be found at The Dollar Tree), and your Halloween DIY is ready for show.
05
DIY Mermaid Makeup
Morph into a beautiful mermaid this Halloween using a fishnet stocking and colorful powder for scales.
06
DIY Halloween Slime
Everyone will be obsessed with this slimy concoction. And you can pick up everything from your local dollar store! All that's required is confetti spiders, glitter, black beads, sugar, glue, and a dash of water.
07
DIY Ouija Board Makeup Tutorial
Turn your face and chest into a crazy, real-looking ouija board by using a mix of of dark makeup and face paint.
08
DIY Little Shop of Horrors Pumpkins
If you've ever watched Little Shop of Horrors, you know these pumpkins are on point. Carve them out, use a plastic fork, and glue fake leaves to the top for a plant that looks like the movie's scary flower, Audrey II.
09
DIY Halloween Books
Believe it or not, there's eight parts to this tutorial, but it's still pretty simple. All the DIY requires is some books (you can find cheap ones at a thrift store), a glue gun, spray paint, and spider figures.
10
DIY Halloween Skeleton Gage
This would cost so much money if you went out and bought it at the store! Pick up two plastic baskets, cut the tops off, spray paint them with black spray paint, add a skeleton inside, and complete it with fake metal chains for hanging.
11
DIY Hanging Skeleton Cage
Just another skeleton cage for you! This time, there's no need to cut the baskets. Simply glue a fake chain to the top, add skeleton bones inside (fake blood is optional), and you get the same haunted look.
12
DIY Plastic Skull Planter
Cut out the top of the skeleton's head, paint the cracks with acrylic spray paint, use beads for eyes and paint them to appear blood shot, secure them in the skeleton's socket using red thread, and finally, place a plant on top. You'll be surprised by how awesome it turns out.
13
DIY Spilling Potion
All that's needed is foam, glue, spray paint, and a creepy-looking jar to get this eerie look.
14
DIY Floating Candles
Believe it or not, the cardboard rolls from toilet paper and paper towels make great floating candles! Grab your glue gun to create "wax" around the top, get battery operated tea light candles and place them inside the rolls, and lastly, paint the rolls all white and hang them from the trees in your yard for that creepy look.
15
DIY Spell Books
Head to your local dollar store to pick up a few books. Just paint the covers black and pages gold, and stamp words like "magic," "potions," "spells," or "charms" on the spines to give off that witchy feel. Lastly, stack the books and tie them up in a spooky ribbon to complete the Halloween vibe.
16
DIY Cemetery Cake
One word: yum! Any recipe for this cake will do, but if you love chocolate, we suggest sticking to this one. Cut out a rectangular piece of cake and shape it into a coffin, add chocolate frosting, and make strokes in it using a fork. Add a few sprinkles for the coffins hinges, and use whatever crumbs you have leftover as "dirt." Top it off with green frosting for grass and a chocolate bar that says "RIP."
17
DIY Fake Blood
Believe it or not, this "blood" will clean your home! Mix Hibiclens (an antiseptic) and bleach together to create a look the resembles blood for your counters and sinks.
18
DIY Ghost Garland
How cute are these ghosts? Grab a book and tape a string of yarn to the spine, wrap your remaining yarn around the book about 40 times, remove the tape and tie the original piece of string in a knot, cut off the opposite end of yarn to release it from the book, use another string for the ghosts head, add felt for faces (not necessary, but adorable), and ta-da! Your first ghost is complete.
19
DIY Self-Care Pumpkin
Because yes, even pumpkins deserve a self-care day. Pink paint, a sharpie, a towel, and a white pumpkin will do the trick for this decoration.
20
DIY Potion Bottles
Nothing is creepier than having potion bottles on your mantel or shelf. Pick some bottles up from Target or use a recycled bottle you have at home, add a label and hair spray the bottles, and sprinkle clay over the top of each bottle to give it an old feeling.
21
DIY Witch Disco Ball
Halloween, but make it '70s! For this DIY, cut out a small hole in a witch hat and connect it to the top of a disco ball. Make sure to hang it near a window to get the full effect.
22
DIY Halloween Shake
Make the creepiest looking shake using ice cream, a red drink, orange juice, and water.
23
DIY Light Up "Spooky" Sign
This DIY Costs less than $20 to make and looks so creepy. Spray paint a coffin-shaped pallet in black, decorate the edges with orange paint, and press the words "spooky" vertically into the front. Next, drill holes, add orange twinkle lights, and your work is complete.
24
DIY Spooky Lantern
Cardboard, a hot glue gun, black paint, and an LED tea light is all that's needed to bring this decoration together.
25
DIY Coffin Holder
Make your bathroom spooky-chic by painting a coffin-shaped piece of wood black and orange. Then, add a cauldron and candle inside for a creepy look. Psst . . . the cauldron is great for holding cue-tips!
26
DIY Floating Ghosts
Using crushed tulle, shape it over a circular object, add an elastic, and apply two coats of stiffener. Let it dry, hang a string through it, and you have the cutest floating ghosts ever!
27
DIY Buttery Skeletons
Little skeletons, a wood palette, and butterfly wings can all be found at your local craft store. Once you put them altogether, they look spooktacular!
28
DIY Hydro Dip Pumpkins and Skeletons
If you haven't heard of hydro dipping, it's when you spray a bunch of paint into water to create a pattern. It's almost like tie dying, but it gives you a totally different result. Once you create your patten, dip skeleton heads and pumpkins in for a creepy look.
29
DIY Pumpkin Decoration
Think of a snowman, but with pumpkins. Pick up some plastic pumpkins at your local store, stack them, and add an orange and white bow on top.
30
DIY Pumpkin Transformation
The pumpkins we pick up at the store aren't always the most realistic, so instead, opt for a pumpkin makeover with this easy DIY. Paint them whatever color you desire, let them dry, and rub real dirt on them to get a worn and realistic look.
31
DIY CobWeb
Cut up a white shirt, wrap the pieces around sticks to appear as a web, and suddenly, you have a creepy-cool wall decoration.
32
DIY Halloween Baskets
Gift your friends a one-of-a-kind basket that's cheap using Dollar Tree goods! Candy, plastic witches, and decorative trinkets is all you need.
33
DIY Skull Candle
Another Dollar Tree find! Any candle holder will do as long as you use Dollar Tree skulls for the base. Spray paint it all black to really make it come together.
35
DIY Mummy Garland
All eyes will be on you with this DIY mummy garland. White yarn and a pack of glue-on eyeballs will do the trick.